Archived News
Going rogue: Cawthorn's move has widespread implications
Wednesday, November 17, 2021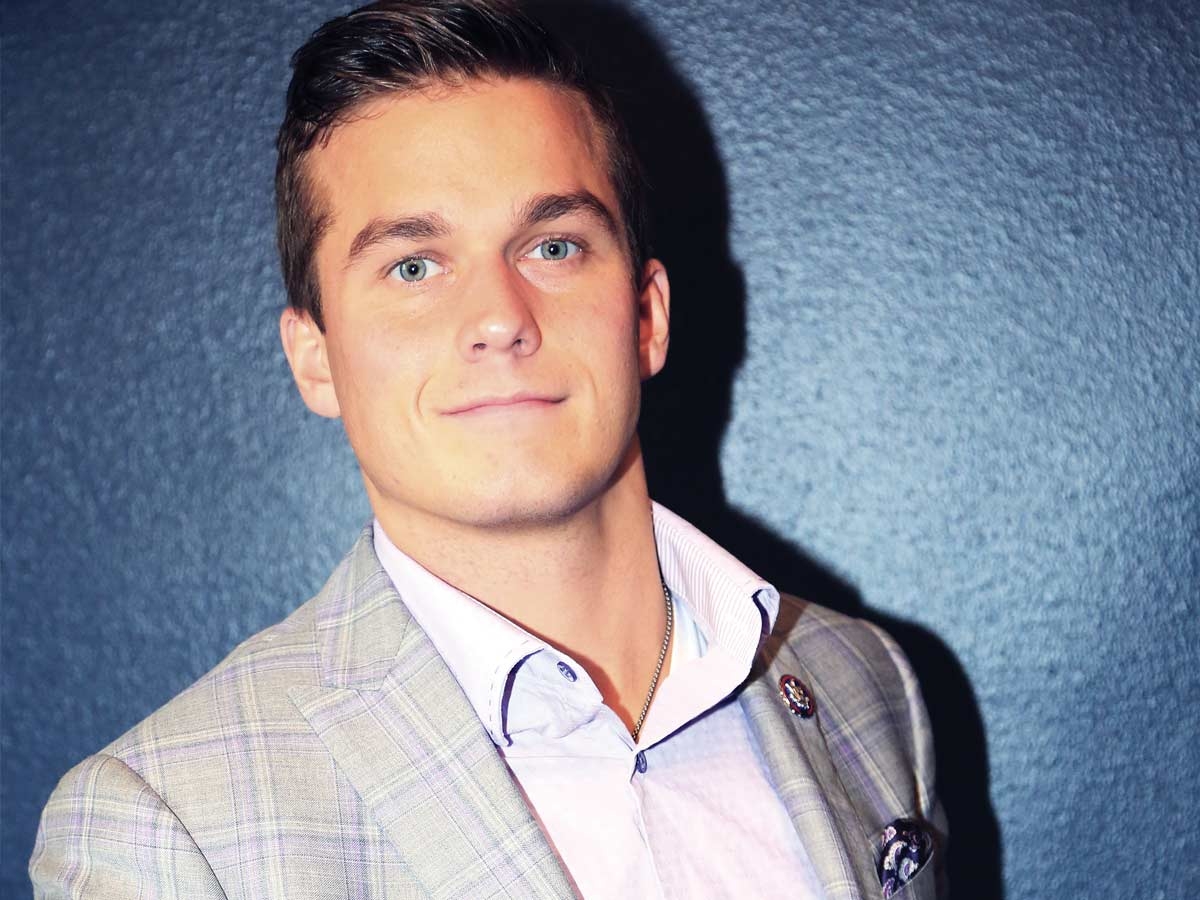 Rep. Madison Cawthorn's surprising announcement came on Nov. 11. Jeffrey Delannoy photo
Western North Carolina Congressman Madison Cawthorn has become known for saying some surprising things to further his political agenda, but Cawthorn's most recent statement is by far his most surprising.
"I believe we have a unique opportunity to increase conservative leadership from North Carolina," Cawthorn said in a video posted around 7 p.m. on Nov. 11. "I have every confidence in the world that regardless of where I run the 14th Congressional District will send a patriotic fighter to D.C. Knowing the political realities of the 13th District, I am afraid that another establishment go-along-to-get-along' Republican would prevail there. I will not let that happen. I will be running for Congress in the 13th Congressional District."
WNC's 11th Congressional District has been among the most wildly unpredictable in the country since near the end of Mark Meadows' tenure in 2019, but now voters west of Asheville are slowly coming to the realization that Cawthorn's improbable 2020 victory wasn't the end of the instability — it was only the beginning.
In December 2019, four-term incumbent representative and chair of the influential House Freedom Caucus, Mark Meadows (R-Asheville), shocked the political establishment when he announced he wouldn't seek another term in Congress.
Meadows did so with only about a day remaining in the filing period, catching most politicos flat-footed. That was on purpose, though — Meadows pushed a friend of his wife's, Maggie Valley Realtor Lynda Bennett, to the front of the line by giving her advance warning of his intentions.
That little maneuver boxed out some viable candidates, and left others literally speeding to Raleigh to file their paperwork before the deadline. But not Bennett — once Meadows made his announcement Bennett was ready to go, with a website, a press release and an endorsement from the Asheville Tea PAC all issued before most people had even gotten out of bed that morning.
Bennett's running start didn't scare off 11 other candidates on the Republican side, including retiring Sen. Jim Davis of Franklin, Meadows' acolyte Wayne King and a charismatic 24-year-old from Henderson County who'd failed out of college and only ever worked at Chick-fil-A, albeit briefly.
As the shortened campaign season began — Meadows' announcement came on Dec. 19, 2019, with the Primary Election slated for March 3, 2020 — Cawthorn began garnering more and more attention amongst local Republicans due to an attractive pro-Trump message delivered in an attractive package.
Cawthorn's first minor victory came that night, when the then-unknown placed second in the Primary Election, just 2.3 points behind Bennett.
The fact that he'd bested Davis, a respected public servant with decades of experience and substantial name recognition, was met with amazement by most.
It wasn't quite enough, however; Bennett had failed to reach the 30% threshold to avoid a runoff, so one was scheduled between her and Cawthorn for June 23.
The extra time only gave Cawthorn more opportunities to spread his message, just as Bennett's campaign continued a series of missteps that began with her shady entry into the race and continued with a sham endorsement from a two-day-old PAC, a series of poor public performances and a refusal to debate her inexperienced opponent.
Even a million dollars in PAC money and the full support of the President of the United States couldn't salvage Bennett's poorly run campaign and as the runoff drew near, Cawthorn's momentum surged, with some Republicans even saying they wouldn't support the Trump-endorsed Bennett if she beat Cawthorn.
She didn't. In fact, she didn't even come close. Bennett tallied fewer votes in the runoff than she did in the Primary Election, and Cawthorn handed her a decisive loss by a two-to-one margin.
The loss was a major embarrassment for Trump, and for Meadows, who in March became Trump's chief of staff after abandoning his seat and leaving it completely vacant throughout the rest of 2020.
Democrats had watched the contest closely since Meadows, who was likely undefeatable in his district, announced his departure.
Retired Air Force colonel, attorney and moderate Democrat Moe Davis won his Primary Election with more than 47 percent of the vote in a field of five, thus avoiding a runoff.
Over the next four months, Davis and Cawthorn battled it out in debates, candidate forums and mailboxes, on television, the radio and the internet.
And there was plenty to talk about — weeks after his runoff victory, The Smoky Mountain News was first to report on sexual harassment allegations against Cawthorn by a former classmate.
Then, social media posts surfaced suggesting that Cawthorn held racist or white supremacist views.
Then, it was stolen valor accusations over his rejected application to the U.S. Naval Academy.
Then, it was more sexual harassment allegations and a letter of repudiation from his peers at the very Christian, very conservative Patrick Henry College.
None of it, however, stuck.
Cawthorn's apologies, denials and explanations satisfied voters in his deeply conservative district, as much as Davis tried to make light of them.
Late in the campaign, a resurfaced tweet from Davis about wanting to stomp the "scrawny pasty necks" of conservatives ignited a firestorm and dealt a final blow to the campaign of a man many considered eminently qualified but thoroughly unlikeable.
Democrats had high hopes for Davis despite the district's solid-red status, but were ultimately disappointed by his performance, a 12-point loss to Cawthorn on Nov. 3.
Cawthorn celebrated the victory with a tweet of his own two hours after the polls closed, directed at Davis.
It said, simply, "Cry more, lib."
Although his performance on Election Day may have been predictable, what happened to Cawthorn next wasn't.
As he was being sworn in on Jan. 3, 2021, Trump was still disputing the results of an election that saw his party lose the House, the Senate and the Oval Office. Three days later, Cawthorn spoke at Trump's "stop the steal" rally on the Ellipse in Washington, D.C., where he opined that the crowd had "some fight in it."
Some in that Jan. 6 crowd went on to participate in the most serious incursion into the U.S. Capitol since the British burned it down in 1814.
Telling The Smoky Mountain News that in retrospect he may have added a few lines to his Ellipse statement and that he was in no way advocating the violent overthrow of the U.S. government, Cawthorn has since held firm to the "big lie" ideology pushed by the twice-impeached Trump.
Convictions against some of the insurrectionists have since been handed down, even as a bipartisan select committee of the House continues to investigate the incident and issue subpoenas.
Former Trump advisor Steve Bannon was subpoenaed but failed to appear as ordered, was indicted on contempt charges on Nov. 12, surrendered on Nov. 15 and will be free at least through his arraignment on Nov. 18.
Meadows, along with his former chief of staff Ben Williamson, have also been subpoenaed. Meadows ignored his, and will likely see contempt charges referred to the U.S. Department of Justice. He could face proceedings similar to Bannon's.
Cawthorn hasn't been subpoenaed and said he wouldn't outright commit to answering the call if he was, even after explosive, anonymous allegations in Rolling Stone suggested Cawthorn was part of the planning process — something Cawthorn vehemently denies.
Insurrection-related business aside, Cawthorn has continued to court controversy throughout the year. He was caught with a firearm at Asheville Regional Airport back in February, and then was warned by law enforcement — but not charged — after bringing knives to a series of schools and school board meetings early this fall.
He's warned of bloodshed over baseless election conspiracy theories, called insurrectionists "political prisoners" and expressed skepticism about the COVID-19 vaccine's effectiveness while disregarding and opposing mask mandates. He's also grown ever closer to Trump, visiting Mar-a-Lago and appearing with him at a New Jersey fundraiser.
Legislatively, perhaps his most noteworthy actions have come in voting against the reauthorization of the Violence Against Women Act of 1994 and President Joe Biden's infrastructure bill, both of which passed.
In May, it was reported that he'd missed the most votes of any first-term member of Congress this session.
As a freshman member of the minority party in a government under unified Democrat control, Cawthorn's effectiveness on the floor of the House was never expected to be the hallmark of his first year in office. Instead, it's his role as a culture warrior for a Republican Party now locked in a full-on embrace of right-wing populism that has given him national notoriety.
That hasn't escaped notice back in his district, where 2022 election opponents began appearing – both Democrats and Republicans – before Cawthorn had even served three months in office and before the decennial census prompted a redraw of congressional districts.
On Nov. 4, the North Carolina General Assembly approved new maps for its state House, Senate and congressional districts. Due to population growth, North Carolina gained an additional seat in Congress.
All 13 existing congressional districts were affected by the remap as 14 new ones were crafted.
Cawthorn's district came back with a new name (NC-14) but as still just as red as ever, and most observers assumed he'd just continue to coast to victory after victory until it was time to make the next logical move in his nascent political career.
Rumors about Cawthorn's true intentions began circulating on the afternoon of Nov. 10, after a story in the Carolina Journal, written by former NCGOP Executive Director Dallas Woodhouse, revealed that polling had been conducted on behalf of Cawthorn in North Carolina's 13th Congressional District.
According to the story, Spry Strategies founder Ryan Burrell confirmed the existence of the poll.
That same evening, Cawthorn told district county chairs on a call that he was exploring the possibility of running in the new 13th, as opposed to his current district, but that nothing was finalized.
"He said he was contemplating the decision of running in the new 13th District or his current district, and that he had constituents in both, and then he opened it up for conversation," said Michele V. Woodhouse, the Republican chair of Cawthorn's district who arranged the call. "I think it speaks to his transparency that he would approach the people he works for every day before talking to anyone else."
Michele V. Woodhouse is related to Dallas Woodhouse through her husband.
Despite premature reports that Cawthorn had already made up his mind, his announcement on Nov. 11 made it official.
"This was not an easy decision. Whichever path I choose, I am losing friends, neighbors and constituents. But this decision was not flippant or based on personal preferences in the slightest," said Cawthorn. "It is a tactical move to ensure North Carolina's conservative fighting spirit is strengthened."
The 13th District is a brand-new creation — an open seat — that came about as a result of the state's recent redistricting process. Cawthorn's current district changed only slightly from its current incarnation.
Nonpartisan mapping website northcarolina.redistrictingandyou.org shows that in 2020, Donald Trump took 56.1% of votes in the old NC-11, and 53.8% in the new NC-14. The new NC-13 went 60.2% for Trump.
Three counties from the old NC-11 (Polk, Rutherford and McDowell) have been incorporated into the new NC-13, but they only account for around 37,000 of the nearly half-million votes cast in the district in 2020.
The rest of NC-13 includes Burke, Cleveland and Gaston counties, and the western edges of Mecklenburg County. Cawthorn lives in Henderson County, which remains in NC-14.
Residency in a given congressional district isn't necessary to run in that district. A clause in Article I, Section 2 of the Constitution sets the minimum qualifications for membership in the U.S. House of Representatives at 25 years of age, seven years of U.S. citizenship and residence in the state in which the district is delineated.
"You elected a fighter, and I've fought day and night to defend our values in a town that despises principled and fearless representation," Cawthorn said. "This move is not an abandonment, in fact quite the opposite. It is a move to take more ground for constitutional conservatism. In my heart I represent North Carolina as a whole not some arbitrary line that some politician drew this cycle."
Cawthorn's jump from his current district to a completely new one is a rare or possibly even unprecedented move, says Dr. Chris Cooper, the Madison Distinguished Professor of Political Science & Public Affairs and Director of the Public Policy Institute at Western Carolina University.
"I'm racking my brain and scouring every congressional history on my shelf and I can't find a single example of a sitting member of Congress choosing to shift districts for any reason other than being redistricted out of their district, or redistricting changing the partisan make-up in a radical way," said Cooper. "The notion that an incumbent would choose to leave a safe seat for an even safer seat would never have occurred to me. But it is 2021 and this is Madison Cawthorn we're talking about so I guess the rules must not apply."
In 2020, Cawthorn won his seat in Congress by beating a well-qualified Democrat by more than a dozen points. Internal polling among Republicans in his current district suggests he's still extremely popular there, despite (or perhaps because of) his high-profile speech at Trump's "stop the steal" rally.
A conservative firebrand closely tied to Trump, Cawthorn currently lives in a district that is about as safe as it gets, making his decision to leave an interesting one indeed.
Cawthorn's unexpected candidacy in NC-13 set up what should have been a bruising internecine conflict with Tim Moore, a 10-term Republican rep from Cleveland County who is also in his fourth term as Speaker of the North Carolina House.
Moore was widely rumored to be interested in the seat, which had been widely rumored to have been drawn just for him, but an hour after Cawthorn's announcement Moore made an announcement of his own.
"While much of the speculation about my potential congressional candidacy has been driven by the media and political pundits, I have been humbled by the folks in our region who expressed their wishes for me to represent them in Washington," he said. "While I have given it consideration, right now I am focused on the issues at hand that impact all North Carolinians."
Cawthorn's stare-down with Moore was brief but impactful, like a cinder block lobbed into a pond.
The Charlotte Observer issued a scathing editorial on Nov. 13, calling Cawthorn an extremist who had fearmongered his way into power. Moore, the subject of Cawthorn's "establishment go-along-to-get-along Republican" crack is no moderate himself, but the Observer's editorial sardonically notes that because the NCGOP has refused to rein in its right wing, Moore's chickens have now come home to roost.
The ripples from Cawthorn's decision continue to expand outward amongst those who were jockeying for Moore's gavel, as well as for a dozen other state Senate and House candidates looking to move up, or around.
Cawthorn, the youngest legitimately elected member of Congress ever, now has no reason to believe he won't become the next representative from North Carolina's 13th Congressional District, given the partisan demographics.
It's a similar situation in NC-14.
Cawthorn would have faced nominal but steadfast opposition in the Primary Election from Republicans Wendy Nevarez, Bruce O'Connell and Rod Honeycutt.
Honeycutt may have distinguished himself slightly from the rest of the field by earning the endorsement of George Erwin.
Erwin is a retired Henderson County Sheriff who was once a big proponent of Cawthorn's but has since changed his mind and been vocal in expressing what he says are Cawthorn's failings.
Regardless, all three were facing an uphill battle in the Primary Election against the politically-connected, well-funded and well-liked incumbent Cawthorn, but now the rumor mill is spinning furiously with speculation on other Republicans interested in the newfound opportunity in NC-14.
Chief among them is three-term incumbent Sen. Chuck Edwards (R-Henderson).
Shortly after the insurrection, Edwards called out Cawthorn not once but twice and was thought to be contemplating a run against him, but Edwards hasn't responded to inquiries by The Smoky Mountain News about his intentions.
There are also two other powerful Republican incumbents in the neighborhood, and it would make perfect sense if one decided to run in NC-14.
During the redistricting process, Sen. Ralph Hise (R-Mitchell) and Sen. Deanna Ballard (R-Watagua) were drawn into the same district, but both also reside in the new NC-14. Ballard's office said she was unavailable for comment due to ongoing state budget meetings, and Hise has not returned multiple calls from SMN.
Michele Woodhouse, past chair of the NCGOP's 11th District and current chair of its 14th District, has also been widely rumored as a potential candidate.
"On behalf of the NC-11 GOP leadership, we have the utmost respect for Congressman Cawthorn's conservative service to NC-11," Woodhouse said in a statement. "As newly drawn NC-14 District Chair, my top priority is the election of a conservative fighter to stop the Biden/Pelosi America last agenda!"
The morning after Cawthorn's announcement, Woodhouse appeared live on WWNC-AM with host Mark Starling but made no commitments either way.
Sen. Kevin Corbin (R-Franklin) told SMN on Nov. 15 that he, too, was considering a run in NC-14.
Then, there's the Democrats — six of them, at last count. Buncombe County Commissioner Jasmine Beach-Ferrara became the first to announce her candidacy back in March, but was quickly followed by Josh Remillard, Jay Carey, Eric Gash, Bo Hess, Katie Dean and Brooker Smith. Remillard has since announced that he'll follow Cawthorn to NC-13.
Cawthorn's departure won't make it much easier for any Democrat to flip the seat, but they may try to gain traction with right-leaning independents disappointed in Cawthorn's departure.
Granted, other Democrats, or Republicans, may jump into the race now that Cawthorn's out of it. It will all come down to the candidate filing period, which runs from Dec. 6 through Dec. 17.
That means Western North Carolina will likely be in for another sensational Primary Election in 2022, reminiscent of the way Cawthorn came into prominence in 2020.
If the recent history of NC-11 looks to be something of a sideshow, the future of NC-14 might just be the whole dang circus — complete with a guy in a chicken costume.
"Madison Cawthorn, best known for supporting a violent insurrection against democracy on Jan. 6 and [being] a no-show Congressman who skipped out of 22% of votes in his first year in the House of Representatives, has now chickened out of running for a second term in Western North Carolina," said David Wheeler, in a press release issued moments after Cawthorn's announcement.
Wheeler is the president of American Muckrakers PAC, better known as firemadison.com. Since shortly after Cawthorn's election, the PAC, which has raised more than $40,000 according to its June 30 report, has had only one goal: to dog Madison Cawthorn.
According to Wheeler, they'll begin sending out volunteers to Cawthorn events dressed in a full-on chicken costume, reminding voters of their claim that Cawthorn has "chickened out" of his commitments to voters in NC-14. Those volunteers may even end up handing out buckets of fried chicken.
Reaction from other Democrats has been a bit more subdued.
"I think that Cawthorn's actions are a clear statement to the citizens of Western North Carolina that opportunism and branding are far more important to him than actually representing the people of our region," said Matt Ballance, Dem chair of the NC-11/NC-14 district. "Our citizens want a workhorse, not a show horse. And the biggest show horse in the North Carolina Republican Party just turned his back on his home district. Voters will remember that."
Buncombe County Commissioner Jasmine Beach-Ferrara, the first Democrat to enter the race, calls Cawthorn's move "consistent" with the approach he's taken since his election.
"This is just another flagrant example of him prioritizing his political agenda and building his political brand over doing the job that he was elected to do," said Beach-Ferrara, who's raised almost triple the money of the rest of the current Democratic field, combined.
The most significant event in NC-14, she said, is not Cawthorn's departure, but rather the new maps. Beach-Ferrara believes the district is now truly competitive, even with the relatively small decrease in the number of Republican voters. She also won't change the way she's running her campaign, despite the district's new dynamics in the absence of Cawthorn.
"I got in this race to deliver the leadership that we believe Western North Carolina deserves, and we believe that starts with getting out there and meeting people where they are. That's why we're knocking doors in every county across the district and doing a lot of listening," she said. "We are hearing very consistent stories from people all across the district about what's going on in their lives right now and what they need and what they want for themselves and their children and their family."
Republican Rod Honeycutt, who entered the race late after retiring from the Army as a colonel just this summer, says his campaign won't change much either.
"We're going to keep meeting at one to four different venues a day, continue to tell our message," Honeycutt said. "We are running on knowledge we've gained and leadership experience we've gained through 37 years of service with foreign policy and military policy in the forefront, but now focusing more on the issues of Western North Carolina."
Other Republicans, in both NC-13 and NC-14, aren't giving Cawthorn the warm sendoff or welcome he probably expects.
Former Cherokee County GOP Chair Shannon Greathead shared on Facebook her displeasure, writing that Cawthorn had "disappointed a great many of [his] supporters," and that he was now "part of the swamp."
Susan Tillis, a resident of the 13th Congressional District and wife of U.S. Senator Thom Tillis, took to Twitter on Nov. 12, opining that "… those of us in the new 13 didn't need any intervention and we are capable of making our own decisions."
And in what may be the final act of Cawthorn's carnival, pending lawsuits filed over the new maps, which give North Carolina Republicans 10 of 14 congressional districts in a state that Trump won by exactly 1.34 points in 2020, may just render Cawthorn's rogue moment moot.
The candidate filing period for the 2022 General Election begins Dec. 6 and ends Dec. 17. Check back with The Smoky Mountain News for updates on candidate filings as they occur.
NC-14 third quarter candidate fundraising totals*
Democrats
Jasmine Beach-Ferrara

$933,087
Eric Gash

$230,161
Jay Carey

$34,692
Katie Dean

$43,312
Bo Hess

$8,873
Brooker Smith

less than $5,000
Republicans
Rod Honeycutt

less than $5,000
Bruce O'Connell

$12,397
Wendy Nevarez

N/A
*2022 cycle to date, as of Sept. 30, 2021 per fec.gov. Does not include loans. Candidates who haven't raised more than $5,000 by the deadline do not need to report fundraising data to FEC.
Source: fec.gov
Leave a comment
3

comments
I'll vote for anyone who runs against Cawthorn.
We in WNC are basically, currently unrepresented.

Sunday, 11/28/2021

The only thing "baseless" about the 2020 election is the claim there was no fraud. Leftists are in love with anything that gets them a "win." Biden did not win 2020, he obtained the benefit of massive vote fraud that extended into 50 states. Some states he was not able to overcome the actual vote, but was able to get enough to overcome it enough states.

You can hold to your baseless nonsense all you like.

Sunday, 11/21/2021

You missed an event that hurt Bennett. Three days after the March primary Mark Meadows was named Trump's Chief of Staff. As popular as Trump is among local Republicans, few were happy at the prospect of being without a Congressman for the remainder of 2020. That blunted the impact of the endorsements Meadows got her in the runoff

Wednesday, 11/17/2021