Archived News
Cawthorn's first Republican challenger appears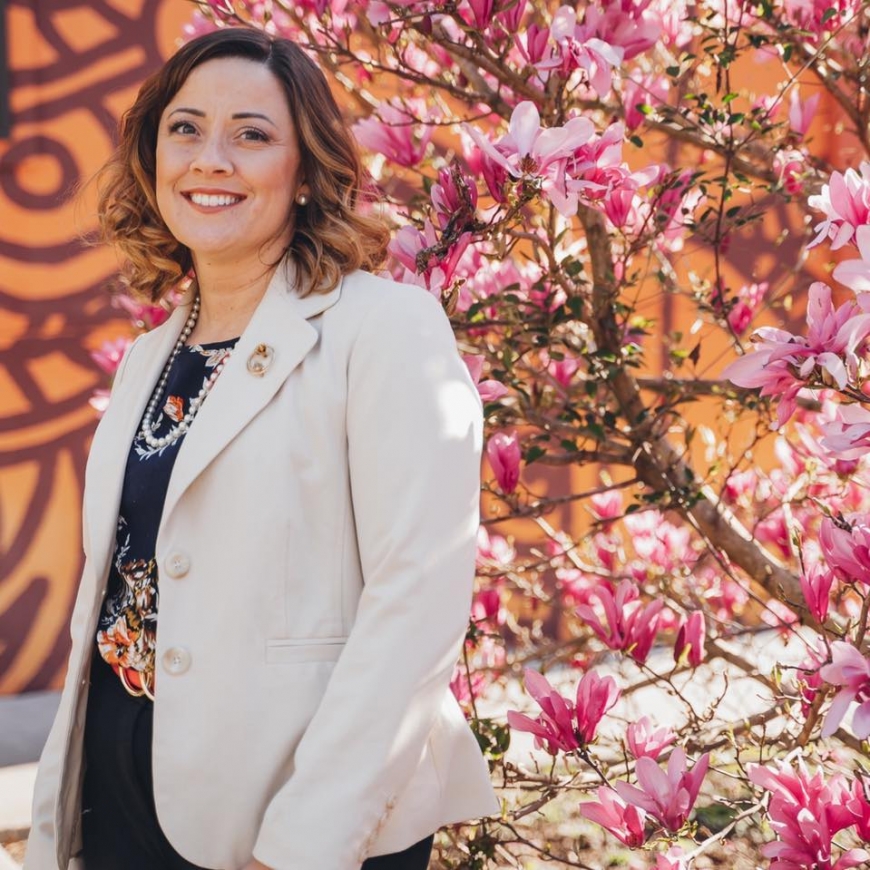 Wendy Nevarez
Facebook photo
There's been lots of speculation since very early in Rep. Madison Cawthorn's tenure in Congress that he'd face a Republican challenger in the Primary Election, but now it appears there's at least one person who's willing to do it – Asheville Republican Wendy Nevarez.
"Experience is key. Leaders have to be strong and courageous and willing even when the establishment or the agency or organization they're a part of is wrong," Nevarez gave as the reason for her decision to primary Western North Carolina's firebrand freshman congressman. "They have to have the ability to say, wait, come on guys … he just doesn't have that yet."
Nevarez grew up in King's Mountain and after a semester at the pricey, private Gardner-Webb University joined the United States Navy, shortly before the terror attacks of Sept. 11, 2001. Working in disbursement and personnel, Nevarez tired of missing her children and received an honorable discharge in 2012, taking a civil service job in Norfolk.
After a visit to Asheville, Nevarez and her family moved to the area. She took a job in manufacturing, but quit when she realized she was about to give birth to twins. While staying home to raise them, Nevarez earned a bachelor's degree in political science from UNC-Asheville, and went on to get a master's in public administration. Currently, she's a legal assistant at the Van Winkle Law Firm.
Her campaign Facebook page just launched, but a campaign website, www.wendyforwnc.com, is not yet active.
Voter records show Nevarez voted in Pasquotank County from 2008 through 2012, and in Buncombe County thereafter. A Federal Elections Commission search revealed that Nevarez established a campaign committee on April 7.
Nevarez's entry into the field all but guarantees a crowded race on both sides – Democrats Jasmine Beach-Ferrara and Josh Remillard have already launched their campaigns, and rumors continue to swirl about other Dems seeking entry into the race.
On the Republican side, powerful Hendersonville Sen. Chuck Edwards is under intense scrutiny as a purported Cawthorn challenger for a number of reasons, but Edwards has yet to say anything publicly about the matter.
The Smoky Mountain News: Voter records show that you're a registered Republican, but you pulled a Democratic ballot in the 2020 Primary Election. Why?
Wendy Nevarez: I will call it "political homelessness." I hold those traditional Republican views that honestly are just human and family values but the problem was, the party didn't look like what it was when I signed up originally. It was time to renew my driver's license and the lady happened to ask me if I'd like to register and I said, "I'm registered, but can I change?" So I went ahead and marked down "unaffiliated." Honestly, I thought that was probably the best choice because then I would actually have a choice in the primary. I thought it was the best thing to do at the time. That's pretty much the story. I know I'm going to get called a certain term.
SMN: RINO [Republican In Name Only]?
WN: Yes, but I truly believe that no one person or party is right all the time. Anybody that claims to be is just not the kind of leader I want to be associated with or the kind of leadership I want to be associated with.
SMN: Cawthorn has been pretty closely associated with former President Trump since he won his runoff election last year. By running against Cawthorn, you're going to end up running against Trump. Are you ready for that?
WN: I'm always ready. The Navy taught me that.
SMN: At CPAC in February, Trump basically recited a hit list of Republicans that he said he was going to oppose in the coming election – people who voted to impeach him, or upset him in other ways. I'd bet he's going to put a big target directly on this district. Do you think Trump's support still carries the weight that it did back when he was president or do you think the party is trying to shift away from him?
WN: I think the party is probably still about where it was. I mean, we're not that far removed. I think Jan. 6 and the current track record of the Republicans that he did support is convincing some people to reconsider. But he still has a huge base, and honestly, I'm not focused on that. I really could care less. I'm not in this to worry about Trump. I'm in this to worry about the people that are my neighbors that live in Western North Carolina. You're always going to have somebody against you no matter how likable you are, so I'm not too terribly worried about it.
SMN: Some of the counties out here in the district polled more than 75 percent for Trump, both times. How are you going to convince these people that you're a better choice than Cawthorn?
WN: Time, and a lot of conversations.
SMN: If you were in the House during Trump's second impeachment, would you have voted to impeach him?
WN: Well I wasn't, however, yeah, I would have. I swore to protect and defend the Constitution of this country and everything that happened that day was against everything that I left my children for when I enlisted. So yeah. You've got to vote your conscious on some of these issues.
SMN: In March, the House heard two gun control bills. One would clamp down on transfers of weapons between unlicensed individuals, and the other was about background check waiting periods. Cawthorn voted against both of those. Do you support what a lot of people call common sense gun reform, like red flag laws, waiting periods, even an assault weapons ban?
WN: That's a tricky one because I believe everybody has the right, and we have to understand what the difference in a right a privilege is, and we are given rights and privileges from the Constitution. However, if you don't know how to operate a large bulldozer, you don't just let anybody get up into it. I've been going through this recently, I have one [child] that's 18 and one that's about to be 15. You don't just put a teenager into a vehicle and say, "All right, have fun, pick up all your friends and stay out all night." We reformed to where now they have a graduated license, right? So there's a common ground somewhere between the Republican view and the Democratic view on gun control right now.
The fear factor is that somebody is going to come and take your guns. I don't believe anything that the Democrats are doing is intentionally going to try to take anyone's firearms away from them however I do believe we need to say, "Are you mentally healthy enough to have a firearm?" I mean, we already do this. To get a concealed carry you have to have a doctor's signature in North Carolina that says, "Yep, she's good to go." I've shot semiautomatic and automatic weapons. Honestly in my opinion, the ability to take that much life at one time is only necessary for war.
SMN: Going back to Trump's tax cuts in 2017, we have increased the national debt from about $20 trillion in 2016 to about $30 trillion today and that includes the five or six COVID-19 relief packages including President joe Biden's most recent, called the American Rescue Plan. Rep. Cawthorn voted against it. How do you feel like you would have come down on that bill?
WN: On all of these packages, I would have voted for them because we're looking at putting money back into these establishments and these agencies that help take care of people – education and healthcare, all of these things that make a difference in everyday citizens' lives., Putting on my accounting hat and balancing a budget, I think at the end of the day we need to stop doing these continuing resolutions and really go through a true budget cycle and look at where we're spending money. In my household when I don't have enough income to cover expenses, I either cut my expenses or I get a second job, or I do odds and ends. I don't go to my neighbor and ask to take money out of their wallet to pay my bills.
Cawthorn spokesman Micah Bock declined to comment on Nevarez's candidacy.