Archived News
Democrat Jay Carey brings perspective to NC11 field
Wednesday, August 11, 2021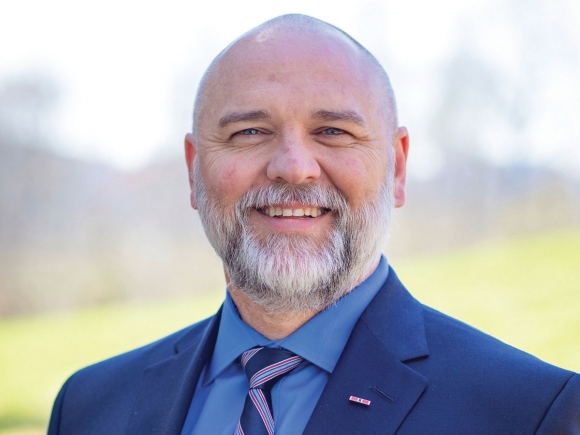 Jay Carey is a part of a six-candidate Democratic Primary Election field in NC11. Donated photo
With a father in the Navy and a mother from Poland, Jay Carey grew up in a middle-class family in the northeast, primarily Rhode Island, New Jersey and Pennsylvania.
Upon graduation from high school, Carey carried on a family tradition dating back to the Revolutionary War by joining the military himself, retiring as an Army tanker and a sergeant first class after more than 20 years of service and tours in Iraq and Afghanistan.
After retirement, he moved to Austin, Texas, and worked for a municipal water service but once his son graduated from high school, there he and wife Leslie decided it was time to leave Austin.
"It had hit 1.2 million people. We were like, this is enough. We like visiting. We love the people there. We miss the breakfast burritos, but it was just too much," Carey said. "We had our choice of the entire country and everybody was like, 'Go check out Asheville. It's like an Austin in the 1980s and 1990s.' I tell people I wasn't fortunate enough to be born here, but I was smart enough to move here."
The parallels between Austin and Asheville are more than just coincidence — they're driven by the same growth factors that all towns with flourishing entertainment-based economies face.
"It's a lot of the same problems. The rural communities are underserved. They're forgotten about, and the major cities are what seem to be always getting taken care of," said Carey. "In Austin I had Google fiber, which was one terabyte. I moved to Hendersonville and I had three megabyte service. It was a big difference. You don't realize that you have it so good until you move into this position where you don't have it very good and actually, I think that's what we face with people in Congress — they're so used to having it so good."
That's a big reason Carey decided to enter the race for North Carolina's 11th Congressional District earlier this year.
In doing so, he joins an already-crowded field of Democrats seeking the nomination to face Republican Madison Cawthorn, including Buncombe County Commissioner Jasmine Beach-Ferrara , fellow veteran Josh Remillard , Henderson County educator Eric Gash , social worker Bo Hess and small business owner Katie Dean .
Like the rest of them, Carey faces an uphill battle in a deep red district, but it's a battle he thinks is worth fighting.
The Smoky Mountain News: Medicaid expansion is a state decision, but hinges largely on the funding Congress has pledged — 90% of the expansion population in perpetuity — to states. The argument I always get against expansion is, if the feds pull the plug on funding, then we're on the hook for it. Would you commit to going to Congress and fighting for that funding to remain?
Jay Carey: Yes, but I believe that there's a better option where we take the onus off of the states. That's a federally funded public option, much like they did with single payer in Canada. If you followed Canada with their single payer, there was some resistance at first because people were able to keep their private insurance. The majority of them are now on it. It's almost become a Medicare for all. So we do a federally funded public option that meets the needs of the people without having to go fight the state for that, because it's ridiculous that the state turned down that funding. That was the wrong call.
SMN: I asked Eric Gash this question, and I'm going to ask you the same. What does common sense gun reform mean to you?
JC: What it means to me is, I believe a lot of what we have in background checks are effective. They're just not being enforced across the board. And I also believe that it's common sense to license people and attach those weapons that they buy to that license, just like we do with cars. I believe we should be licensed to own weapons so that we can maintain accountability.
SMN: We're licensed to drive automobiles and we're also required to have insurance. Is that part of the package, requiring gun owners to carry liability insurance?
JC: I don't have a good answer on that right now. I haven't really looked into that that much. I want to look at the repercussions. I want to look at both sides of it because I'm a gun owner. I believe in law-abiding citizens having a legal right to own weapons, but we have to regulate it. I buy into the "well-regulated" portion [of the Second Amendment]. We have to have sensible gun laws that do background checks that maintain accountability of those weapons.
SMN: Would that include things like an assault weapons ban, or magazine capacity restrictions?
JC: My feeling on assault weapons is, they're weapons of war. We're not at war with each other. I don't believe that the average citizen needs a weapon of war. I carried a weapon of war because I was at war. I left it behind.
SMN: The other issue that I think has been around for a decade and continues to get worse is rural broadband. Rep. Cawthorn is on a bill that's trying to open up spectrum leases so that we could maybe have more players in the game. We've got some other things happening that have brought satellite internet to places out in the west on a very small scale. What's the real answer to getting rural Western North Carolina more connected to the digital economy?
JC: Infrastructure already exists in our telephone poles since the 1930s with the Tennessee electrical act. They brought electricity to everybody that wanted it, and it took about 15 years. We now have that infrastructure in place. I believe that broadband needs to be hardwired into homes. I live in an area where I can't use any type of satellite or DIRECTV or dish or anything because of all my trees. I'm not cutting my trees down in order to get something like that. It needs to be hardwired. That also makes it more dependable.
SMN: There are five Democratic candidates right now, besides you, and there may end up being more. We've got a long way to go. How do you distinguish yourself from some of these other candidates to prove you're the best person to take on Cawthorn in the General Election?
JC: Well, it comes down to leadership. I have a proven track record as a leader. I was a sergeant first class for over 10 years in a senior leadership position. While I was in Iraq, I stood up with a small seven-man team that went out into communities, local communities, and we talked to them about what their needs were to help them rebuild their communities, because their communities were destroyed. They had no running water, electricity, security. I was able to work with local communities, listen to what they needed, empower them, help them get what they needed and then let them build their own communities.
It does come down to leadership. I'm not an expert in many areas. I am an expert at leading. A good leader is able to find the experts that have the answers, bring them together so that they can work together for the solutions. That's what we need in Congress. We need leadership. And I bring that.
SMN: If you're able to emerge from this Primary field as the nominee, you're going to be facing a media darling who is very popular with his constituents and tied very closely to the leader of the Republican party, Donald Trump. How do you compete with what looks like a juggernaut at this point?
JC: I'll tell you one key thing about Madison Cawthorn. Over the past few months, he has begun to disenfranchise conservatives and Republicans, because he's not a conservative as he claims to be. He's a fascist. He has modeled himself after Donald Trump, who is a fascist. He's not even a Republican. We know he's not a conservative because look at how much he enjoyed celebrating Liz Cheney — probably the most conservative person the Republicans have in elected office — being removed from her position of authority because she wouldn't pledge fealty to Donald Trump. Now, does that sound like a conservative, where you're idolizing a person and not the party? No.
That's one thing that I do believe that we as Democrats have working in our favor. The other thing is reaching out to those unaffiliated voters. There are quite a few that are former Republicans that have lost faith, disillusioned by their party and what it's becoming because of people like Madison Cawthorn.