Archived News
Buncombe Commissioner Jasmine Beach-Ferrara wants Madison Cawthorn's seat
Wednesday, March 03, 2021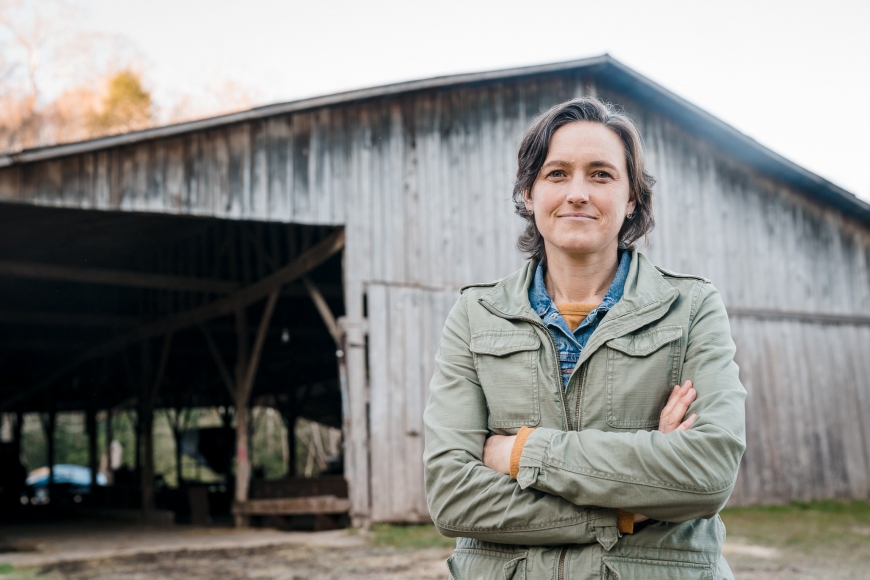 Jasmine Beach-Ferrara
Donated photo
Some people will say a gay woman who's a Christian minister just can't get elected in the South.
Those are the very first words spoken by Democrat Jasmine Beach-Ferrara in a launch video for her 2022 congressional campaign. Although she's already proved the skeptics wrong – Beach-Ferrara is currently serving her second term as a Buncombe County Commissioner – she's looking to do it again in North Carolina's 11th Congressional District.
"I'm running because Western North Carolina families deserve better than they're getting from Madison Cawthorn. My faith teaches me that leadership starts with empathy, compassion and listening and then getting to work to help people. That's the kind of leadership I want to offer instead of the division and mean-spiritedness we're getting now," Beach-Ferrara said in a press release. "This is going to be a campaign built on bringing people together, finding common ground, organizing everywhere and talking about the issues that actually matter to people's lives."
Beach-Ferrara, who lives in Asheville with wife Meghann Burke, is a United Church of Christ minister and a founding executive director of the Campaign for Southern Equality, an Asheville-based non-profit working to reduce legal, political, health care and income inequalities for LGBTQ people.
Raised in Chapel Hill, Beach-Ferrara holds an undergraduate degree from Brown University, a Master of Fine Arts and a Master of Divinity degree from Harvard Divinity School. ​She also served on the Biden Foundation's Advisory Council for Advancing LGBTQ Equality.
While Beach-Ferrara may or may not be the first Democrat to enter the race formally, she's thus far been the loudest.
Previous Democratic nominee Moe Davis, who lost to Cawthorn by 12 points in November 2020, filed his statement of candidacy on Feb. 22 but has a statement on his website saying he's still "exploring" the idea of running again.
Henderson County businessman, Iraq War veteran and Democrat Josh Remillard, who lost a 2020 bid for North Carolina's 117th House District by 21 points, filed his FEC statement of organization on Feb. 25.
Another potential Democratic candidate, Jay Carey, is also exploring a run, and it's likely he's not the last.
Cawthorn has been a controversial personality almost since the moment he joined 11 other Republicans in seeking the seat then held by Mark Meadows. Meadows announced he wouldn't seek re-election a day before the filing period ended in December 2019, and then abandoned the seat shortly after President Donald Trump's first impeachment to become Trump's chief of staff. Meadows' seat remained empty throughout the onset of the Coronavirus Pandemic as well as during votes for some of the largest federal spending packages in U.S. history.
During the 2020 campaign, Cawthorn faced allegation after allegation – Nazi sympathies, white supremacist imagery, sexual harassment of women – but his national profile got a big boost when he spoke at the Republican National Convention on Aug. 26.
Just three days after he was sworn in, Cawthorn spoke at the now-infamous "stop the steal" rally held by President Trump on Jan. 6, immediately prior to the insurrection. Since then, he's been scrutinized for his potential role in helping to incite a crowd to storm the capitol building and another round of sexual harassment allegations has emerged.
To make matters worse for Cawthorn, a key supporter in the law enforcement community repudiated him, and his own state Senator, powerful Hendersonville Republican Chuck Edwards, chastised Cawthorn not once but twice and appears to be lining up for a primary challenge.
Edwards will also have a hand in drawing the new maps that should be ready in time for the 2022 Primary Election. With North Carolina expected to gain an additional seat in the U.S. House, it's anyone's guess as to what the 11th Congressional District looks like come election time.
While Beach-Ferrara's first words to the 11th District may have been bold, she closes her video with another strong message to the skeptics.
"This BBQ-loving, football-watching proud Southern mom of three is running for Congress," she said. "And you better believe I'm running to win."