Archived News
Rep. Mark Meadows announces retirement, 18 seek his seat
Monday, December 23, 2019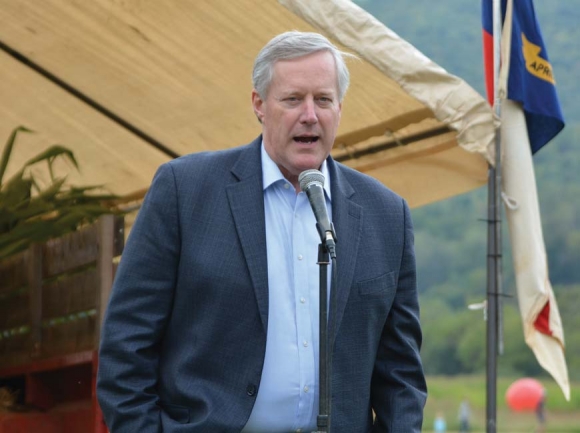 Santa Claus was especially good to Western North Carolina Democrats this year, delivering from his sack one big item on their wish list, and stuffing their stocking with another gift that wasn't expected, but was met with great appreciation.
First, on Dec. 18, members of the U.S. House of Representatives voted to impeach President Donald Trump for abusing his power and obstructing Congress. While that's not likely to lead to any changes in the Oval Office, it is viewed as an historic stain on the presidency afforded only two other men in history.
Perhaps more consequential for Dems was a surprise announcement made by Rep. Mark Meadows, R-Asheville, just hours after he spoke and voted at the impeachment hearing the day before.
"For everything there is a season," Meadows said in a statement Dec. 19. "After prayerful consideration and discussion with family, today I'm announcing that my time serving Western North Carolina in Congress will come to a close at the end of this term."
In his four terms as North Carolina's westernmost congressman, Meadows dominated his gerrymandered district and grew to national prominence as a widely televised champion of conservative values and the chair of the House Freedom Caucus.
"This was a decision I struggled with greatly," he continued. "These last eight years, I have been so blessed to serve the people of NC-11 and help give a voice to millions of Americans who feel Washington, D.C., has forgotten them."
Once Trump took office in January 2017, Meadows' staunch support of the president earned him even greater influence, but even more scorn from the left.
"Since serving alongside President Trump, I have been a witness to historic economic prosperity, unemployment levels I only dreamed of when I took office, tax and regulatory reforms that are putting the American worker first, our Israeli embassy moved to Jerusalem, and trade deals that were once thought impossible," he said. "I have seen our law enforcement and first responders receive the support they deserve and our military once again put on a path to maintain its superiority. Through it all, I am so thankful to have been able to serve and give back to the great country I call home."
It's that support of the president that may have played a role in Meadows' departure; even though his district was redrawn with far less partisan advantage than it had before, he still would have likely defeated all comers had he decided to run. Such a victory would have left him poised to compete for the seat of retiring U.S. Sen. Richard Burr. Rather than sit on the sidelines for two years awaiting that chance, all speculation points to Meadows taking some sort of position in the Trump administration.
"My work with President Trump and his administration is only beginning," Meadows said at the conclusion of his statement. "This President has accomplished incredible results for the country in just three years, and I'm fully committed to staying in the fight with him and his team to build on those successes and deliver on his promises for the years to come. I've always said Congress is a temporary job, but the fight to return Washington, D.C., to its rightful owner, We The People, has only just begun."
North Carolina Republican Party Chairman Michael Whatley released a statement shortly after Meadows' announcement, praising the popular incumbent.
"Mark Meadows has been an incredible representative for Western North Carolina," said Whatley. "He has stood strongly in support of the President with an unmatched tenacity for the Second Amendment, preservation of life and reining in Washington. It has been an honor to call him a friend and I wish him the best of luck in his future endeavors."
Perhaps the best indicator of Meadows' influence on and legacy in his district is the sheer number of candidates who are lining up to replace him.
When the filing period for North Carolina candidates closed on Friday, Dec. 20, at noon, 11 Republicans had signed up to succeed him. The first announcement came from Haywood County realtor Lynda Bennett, a longtime party activist and Tea Party enthusiast. Bennett had purchased the domain for her website on Oct. 28, long before Meadows announced his decision.
Bennett was followed shortly thereafter by Sen. Jim Davis, R-Franklin. Davis, a five-term state senator, announced earlier this year that he wouldn't seek reelection to that seat, but Meadows' departure apparently presented an opportunity he couldn't resist.
Biltmore Park Republican Chuck Archerd is also in; he lost a race for Buncombe County Commission Chairman in 2016 and then ran against Meadows in the 2018 Republican Primary Election, saying it was a precautionary move in the event that Meadows took a position in the Trump administration – he'd been mentioned as a potential chief of staff. Archerd pulled 13.7 percent of the vote in that race, a race he said he hoped he'd lose.
Meadows' Senior Advisor Wayne King also threw his hat in the ring, setting off speculation that he might have Meadows' implicit or explicit backing.
Democrats, on the other hand, are also lining up to replace Meadows. Some, like Pisgah Forest resident and 2018 candidate Steve Woodsmall, have been in the race since before the maps were redrawn, and before Meadows announced his retirement. Michael O'Shea, of Mills River, also filed before the map change and Meadows' announcement.
Fellow 2018 Dem candidate Phillip Price — who beat Woodsmall and another Dem in that primary — had endorsed O'Shea on the night of Dec. 18, but after Meadows made his intentions known on Dec. 19, Price went ahead and filed to run again anyway.
Kings Mountain attorney Gina Collias also filed for the race, along with Moe Davis, a retired Air Force attorney who is probably best known for his caustic and constant haranguing of both Meadows and Trump on social media.
Additionally, the race will feature two third-party candidates, Franklin resident Tamara Zwinak (Green Party) and Asheville Libertarian Tracey DeBruhl, who in 2018 was arrested for stalking while also running for Buncombe County Sheriff.
The Primary Election will be held on Tuesday, March 3. According to Ballotpedia.com, "Winners in North Carolina primary contests must win by at least 30 percent of the vote plus one. If no candidate reaches this total, a runoff election is held."
Voter registration for the 2020 Primary Election, which also includes the presidential preference primary, ends on Feb. 7. For more information on candidates, contests and other important deadlines in advance of the election, visit www.ncsbe.gov. The General Election will be held on Tuesday, Nov. 3.