Archived News
Cawthorn scores convincing victory in NC11
Wednesday, November 04, 2020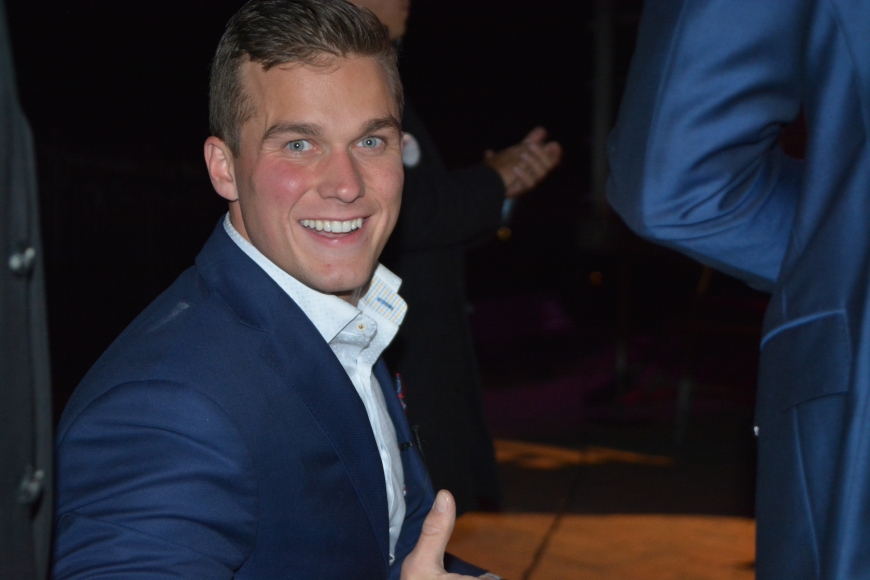 Madison Cawthorn at his victory party in Hendersonville
Cory Vaillancourt
It was one of those fairy tales that actually came true. Madison Cawthorn, a 25-year-old political unknown, pounced upon an unexpected congressional vacancy last December, survived a Primary Election field of 12 candidates to claim a spot in the runoff where he defeated a runoff opponent that was hand-picked by incumbent Republican Rep. Mark Meadows and endorsed by President Donald Trump. Cawthorn then ultimately prevailed over a well-qualified former judge and retired U.S. Air Force colonel in the General Election.
"We have come together and we have said that this is enough with the divisive politics, this is enough with career politicians ruining our lives, wasting our tax dollars, telling us what we can do with our faith, what we can do with our children and what we can do with our money," he told a large crowd from an outdoor stage shortly after 10 p.m.
Cawthorn came up big on early votes right at the outset, logging 87,000 to Moe Davis' 46,583, good for a 63 to 34 percent lead. As precinct results trickled in, Cawthorn maintained a 5 or 6 point lead until, with 254 out of 304 precincts reporting, he expanded that lead to 10 points.
"The people of Western North Carolina said that we are sending a weapon to Washington, D.C., to end this divisiveness, to bring America back to what it once was," Cawthorn said.
Cawthorn's margin of victory was larger than most expected; a recent redistricting made the district slightly more Democrat-leaning than it had been during Rep. Meadows' time, but it was still thought to be 6 to 8 points in the red. Cawthorn exceeded expectations. With 301 of 304 precincts reporting, he held a lead of more than 12 points on the strength of more than 242,000 votes.
By comparison, Meadows won his 2016 race with 230,000 votes, and his 2018 race with 178,000.
The race had drawn national attention, as well as national money. More than $11 million was spent on retaining the seat in a district that hasn't seen much campaign spending in the past.
Cawthorn will join the U.S. House of Representatives as a member of the minority party, as Democrats aren't expected to lose control of the House, despite what may happen with the presidential race or the situation in the U.S. Senate.
Two other candidates, Libertarian Tracey DeBruhl and Green Party candidate Tamara Zwinak,
both came in with less than two percent of the vote and were not a factor in the final result.