Archived News
Republicans seek to maintain control of Meadows' seat
Wednesday, February 12, 2020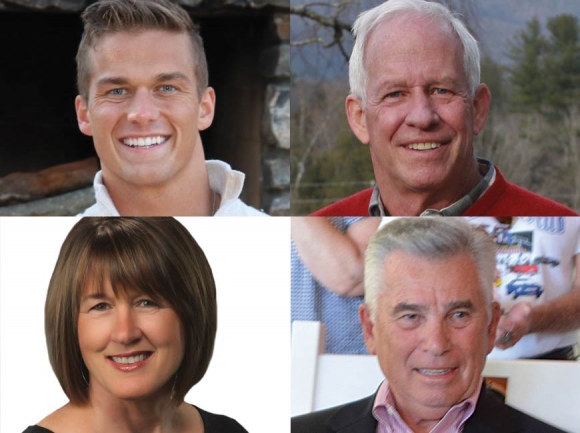 Clockwise from top left: Madison Cawthorn, Chuck Archerd, Jim Davis and Lynda Bennett.
Last September at a Macon County GOP event, Franklin Republican and five-term Sen. Jim Davis announced that he wouldn't be seeking re-election to his seat in the North Carolina General Assembly. After a short speech by Davis, party officials whisked an American flag off a handsome white rocking chair and presented it to Davis as a sign of gratitude for 10 years of service in Raleigh as well as 10 years of service as a Macon County commissioner.
All it took to pull Davis out of that rocking chair was the surprise retirement of Asheville Republican Congressman Mark Meadows three months later.
"They're threatening to repossess the chair," Davis joked at an event in Haywood County last week.
The popular Meadows probably could have held the seat for as long as he wanted, especially given the racially gerrymandered district map that was struck down by courts last year, so as soon as news broke of Meadows' decision one day before the end of the candidate filing period, a brief but intense period of high drama ensued; a dozen Republicans filed for the seat, seven of them from well outside the district itself.
None of them expected to be running in the 11th Congressional District GOP primary this year — except for one. Haywood County real estate broker Lynda Bennett was the first to announce her candidacy with a press release issued just three hours after Meadows' decision was revealed — not to any of the media outlets in his sprawling Western North Carolina district, but to national outlet Politico.
Per Politico, the Asheville Tea PAC endorsed Bennett after a 6:15 a.m. conference call that same morning, before she'd even issued her press release.
Bennett also had a campaign website already up and running, giving rise to speculation that Meadows hoped to circumvent the primary process and pass his seat directly to Bennett — her domain name was registered on Oct. 28, almost two full months before Meadows' announcement.
Quick and substantive support for Bennett from Meadows' wife Debbie only served to bolster that speculation; also per Politico, N.C. 11th District GOP Chairman Aubrey Woodard said that his phone had been "ringing off the hook from people who [were] upset and discouraged" with Meadows' apparent attempt to clear the field for Bennett.
Nevertheless, three more candidates from within the 17-county 11th District ended up filing as well, with one, Asheville resident Matthew Burril, dropping out in short order on account of business opportunities.
That leaves Davis, Bennett, Asheville's Chuck Archerd and Hendersonville resident Madison Cawthorn as the only 11th District residents seeking the Republican nomination.
Archerd actually ran "against" his friend Meadows in the 2018 Primary Election, pulling 13.7 percent of the vote, but said he'd hoped he'd lose and that he was only running in the event that Meadows might take a job with the administration of President Donald Trump.
Cawthorn, just 24, has emerged as a surprisingly strong candidate, as evidenced by a recent appearance on the Fox & Friends television program.
A motivational speaker and real estate investor, Cawthorn has just as many pros and cons as any other candidate, but voters will have to pick one of them to defend Meadows' near-decade of dominance in district that has been remapped, but still holds a 5 to 7 percent Republican advantage.
Madison Cawthorn
There's no problem with the Republican message, says Madison Cawthorn, but there is a problem with the Republican messengers.
"If you're looking for a career politician, I'm definitely not your guy," said Cawthorn.
Born near the end of the "millennial" generation, Cawthorn is a great example of the fact that not all young voters today are liberals.
"The biggest issue I'm concerned about is the rise of socialism, socialist sentiments, in the younger generation," he said. "People are going so far left that I'm scared they're gonna just destroy the America that we know unless we can convince them of the wisdom of conservatism."
Cawthorn cites the popularity of Rep. Alexandria Ocasio-Cortez and her Green New Deal as well as the prominence of Sen. Bernie Sanders as examples.
"At the end of the day, it's a lot more government control," said Cawthorn. "It's a lot more taxes and it's a lot less of the values and faith that built this country."
The reasons, he said, come from a changing society that no longer values hard work and personal responsibility.
"Families in generations past had to work on farms, they had a lot of things they had to do," he said. "Now, what I see in culture is that families are more socialist-based. I mean, the kids aren't expected to do anything and then they point at something and say, 'Mommy, I want that $1,000 phone' and then they instantly get it. So when they are hit by the real world they see, 'Oh, I don't just get everything for free?' To them that seems like it's unfair, but in reality that's just how the world works."
Cawthorn believes that there's really only one difference between him and his Republican primary opponents.
"I'm proud to be in a field of Republican candidates that all share pretty much the same values," he said. "We're all pro-gun. We're pro-God or pro-family. At the end of the day we all want border security. There's not a lot of distinction among us, but the thing that I think does distinguish me from the other candidates is that I believe I'm the party's best chance, if not only chance, at winning in November."
That goes back to Cawthorn's "message" versus "messenger" argument, especially with the recent addition of Ashville to the 11th Congressional District.
"We need a candidate who can reach into urban Buncombe County and reach these young undecided voters," he said. "To be quite frank with you, I really don't believe that these candidates in the Republican field are able to compete in the new 'town square.'"
For better or worse, traditional political arenas like debates, forums, town halls, radio, television and print media are only part of the way candidates and elected officials communicate with their modern-day constituencies; as the only candidate raised in the internet age, Cawthorn thinks that gives him a distinct advantage.
"I can also compete for the hearts and minds of younger Americans," he said. "Whether that be on social media, on Instagram, on YouTube, with podcasts, with blog posts. I feel as if I'm very adept with social media, and so I feel like one of the things that distinguishes me is that not only can I reach the deep conservative base of Western North Carolina, but I can also reach undecided voters who just haven't really been exposed to anybody who explains our ideals in a positive way that makes sense to them."
Were he to progress to the General Election in November, Cawthorn recognizes that he won't get all the votes, especially from the hardcore left, but he still thinks his conservative message holds broad appeal.
"I'm a conservative, and when I say that, I mean I want to conserve the power that Washington has. I want to get the dadgum government out of your life. I want you to have more money in your pocket and I want you to have less regulations telling you what you can and cannot do," he said. "I want you to be able to live your life. No government bureaucrats should be telling you what you can and cannot do in your life."
A strong anti-tax position is central to Cawthorn's platform, something he thinks could swing enough votes to send him to Washington.
"We're taxed on the money we make, we're taxed on the things that we buy and then we're taxed if we want to keep those things and hell, we're taxed when we die with a death tax," he said. "So at the end of the day, I think that my message really appeals to a lot of Americans because I just want to make sure that we are safe, that we're not getting shot at, that our economy is good and our taxes are low so you have a safe place to raise your family and you have a lot of money so that you can prosper and have a great life."
If Madison Cawthorn becomes Rep. Cawthorn this November, he said he'd be honored to be asked to join the influential House Freedom Caucus, an asymmetrical center of power within — and sometimes standing in opposition to — the greater Republican membership in the House. Meadows recently stepped down as chair of the HFC, but deftly utilized the HFC over the years to exercise greater than expected influence.
"As a freshman Congressman there, you won't have a lot of power, especially being a true conservative, even in the Republican party," Cawthorn said. "I would feel like I was the minority so being able to combine my punching power with other conservatives who share my viewpoints, I feel like is a wise thing and it's the best thing for Western North Carolina."
Chuck Archerd
If past performance could be indicative of future returns, Chuck Archerd's fateful encounter with Meadows back in 2018 may shed some light on why Archerd's running again, and where Meadows is headed.
"Mark was sitting in my living room about three weeks before the filing period, and he was very unsure of what he was going to do, what the Lord wanted him to do, what Trump wanted him to do," said Archerd of their conversation just prior to Meadows' last successful re-election campaign. "He said, 'Be ready because if Trump calls me, I'm going to go work for him.'"
As that filing deadline approached, Meadows said he'd run but Archerd was still concerned about what would happen if Meadows — by now a prominent national figure — was indeed called away by the president.
"I said, 'Should I go down and file?' He said, 'I can't tell you to do that.' I said, 'Should I not file?' He said, 'I can't tell you to do that.'"
Archerd ended up filing, and explained that he wasn't running against Meadows per se, but was running as a contingency.
"I would not run against Mark [because] for one, I couldn't beat him," Archerd laughed. "But he's also a good friend and I've appreciated what he's done in Congress for us."
Archerd was indeed successful in his 2018 bid to not win, but this time around, everything's different. Unlike 2018, Meadows decided not to seek reelection and Archerd is running hard to win.
"I believe that I'm the best one to represent all of the citizens in the 11th District," he said. "I think because of my core values. I'm a committed Christian, I'm a conservative businessman. I've got the skills to work hard up there and actually accomplish something even though when you're only one of 435 House members, it's not easy."
Business experience, according to Archerd, is a big plus for him, as is not being a politician.
"As Mark said, you get a businessman up there and they talk about what they're going to do, they figure out what steps it's going to take to do it, they put a timetable on it, they assign responsibilities, and then they get results," said Archerd. "That's the difference between having politician sitting up there in the office and having what I would call a 'citizen politician' in office."
One of the biggest issues on the Primary Election circuit, according to Archerd, is the country's very broken immigration system — and how it spawns problematic sub-issues, like Buncombe County's refusal to comply with detainer requests from U.S. Immigration and Customs Enforcement.
Another is the federal deficit. Unlike most municipalities that must produce a balanced yearly budget as a matter of law, the federal government is free of that encumbrance. When spending exceeds revenue on the federal level, borrowing covers the difference and adds to the national debt. When the opposite occurs, not only is the country not borrowing, it is in theory paying back some of that debt.
During the Clinton administration, the deficit was curtailed so greatly that it actually became a budget surplus; it became a deficit once again during President George W. Bush's first term around the time of the Iraq War, but declined during his second term. When Barack Obama took office at the outset of the Great Recession, the deficit exploded to its highest level in more than 60 years, but declined as recovery progressed.
Under President Trump, the deficit has again grown and is approaching levels not seen since the Great Recession.
"As a CPA, that's a time bomb that's out there and we need to address it and we need to get it under control," Archerd said. "I don't care what side of the political aisle you're on, anybody with any financial sense knows that you can't live beyond your means on a continual basis because eventually the bank or whoever's buying the bonds, treasury bonds is not going to lend you money. I don't live that way personally, and I don't think the taxpayers should be living that way, either."
The deficit issue certainly isn't as attractive to most voters as are red-meat issues like guns and abortion, but the potential for a member of Congress to have a meaningful impact on the deficit is far greater.
"In a primary you talk abortion and guns, because you want to get the primary voters, but when you govern, you have to be looking at other issues because abortion and guns, from what I have seen and observed over the last 10 years, hasn't changed a whole lot. So what, what are you really gonna accomplish?" said Archerd. "If I could go and based upon my Christian faith outlaw abortion, I would, but I don't think you're ever going to see that. I mean, let's be realistic about the world that we're living in."
Instead, Archerd clings tight to that private-sector, can-do attitude as the reason he should be the one to follow in the footsteps of Meadows.
"One thing that lately I've been quoting Mark Meadows on is what he calls 'Washington-speak.' That's where the politicians sit around and talk about what they're gonna do, and then they sit around and talk about what they're gonna do, and then they sit around and talk about what they're gonna do," Archerd said. "We're going to go in there, especially with a business background, and we're going to go about it in a methodical way to see if we can improve the country and improve life for the citizens of the 11th District."
Lynda Bennett
Lynda Bennett is perhaps best known as a tireless Haywood County GOP volunteer over the past few decades, but it's safe to say her candidacy quickly became known as the most controversial even before it had really started — and mostly among Republicans.
First, it was her 8:23 a.m. press release on Thursday, Dec. 19, announcing her candidacy before most people had even woken up to the news — posted on Politico at 5:03 a.m. — that Meadows wouldn't seek re-election.
Then, it was the 6:15 a.m. conference call that resulted in the Asheville Tea PAC endorsement, before any other candidates announced they'd be seeking Meadows' seat alongside Bennett.
Then, it was the fact that her website was already set up and had been purchased on Oct. 28. Since then, she's scooped up endorsements from Meadows and fellow House Freedom Caucus member Rep. Jim Jordan of Ohio.
That's all relevant because at the time Meadows had issued his statement, the end of the 18-day filing period for candidates was less than 30 hours away, and at least a dozen of those hours were outside of normal business hours, leaving little time for other candidates to consider running much less filing. Bennett insists that she didn't have much warning.
"It's a fairly long story, but I didn't actually know until Wednesday before I registered," Bennett said. "He had announced to his staff on Tuesday, and then he'd made some telephone calls in the district on Wednesday to several maybe officials, I'm not sure exactly who. And then the telephone calls started being made around the district on Wednesday evening."
That doesn't explain the oddly specific web domain www.lyndaforcongress.com, but Bennett said that she'd been considering a run for Meadows seat for some time now.
"I've been thinking about it for a couple of years," she said. "Several people had asked me several years ago if I'd be willing to run for Congress, and Mark had always said he wasn't gonna do this forever. It was a pretty big decision. My husband and I had prayed about it and we weighed it out seriously out because we really wanted Mark Meadows to continue and we needed him on the national stage. He's really making a name for himself, but if he was not willing to do it, then someone needed to take his place that was going to be a strong conservative and have similar values to his."
If Bennett and/or Meadows thought the late announcement and early preparation would ward off other challengers, it was a grave miscalculation. Almost a dozen other Republicans filed on short notice, leaving Bennett as just one candidate running among many, instead of the only one running.
Not long after, the hits started coming from home; audio from a 2016 meeting of GOP activists purports to show Bennett was at the time a so-called "never Trumper." That would be a big problem in a district where Trump was and is exceedingly popular, as is the incumbent congressman closely aligned with him.
The problem is it's not true, according to Bennett, who recently told the Hendersonville Lightning that the audio "has been doctored more times than Nancy Pelosi's eyes."
"It's obvious that we can only hear kind of a snippet of the conversation," she said. "It's been taken completely out of context and that's what I was doing was mimicking the 'never Trumpers,' [and] what I was hearing from the never Trumpers. The truth of the matter is pretty simple. They cut off the beginning and the end and you can hear in there where I said, 'This is what I'm hearing,' but they kind of lowered the sound volume on that. It's really been manipulated a lot."
Instead, Bennett said she's stood by then-candidate Trump "openly and unashamedly" and points to her subsequent election as Haywood County Republican Party secretary after Trump's 2016 victory, and her promotion to vice chair two years later.
"I just don't believe our local Republicans would have supported a 'never Trumper,'" she said. "I know I worked hard for President Trump in 2016 and once I'm elected, I'm going to proudly be one of his biggest allies."
Despite the controversies, Bennett still has to face the same issues as her Republican and Democratic opponents seeking the seat and in regards to the opioid crisis has a multifaceted solution.
"It's very important to work with a strong group such as the Freedom Caucus in Congress because they can help get things done," she said. "When [the N.C. General Assembly] passed a law against the prescription drugs here in Western North Carolina, we saw an uptick in the usage and abuse of street drugs. They're more affordable and they're much more dangerous and unpredictable and it causes a lot of deaths."
Border security is a big part of stemming opioid abuse, according to Bennett; she support's Trump's border wall concept. She's also not so hot on Medicaid expansion and Obamacare.
"I'm not convinced that the left is trying to solve the problem and trying to provide better health care for Americans. It seems like they're really more intent on gaining control over our lives because Obamacare set the stage for a lot of the problems we see today and we've got to start with repeal and replacement of Obamacare," she said. "Statistics show that we have the most expensive health care in the world but if you ask folks if it's the best that it can be or is there room for improvement, most folks will tell you that there is room for improvement."
Improving that system according to Bennett comes from a consumer-focused approach, not one that focuses on drug companies and big hospitals.
Another hot-button issue, especially as late, is the Second Amendment; so-called sanctuary resolutions have been making the rounds, including in Bennett's home county of Haywood — the same home county of Riley Howell, who was killed April 30 after tackling a mass shooter at the University of North Carolina-Charlotte.
"There's no compromise on the Second Amendment," she said. "The statistics that you should be reporting on that say that 500,000 to 3 million people a year use their firearms to defend themselves against violence. That doesn't get reported in the media anywhere. The only thing that ever gets reported is the 40,000 gun deaths."
It's not that those 40,000 deaths aren't important, Bennett said, but they'd be far higher without a strong conservative stance on the Second Amendment. An additional area where a strong conservative stance will help, she said, is in controlling the growing federal deficit.
"One of the things that seems counterintuitive, especially to the left, is when you cut taxes you actually raise revenues and tax collections," she said.
That's usually true, but in the case of Trump's 2017 Tax Cuts and Jobs Act, study after study shows it's not.
So then, why has the deficit still grown during a protracted economic boom under unified Republican control of the legislative branch from 2016 through 2018 and continuing Republican domination of the White House and the U.S. Senate since then?
"Part of that is because the Democrats are in control of the House," Bennett said. "They have a part to play in that, and they love to spend money."
Bennett's proud of her endorsements and conservative pedigree and hopes it will be enough to carry her through the crowded Primary Election field, and then on through the General Election.
"I think the people should vote for me over all the other candidates because I'm the most conservative candidate," she said. "I am here because I want to follow in the conservative footsteps of our Mark Meadows. There's 11 of us out there in the field at this time, and I have been extremely honored that the Senate Conservative Fund and the House Freedom Fund both endorsed me in the last week."
Jim Davis
Word around Ronald McDonaldland is that somebody's coming to steal Sen. Jim Davis' cheeseburgers, and it's not the Hamburglar — it's Rep. Alexandria Ocasio-Cortez.
"It's the Green New Deal," said Davis of his low-budget, high-impact campaign commercial where he decries political correctness and accuses liberals of telling people how to live, how to worship and even how to eat. "If you've watched any of the AOC commercials, and even Bloomberg has reported on this, they want to have everybody go be a vegan or go to vegetarian, so we just thought it would be kind of humorous to add that to the commercial."
Davis is using the commercial to distinguish himself from the 10 other Republicans in his race, but most voters in the 11th District already know him from his decade of service as a conservative western voice in the General Assembly.
"My biggest issue is the debt and the deficit. I'm a real deficit hawk. I think we've shown in North Carolina how to cure a debt," he said. "We have a lot of unfunded liabilities in North Carolina, but about $15 billion less than when we took over in 2011. We started with a $2.5 billion dollar budget deficit. We owed the feds $2.7 billion for unemployment compensation. We were losing over $400 million a year on the health insurance plan. We inherited a 10.4 percent unemployment rate and now it's 3.7 percent. We've reduced taxes. We've reduced regulations. We've kept spending to a combination of, for the most part, inflation and population growth and this year we had a $900 million surplus."
He's also well known as the primary architect of three of North Carolina's most important bills addressing the opioid crisis.
"I was ignorant of the problem, but a wise man once told me it's OK to be ignorant, it's just not OK to stay ignorant," he said. "This journey all started with [retired] Waynesville Chief of Police Bill Hollingsed. He came to me when I was first elected and told me that he was tired of putting young people in body bags."
Through Davis' STOP Act and subsequent legislation, prescription limits have been imposed and some restrictions on needle exchange programs have been lifted, but the scourge of drug addiction has morphed into a new phase.
"The theory is that this is going to drive people towards illicit drugs, heroin and stuff, but over time we've bent the curve. We started to bend the curve so that we have fewer people overdosing," he said. "I'm very proud of the work that I and others have done in the North Carolina legislature. The biggest problem now is money for treatment, because we have so many individuals that that need it."
Many believe that funding could come from better access to health care, but Davis isn't a proponent of Medicaid expansion, or of the compromise Carolina Cares bill.
"I'm for doing away with Obamacare and giving everybody a health savings account so that everybody is in charge of their own healthcare," he said. "It's between the patient and the provider and then provide an excess major medical policy so that nobody is wiped out by a catastrophic health issue. That gets the government out of It and puts the onus where it belongs and that's for the individual participant."
Closely aligned with the president on immigration, Davis said Trump's border wall and additional technological measures are a necessity.
"We are a very compassionate society and we give more away than just about everybody else put together and the world, but we can't continue to absorb so many people that come here to live off of our social welfare system," he said. "They impact our public safety, they impact education and we have to regulate who comes here. We want to attract people that want to come here and participate in the American dream. Those are the kinds of people that we want to come in to this country."
Cheeseburgers aren't the only thing at risk if Davis and the Republicans don't maintain control of this seat, and of the Senate and presidency in November; also figuring prominently in Davis' television commercial are, of course, guns.
"I think, that we are on a slippery slope when we start regulating gun ownership," he said. "These so-called red flag laws, when you allow your neighbor or a family member to declare you incompetent or unable or unsafe to own a firearm, that really opens it up to some nefarious people that would want to restrict your gun rights."
A strong Second Amendment supporter, Davis mentioned knife attacks in London, where firearms are rare, as a reason why gun control doesn't work.
"People that have ill intention can find another means to kill you," he said. "Our founders felt that it was important to protect our right to self-protection and self-defense. I would be very reluctant to impose any unrealistic regulations to prohibit Americans from owning firearms."
Over his two-decade career in government, Davis has often remarked that his heart is in local government, where he served 10 years as a Macon County commissioner. When he moved on to the N.C. Senate in 2010 — two years before Meadows was first elected — he referred to himself as a "misplaced county commissioner" and a "Senator by necessity."
Thus it may be surprising to some that Davis didn't get Meadows' endorsement, but Davis doesn't think that will be an obstacle to victory on March 3.
"I haven't thought about it that much," he said of the non-endorsement. "The only problem is, he assured me, he verbally told me, that he wasn't going to endorse anybody and he told that to a lot of people. I struggle with that, but I can't un-ring that bell and I'm just going forward."
What he's going forward with, is his record.
"I'm qualified and I'm experienced and I'm eager to serve and I have a record," said Davis. "I'm the only individual in the race in any party that has been elected to anything. I think that speaks volumes because I have a record of service and it's not unique to any ideological spectrum. I've served all the citizens of my district and I think I've served them well. I haven't served them perfectly, but I think I've served them well. It's one thing to say you're going to do something, but I can point to a record of what I've done."
North Carolina
House District 11 Republicans

Chuck Archerd

• Age: 62

• Residence: Asheville

• Occupation: Retired CPA, small business owner, land developer

• Political experience: Unsuccessful bids for Buncombe County commission, Buncombe County commission chairman, 2018 11th Congressional District GOP nomination

Lynda Bennett

• Age: 62

• Residence: Haywood County

• Occupation: Licensed real estate broker

• Political experience: First campaign

Madison Cawthorn

• Age: 24

• Residence: Hendersonville

• Occupation: Motivational speaker, real estate investor

• Political experience: First campaign

Jim Davis

• Age: 68

• Residence: Franklin

• Occupation: Orthodontist

• Political experience: 10 years Macon County Commission, 10 Years N.C. Senate
Other candidates
Candidates that do not live in a particular congressional district are still eligible to run in that district. At the close of the filing period, the following candidates had also declared their intent to run but with addresses outside the 11th Congressional District.
Democrats
• Gina Collias, Kings Mountain
Republicans
• Dan Driscoll, Winston-Salem
• Steven Fekete, Jr., Lenoir
• Dillon S. Gentry, Banner Elk
• Wayne King, Kings Mountain
• Joey Osborne, Hickory
• Vance Patterson, Morganton