Archived News
Republicans reject Trump-endorsed candidate in NC11 runoff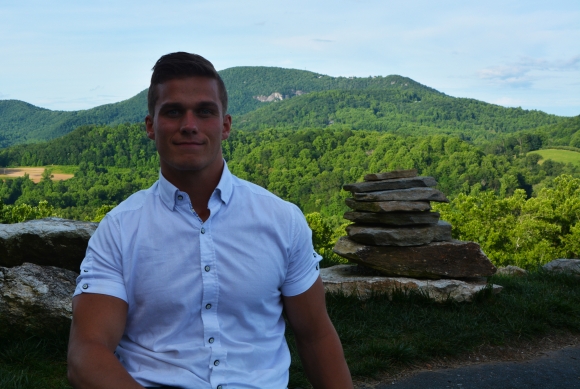 Madison Cawthorn will take on Democrat Moe Davis in the November General Election.
Cory Vaillancourt photo
Republicans finally know who will face Democrat Moe Davis in the November General Election, and the results indicate a major embarrassment for President Donald Trump and his Chief of Staff, former congressman Mark Meadows.
"Hard work and local support beats big money and big endorsements any day," said Henderson County Republican Madison Cawthorn.
Cawthorn drubbed Maggie Valley real estate agent Lynda Bennett from the outset, jumping out to a two-to-one lead once early voting results were announced, shortly after the polls closed at 7:30. As the night wore on and precinct results trickled in, Bennett never seemed to gain any traction, and Cawthorn's lead rarely deviated from that 2-1 ratio.
With 95 percent of precincts reporting, Cawthorn was ahead 27,938 to 14,956, or 65 percent to 34.8 percent. Bennett didn't even win her home county.
Cawthorn's victory was unexpected on several levels. Cawthorn, 24, was one of 12 Republicans who filed for the seat after then-congressman Mark Meadows announced unexpectedly last December that he wouldn't seek re-election to his seat.
Bennett quickly emerged as the frontrunner, due to her connections to Meadows' wife and her advance knowledge of Meadows' impending departure.
Her status as a frontrunner quickly faded, however, in part due to the resentment that advance knowledge generated among fellow Republicans – who were left with just 31 hours to drive to Raleigh and file for the seat – and in part due to a series of disconcerting campaign missteps by Bennett.
"She ran a very hard campaign. We can talk about missteps, who did what and when, but right now we're all coalescing as a family," Cawthorn said. "I appreciate the campaign she ran, and I appreciate that level of fight."
The March 3 Primary resulted in Bennett besting Cawthorn by about 2,000 votes, but she wasn't able to cross the 30 percent threshold needed to avoid the June 23 runoff with Cawthorn, even though she'd been endorsed by House Freedom Caucus member Rep. Jim Jordan (R-OH) and Meadows, who's since resigned from Congress to become President Trump's fourth chief of staff in four years.
Endorsements then began pouring in on both sides; while Cawthorn picked up dozens of local nods from law enforcement, county commissioners and most of his former opponents, Bennett added Sen. Ted Cruz (R-TX) and President Trump to her list.
"I don't think this indicates any waning support for the president's endorsement," said Cawthorn. "The people of Western North Carolina are wise and discerning. They looked at both candidates and wanted to elect the person they thought would represent them the best and help the president the most."
Cawthorn's victory sets up what will likely be a heated and nationally scrutinized General Election race between him and Asheville Democrat Moe Davis, who won his five-way Dem primary in March and was able to avoid a runoff.
"I finally will have someone that wants to debate me," Cawthorn said of Davis while simultaneously jabbing at Bennett, who dodged multiple debates and forums during the runoff campaign against Cawthorn.
Asked what he'd tell Moe Davis if he could, he said, "Get ready, brother."
Davis, for his part, had a message for Cawthorn as well.
"Congratulations to Madison Cawthorn on his win over Lynda Bennett, but we now turn our attention to November," Davis said. "We all know that Western North Carolina has fallen behind in access to healthcare, education, jobs that pay well and more. We've got an opportunity to change course and lean into the future. Better days are ahead, and I'm committed to do all I can to see that we get there."
Davis, who spent 25 years in the Air Force, retired as a colonel.
"One thing I learned in the military: You have to earn your rank. No one in the service starts at the top and I don't think the people of Western North Carolina believe a congressional seat should be handed to someone like a graduation present," he said. "Experience matters. Leadership matters. Knowledge matters. There couldn't be a clearer choice in November."