Archived News
Another Republican out to oust Madison Cawthorn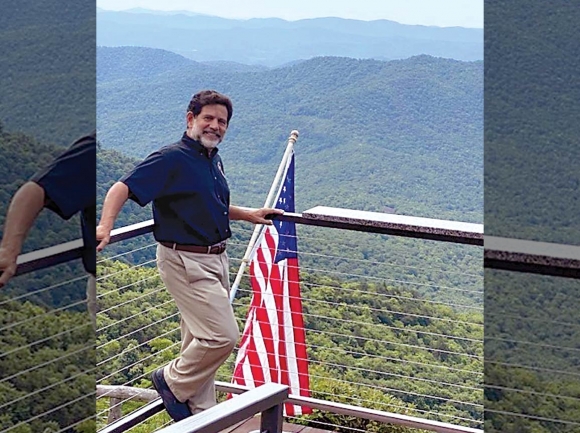 Bruce O'Connell, owner of the Pisgah Inn, becomes the latest Republican to challenge Rep. Madison Cawthorn. Donated photo
As the second Republican to enter the 2022 Congressional Primary field, Bruce O'Connell is certainly looking at a David versus Goliath scenario, but that's OK — he's used to it.
Born in Detroit and raised in Tampa, O'Connell came to Western North Carolina in 1979, when his parents bought into the Pisgah Inn on the Blue Ridge Parkway. They managed the Inn until he took over around 1985, but his experience fighting against seemingly unsurmountable odds began almost a decade ago.
"In 2013, they shut down the government. We got a notice up there at Pisgah that said we had to shut down the Inn." O'Connell said. "I went, 'Wait, it's October, it's leaf season for God's sake.' I had a hundred employees, and 50 of them were living on the property. This was the last month of the season and they were all banking on making money so when we close [for the season] they would have money to carry them over and I was being told to close. I just got aggravated, I got disgusted with it and I said, 'I'm not going to close.'"
The next day, park rangers blocked his driveway. A few days after that, he filed suit and won.
"The government allowed not only me to reopen, but every national park," O'Connell said. "Not only did my hundred employees go back to work, but thousands of employees went back to work across the country and thousands of visitors got to go back into the national parks."
It wasn't long before O'Connell's supporters began encouraging him to continue the fight.
"People reached out to me and said, 'You need to run for office,' and I said, 'No, I don't want to be a politician. I just want to do what I do," he said. "I let it go, but there's been this little fire burning in the sense that says the government is just lacking in common sense and somebody needs to get up there and shake them a little bit and bring common sense back to governments."
O'Connell becomes the second Republican, after Wendy Nevarez, to enter the race against the freshman rep, but a number of Democrats have already lined up to face the winner, including Buncombe Commissioner Jasmine Beach-Ferrara, Mills River veteran Josh Remillard, Henderson County educator Eric Gash, Asheville social worker Bo Hess, Hendersonville veteran Jay Carey and small business owner Katie Dean.
The Smoky Mountain News: You're a Republican, but you've got a Republican congressman in office already. Why would you run against him?
Bruce O'Connell: I supported Madison Cawthorn. I donated to him and I voted for him, but I really think that I understand better what District 11 needs. My 30 years of experience just makes me better suited to solve the challenges of the district. I've got so much experience with dealing with the federal government that I believe I'm better for the job and I believe Madison has not proven that he really represents me. He's not the kind of guy I want leading me. I feel I could do a better job.
SMN: You're a supporter of Donald Trump. You voted for Trump twice. You said you'd have voted against Trump's second impeachment, and against the bi-partisan Jan. 6 Commission. Trump is pretty tight with Cawthorn. How do you plan to convince fellow Trump supporters to turn away from the party's leader?
BO: First of all, I support the policies of Donald Trump. I agree with common sense approaches to government. It's not about what Madison Cawthorn is doing. It's about what he hasn't done. He's missed a lot of votes and in my opinion he's encouraging polarization, which I don't want to do. I want to represent everyone in the district and I believe I can bridge the gap and I'm not afraid to fight. Madison is a good kid. I won't say anything bad about him, but I believe he's just lacking the wisdom and experience that this job needs.
SMN: In addition to Trump, Cawthorn will also have a lot of money behind him. You'll also need plenty in order to compete. What's the plan?
BO: I'm learning as I go. I've got a lot of support. I'm trying to build a team to help me, and I'm going to listen and take advice and I'm hoping that I can convince people that I can do a good job and that they'll support me. I'm willing to make the effort, but I need people to help me any way they can. Most people don't have the time to do this. It's really a brutal, thankless job to be up running for political office. I could easily just live my life out and be happy and content, but I've got two grandkids here and I look at them and they give me the encouragement I need just to sacrifice.
SMN: You sound like a pretty mainline Republican. Is there any part of your political consciousness that it leans more to the left than most Republicans?
BO: I consider myself to be socially liberal on many issues. Being in a national park for 40 years, I see the value of being an environmentalist and I see how that can be blended with being a businessman. It's in the best interest of my business to preserve and protect the environment. To me, it's a delicate balance. I was environmental before it was cool. I drive a car right now that runs on waste vegetable oil. I've been doing it for 15 years. I also have been instrumental in setting up cardboard recycling, solar panels, tankless water heaters, double flush toilets, low energy light bulbs. I did this decades ago before it was cool, all because I realized that there's a delicate balance between economy and environment.
In our district, I've listened to people already and the number one thing I hear right now is the economy — getting jobs and employees. The cost of living is so high, they can't get help. But the next thing I hear from people is the environment, which is the reason they all wanted to live in Western North Carolina, because of the beauty of the area and the environment.
I can appeal to some of the more liberal views about things, for example, the environment. And for that matter, I've been a substitute teacher. I understand education too. I've been in the classroom. I've been at A-B Tech. I've been a substitute teacher in public schools, and I've seen firsthand what I believe is lacking in public education and that is a liberal issue that I think some of the staunch Republicans maybe don't support.
SMN: What else can you tell me about how you plan to campaign and win what will certainly be an uphill battle against a locally popular incumbent?
BO: I can tell you that I do not want to be a politician. I have no aspirations of political fame. And if I haven't mentioned it, I don't want the money either. If I was to get elected, I will not take a salary, but in fact, I will take whatever salary that I was going to get and donate it to some cause in the district that'll help the district. I'm not in it for the money. I'm not in it for political fame or a political career. I'm in it because I want to try to make a difference for my grandkids.
Leave a comment
5

comments
I watched your debate tonight on MY40 and you have a fire that encouraged me. There is no way in hell I would send Chuck "Smug" Edwards to Washington. We need a fire in Washington. I know you don't have all the answers but government needs to get out of the way and let the free market do it's job. I would like to meet you before the primary.

Friday, 04/22/2022

Bruce O'Connell is clearly a RINO. You are not fooling anyone. You are a wolf in sheep's clothing. And to the commenter Louise Williams, you suffer from a bad case of Trump Derangement Syndrome and you also are a F'ing idiot.

Saturday, 07/10/2021

Everything that O'connell says sounds good, but as he is a trumper, I would not want him to represent the 11th district anymore than I think cawthorn should.

Friday, 07/09/2021

Bruce,
I am proud of you. Pisgah Inn was my first job and my experience "up on the mountain" shaped my career and education. You run a tight ship, you have an Ivy League education, you care about our mountains and the people that call WNC home. While my ideology may be different than yours, I appreciate your leadership here. Instead of talking politics you are walking your talk with the possibilities of making a difference. That's the kind of boss I'd want and that's what makes you a compelling candidate for the BIG job in Washington D.C.! Thank you for being willing to volunteer your time and talent for the benefit of all of us. Impressive indeed.

Thursday, 07/08/2021

No good Mr. O'Connell, you're too much of a left-wing nut to run anywhere in Republican country. Driving a vegetable running auto and your other radical environmental ideas are unAmerican. We all want a good future for our kids but forcing radical environmental ideas on us doesn't pass muster. Recycling and doing our part we do but you and California liberals will have us all driving those cars that look like sneakers on wheels.
Congressman Cawthorn is doing a terrific job and we're keeping him!

Thursday, 07/08/2021