Archived News
Rep. Meadows retires from congress
Thursday, December 19, 2019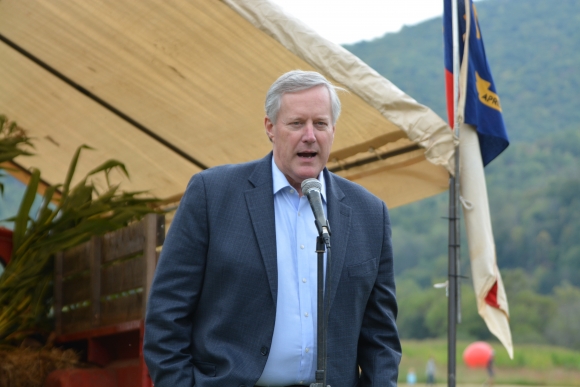 Meadows hasn't yet revealed his plans for the future.
Cory Vaillancourt photo
As first reported by Politico earlier this morning, Western North Carolina's four-term Republican congressman Rep. Mark Meadows, R-Asheville, will not seek a return to his NC-11 seat in 2020.
Meadows hasn't announced his plans for the future, but at least one Republican has already stepped up to try to keep the seat in GOP hands.
"She's spent years and years in this and she's stayed the course. I couldn't think of anyone more capable than Lynda Bennett," said Ken Henson, chairman of the Haywood County Republican Party. "There's no one more qualified than her."
Bennett, a Realtor, is a longtime Republican operative in Haywood County and will join four Democrats who have already declared their intentions to run for the seat – retired Air Force servicemen Dr. Steve Woodsmall and Col. Morris Davis, Buncombe County attorney Gina Collias and Asheville music producer Michael O'Shea.
A press release issued by Bennett moments ago reads in full:
"Haywood County business woman Lynda Bennett announces candidacy as a Republican for North Carolina's Congressional District 11 for the seat vacated by Congressman Mark Meadows.
Lynda Bennett strongly supports President Trump. She has always been a supporter of Congressman Mark Meadows. Moreover, Lynda will seek inclusion in the
House Freedom Caucus
to support open, accountable, and limited government. She understands the Constitution, the rule of law, and common sense policies promote liberty, safety, and prosperity for all Americans.
As a conservative woman her voice will be in stark contrast to the left's socialist agenda as she stands for the right to life, second amendment, religious freedom, and support for law enforcement and veterans.
Lynda Bennett has been active in the Republican Party. She currently serves as Vice-Chair of Haywood County Republican Party and was recognized in 2019 for the Golden Elephant award for volunteerism.
Lynda and her husband Pat Bennett owned and operated a full service real estate company and vacation rental management company in Haywood County. Without question, Lynda's background provides her with a solid foundation of real-life experience that will benefit western North Carolina's District 11 in the challenging environment of Washington DC.
Though the recent redistricting altered District 11, it remains a strong Republican district that encompasses seventeen economically and culturally diverse counties. Lynda will seek a working relationship with local leadership in each county.
Candidate filing ends tomorrow, Friday, Dec. 20, at noon.
Check back with The Smoky Mountain News for more on this developing story.