Archived News
UPDATED: Report reveals Cawthorn gun gaffe
Wednesday, August 04, 2021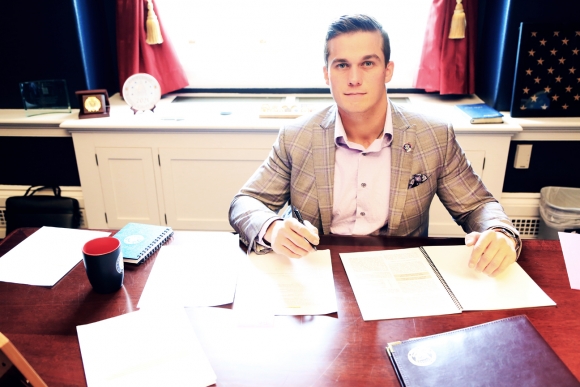 Jeffrey Delannoy photo
Congressman Madison Cawthorn attempted to bring a firearm though airport security this past February, but the freshman Western North Carolina rep insists it was a simple mistake.
"Five months ago, while boarding a flight, Rep. Cawthorn erroneously stowed a firearm in his carry-on (that often doubles as a range bag) instead of his checked bag," Cawthorn spokesman Micah Bock told The Smoky Mountain News. "The firearm was secured, and unchambered. Rep. Cawthorn endeavors to always follow TSA guidelines, and quickly rectified this situation before boarding his flight."
The incident was brought to light in a recording of radio traffic between law enforcement officers at Asheville Regional Airport that was obtained through a public records request by a super PAC dedicated to Cawthorn's ouster.
David Wheeler, president of American Muckrakers PAC, said he learned of the incident from an anonymous source. Details, including the recording and a heavily redacted police report dated Feb. 13, were published July 29 on the PAC's website, www.FireMadison.com.
In the recording, one officer can be heard directing another to respond to a report of a firearm at the airport's security checkpoint.
"Just to advise, it's going to be an elected official, Madison Cawthorn's firearm," the officer said.
"That doesn't make a difference, you still gotta get the information," another officer responded. "You got to have the proper channels to carry it through."
After the incident was first reported in The Smoky Mountain News on July 30, questions swirled on social media as to whether or not Cawthorn received special treatment due to his status as the congressman who represents the district in which the airport is situated.
That doesn't appear to be the case, however the speculation shows how misunderstood the role of the Transportation Security Administration is, and what actually happens when someone gets caught with a firearm at a TSA checkpoint.
At the Asheville Regional Airport – abbreviated AVL – firearm ordinances from both the city of Asheville and the General Assembly apply, which means that firearms are prohibited unless secured and declared properly for travel.
"I think there is misperception that every situation results in criminal charges – most don't," said Tina Kinsey, AVL's director of marketing, public relations and air service development. "In fact, we have had eight such incidents so far in 2021, and no criminal charges were filed in any of the incidents."
When a firearm is discovered at the TSA security checkpoint, standard procedure is for TSA to contact the Asheville Regional Airport Department of Public Safety, the airport's own 24/7 police and fire department.
"In most cases when firearms are in carry-on luggage at AVL, the traveler is a legally permitted gun owner who has forgotten that the firearm is in their bag," said Kinsey. "Discretion is used to police these matters in reasonable ways, focusing more on securing a firearm safely. Firearms are never allowed through security and onto planes."
Kinsey explained that during enforcement actions, the airport's DPS looks for "willful and intentional criminal intent" on a case-by-case basis.
When criminal activity is suspected, firearms are seized. When it's not, the person in possession of the weapon has several options.
"If after investigation it is determined that the passenger is allowed to legally possess a firearm, the firearm is legal, and there are no warrants or actions that indicate criminal intention, the passenger is given an option to be escorted from the screening area to properly secure their firearm elsewhere," she said.
That's the option that was given to Cawthorn, but with his flight soon to depart – the recording indicated he was seven minutes away from being left behind – it was determined he wouldn't have enough time to stow the firearm and make it back through security in time for departure.
Instead, Cawthorn voluntarily allowed airport DPS to store his weapon for him. Airport DPS did just that, and Cawthorn picked it up nine days later, per DPS the incident report. Leaving the weapon with DPS for safekeeping is an option available to anyone not involved in criminal activity.
"It should be noted that TSA does not seize firearms. In every case, they contact law enforcement to handle the situation. TSA enforces federal civil penalties," Kinsey said. "That said, if criminal charges are filed, these are filed in the Buncombe County courthouse, because it would be a state charge."
Thus far Cawthorn hasn't been criminally charged, and it's unlikely he will be, although that doesn't mean there won't be consequences.
Mark Howell is the TSA regional spokesperson for a six-state region that includes Georgia, Kentucky, Missouri, Tennessee and the Carolinas. He said that civil penalties are assessed in "almost every case," albeit usually several months after the fact.
Although penalties can reach nearly $14,000, first-time offenders with good records are usually given fines in the $2,000 range for unloaded weapons, and $4,000 for loaded weapons. While Cawthorn's Glock magazine was indeed loaded, he claims no round was chambered, so it's not clear if the TSA would go with the higher or lower amount. Howell said the matter with Cawthorn is still pending.
Howell added that people in Cawthorn's situation usually lose their TSA PreCheck status temporarily or permanently. PreCheck allows approved travelers expedited boarding.
Another question raised on social media was whether the TSA attempted to bury the Cawthorn incident, but that doesn't appear to be the case, either.
First, the TSA does issue press releases from time to time when incidents occur at airports, however Howell said it's not an automatic response to such incidents.
"The problem is volume. For example, I have Atlanta as one of my airports. They've had more than 260 guns so far this year," Howell explained. "Every once in a while I will put one [press release] out, especially if I see a trend developing in a certain market. In fact, I'm working on one for Nashville to go out next week because they're up over 80 already."
Second, names aren't usually mentioned in the releases for privacy reasons. Howell agreed to speak generally about Cawthorn because details of his interactions with AVL DPS had already become public record by virtue of American Muckrakers PAC's disclosures.
Nationally, there were more than 3,200 firearms detected by TSA officers in 2020, despite dramatic COVID-related decreases in passenger volume that year. In 2019, TSA officers caught about five firearms per million passengers, but in 2020 that number doubled to 10 per million. According to TSA data, more than 80 percent of those firearms were loaded.