Archived News
Woodhouse makes her NC-14 run official
Monday, November 22, 2021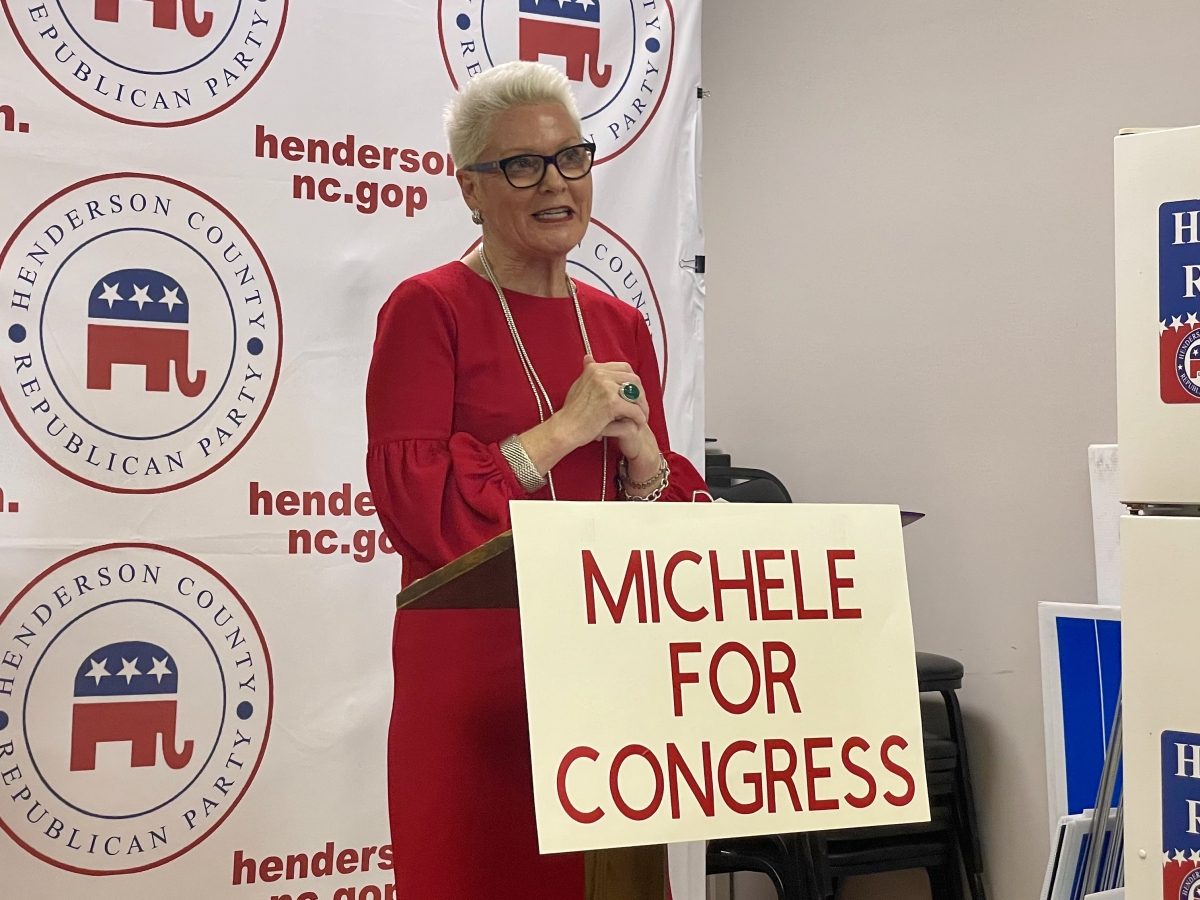 Michele Woodhouse announces her entry into the NC-14 race on Thursday, Nov. 18, in Hendersonville.
Cory Vaillancourt
Almost immediately after Rep. Madison Cawthorn announced on Nov. 11 that he'd seek an open seat in the new 13th Congressional District, speculation started to swirl around the intentions of NCGOP 14th District Chair Michele Woodhouse.
Woodhouse put the rumors to rest on Nov. 18, first with WWNC-AM morning show host Mark Starling, telling listeners she would join the Republican Primary Election and seek the seat left vacant by Cawthorn . Hours later, she told a packed roomful of supporters in Hendersonville the same thing.
"Let's be clear. The haters are going to come. They don't like a strong, bold, decisive conservative woman," Woodhouse said at the event. "So this woman that was raised in Detroit with hundreds of years of deep WNC roots is a combination the squad better fear, because this woman, with your help, will be the next member of Congress for the newly drawn 14th Congressional District."
A native of Detroit, Woodhouse says her family has roots in Jackson and Macon counties. She's been active in North Carolina Republican politics for the past several years. Earlier this year, she was elected chair of Cawthorn's district and has been among his staunchest of supporters.
In the wake of Cawthorn's announcement, Woodhouse issued a statement saying she and party leaders in the new NC-14 would fight to keep the seat in conservative hands.
"On behalf of the NC-11 GOP leadership, we have the utmost respect for Congressman Cawthorn's conservative service to NC-11. As newly drawn NC-14 District Chair, my top priority is the election of a conservative fighter to stop the Biden/Pelosi America last agenda!"
Mark Tice, pastor at East Fork Baptist Church in Cruso, introduced Woodhouse at her launch event, saying he met her immediately after the flooding that decimated parts of Haywood County last August.
"Since then, she's continued to follow up with needs and had personal interaction with others [in the community]," he said.
Henderson County GOP Chair Sharon Brooks, who like other county chairs is required to remain neutral during contested primaries, was nonetheless pleased with Woodhouse's candidacy.
"I'm very confident that a Republican is going to take the district," Brooks said, in reference to the new maps that made the district slightly more Democratic. "We're very proud of Michele and we wish her all the best."
Woodhouse becomes the first Republican to announce entry into the race after Cawthorn's departure. Prior to his move, four other Republicans had already signed up to challenge Cawthorn, but one dropped out, leaving Wendy Nevarez , Bruce O'Connell and Rod Honeycutt .
Buncombe County Commissioner Jasmine Beach-Ferrara became the first Democrat to announce her candidacy back in March, but was quickly followed by Josh Remillard , Jay Carey , Eric Gash , Bo Hess , Katie Dean and Brooker Smith. Remillard has since announced that he'll follow Cawthorn to NC-13.
The Primary Election will be held on Tuesday, March 8, 2022, but other candidates from both sides are expected to jump into the race over the next few weeks.
The candidate filing period for the 2022 elections begins on Dec. 6, and ends on Dec. 17. Check in with The Smoky Mountain News for updates on candidate filings as they occur.