Archived News
Fierce campaign divides Mark Meadows' old district
Wednesday, October 21, 2020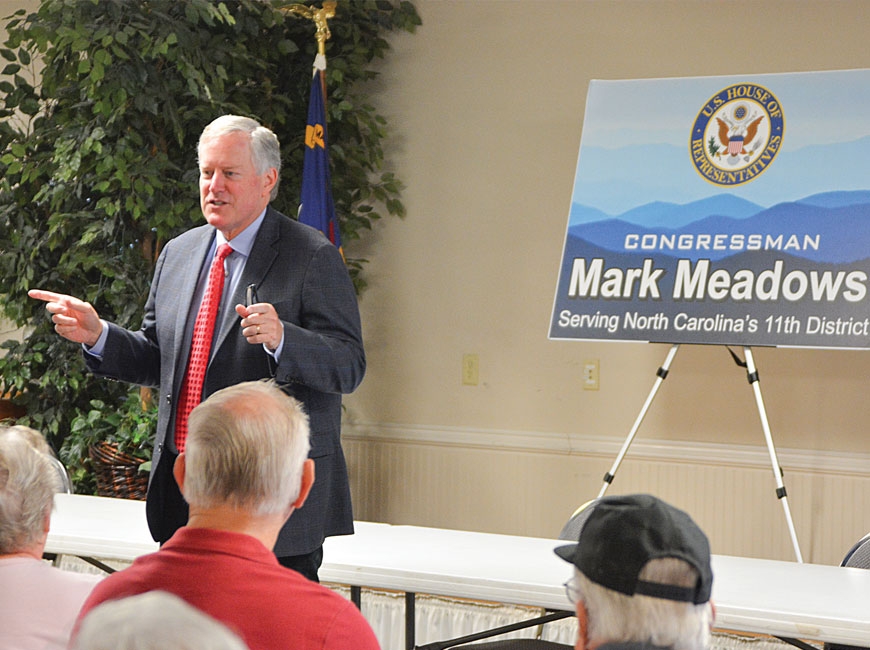 Former NC11 Congressman Mark Meadows speaks to veterans at the Haywood County Senior Resource Center in August, 2018. Cory Vaillancourt photo
Those who hadn't learned through backchannels a day or two beforehand found out early on a cold mountain morning late last winter that Mark Meadows was out.
Now, in a pandemic-addled nation deeply divided on issues of class, race, justice, access to health care and economic opportunity, Republican Congressman Mark Meadows' former congressional district has borne witness to a fierce political saga paralleled only by the presidential race it's closely tied to.
Both contests will draw to a close in less than two weeks, and in North Carolina, it's anyone's guess as to who will ultimately prevail.
On Dec. 19, 2019, just one day before the filing period ended, Rep. Mark Meadows, R-Asheville, announced his decision to forego an all-but-certain fifth term as North Carolina's 11th Congressional District representative, for pastures greener.
Pandemonium ensued. Only one person was prepared for such an unforeseen eventuality, a friend of Meadows' wife Debbie, Haywood County realtor and Republican Lynda Bennett.
Unlike the 11 other Republicans and five Democrats that ended up filing for the seat Bennett had advanced knowledge of the impending vacancy, campaign infrastructure in place, local endorsements lined up and, eventually, the backing of President Donald Trump.
None of it could save her from a series of comical missteps — a sham endorsement by a two-day-old PAC, an ethics complaint, a combative demeanor at public events, purported "Never Trump" comments and a steadfast refusal to talk to independent media outlets.
Several county party and district leaders expressed dismay publicly and privately at the Haywood County Republican Party's efforts — specifically by then-Chairman Ken Henson — to clear the runway for their anointed candidate.
Some complained that the HCGOP overstepped its neutrality by pushing too hard for Bennett, especially given that retiring Macon County Sen. Jim Davis remains wildly popular in his district and has at least a modicum of support from Western North Carolina's establishment Democrats, hard-earned during his decades of public service.
The March 3 Primary Election should have been a coronation for Lynda Bennett, but a 24-year-old political unknown from Henderson County, Madison Cawthorn, took advantage of Bennett's baggage and eked out just enough votes to force a June 23 runoff. Sen. Davis, who like Cawthorn was caught unawares by Meadows' retirement, finished a close third.
Shortly after President Trump's impeachment trial in January, Meadows abandoned his congressional seat, leaving WNC without a voice throughout the Coronavirus Pandemic even as Congress passed the largest spending bill in the history of the universe.
Meadows then became Trump's fourth chief of staff in four years.
Bennett repeatedly refused to debate her runoff opponent, Cawthorn, and as word of her gaffes spread some steadfast Republicans said they were disappointed in Meadows and that they although still planned on voting for Trump they wouldn't vote for his candidate in November if she won the runoff.
She didn't win. In fact, she didn't even come close.
Cawthorn has run a spirited campaign since filing for the seat back in December. After winning that runoff he became a national media sensation, culminating in a speaking slot at this year's Republican National Convention during which he took a symbolic stand, rising from the wheelchair he's used since a near-fatal car accident when he was 18.
It hasn't been all kudos and plaudits for Cawthorn though. He's taken hits for some half-dozen transgressions, real or imagined.
There's the allegations of Nazi and white supremacist sympathies, the misrepresentation of his rejection from the U.S. Naval Academy as well as his work in Mark Meadows' congressional office and accusations of aggressive behavior towards women — indeed, another letter from students at Patrick Henry College, which he briefly attended, began circulating only days ago, rehashing old allegations and adding unverified new ones. Add to that Cawthorn's lack of a college degree, and lack of relevant work experience.
Nor has it been an easy road for Democrat Moe Davis, a retired Air Force colonel who won his five-way March 3 Primary Election outright over Gina Collias, a Republican-turned-Democrat who didn't even live in the district.
Mills River Democrat Michael O'Shea, a young Bernie Sanders afficionado, was endorsed by 2018 nominee Phillip Price, who declined to run in 2020. The next day, Meadows announced his retirement, Price rescinded his endorsement and entered the race on the last day of filing.
O'Shea finished fourth, just behind Price.
Pisgah Forest Democrat Steve Woodsmall, who never really stopped campaigning after a disappointing performance in the 2018 primary, finished last, left the Democratic Party and has spent the summer attacking the winner.
Aside from branding Davis and all liberal Democrats racists, Cawthorn's biggest attacks on Davis target Davis' 25-year military career, during which time he earned the Legion of Merit and served as a prosecutor at the U.S. detention camp at Guantanamo Bay.
Davis ultimately resigned over his refusal to abide torture and political pressure on the judicial process.
Those stances put him squarely on the side of the rule of law, but also on the side of Osama bin Laden's bodyguard and an Al Qaeda recruiter for the September 11 attacks.
In the case of the former, Salim Ahmed Hamdan, Davis says he had concerns about the fairness of the trial. In the latter, it was about Mohammed Ould Slahi's 14-year detention without charges and the use of heavy metal music and strobe lights as punishments.
Cawthorn's also tried to paint Davis, a Shelby native, as an outsider, a northeastern liberal who has more in common with AOC's vision than with WNC's values.
Then, there's Davis's graphic tweets, one of which entertained the idea of snapping Republican necks because Michelle Obama's "they go low, we go high bullsh*t" hasn't worked for Democrats.
Although both candidates remain staunch partisans for the most part, Davis has broken with his party somewhat in that he's more supportive of the Second Amendment, just as Cawthorn's broken with his party somewhat in his focus on environmental issues.
The Democrat Davis was also fired from the Obama-era Congressional Research Service in 2009 after penning two op-eds criticizing the Obama administration's double-standard on trying terror suspects. Davis later received a $100,000 settlement after he sued for a violation of his First Amendment rights.
All of this leaves voters considering the candidates' character, capability and commitment to a poor, rural, mountainous 17-county swath of Southern Appalachia.
Both candidates have reported receiving death threats, and both have also reported incidents of vandalism and yard signs gone missing.
The 11th District is no longer Mark Meadows' district — literally, figuratively or geographically. The partisan gerrymander that made the district so favorable to Meadows for four election cycles was thrown out by a court shortly before Meadows dropped out.
It's still a red district, but less so. The inclusion of left-leaning Asheville, which had been neutered out of Meadows' 11th District, gives Democrats the most competitive contest they've seen in a decade.
The Cook Report, Decision Desk, Inside Elections, Larry Sabato and Roll Call all recently upgraded the race for Democrats, just as the Asheville Citizen-Times granted Davis a rare endorsement from its editorial board.
Money — big, outside money — is pouring in to a sleepy district where very little campaign spending has actually taken place since 2006. Right now, it's around $5 million. It will go higher.
The House of Representatives is currently controlled by Democrats and will likely remain so after Election Day on Tuesday, Nov. 3. A Cawthorn victory would retain a Republican seat in the minority party and a Davis victory would add to the existing majority. Ultimately, in the grand scheme of things, the race between Cawthorn and Davis is inconsequential.
But it's not inconsequential to the people of this turnstile district in Western North Carolina, people that used to elect moderate Republicans and Democrats, people now polarized and without a Member of Congress for more than 200 days. Cawthorn, or Davis, must take the first steps in repairing that breach.
Moe Davis (left) and Madison Cawthorn.
The Smoky Mountain News: This campaign has indeed been a long, strange trip. What do you know now that you didn't know when it started last December?
Madison Cawthorn: Just how dire the situation is. Everyone wants to get into politics so they can make a difference, so they can add back to their society and their community, but you know Cory, I have learned how depraved and how dark it is in Washington, D.C. I just learned how much money can change hands, how much people will try and bribe you. There's a lot of corruption, and I'm looking forward to tackling it.
Moe Davis: The details of campaigning were all new to me, and then you throw a pandemic on top of that it's been an interesting experience. I've just been really fortunate to have over 500 volunteers that have just really worked hard, and thousands of donors. I've had a lot of help.
SMN: After 10 months of hard campaigning, is there an issue that voters have changed your mind about?
MD: I don't know that voters changed my mind, or maybe it's just the process of learning over the course of the campaign, but I wasn't aware of the acute problem with broadband. Having moved to the Asheville area where we have pretty decent broadband service, I wasn't aware that that's not typical of the rest of the district — particularly some of the western counties where the official rate is 50 percent [of the population with access to broadband], but if you look at how they measure it, I believe that's an overly-optimistic figure.
I was talking to somebody yesterday out in Waynesville and they were saying that there was a manufacturer that had run fiber optic to their facility. Nobody else is allowed to tap into it. But because they're in the vicinity of the facility, they're considered to have "access" to broadband.

MC: Agricultural folks have changed my mind about work visas and ways to deal with immigrant workers. It wasn't necessarily that they changed my mind, they really just opened my eyes to some facts. These immigrant workers, a lot of them come here you have the whole idea that we always want to have a lot of insurance, for the uninsured or underinsured drivers on the road. That's because we know if you get hit by an immigrant that doesn't have insurance because they don't have a driver's license, then you're kind of just out of luck.
If we were to give them some kind of a legal status while they're here, not citizenship but getting some kind of a legal status so that they can still do work but they don't necessarily have the benefits of being a citizen yet, I think that'd be beneficial.
SMN: During the campaign events that you've been to, that you've hosted or attended, how many people do you think you meet that are truly undecided?
MC: It's changed. I've pretty consistently gone to five counties every single day for the last 10 months now. A lot of people I used to meet would be undecided. They'd kind of wanted to meet me, but at Burnsville last night, we had 3,000 people and the town was 1,600. I would say probably in that crowd, I talked to about a hundred people that were undecided, but almost everyone has made up their mind so far.
MD: Certainly yesterday there were fewer undecided than there were a month ago. It was really interesting at the [Waynesville] Apple Festival when I first got there there were three women, actually from Henderson County. They're all registered Republicans and voted Democrat the first time, and voted for me. I talked to people there that were registered Republicans that had voted for me.
SMN: Madison, since we first spoke back in January, you've talked about a generational time bomb within the Republican Party and the importance of energizing young voters of all stripes. To me, your events seem to consist mostly of elderly party faithful. Do you feel like you've accomplished that mission?
MC: You haven't been around since I spoke at the RNC. I've seen a major difference since I got to give that speech to the RNC. When I was writing it, I was targeting young people with the verbiage I was using. I'll tell you, I have been using that on the stump recently. Back in January, I was talking about how we had a generational time bomb. I would say, look around this GOP event, look around and you'll not see anyone under the age of 50 aside from my staff. Now say, look around – you see people representative of every single generation alive in America.
SMN: As we saw in the president's Oct. 15 town hall, he denounced white supremacy, which you've done. But he refused to denounce QAnon and the associated conspiracy theories that call Democrats satanic pedophile rapists who harvest hormones from the bodies of young children in order to give themselves superpowers. Basically, Trump said he didn't know what QAnon was. Do you believe him?
MC: Anytime I hear about QAnon, it's the most ridiculous thing. I feel like there's kind of levels to these people who believe in QAnon and it starts out kind of like, "You know there's a government conspiracy." I think there's some malicious people in the Democratic Party, and then all of a sudden you hear that they are lizard people and they harvest hormones from babies. I don't believe in QAnon. I don't know much about Q, the first time I ever heard about Q was when a journalist asked me about him. I don't know anything about it. I guess if you want me to denounce it, I am. I just don't believe in conspiracy theories that heavily.
SMN: Moe, military veterans are numerous in this state and this district, and are generally Republican. I've seen some demonstrate against you. Do you feel as though you've been able to reach veterans across party lines?
MD: I think so. A couple of folks I spoke with in Waynesville are veterans and Republicans and they're voting for me. I left there and went up to Burnsville and there was a couple there that had also been Republicans. They're now unaffiliated voters, but they're veterans. Obviously I haven't won over all 65,000 of them, but I think I have [won] a lot of them because I think preserving the Veterans Administration is a nonpartisan issue. Most Republican-leaning veterans like the VA, and want to keep their VA benefits.
SMN: In light of the confirmation of Amy Coney Barrett, Democrats have been shifty on whether or not "court packing" will be attempted if Dems win in November. Simple answer – yes or no on court packing?
MD: I'm not opposed to it. The Republicans have not been bashful about using the full scope of their power, as [Senate Majority Leader Mitch] McConnell did with Merrick Garland [the 2016 Obama Supreme Court nominee]. I mean, [McConnell] had the power to do what he did, whether you liked it or not and he used the full extent of his power. I think the Democrats, we've got to stop being bashful about exercising power. If we have the White House and the Senate and the House, I'm not opposed to using the full extent of our power.
SMN: With mail-in and early voting, turnout already looks to be strong. For those voters who still haven't voted, for those voters who are still undecided, make your final pitch as to why they should choose you on or before Tuesday, Nov. 3.
MC: We've been sending the same people to Washington over and over, and we've been expecting a different result. We all know what the definition of that is. I really believe that we need to send someone to Washington who has a backbone of titanium, who's not going to be able to be bought, who has strong bold convictions and who you know is going to do what he said he wanted to do. And what I'm going to do is get to Washington, D.C. and be an advocate and a strong policymaker for Western North Carolina. That'll be my main goal for the first couple of terms but within two to three germs, I will get term limits on the House floor and I will get these career politicians out of our lives.
MD: I think if voters look at my positions on policies, I'm not the wild-eyed liberal that my opponent tries to portray me as. He's been doing full page ads in the Citizen-Times that I'm going to confiscate your guns and take away your health care. I'm still not sure that he understands he's running against M-O-E and not A-O-C. What I would say to voters that are still on the fence, still trying to make up their mind is go to my website and look at my positions and policies. I think they're very centrist. The two big things I would stress is that you have a choice between someone who has absolutely no experience and no clue what he's doing, who's now owned by corporate interests, that would go to Washington and be powerless to do anything for the district because he will be in the minority — or someone that knows what he's doing, that has sensible positions and will be in the middle, will be in the majority, and will able to do things that would be beneficial to the district.