Archived News
It's Cawthorn in NC11 after runoff blowout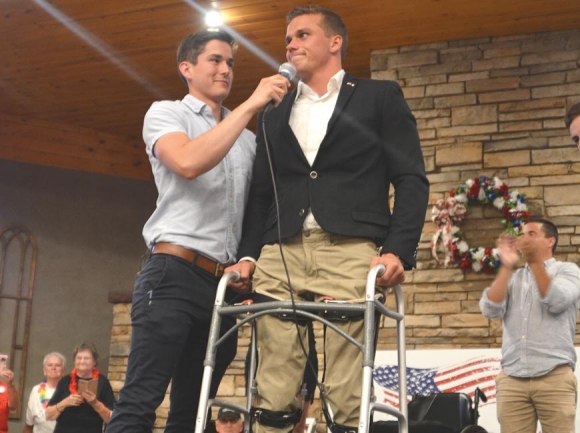 Madison Cawthorn, who mobilizes using a wheelchair, stands to address supporters at his June 23 victory party. Cory Vaillancourt photo
How, exactly, does someone lose a Primary Election in which they have almost a year's exclusive advance knowledge of the seat's impending vacancy, and the endorsement of the four-term incumbent who previously held the seat, and more than a million dollars in PAC money, and the full support of the President of the United States?
These are questions Maggie Valley real estate agent Lynda Bennett will likely be asking herself for the rest of her life.
Was it the manner in which her candidacy was rolled out, at 6 a.m. a day before the filing period ended? Was it the sham endorsement from a two-day-old PAC that didn't interview any other candidates? Was it her generally poor performance at public speaking engagements, or her refusal to debate her inexperienced 24-year-old opponent?
It was, and in the end those missteps converged to create a candidacy so flawed that not even President Donald Trump could save it from a 2-to-1 drubbing at the hands of political newcomer Madison Cawthorn.
Much has been made of the efficacy of the Trump endorsement, especially after a number of Western North Carolina Republicans said they would sit on their hands in November if Bennett secured the 11th Congressional District nomination.
While many major corporate media outlets from outside the district hoped Bennett's crushing defeat was a sign of Trump's declining popularity and perhaps a harbinger of his own defeat in November, the real answer can be found in the works of naturalist Horace Kephart, who came to this rugged little corner of Southern Appalachia more than a century ago and encountered a people whose resistance to outside authority is encoded in their DNA.
"Thar's plenty o' men and women grown in these mountains, who don't know that the Government is anything but a president in a biled shirt who commands two-three judges and a gang o' revenue officers," one man told Kephart.
All the Republicans and independent voters who told The Smoky Mountain News they wouldn't support Bennett if she'd won the Second Primary said they had voted for Trump in 2016, and would do so again this year, but wouldn't vote for his candidate in this particular instance.
They refused to say Trump was wrong for endorsing Bennett; they said he hadn't been given enough information about her, or that he'd been led astray by the man who formerly held the seat — his current Chief of Staff Mark Meadows — or that Cawthorn hadn't been given a chance to compete for the endorsement.
Nevertheless, when Trump finally phoned into the 11th on the night of June 23, it was Cawthorn he was calling, not Bennett.
"I don't think this indicates any waning support for the president's endorsement," Cawthorn told SMN that night. "The people of Western North Carolina are wise and discerning. They looked at both candidates and wanted to elect the person they thought would represent them the best and help the president the most."
Cawthorn led Bennett from the outset, jumping to a two-to-one lead once early voting results were announced, shortly after the polls closed at 7:30 p.m.
As the night wore on and precinct results trickled in, Bennett never seemed to gain any traction, and Cawthorn's lead barely deviated from that 2-1 ratio.
"Hard work and local support beats big money and big endorsements any day," he said.
The final tally reflects that. Results haven't yet been certified, but Cawthorn ended the night with 30,452 votes, good for 65.83 percent. Bennett earned 15,809 votes, or 34.17 percent.
Cawthorn won every county in the district but one, Rutherford, where Bennett prevailed 710 to 389, netting her 321 votes.
That lone victory paled in comparison to Cawthorn's performance in the two largest counties in the district, Henderson and Buncombe. Combined, he picked up 15,466 votes there, slightly more than his total margin of victory.
The other 14 counties of the district contributed 14,986 votes to Cawthorn's total. Bennett couldn't even win her home county, Haywood.
"She ran a very hard campaign. We can talk about missteps, who did what and when, but right now we're all coalescing as a family," Cawthorn said. "I appreciate the campaign she ran, and I appreciate that level of fight."
And it was a fight — Cawthorn came in second to Bennett in the March 3 Primary Election, trailing her by about 2,000 votes.
That wasn't enough to avoid the Second Primary, but Bennett still appeared to be the odds-on favorite; Western Carolina University Professor Dr. Chris Cooper told SMN June 9 that in North Carolina, the winner of the Primary Election wins the Second Primary about 75 percent of the time.
Cawthorn's upset victory has thus far resulted in an avalanche of national recognition. He's been plastered all over the pages of large, national outlets like CNN, The Drudge Report, The New York Times and The New Yorker, and has also made appearances on Fox & Friends, Neil Cavuto's show, even The View.
Throughout the campaign Cawthorn earned comparisons to liberal New York Congresswoman Alexandria Ocasio-Cortez, but it's not because of shared policy ideals. Like AOC, Cawthorn's a dynamic speaker in an attractive package, and if elected to Congress would become its youngest member.
The honeymoon's almost over for Cawthorn, but if he can maintain momentum he'll likely fare well in the November General Election. Although the 11th was redrawn several months ago in response to a court ruling declaring the district an unconstitutional gerrymander, Republican advantage is still thought to be anywhere from 8 to 16 percent.
Cawthorn's November opponent, Asheville Democrat Moe Davis, won his five-way Dem Primary Election in March and was able to avoid a runoff.
"I finally will have someone that wants to debate me," Cawthorn said of Davis while simultaneously jabbing at Bennett, who dodged multiple debates and forums during the runoff.
"Congratulations to Madison Cawthorn on his win over Lynda Bennett, but we now turn our attention to November," Davis said June 23. "We all know that Western North Carolina has fallen behind in access to healthcare, education, jobs that pay well and more. We've got an opportunity to change course and lean into the future. Better days are ahead, and I'm committed to do all I can to see that we get there."
Davis, who spent 25 years in the Air Force, retired as a colonel.
"One thing I learned in the military: You have to earn your rank. No one in the service starts at the top and I don't think the people of Western North Carolina believe a congressional seat should be handed to someone like a graduation present," he said. "Experience matters. Leadership matters. Knowledge matters. There couldn't be a clearer choice in November."
As of press time on July 1, the Nov. 3 General Election is 125 days away.