Archived News
Heath Shuler steps off the political sidelines
Wednesday, August 26, 2020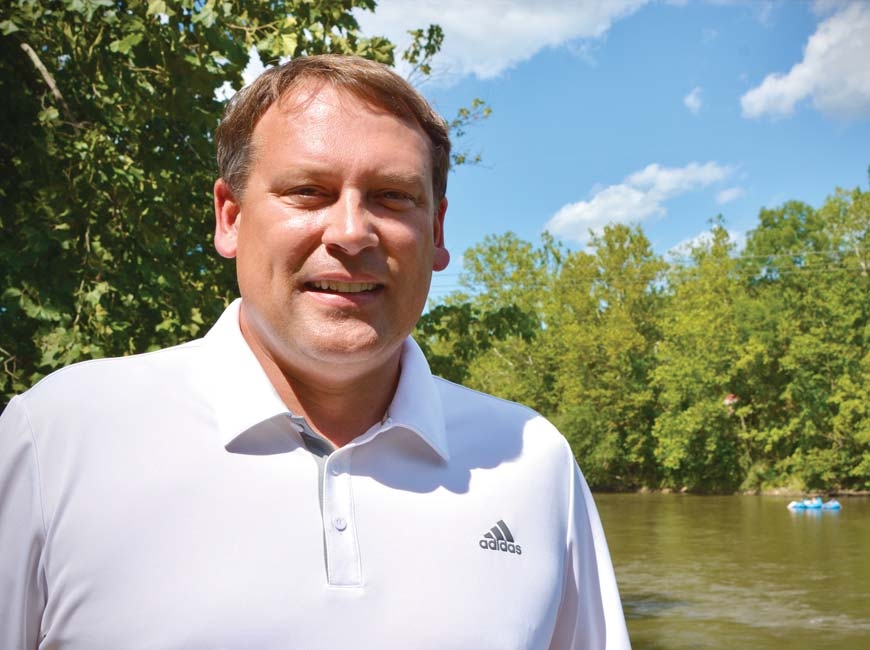 Former NC11 Congressman Heath Shuler is becoming more active in advocating for a strong outdoor economy and green energy. Cory Vaillancourt photo
Even Hollywood screenwriters would be hard-pressed to craft a more quintessentially American story.
The son of a postman, a small-town boy raised in a poor rural mountain community finds gridiron glory in high school, earns a scholarship to one of the country's most vaunted college football programs and is drafted into the National Football League with the third overall pick. After a short pro career, he returns home to finish his degree, pursues real estate development, knocks off an eight-term incumbent congressman, serves three terms of his own and retires – all by the age of 42.
Heath Shuler's been relatively quiet on the political scene since leaving Congress in 2013, but in 2020, Shuler is writing another chapter in that story — opining on the possibility of returning to politics, keeping tabs on the race for his old seat, advocating for green energy in his native Western North Carolina and stepping off the sidelines to endorse Joe Biden's presidential bid.
"I think without a doubt, one of the biggest concerns that I have is the morality of the presidency right now," said Swain County native Shuler. "I met the president before he became the president. We've got to be able to take back the integrity of that seat."
Rep. Charles Taylor (left) and then-candidate Heath Shuler appear on The Smoky Mountain News' Sept. 9, 2006 issue. Micah McClure design
A creature once roamed
Shuler's maintained a Twitter account since 2017, mostly reliving memorable moments in University of Tennessee football history and commenting on the current state of college athletics. He's rarely commented on anything political — Shuler noted the passing of his friend, Rep. John Lewis, this past July — but on March 2 of this year, Shuler's tweet was frank and clear.
"We don't need a socialist or a narcissist. We need a President who can unite America and work with both parties. I'm all in for @JoeBiden."
For those keeping score at home, the socialist is Bernie Sanders, the narcissist is President Donald Trump and March 2 was one day after several of Biden's Democratic Presidential Primary opponents, including South Bend, Indiana, Mayor Pete Buttigeig and Minnesota Senator Amy Klobuchar dropped out to endorse him.
In spite of Sanders soldiering on with a second quixotic quest for the nomination, Shuler's endorsement wasn't all that surprising, considering the turf he's staked out near the conservative edge of the Democratic Party since the day he announced he would run for Congress, back in 2005.
"Heath was a true representative, because as Biden said the other night, 'I'm not just going to be a Democratic president, I'm going to be a president for the American people,'" said Myrna Campbell, who was one of Shuler's first campaign volunteers back in 2005.
Campbell, now the chair of the Haywood County Democratic Party, ended up as Shuler's director of constituent services. As such, she was familiar with the people calling Shuler's office.
"We always had a number of calls from Republicans who truly supported Heath and were pleased with some of the things he did," she said. "There were Democrats who got disgruntled with him because he didn't always vote the way they wanted him to vote, but he truly represented the district, and I think his votes reflected the electorate."
The most volatile issue at the time may have been the Affordable Care Act, which Shuler voted against.
"We got 10 times the amount of phone calls from Republicans against it than from anyone in support of it," Campbell said. "I always admired [Shuler] because of the heat he got for that."
Beating Republican incumbent Charles Taylor was an upset of the highest order; in office since 1991, Taylor had risen to become chairman of the Interior and Environment subcommittee of the House Committee on Appropriations.
Outspent by a margin of more than 2-to-1, Shuler campaigned as a socially conservative Washington outsider. Taylor, he said, had lost sight of the 11th Congressional District's interests.
Chief among those interests was CAFTA, the proposed Central American Free Trade Agreement that Shuler said in a later press release had hurt working families by shipping more manufacturing jobs south of the border. Taylor missed the vote on CAFTA, which ended up passing 217 to 215.
Taylor, and his many businesses, had also become entangled in a number of shady financial transactions but it may have been his support for a half-billion-dollar road project through the Great Smoky Mountains National Park, called "the Road to Nowhere" and opposed vehemently by conservationists, that proved among the most damning.
On Nov. 7, 2006, Shuler, with his 2-year-old daughter in one arm, entered the ballroom of the Asheville Renaissance Hotel to the opening strains of his college fight song, "Rocky Top," and acknowledged his 54-46 percent victory over Taylor.
Shuler (top right), wife Nikol (bottom right) and daughter Island greet supporters after his victory on Nov. 7, 2006. Michael Beadle photo
"It's an exciting time for the people of Western North Carolina," Shuler said in a Nov. 8, 2006 story by Smoky Mountain News reporter Michael Beadle. "Our country deserves better. We're going to get there."
Shuler was part of a 31-seat pickup in the House for Dems, giving them control of the chamber for the first time since the Newt Gingrich-led "Republican Revolution" in 1994. That election also resulted in House Minority Leader Nancy Pelosi's elevation to Speaker of the House — the first woman, and the first from west of the Rockies.
Generally opposed to abortion, gun control and same-sex marriage — the old "God, guns, gays" triumvirate that divided Democrats of the day — Shuler quickly became a rising voice in the Blue Dog Coalition, a group of relatively conservative Democratic representatives in right-leaning districts.
In 2008, he handily defeated Buncombe County Republican Carl Mumpower with 62 percent of the vote, joining a Democratic wave that resulted in the election of Barack Obama.
Two years later, Shuler again prevailed 54-46 over Republican nominee Jeff Miller, but Shuler's party took a shellacking nationally, losing the House by giving up a whopping 63 seats.
"A creature once roamed the American South that many now presume to be endangered if not extinct — the conservative Democrat. For nearly a century following the Civil War, almost all white Southerners were conservative Democrats," wrote Western Carolina University professors Chris Cooper and H. Gibbs Knotts in SMN earlier that year. "As late as 1978, more than a third of all Democrats in the South were conservatives. In most parts of the South today, however, finding a conservative Democrat is about as likely as spotting a bald eagle — they do exist but they are hard to find."
A prescient prognostication perhaps, so Shuler didn't exactly celebrate his victory; despite losing half of the 50-some members of his Blue Dog Coalition in the election, he challenged Pelosi for the new role to which she'd been relegated by the loss of the House, Minority Leader.
He lost that fight, but revealed to SMN's Quintin Ellison on Nov. 10, 2010, "I knew we could not win. But it was so important that the leadership in the Democratic caucus should be made to realize why we lost so many seats."
The very next year, newly-empowered Republicans in the North Carolina General Assembly redrew Shuler's district to exclude left-leaning Asheville, shaving 7 points from previous Democratic registration totals.
Two weeks before the filing deadline for the 2012 election, Shuler announced he wouldn't seek reelection, citing his desire to spend more time with his wife and his children, age 7 and 10 at the time.
"It feels like time has just flown by," Shuler, then 40, told SMN's Becky Johnson at the time. "They are growing up, and I don't want to miss those moments."
In the same story, his former High School football coach, current Jackson County Commissioner Boyce Dietz, said that with Shuler, it wasn't about redistricting, it was about family.
"I think it is a cop out a lot of the time, but I don't really think it is with him. It really bothered him when we would go out the door on Monday morning and his kids would cry," Dietz said. "He had a choice to make and he put his family before his job."
Shuler went on to become Duke Energy's senior vice president for federal affairs as his former chief of staff, Hayden Rogers, lost Shuler's former seat 57-43 to the man who would hold it for nearly eight years and use it as a springboard to becoming President Donald Trump's current White House Chief of Staff this past March — Mark Meadows.
Killing the goose that lays the golden eggs
When you're raised in a county that's more than 75 percent federally owned — the Great Smoky Mountains National Park is a big part of that — you tend to take it for granted.
"Growing up, I thought everyone had this type of luxury — the creeks and the streams and the lakes," Shuler told SMN last week. "When you start traveling around the United States and traveling the world, you realize pretty quickly that we are very fortunate to live where we do, so we need to do all that we can to protect as much as we possibly can."
His original campaign website, circa May 2006, shows a long history of advocacy on behalf of pro-green energy efficiency options like biofuels and hybrid vehicles as well as wind, solar and methane energy.
Rural communities in Western North Carolina — and their ensuing infrastructure — are often hemmed in by mountains, rivers or gorges, necessitating a strict balance between development and preservation.
"Many of those communities have lakes and have clean water. For outdoor recreation activity, the fishing that comes into so many of these communities creates a pretty strong economy," he said. "If you're a liberal or you're a conservative, you should want to be able to protect all these great gifts that God gave us. If we don't, people aren't going to come visit and if they don't visit, they're not going to eat at your restaurants, and they're not going to stay in your hotels."
Environmental concerns are one of the biggest reasons Shuler came out early for Biden.
"If we look at what's happening in our country today, we have not seen expansion in green energy since President Trump has been in office," he said. "I mean, those things have really fallen by the wayside and with that comes infrastructure projects. With that comes a workforce. And if you look back during the Obama administration, you saw jobs even here in Western North Carolina — a significant amount of green energy jobs. For every dollar that you spend, you create $7 of infrastructure dollars outside of that."
Even more important than economic expansion, according to Shuler, is the basic goal of guarding against pollution. A New York Times story in May noted Trump administration rollbacks on more than 60 environmental protection regulations.
"Look what we have," Shuler said. "I mean, certainly living in Western North Carolina, we realized pretty quickly that we are very blessed to be able to have the outdoor space that we do."
Biden's goal is to "reverse all of the damage Trump has done, but go further and faster" by implementing, among other things, a net-zero emissions policy, economy-wide.
"If we're going to have pollution killing our trees and polluting our streams with this administration, we're going backwards," Shuler said. "We need to move forward with better, greener energy policies."
Then a junior, University of Tennessee quarterback Heath Shuler finished a distant second in the 1993 Heisman Trophy balloting to Florida State QB Charlie Ward. Twitter photo
The Turnstile District
Mark Meadows' March 30 resignation left North Carolina's 11th District without a representative in the House just as Congress passed the largest federal stimulus bill in history. Meadows skipped the March 25 CARES Act vote.
Those with designs on Meadows' seat were already at work by then. Meadows announced he wouldn't seek reelection in December 2019. Asheville Democrat Moe Davis won his primary flat-out, and Republicans concluded their runoff by selecting Henderson County's Madison Cawthorn on June 23.
Shuler's kept up on all of it.
"I have," he said. "I actually know both candidates. Once redistricting happened, it made it a very close race, and I think that this race is going to be probably closer than anyone ever anticipated."
Court-ordered redistricting in 2019 made the 11th District look a lot more like the one he'd known during the Bush administration.
"Typically, it is an R-leaning district," said Shuler. "I mean, it's plus probably nine, 10, even 14 is what they say. I think it really is probably closer to that 10."
Those numbers are often cited, but are based on the 2016 Hillary Clinton-Trump matchup within the 11th. Pundits suggest that a comparison of the N.C. Governor's race between then-Attorney General Roy Cooper, a Democrat, and incumbent Governor Pat McCrory put the race much closer, and a poll cited by Davis says it's a dead heat, within the margin of error. The Cook Political Report still calls it "likely Republican."
"You have two very, very different candidates competing for that job. I think there'll be some differences in some spreads once they actually sit down and they debate one another and they have conversations about policy," said Shuler. "There's a lot of undecided voters in the 11th District. If you look at the electorate, you have really a third, a third, a third — Democrat, unaffiliated and Republican. That independent vote is continuing to grow in our communities here. Those are the voters that will ultimately decide who wins the 11th District."
Despite his continuing involvement in his old district, Shuler said he hadn't endorsed anyone in the 11th since he left, and didn't plan to start.
"Except for Biden I've really just stayed out," he said. "We're in a healthcare crisis right now in our country. More than 180,000 people have died with COVID. We've got to get control of that. We've got to have a leader that can really, truly look at the medical and the science to make some of those decisions instead of making political decisions."
Shuler's continuing focus on the policies of the Trump administration seems tempered by his service under two previous presidents — one Republican, and one Democrat.
"I think one of the biggest problems that we have in our country today is so many of our allies have looked at the United States and laughed, whether it be at some of our policies or the way we've handled certain issues or commentary from the president," he said. "I still have so many of my colleagues that I communicate with that are from Europe and other countries throughout the world and they ask me, 'Heath, what is going on? What is the problem there?'"
It certainly sounds like Shuler's poised to come off the bench himself; in 2015, he was floated as a possible opponent to North Carolina Republican Sen. Richard Burr, who won the 2016 election and said he won't seek another term in 2022.
Last December, a day after Meadows announced he wouldn't seek another term in the House, Shuler told The Asheville Citizen-Times that he wouldn't seek his old seat, but would leave the door open to a future bid for the U.S. House, U.S. Senate or N.C. governor.
"My kids were one of the reasons I ran for office, and they were also the reason not to run for reelection. People want to say that it had something to do with redistricting. Our numbers were extremely strong. We had over 70 percent approval rating in the district and that was just because, you know, you just be honest with people and you don't look at policy based upon the politics," Shuler said. "Once you're elected, regardless of which political party you're affiliated with, you're actually representing all 750,000-plus people here in the 11th District."
As to his own aspirations, the next chapter in his quintessentially American story, Hollywood screenwriters and small-town reporters still don't have a clue.
"Well, I never say never, but I kinda got in trouble the last time," Shuler said. "I said I would never run for office and ultimately ended up doing so."
Shuler praises Biden's veepstakes pick
In late July, then-presumptive Democratic presidential nominee Joe Biden announced that he was actively considering four Black women to be his running mate.
As speculation swirled, Florida Rep. Val Demings and California Rep. Karen Bass were considered long shots. Atlanta Mayor Keisha Lance Bottoms and Obama-era national security adviser Susan Rice were perceived as frontrunners, but so was California senator and former presidential candidate Kamala Harris.
"I think there were a lot of great people that Biden could have chosen for the VP, but Kamala Harris I think was certainly at the top of my list," Shuler said of Biden's Aug. 11 announcement naming Harris.
Women are still a rarity at the top of major-party presidential tickets, despite Hillary Clinton's nomination in 2016. But since 1972, there have been more and more women considered for the role of vice president.
Libertarian Tonie Nathan was the first to receive an electoral vote (albeit from a faithless Republican elector) in 1972, but it wasn't until New York Democrat Geraldine Ferraro appeared on the ill-fated 1984 Walter Mondale ticket that a major party had its first female nominee.
Republicans followed suit in 2008 when John McCain selected Alaska Gov. Sarah Palin as his running mate.
Harris served as district attorney of San Francisco from 2005 through 2011, and then as California's attorney general until winning retiring California Sen. Barbara Boxer's seat in 2017.
"You have to have someone that's very charismatic and tough. Someone that's extremely smart. Someone that can articulate the message for the president and also have a dialogue between the House and the Senate," Shuler said. "I watched Kamala Harris go through the Senate, and I realized she had a lot of friends on both sides of the aisle. I think that's helpful."
Leave a comment
1

comment
I am wondering now if you would like to take back your endorsement of Kamala Harris. She has now become a laughing stock for incompetence and bumbling. She seems to not have a clue to what is going on the country.As of April 5th 60% of registered voters have an unfavorable opinion oh Harris. The democrats are scrambling feverishly to decide what to do about her.

Thursday, 04/07/2022