Archived News
NC's 2020 Congressional Districts thrown out
Wednesday, October 30, 2019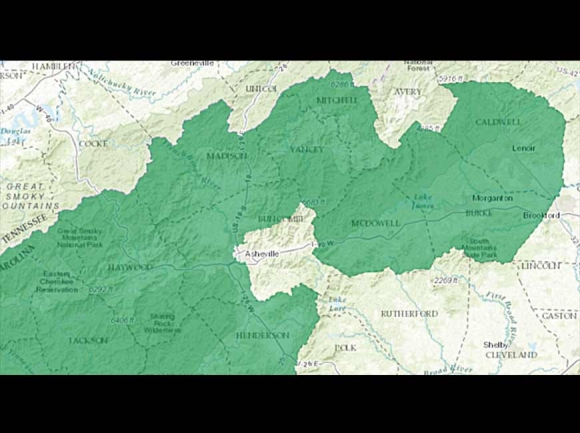 Current North Carolina congressional maps can't be used in 2020. Google Maps
One month and one day after a lawsuit was filed alleging partisan gerrymandering in North Carolina's congressional districts, a three-judge panel has ordered current congressional maps to be redrawn in time for the 2020 election.
"It's absolutely the right thing to do," said Dr. Steve Woodsmall, a Democrat running against Asheville Republican Rep. Mark Meadows in the 11th Congressional District. "We've got to make sure that we have free and fair elections. People have to feel like they are picking their representatives, not that their representatives are picking their constituents. Going back to 2018, when a district court ruled these 2016 congressional districts unconstitutional, we've had unconstitutional elections."
The suit, titled Harper v. Lewis, was filed by the National Redistricting Foundation in Wake County Superior Court on Sept. 27 on behalf of 14 plaintiffs, one from each of N.C.'s 13 congressional districts plus two plaintiffs from the 11th Congressional District.
Harper v. Lewis alleges that the Republican-controlled legislature that drew the maps engaged in two controversial practices designed either to split unfavorable groups of voters apart or to join favorable groups of voters together — both with the intent of maximizing the number of Republican-controlled U.S. House seats.
Called "cracking" and "packing," the tactics worked; in 2018's congressional elections, Republicans earned just 49.1 percent of votes cast in statewide, but somehow walked away with 10 of the state's 13 U.S. House seats.
"I don't think anybody thinks that's fair," said Woodsmall, a retired U.S. Air Force officer who also retired as an assistant professor at Brevard College earlier this year. "That's why they did it that way. You can go back to [defendant and chair of legislative redistricting committee, Republican Rep. David] Lewis' comment when he was asked how he was able to get 10 of 13 congressional seats. His answer was, 'Because I don't believe it's possible to draw a map with 11 Republicans and two Democrats.'"
Although there hasn't actually been a ruling on the lawsuit itself, days after it was filed attorneys for the plaintiffs also filed a motion for a preliminary injunction that would prevent the state "from preparing for or administering the 2020 primary and general U.S. House elections using the 2016 Plan," according to the suit.
It was that motion with which judges Joseph Crosswhite, Alma Hinton and Paul Ridgeway agreed, according to the Associated Press.
"There is a substantial likelihood that plaintiffs will prevail on the merits of this action by showing beyond a reasonable doubt that the 2016 congressional districts are extreme partisan gerrymanders," reads the order.
That likelihood is based in large part on existing evidence already presented in separate federal actions, including a suit that went to the U.S. Supreme Court this past June; SCOTUS punted, saying it was the duty of state courts to handle such actions involving state-drawn districts.
The AP report says that the state Superior Court gave no hard deadline for the legislature to redraw the maps but suggested the effort be concluded quickly. The AP also reported that the N.C. State Board of Elections wants maps done by Dec. 15.
The initial filing of the injunction and the expeditious remapping timeline are both warranted — next year, for the first time, North Carolinians used to voting in primaries in May will instead vote in March. The move also means that persons wishing to run for congress — or state legislative seats — must file initial campaign paperwork between Dec. 2 and Dec. 20.
Although N.C. residents don't have to live in a particular congressional district to run for its U.S. House seat, those December timelines might make it hard for some potential candidates to know which congressional district, exactly, is their district of residence.
Woodsmall lives in Pisgah Forest, in Meadows' 11th Congressional District, but he isn't far from Lincoln County Republican Rep. Patrick McHenry's 10th Congressional District.
"If somebody is going to represent a particular area, they should probably reside in that area," said Woodsmall. "I'm pretty sure that where I live near Brevard is probably going to stay in the 11th district. I'm gonna run no matter what because I announced in March. I've resigned from my job. My full-time job is getting to Congress primarily to get rid of Mark Meadows, but if it turns out that we end up running [in the 10th] against McHenry, then so be it."
Both the 10th and 11th districts were at the center of Harper v. Lewis, because of the unusual nature of their particular gerrymander — students on different sides of a hallway in one of UNC-Asheville's dorms are in different congressional districts because some of Asheville is in Meadows' deep-red, mostly rural district, but a large chunk of Asheville proper was carved out of Meadows' district and added to McHenry's deep-red, mostly rural district.
In 2018, Woodsmall finished second in the Democratic Primary to Nebo Democrat Phillip Price, who lost to Meadows in November of that year by more than 20 percentage points.
Price told The Smoky Mountain News this past June that he didn't plan to run again in 2020 if the district remained as lopsided as it was in 2018, but now that the Harper ruling has come, Price said he's strongly considering it.
"My plans have definitely changed," he said. "I can't say to what degree, but I've got a lot of praying and meditating and consulting with Democrats and Republicans to do before I decide."
Price added that he's in the midst of renovating his home, thus if he runs, his announcement would likely come near the end of the filing period.
Another name frequently mentioned as a potential Meadows opponent is Shelby native Col. Morris Davis, a retired Air Force lawyer who was chief prosecutor at Guantanamo Bay until he resigned in 2007 over his opposition to waterboarding.
Prior to the ruling in Harper, he said despite his opposition to Meadows he wouldn't run with status quo maps.
"I'm building a house in Asheville and it's in the 10th Congressional District, due to the lines that the Republicans drew to gerrymander this district," said Davis, a Democrat. "Even though in this state you don't have to live in the district to run, I think Mark Meadows is one of the top handful of members of Congress that need to be unemployed come 2021 when the new Congress takes their seats. It just didn't seem right to me to live in the 10th Congressional District and run for office in the 11th."
Davis wouldn't rule out a run in the 10th or the 11th — or not at all — depending on how the lines are drawn. If he opts to throw his hat in the ring, he'll join Woodsmall and another Democratic candidate who only just recently announced (see DEM, page 13).
"It's been an interesting week for me, because I put in all my paperwork and officially declared right before this ruling happened," said Michael O'Shea, a Mills River native, Western Carolina University grad and music producer. "This is what I hoped would happen. I think the people of Western North Carolina, the people of North Carolina in general, have gone far too long without fair elections."
It's unclear at this point how much, if at all, the 11th Congressional District will change as a result of the injunction, but it's unlikely it will be enough to put the district on even footing; Meadows has won his past three elections with vote totals ranging from 57 to 64 percent of the vote.
If it does change, it stands to reason that the uphill battle against the popular, powerful and well-funded incumbent might just get a little bit easier.
"If they draw the lines the way they should be drawn, it will definitely be a more level playing field," Woodsmall said. "You're never going to be able to get everything across the board 50/50 and that's totally understandable. But I've been out there since March, we're getting a lot of support, a lot of good feedback, and people are excited about this election."
Through a spokesperson, Rep. Meadows declined to comment for this story.