Archived News
Republican Sen. Chuck Edwards joins race for NC-14
Wednesday, December 01, 2021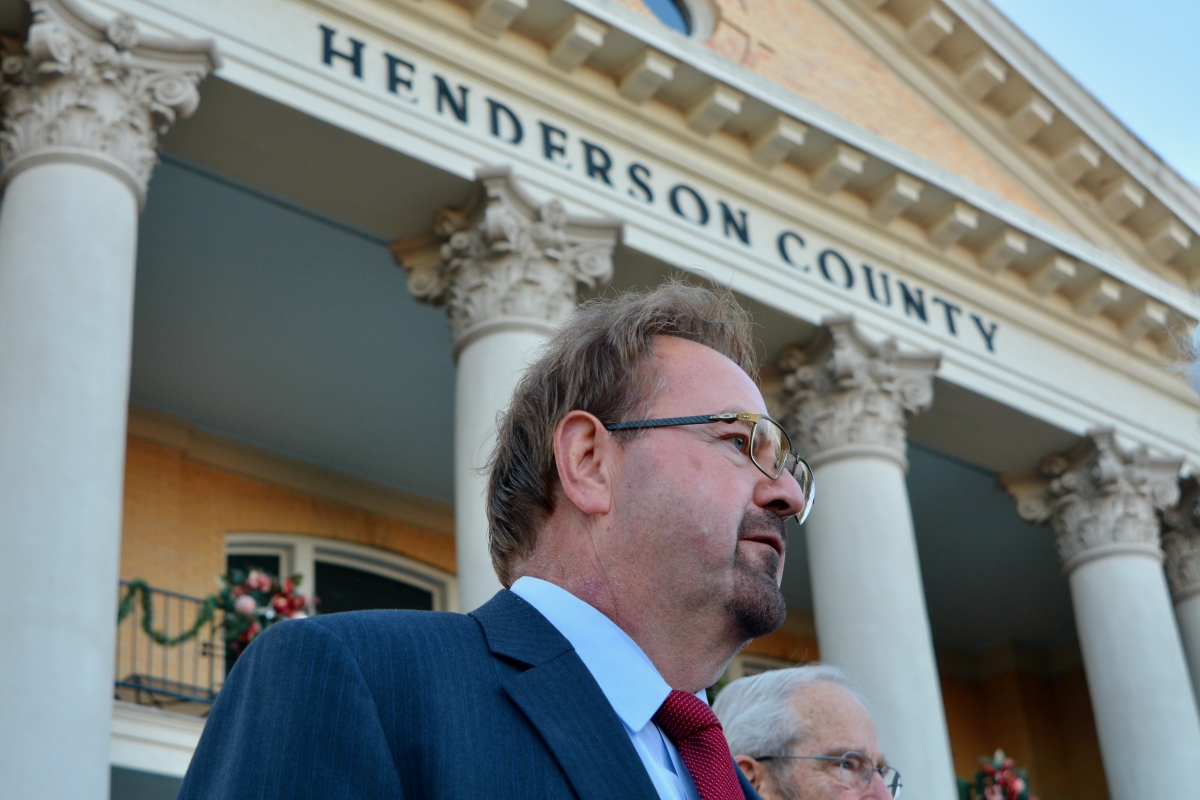 Sen. Chuck Edwards speaks in Hendersonville on Nov. 30.
Cory Vaillancourt photo
After much speculation, three-term Henderson County incumbent Sen. Chuck Edwards made his 14th Congressional District candidacy official with an announcement at the old Hendersonville courthouse on Nov. 30.
"I grew up right here in these mountains, carrying a squirrel gun. I went to work at the age of 16 and learned how to be a public servant behind the counter of a restaurant. I learned how to be a businessman behind the front counter of a restaurant. I played high school football just a few miles in this direction," Edwards said. "Well, honestly, I sat on the bench while other folks played."
Jokes aside, Edwards said he wouldn't sit on the bench in Washington as he railed against the current Democratic administration.
"I see that Joe Biden and Nancy Pelosi have lost their way," he said. "Gas prices are up. Food prices are up. Businesses are limiting their capacities because they can't find employees. There is so much work that needs to be done in Washington and I'm going to ask you to send me there and let me do the same things in Washington for you and the people of this district that I've been able to do in Raleigh so far."
Edwards had been highly critical of freshman incumbent Rep. Madison Cawthorn (R-Henderson), especially in the wake of the Jan. 6 insurrection, and for more than a year was rumored to be contemplating a primary challenge against Cawthorn.
That all changed after North Carolina's new congressional maps were approved last month; the state gained a new seat and Cawthorn opted to run there, instead of the district in which both he and Edwards live.
While Cawthorn's move may have averted a showdown between him and Edwards, the NC-14 contest has now evolved into a proxy war — Michele Woodhouse, formerly chair of Cawthorn's old NC-11 district, announced her candidacy Nov. 18. Also a Henderson County resident, Woodhouse has been an ardent Cawthorn supporter and it's speculated she'll receive his explicit or implicit support during the Primary Election.
Cawthorn said he wouldn't attempt to become a "kingmaker" like his predecessor Mark Meadows tried to be in 2020, but Cawthorn recently told WBT-AM host Pete Kaliner that he'd consider supporting a candidate once the field was flushed out and a forum with all candidates had been held.
The Henderson County Republican Party has scheduled just such a forum, for Jan. 6, not long after the candidate filing period ends on Dec. 17.
Edwards will be a strong candidate. Punditry suggests that about half the turnout in the Republican Primary Election will come from three counties Edwards has represented for more than five years — Buncombe, Henderson and Transylvania.
Right now, the Republican field stands at six, with Edwards, 2020 dropout Matthew Burril and Woodhouse being the most recent additions to a field that had included Rod Honeycutt, Wendy Nevarez and Bruce O'Connell before Cawthorn's move to the new NC-13.
The Democratic field hasn't changed since Cawthorn's announcement except for the departure of Josh Remillard, who said he'd run against Cawthorn in NC-13. Remaining in the NC-14 Democratic Primary are Jasmine Beach-Ferrara, Jay Carey, Katie Dean, Eric Gash, Bo Hess and Brooker Smith.
Lawsuits have been filed challenging the new maps, but for now, the assumption by candidates is that the new maps will stand.
Candidate filing for the March 8 Primary Election begins Dec. 6.
Leave a comment
1

comment
That's where Mr. Edwards needs to be. On the bench.

Sunday, 12/05/2021