Archived News
Cawthorn won't run for re-election in current district
Friday, November 12, 2021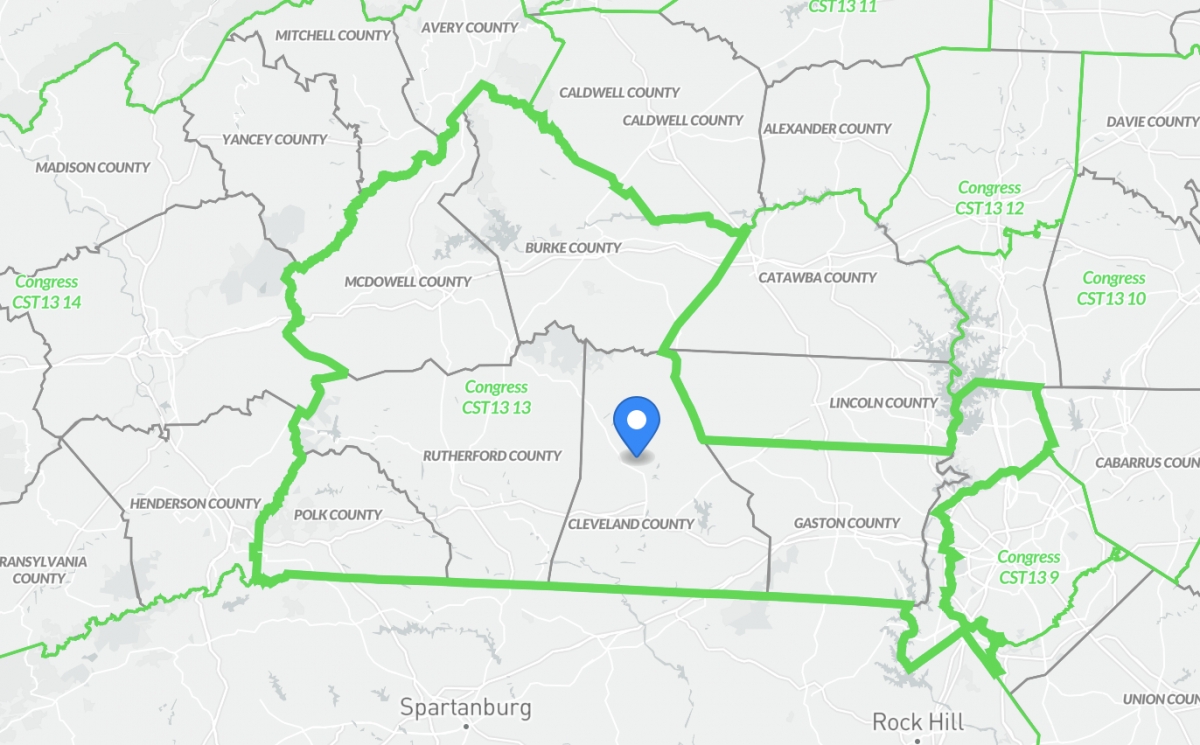 North Carolina's 13th Congressional District
northcarolina.redistrictingandyou.org
During his brief political career, Western North Carolina Congressman Madison Cawthorn has become known for saying some surprising things to further his political agenda, but Cawthorn's most recent statement is by far the most surprising.
"I believe we have a unique opportunity to increase conservative leadership from North Carolina," Cawthorn said in a video posted around 7 p.m. this evening. "I have every confidence in the world that regardless of where I run the 14th congressional district will send a patriotic fighter to DC. Knowing the political realities of the 13th district I am afraid that another establishment 'go along to get along' Republican would prevail there. I will not let that happen. I will be running for congress in the 13th Congressional District."
Rumors about Cawthorn's intentions began circulating earlier this week after a story in the Carolina Journal, written by former NCGOP Executive Director Dallas Woodhouse, revealed that polling had been conducted on behalf of Cawthorn in North Carolina's 13th Congressional District. According to the story, Spry Strategies founder Ryan Burrell confirmed the existence of the poll.
A day or so after the Carolina Journal article, Cawthorn (R-Henderson) told GOP county chairs on a call that he was exploring the possibility of running in the new 13th, as opposed to his current district, but that nothing was finalized.
"He said he was contemplating the decision of running in the new 13th District or his current district, and that he had constituents in both, and then he opened it up for conversation," said Michele V. Woodhouse, the Republican chair of Cawthorn's district who arranged the call. "I think it speaks to his transparency that he would approach the people he works for every day before talking to anyone else."
Michelle Woodhouse is related to Dallas Woodhouse through her husband.
Despite premature reports that Cawthorn had already made up his mind, his announcement on Nov. 11, made it official.
"This was not an easy decision. Whichever path I choose, I am losing friends, neighbors, and constituents. But this decision was not flippant or based on personal preferences in the slightest," said Cawthorn. "It is a tactical move to ensure North Carolina's conservative fighting spirit is strengthened."
The 13th District is a brand-new creation – an open seat – that came about as a result of the state's recent redistricting process. Cawthorn's current district, NC-11, has since been renumbered as NC-14 but changed only slightly from its current incarnation.
Nonpartisan mapping website northcarolina.redistrictingandyou.org shows that in 2020, Donald Trump took 56.1% of votes in the old NC-11, and 53.8% in the new NC-14. The new NC-13 went 60.2% for Trump.
Three counties from the old NC-11 (Polk, Rutherford and McDowell) have been incorporated into the new NC-13, but they only account for around 37,000 of the nearly half-million votes cast in the district in 2020.
The rest of NC-13 includes Burke, Cleveland and Gaston counties, and the western edges of Mecklenburg County. Cawthorn lives in Henderson County, which remains in NC-14.
Residency in a given congressional district isn't necessary to run in that district. A clause in Article I, Section 2 of the Constitution sets the minimum qualifications for Members of the U.S. House of Representatives at 25 years of age, seven years of citizenship and residence in the state in which the district is delineated.
Cawthorn's jump from his current district to a completely new one is a rare or possibly even unprecedented move, says Chris Cooper, the Madison Distinguished Professor of Political Science & Public Affairs and Director of the Public Policy Institute at Western Carolina University.
"I'm racking my brain and scouring every congressional history on my shelf and I can't find a single example of a sitting member of Congress choosing to shift districts for any reason other than being redistricted out of their district, or redistricting changing the partisan make-up in a radical way," said Cooper. "The notion that an incumbent would choose to leave a safe seat for an even safer seat would never have occurred to me. But it is 2021 and this is Madison Cawthorn we're talking about so I guess the rules must not apply."
In 2020, Cawthorn won his seat in Congress by beating a well-qualified Democrat by more than a dozen points. Internal polling among Republicans in his current district suggests he's still extremely popular there, despite (or perhaps because of) his high-profile appearance at Trump's "stop the steal" rally in Washington, D.C. on Jan. 6.
As a conservative firebrand closely tied to Trump, Cawthorn currently lives in a district that is about as safe as it gets, making his decision to leave an interesting one indeed.
Now, Cawthorn's unexpected candidacy in NC-13 sets up what's likely to be a bruising internecine conflict with Tim Moore, a 10-term rep from Cleveland County who is also in his fourth term as Speaker of the North Carolina House.
Moore was widely rumored to be interested in the seat, but didn't immediately return an email seeking comment on the new developments. He's also likely that "establishment go along to get along" Cawthorn refered to in his video.
Given the partisan demographics of NC-13, the Republican nominee would likely run away with the General Election.
It's the same situation in Cawthorn's current NC-14 district.
Cawthorn would have faced nominal but steadfast opposition in the Primary Election from Republicans Wendy Nevarez, Bruce O'Connell and Rod Honeycutt.
Honeycutt may have distinguished himself slightly from the rest of the field by earning the endorsement of George Erwin, a retired Henderson County Sheriff who was once a big proponent of Cawthorn's but has since changed his mind and been very vocal in expressing what he says are Cawthorn's failings.
Regardless, all three were facing an uphill battle against the connected, well-funded and well-liked incumbent Cawthorn, but now the rumor mill is spinning furiously with speculation on other Republicans interested in the newfound opportunity in NC-14.
Chief among them is three-term incumbent Sen. Chuck Edwards (R-Henderson).
Shortly after the insurrection, Edwards called out Cawthorn not once but twice and was thought to be contemplating a run against him, but for the past 10 months Edwards hasn't responded to inquiries by The Smoky Mountain News about his intentions.
There are also two other powerful Republican incumbents in the neighborhood, and it would make perfect sense if one – or both – decided to run in NC-14.
During the redistricting process, Sen. Ralph Hise (R-Mitchell) and Sen. Deanna Ballard (R-Watagua) were drawn into the same district, but both also reside in the new NC-14. Neither responded to SMN inquiries about their intentions regarding running for Senate in 2022, or for Cawthorn's old seat.
Then, there's the Democrats – eight of them, at last count. Buncombe County Commissioner Jasmine Beach-Ferrara became the first to announce her candidacy back in March, but she's since been followed by Josh Remillard, Jay Carey, Eric Gash, Bo Hess, Katie Dean and Brooker Smith.
They may try to gain traction with right-leaning independents disappointed in Cawthorn's plans.
Cawthorn's departure won't make it much easier for any Democrat to flip the seat. Redistricting gave Dems maybe three points in NC-14, but the district remains a deep red.
Granted, other Democrats, or Republicans, may jump into the race now that Cawthorn's out of it. It will all come down to the candidate filing period, which runs from Dec. 6 through Dec. 17.
That means Western North Carolina will likely be in for another nail-biter of a filing period, reminiscent of the way Cawthorn came into power in 2020.
In November, 2019, then-incumbent Rep. Mark Meadows (R-Asheville) shocked the political establishment when he announced he wouldn't seek another term in NC-11. He did so with only about a day remaining in the filing period, catching most politicos flat-footed.
That was on purpose, though – Meadows pushed a friend of his wife's, Maggie Valley realtor Lynda Bennett, to the front of the line by giving her advance warning of his intentions. That maneuver boxed out some viable candidates, and left others literally speeding to Raleigh to file their paperwork before the deadline.
But not Bennett – once Meadows made his announcement, Bennett was ready to go, with a website, press release and an endorsement from the Asheville Tea PAC.
Despite garnering then-President Trump's endorsement, a poorly run campaign and a charismatic, young, out-of-nowhere Cawthorn conspired to deny Bennett the Republican nomination.
The loss was a major embarrassment for Trump, and for Meadows, who abandoned his NC-11 seat in March, 2020, to become Trump's chief of staff.
"You elected a fighter, and I've fought day and night to defend our values in a town that despises principled and fearless representation," Cawthorn said. "This move is not an abandonment in fact quite the opposite. It is a move to take more ground for constitutional conservatism. In my heart I represent North Carolina as a whole not some arbitrary line that some politician drew this cycle."

UPDATE: An hour after this story was first published, the News & Observer reported that Rep. Tim Moore will not run in NC-13.
Leave a comment
1

comment
Good strategy to get rid of the RINOs in the Republican Party.

Friday, 11/12/2021