Latest
Yellowhill Tribal Council candidates share their vision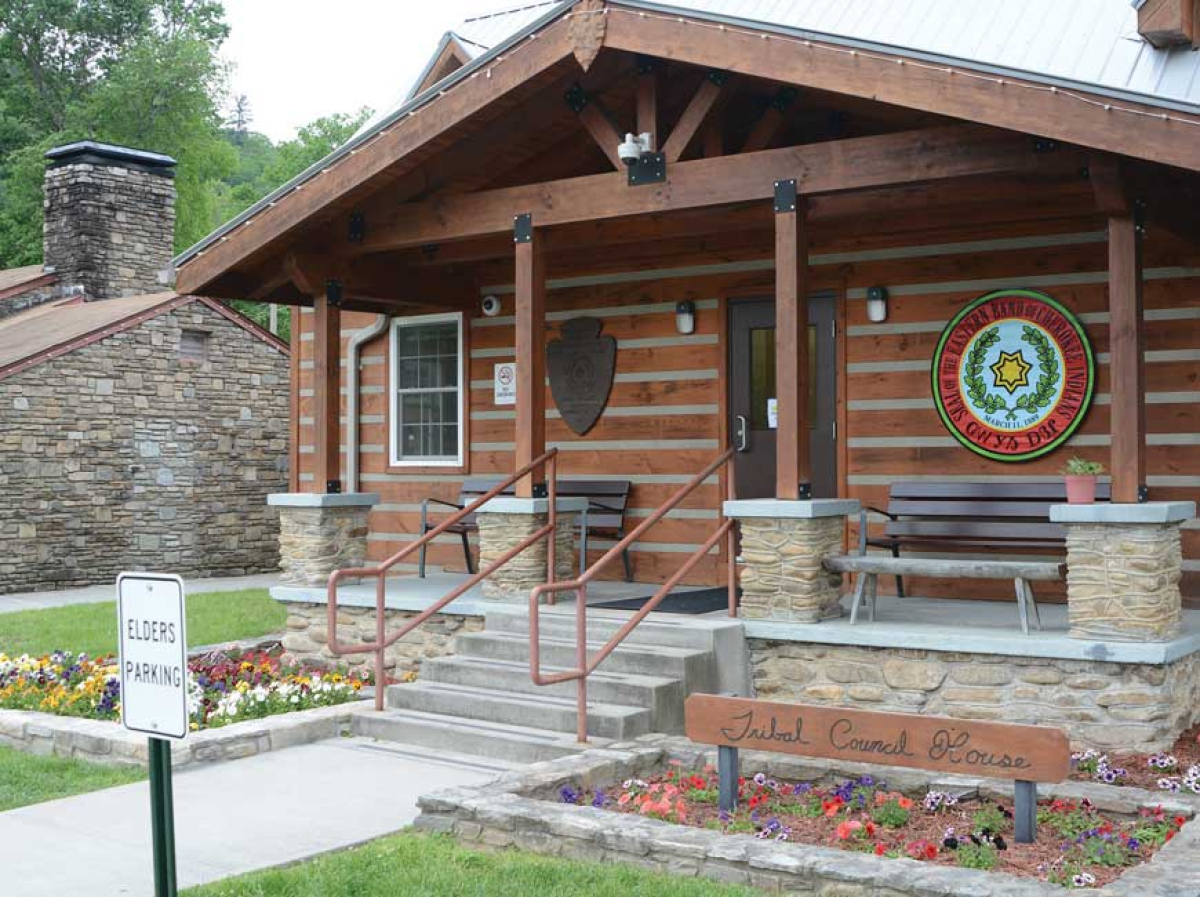 FF Five candidates are running to earn a seat representing Yellowhill on Tribal Council 2023-2025, and the Primary Election Thursday, June 1, will send four of them on to compete in the Sept. 7 General Election. The two highest vote-getters there will win a two-year term on the tribe's legislative body.

Incumbents David Wolfe and T.W. Saunooke are both seeking re-election to the seat. Wolfe is serving his eighth term on Council and was the body's vice chairman from 2017 to 2021, while Saunooke is in his first term after edging out Tom Wahnetah in the 2021 election. Wahnetah lost by a narrow margin — just 19 votes — and he is looking to reclaim the seat he held 2017-2021.

Rounding out the ballot are two members of the Cherokee Community Club Council, Ernest Tiger vice and Stephanie Saunooke French. The Community Club Council is composed of representatives from each of the Qualla Boundary's individual community clubs and has been leading efforts to draft a proposed constitution for voters to consider in a referendum vote.

These seats are just two of 12 Tribal Council seats on the ballot this year, with voters to select two representatives for each of six townships. Painttown, Wolfetown and Birdtown all have enough candidates to warrant a primary race. Each Yellowhill representative's vote counts for seven in the weighted voting system used for legislative actions.
Tiger, Wolfe and Wahnetah responded to a Smoky Mountain News questionnaire asking for the experience, qualifications and political priorities they believe should persuade voters to mark their name on the ballot. Information about remaining candidates was compiled from various sources, including previous reporting from SMN, the tribal website and candidate statements on social media.

T.W. Saunooke
Saunooke is serving his first term on Tribal Council and previously spent six years as an elected member of the Cherokee Central School Board.
While on the School Board, Saunooke was elected by the N.C. General Assembly of School Board members to serve on the North Carolina School Board Association Board of Directors and the N.C. School Board Federal Relations Network. He has also served on the N.C. USA Wrestling Board of Directors. Prior to joining Tribal Council, he was a project manager for seven years with 25 years of experience in the construction industry.

David Wolfe
Wolfe, 52, is serving his eighth term representing Yellowhill on Tribal Council.
He graduated from Western Carolina University in 1994 with a bachelor's degree in accounting and finance and worked with UPS for 15 years before serving his first term on Tribal Council. During that time, he has served on various committees, including Health Board, Business Committee, HIP Committee, Enrollment Committee and Roads Committee.
If elected, his top three priorities would be education, from pre-K through college; health care, including mental health and rehabilitation; and affordable housing.

Stephanie Saunooke French

French is listed as education supervisor on the Boys & Girls Club of Cherokee website, and she represents Yellowhill on the Cherokee Community Club Council.
On her Facebook campaign page, she encouraged supporters to "vote for change," saying that there is "way too much spending going on" and that the community needs Council members "that are here for our people."


Tom Wahnetah

Wahnetah, 61, works as senior project manager for Kituwah Builders, a tribally owned LLC.
He is seeking his third term on Council after representing Yellowhill from 2017-2021. While on Council, he met with federal legislative leaders about tribal issues and was appointed to several tribal committees, including Community Services, Qualla Parks and Recreation, Qualla Housing, Timber and Natural Resources, Enrollment Housing, Planning Board and Community Projects. Wahnetah is an N.C. Licensed General Contractor with 40 years of experience in commercial and residential construction projects with budgets ranging from $50,000 to $5 million.
If elected, he would seek to encourage downtown revitalization by supporting the tribe and searching for ways to strengthen and revitalize tribally owned businesses – it is imperative our tourism reflects and retains our cultural and traditional heritage, including all commercial developments," he said. Additionally, he is committed to providing resources toward ongoing efforts to preserve and perpetuate the Cherokee language and to increasing recreational activities for children on the Qualla Boundary, including a community pool .


Ernest Tiger
Tiger, 46, works as a low-income housing specialist.
He holds an associates degree and has more than 30 years of experience working with Native American tribes specializing in housing, public relations, health care and tribal member business development.
If elected, Tiger would work to create more jobs for blue collar workers, such as technical school; invest back into the community through a beautification project in downtown Cherokee; and strengthen the community's voice in Tribal Council decision-making through adoption of a tribal constitution.

On the ballot
This year, Cherokee voters will choose a principal chief, vice chief, 12 Tribal Council seats and three School Board seats, but not all these races attracted enough candidates to warrant a primary race. The following candidates will run in the Primary Election June 1 for principal chief, Painttown School Board and Tribal Council representing Painttown, Wolfetown, Birdtown and Yellowhill.
Principal Chief
• Michell Hicks
• Gene Crowe Jr.
• Robert Saunooke
• Richard Sneed
• Lori Taylor
• Gary Ledford
Birdtown

• Cyndi Lambert
• Albert Rose
• Joi Owle
• Boyd Owle
• Jim Owle
Painttown
• Sean "Michael"
Stamper
• Andre Brown
• Dike Sneed
• Jeff Thompson
• Richard Delano Huskey
• Carolyn West
Yellowhill
• T.W. Saunooke
• David Wolfe
• Stephanie Saunooke
French
• Tom Wahnetah
• Ernest Tiger

Wolfetown/Big Y
• Bo Crowe
• Andrew Oocumma
• Qiana Powell
• Chelsea Taylor
• Mike Parker
• Peanut Crowe
School Board Painttown

• Regina Rosario
• Micah Swimmer
• Keyonna Hornbuckle