Latest
Wolfetown Tribal Council candidates share their vision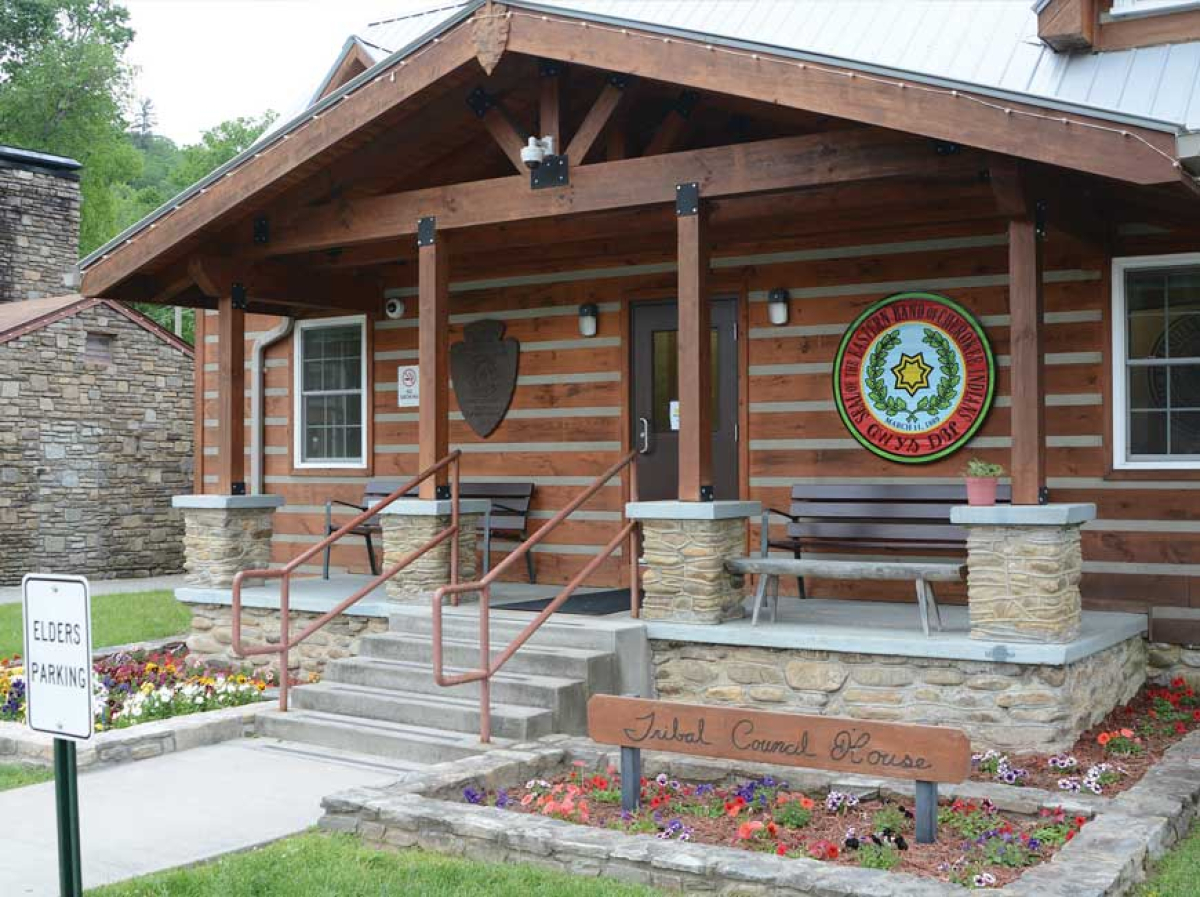 Six candidates are hoping to earn one of two seats in what is an extremely unusual election year for Wolfetown Tribal Council.
The incumbents, Andrew Oocumma and Mike Parker, are still new on the job after filling vacancies left following the unrelated resignations of former Wolfetown representatives Bill Taylor and Bo Crowe. Oocumma won a special election Dec. 15 to fill Taylor's seat, and Parker won a March 2 special election for Crowe's seat.
Now, Parker and Oocumma are both seeking full terms on Council, while Crowe hopes to regain his old seat. In October, Crowe had announced his intention to run for principal chief but instead signed up to run for Tribal Council when filing opened in March. He had resigned the seat in January after facing tribal assault charges stemming from a Jan. 6 incident at Harrah's Cherokee Casino. That legal process is ongoing, and Crowe has pleaded not guilty.
Bo Crowe's brother, Peanut Crowe, who was a candidate for principal chief in 2019, is also on the ballot, as is Chelsea Taylor, who was elected in 2019 before being defeated by Bill Taylor in the 2021 race. Rounding out the ballot is political newcomer Qiana Powell, who currently works as a nutrition coordinator for the tribe's WIC program.
During the Primary Election Thursday, June 1, the top four vote-getters will go on to campaign in the General Election Thursday, Sept. 7, seeking one of two spots for the next two-year term beginning Monday, Oct. 2. These seats are just two of 12 Tribal Council seats on the ballot this year, with voters to select two representatives for each of six townships. Painttown, Wolfetown, Birdtown and Yellowhill all have enough candidates to warrant a primary race.
All candidates except Bo Crowe and Peanut Crowe responded to a Smoky Mountain News questionnaire asking for the experience, qualifications and political priorities they believe should persuade voters to mark their name on the ballot. Information about Bo Crowe and Peanut Crowe was compiled from various sources, including previous reporting from SMN, the tribal website and Peanut Crowe's campaign page on Facebook.

Cherokee voters have until May 15 to request an absentee ballot. Voter registration is closed for the Primary Election but still open for the General Election in September. The EBCI Board of Elections is located in the Ginger Lynn Welch Complex at 808 Acquoni Road and available at 828.359.6361 or 828.359.6362.
Bo Crowe
Crowe was first elected to Tribal Council in 2013 after spending 13 years as a tribal employee. He was serving his fifth term when he submitted his resignation letter Jan. 30. At that time, he was serving on the HIP Committee, Qualla Parks and Recreation, the Roads Commission, the Timber Committee and Social Services. He was also Tribal Council's designated representative to the Cherokee School Board.

Andrew Oocumma
Oocumma, 49, was elected to Tribal Council in the Dec. 15 special election that followed Rep. Bill Taylor's resignation. At that time, he was serving as regional advertising manager for Harrah's Cherokee Casinos.
Oocumma holds a bachelor's degree in marketing from Western Carolina University. Prior to working for Harrah's, he was a banker for a major Midwest regional bank and had a career in workforce and economic development, managing teams in the Ohio college system to develop customized training and education for major companies statewide, developing and managing major grant projects to put people back in the workforce, and collaborating with regional leaders to grow central that state's economy.

Oocumma said every community member he has spoken with is concerned about the tribe's out-of-state business dealings, and he wants to ensure community members are aware of the risks and rewards before such projects get voted on. He also wants to see committee and commission members recuse themselves when voting on matters to which they are personally connected. Rounding out his top three priorities is local economic development. Examples of this include increasing activities for youth and tourists, natural resource attractions, revitalizing commercial businesses and exploring bringing back bingo.


Qiana Powell
Powell, 36, currently works as a nutritionist in the EBCI WIC Program.
She holds a bachelor's degree in human ecology from the University of Tennessee with minors in food science and technology as well as hotel, restaurant and tourism management, and she is currently pursuing a master's from the University of Oklahoma in legal studies and Indigenous peoples law. She has worked for the tribe, casino and hospital in positions ranging from receptionist to manager.
If elected, her top three priorities would be sustainability, accountability and transparency. Powell said sustainability means working toward agriculture and energy-saving initiatives that will lead the tribe into the future, while accountability means ensuring work is done and submitted by deadlines as well as answering questions from constituents and finding the answer when she doesn't know it initially. She believes transparency means openly talking about initiatives the tribe is pursuing and why it's pursuing them, and letting people know what is going on in terms they can understand — "I feel like a lot of things are not explained, and we need to make sure everyone understands and knows what is being discussed," she said.
Chelsea Taylor
Taylor, 40, currently works as a behavioral health data analyst for Analenisgi within the Cherokee Indian Hospital.
She graduated from Cherokee High School and holds a bachelor's in business management from Lenoir-Rhyne College. After serving on the Cherokee Central School Board 2013-2017, she won a seat on Tribal Council and served 2019-2021. Taylor is also a basketball coach for enrolled members.
If elected, her top priority would be developing a unification and retention plan for stakeholders of Cherokee language, traditions and culture. She also aims to pass legislation supporting more indoor and outdoor youth programs — examples include playgrounds, bike pump tracks, creative competitions, clubs, mentorships and inclusion awareness — and to develop a tribal information report to inform the public on how to navigate the Charter and Governing Document, prepare legislation or obtain information about a variety of governmental functions and processes.


Mike Parker
Parker, 58, has represented Wolfetown on Tribal Council since winning a special election in March. Previously, he was the EBCI's destination marketing director.

Parker holds a bachelor's degree in economics and recently completed a master's degree in project management. Prior to this year's election, he had served on Tribal Council for a total of 10 years, including appointments as chair and vice chair.

If re-elected, working with leadership to develop a strategy for reporting and developing a spending plan for external economic development initiatives such as the tribe's various LLCs would be a top priority. He would also introduce legislation to develop community design standards for housing and local economic development. Rounding out his top three priorities is working with leadership to develop dividend policies and revenue distribution to the tribal government and tribal members while ensuring adequate equity to sustain growth.

Peanut Crowe
Crowe, 51, has been a tribal employee for more than 20 years.
He holds a bachelor's degree in business administration from Western Carolina University with minors in Cherokee Studies and Hospital Management.
If elected, he would prioritize investing in the community, supporting economic diversity that includes bringing family-friendly attractions — such as a water park, community pool, street fairs and festivals — to Cherokee. He also plans to collaborate with fluent speakers of Cherokee and those involved in language preservation to come to a consensus on the best way of proceeding to protect the Cherokee language.
On the ballot
This year, Cherokee voters will choose a principal chief, vice chief, 12 Tribal Council seats and three School Board seats, but not all these races attracted enough candidates to warrant a primary race. The following candidates will run in the Primary Election June 1 for principal chief, Painttown School Board and Tribal Council representing Painttown, Wolfetown, Birdtown and Yellowhill.
Principal Chief
• Michell Hicks
• Gene Crowe Jr.
• Robert Saunooke
• Richard Sneed
• Lori Taylor
• Gary Ledford
Birdtown

• Cyndi Lambert
• Albert Rose
• Joi Owle
• Boyd Owle
• Jim Owle
Painttown
• Sean "Michael"
Stamper
• Andre Brown
• Dike Sneed
• Jeff Thompson
• Richard Delano Huskey
• Carolyn West
Yellowhill
• T.W. Saunooke
• David Wolfe
• Stephanie Saunooke
French
• Tom Wahnetah
• Ernest Tiger

Wolfetown/Big Y
• Bo Crowe
• Andrew Oocumma
• Qiana Powell
• Chelsea Taylor
• Mike Parker
• Peanut Crowe
School Board Painttown

• Regina Rosario
• Micah Swimmer
• Keyonna Hornbuckle