Latest
Painttown Tribal Council candidates share their vision
Wednesday, April 26, 2023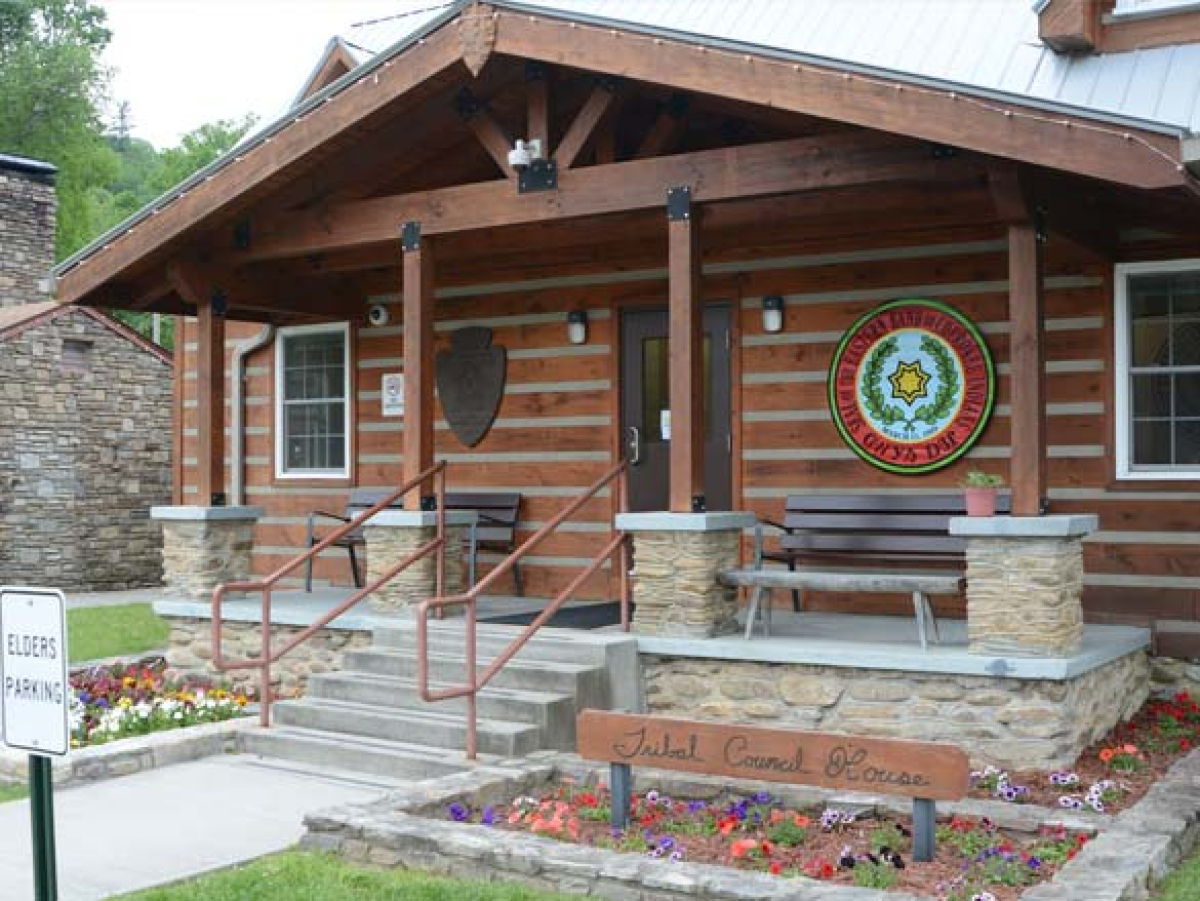 Six candidates are hoping to earn one of two seats up for election in this year's race for Painttown Tribal Council, offering voters a diverse set of education, experience and policy priorities.

Following the Primary Election Thursday, June 1, the top four vote-getters will go on to campaign for the General Election Thursday, Sept. 7, seeking one of two spots for the next two-year term beginning Monday, Oct. 2. These seats are just two of 12 Tribal Council seats on the ballot this year, with voters to select two representatives for each of six townships. Painttown, Wolfetown, Birdtown and Yellowhill all have enough candidates to warrant a primary race.
In Painttown, incumbents Dike Sneed and Sean "Michael" Stamper are seeking re-election. Challenging them are Andre Brown and Jeff Thompson, who both ran in the Dec. 15 special election that seated Stamper following the death of longtime Painttown Rep. Tommye Saunooke. In that race, which drew eight candidates, Thompson came in second and Brown finished last.
Carolyn West, an attorney who previously served as Tribal Council's legislative counsel for six years, is making her first bid for elected office. Rounding out the ballot is Richard Delano Huskey, whose career thus far has been in IT.
All six candidates shared their experience, qualifications and priorities if elected with The Smoky Mountain News to help voters make their choice. Cherokee voters have until May 15 to request an absentee ballot, with voter registration for the Primary Election open through April 28. The EBCI Board of Elections is located in the Ginger Lynn Welch Complex at 808 Acquoni Road and available at 828.359.6361 or 828.359.6362.

Sean "Michael" Stamper
Stamper, 32, has served on Tribal Council since Jan. 3 after winning the special election Dec. 15.
Stamper holds a bachelor's degree in business administration with a focus on organizational leadership from Brevard College and spent 10 years prior to his election working for the tribe in positions spanning finance, higher education and public health and human services. He has served on the Sequoyah National Golf Course Board of Directors since 2014 and has been appointed to several human resource committees.
If re-elected, Stamper hopes to continue working on the priorities he outlined during his campaign last year — community involvement and participation; transparency in all matters, including finance, legislation and day-to-day issues; and listening to the community and being the voice of the people. His aim, he said, is to "bring a foundation of trust and security to the position so that my community and tribe may prosper."


Andre Brown
Brown, 49, has been a business owner for more than 25 years, first operating a residential and commercial construction company and one year ago opening Hard Tymes Garage.
A U.S. Army veteran, Brown's educational background primarily lies in construction, but he also holds law enforcement, auto and motorcycle certifications.
If elected, Brown's top three priorities would be economic development focused on mainstream, all-ages family and local enjoyment, ensuring protection for the Minor Trust Fund and strengthening affordable housing for tribal members.

Dike Sneed
Sneed, 62, has represented Painttown on Tribal Council since 2019.
He joined Council after a 24-year career in law enforcement, beginning as a project cop and moving through the ranks, from patrolman to K9 officer to investigator to assistant chief. Sneed served as chief of police during the administration of former Principal Chief Patrick Lambert and ran for Tribal Council after retiring. Prior to entering the Basic Law Enforcement Training Program and his law enforcement career, Sneed worked for Barkley's Textile of Cherokee, Buncombe Construction and Ken Wilson Ford — he's "not scared to hold down a job," he said.
If re-elected, preserving and perpetuating the Cherokee language would be a top priority for Sneed. He also wants to improve food security on the Qualla Boundary, to include building a slaughterhouse and constructing a new greenhouse on tribal land. His third priority is to contain spending of tribal funds and better prioritize which ventures to pursue in the immediate future.

Jeff Thompson
Thompson, 44, is currently manager for the Handicapped and Elderly Living Program — called HELP — of Snowbird and Cherokee County, as well as the area's housing and building maintenance programs.
Holding an associate's degree in business from Montreat College, he has 20 years of service with the tribe, the last five of which have been with the three programs he now oversees. Thompson is current pursuing a bachelor's degree in business administration.
If elected, Thompson's top priority would be fiscal responsibility — he said that "too often, there are questions that need to be asked that are never brought forth. The lack of transparency is very concerning to me." Thompson believes that companies should be held more accountable for providing documentation and that better management of tribal finances will allow for improved healthcare, housing and language restoration efforts.
Richard Delano Huskey
Huskey, 35, is a network administrator for the EBCI Office of Information Technology with more than a decade of experience in the IT field.
He holds a degree in cybercrime and computer information systems from Southwestern Community College and has worked for the Cherokee Indian Hospital Authority as well as the EBCI.
If elected, Huskey would work on priorities that are "essential for building a strong and sustainable community," including implementing a constitution that limits government power and enforces term limits, ensuring that all branches of government work together to create a fair and just system. His priorities would also include bringing new businesses and activities to the Qualla Boundary that aren't reliant on Harrah's Cherokee Casino and addressing the ongoing impact of inflation by providing tribal members with housing and land purchasing assistance, and by offering them opportunities to save or earn money through tribal programs.

Carolyn West
West, 50, is an attorney practicing federal Indian law and criminal defense who also chairs the board for Qualla Enterprise, which is the tribe's cannabis business.
West holds a J.D. and Indian law certificate from the University of New Mexico and is licensed to practice in two states and two tribal nations. Her other degrees include a master's of public affairs and bachelor's degree in criminal justice, both from Western Carolina University, and an associate's degree in paralegal technology from Southwestern Community College. Before going into private practice, she served as legislative counsel for the Navajo Nation 2014-2016 and for the EBCI 2016-2022. While in that role, she said, she learned that "community and community representation is at the core of representing one community as a Tribal Council representative."

If elected, West aims to establish a legislative committee system to ensure that Tribal Council thoroughly researches proposed legislation before taking action, update the Cherokee Code and launch an entrepreneurship program for young people who don't want to pursue the traditional college route after high school.
On the ballot
This year, Cherokee voters will choose a principal chief, vice chief, 12 Tribal Council seats and three School Board seats, but not all these races attracted enough candidates to warrant a primary race. The following candidates will run in the Primary Election June 1 for principal chief, Painttown School Board and Tribal Council representing Paintown, Wolfetown, Birdtown and Yellowhill.
Principal Chief
 Michell Hicks
 Gene Crowe Jr.
 Robert Saunooke
 Richard Sneed
 Lori Taylor
 Gary Ledford
Birdtown
 Cyndi Lambert
 Albert Rose
 Joi Owle
 Boyd Owle
 Jim Owle
Painttown
 Sean "Michael" Stamper
 Andre Brown
 Dike Sneed
 Jeff Thompson
 Richard Delano Huskey
 Carolyn West
Yellowhill
 T.W. Saunooke
 David Wolfe
 Stephanie Saunooke French
 Tom Wahnetah
 Ernest Tiger
Wolftown/Big Y
 Bo Crowe
 Andrew Oocumma
 Qiana Powell
 Chelsea Taylor
 Mike Parker
 Peanut Crowe
School Board Painttown
 Regina Rosario
 Micah Swimmer
 Keyonna Hornbuckle