Archived News
Birdtown Tribal Council candidates share their vision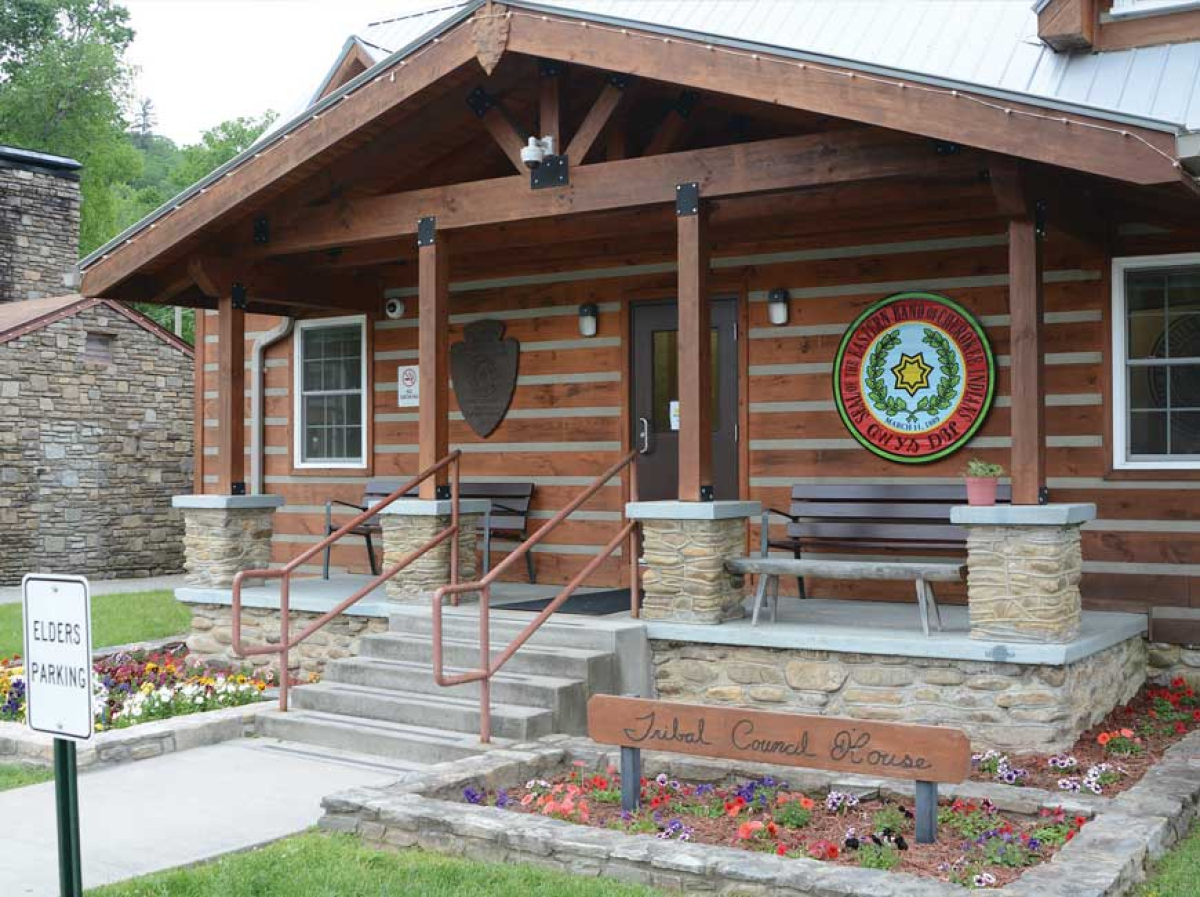 fF Five candidates are running for a term representing Birdtown on Tribal Council for the next two years.

These two seats are some of the four most powerful on Tribal Council — in the weighted vote used to determine legislative outcomes, Birdtown and Wolfetown representatives' votes count for 12, while other members' votes count for only six or seven in the final tally.
The race's incumbents are Albert Rose, who is seeking his sixth term and currently serves as vice chairman, and Boyd Owle, who is running for his fourth term.
Among the challengers is Jim Owle, brother to Boyd Owle — the second pair of brothers on the ballot this May. In the Wolfetown Tribal Council race, Bo and Peanut Crowe are both seeking a seat. Jim Owle appeared in the 2019 General Election for vice chief but lost to Alan "B" Ensley. The following year, a narrow vote of Tribal Council removed Owle from the Tribal Casino Gaming Enterprise Board — on which he had sat since 2014 and chaired at the time — due to issues surrounding cost escalation and documentation with the convention center project at Harrah's Cherokee Casino.

Cyndi Lambert, who finished third in a 2019 General Election bid for Tribal Council, will be the first name listed on the ballot. Lambert owns multiple businesses in Cherokee but is perhaps best known as the wife of Patrick Lambert, who was elected principal chief in a landslide 2015 election but impeached two years later. Tribal Council found Lambert guilty on eight of 12 charges relating to contracting and violating tribal procedures, among others, but both the process and results were controversial among tribal members. Council members who supported impeachment struggled in that year's election.
Rounding out the ballot is Joi Owle, by far the youngest of the candidates. This is her first time seeking elected office.
During the Primary Election Thursday, June 1, the top four vote-getters will go on to campaign in the General Election Thursday, Sept. 7, seeking one of two spots for the next two-year term beginning Monday, Oct. 2. These seats are just two of 12 Tribal Council seats on the ballot this year, with voters to select two representatives for each of six townships. Painttown, Wolfetown , Birdtown and Yellowhill all have enough candidates to warrant a primary race.
Rose and Lambert both responded to a Smoky Mountain News questionnaire asking for the experience, qualifications and political priorities they believe should persuade voters to mark their name on the ballot. Information about remaining candidates was compiled from various sources, including previous reporting from SMN, the tribal website and social media.

Cherokee voters have until May 15 to request an absentee ballot. Voter registration is closed for the Primary Election but still open for the General Election in September. The EBCI Board of Elections is located in the Ginger Lynn Welch Complex at 808 Acquoni Road and available at 828.359.6361 or 828.359.6362.
Cyndi Lambert
Lambert, 57, owns and operates a carwash, self-service Laundromat and the Cherokee Grand Hotel in Cherokee's casino district.
Lambert has been in private business for 28 years and has started multiple businesses from the ground up. She began her career working as a front office clerk for the EBCI Finance Department 1993-1997, part of the team primarily responsible for getting the first per capita distribution out to tribal members in 1995.
This would be Lambert's first term in elected office, and she believes that "it is time for new and reasoned voices to speak up and be heard." Her top priority would be to bring her experience and philosophy in making sound financial decisions for her businesses to bear for the tribe. Lambert wants to see the tribe invest in town and local infrastructure to bring modernization and new developments to Cherokee, and to use its resources to bring more services and opportunities to the Cherokee people.

Albert Rose
Rose, 51, is serving his fifth term representing Birdtown on Tribal Council.
Prior to winning his first term on Tribal Council in 2013, Rose had retired from a 20-year career with UPS. After retirement in 2006, he started his own contracting firm and received a General Contractor License in both heavy highway and commercial building. In 2019, he was certified as a minority-owned, disadvantaged and small business enterprise, and qualified for the Small Business Administration's HUBZone program to fuel growth in historically underutilized business zones. Rose attends compliance and regulatory training and visits with government representatives to further understand the intricacies of the construction process and construction law.

If re-elected, his top priority would be defending Cherokee identity and heritage by continuing to pressure the U.S. Department of Interior and other agencies to resist recognizing organizations falsely claiming to be tribal nations — a category that Rose believes includes the Lumbee — and to recognize tribal sovereignty. Rose will also seek to strengthen tribal assets and investments by holding investment entities accountable and ensuring promises are delivered, and to encourage development of business incubators and further access for capital for local businesses.
Joi Owle
Owle is seeking her first term in office. In a 2019 Facebook post, Principal Chief Richard Sneed welcomed her as a new receptionist for the Office of the Principal Chief and said she was expected to graduate from Western Carolina University that fall with a bachelor's degree in biochemistry.
In a Facebook post on her page, Owle said that it was "super important" for her to "be involved and give back to the amazing community that raised me." A campaign ad uses the slogan "securing our future" and promises honesty, accountability and caring for elders and children.
Boyd Owle
Owle has represented Birdtown on Tribal Council continuously since 2017.
He graduated from Cherokee High School, and at the age of 47 he enrolled in Montreat College, receiving an associate degree in 2004. From there he earned a Bachelor of Business Administration in 2006 and a Master of Science in management and leadership in 2009. Prior to serving on Council, Owle worked at the Cherokee Boys Club for more than 20 years, at Harrah's Cherokee Casino for 12 years, and as tribal sanitation manager for eight years.
As a member of Tribal Council, he is assigned to the Health Board, HIP Committee, Qualla Parks and Rec, Planning Board, Social Services and Lands Committee.
Jim Owle
Owle broke to the top of a pack of eight vice chief candidates in the 2019 race to face current Vice Chief Alan "B" Ensley in the General Election.
He served on the Tribal Casino Gaming Enterprise, the tribe's gaming regulatory authority, from 2014 until 2020. At that time, he was the board's chairman.
On the ballot
This year, Cherokee voters will choose a principal chief, vice chief, 12 Tribal Council seats and three School Board seats, but not all these races attracted enough candidates to warrant a primary race. The following candidates will run in the Primary Election June 1 for principal chief, Painttown School Board and Tribal Council representing Painttown, Wolfetown, Birdtown and Yellowhill.
Principal Chief
• Michell Hicks
• Gene Crowe Jr.
• Robert Saunooke
• Richard Sneed
• Lori Taylor
• Gary Ledford
Birdtown

• Cyndi Lambert
• Albert Rose
• Joi Owle
• Boyd Owle
• Jim Owle
Painttown
• Sean "Michael"
Stamper
• Andre Brown
• Dike Sneed
• Jeff Thompson
• Richard Delano Huskey
• Carolyn West
Yellowhill
• T.W. Saunooke
• David Wolfe
• Stephanie Saunooke
French
• Tom Wahnetah
• Ernest Tiger

Wolfetown/Big Y
• Bo Crowe
• Andrew Oocumma
• Qiana Powell
• Chelsea Taylor
• Mike Parker
• Peanut Crowe
School Board Painttown

• Regina Rosario
• Micah Swimmer
• Keyonna Hornbuckle