Archived News
Vice chief candidates make their case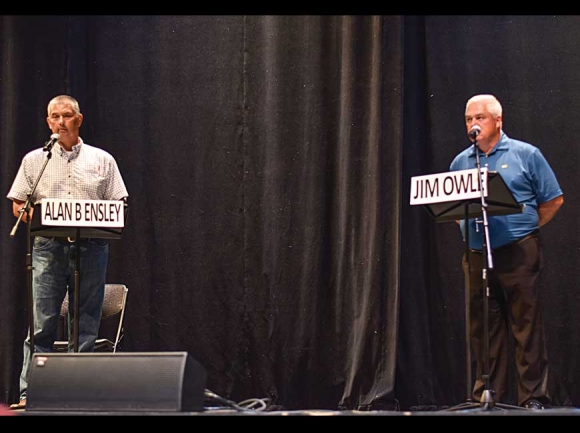 Candidates Alan "B" Ensley (left) and Jim Owle speak on the issues during a debate held June 27. Holly Kays photo
After more than a decade working together as members of Tribal Council, Alan "B" Ensley and Jim Owle are vying for the position of the Eastern Band of Cherokee Indians' next vice chief.
Neither is currently a council member. Ensley, the incumbent vice chief, was appointed to the position following the 2017 impeachment of former Principal Chief Patrick Lambert. Owle has sat on the Tribal Casino Gaming Enterprise board since 2014. The candidates broke to the top of a pack of eight vice chief candidates following a primary election in June.
Then, with the Sept. 5 General Election on the horizon, they met onstage Thursday, June 27, for a debate at the Joyce Dugan Performing Arts Center in Cherokee.
The debate was one in a series of events The Cherokee One Feather hosted to give voters the chance to hear from candidates seeking their vote in the Tribal Council, chief, vice chief and school board races. Candidates were given a list of 12 questions to consider prior to the event, and moderator Robert Jumper, who is also the paper's editor, asked those questions along with questions submitted by community members attending the debate. Each candidate had three minutes per question to respond, with an additional one minute for follow-up.
Candidates responded to a total of 20 questions, only some of which are represented here. A video of the entire debate is available at www.bit.ly/2LaL6qU.
What constitutes a reasonable return on investment for economic diversification opportunities? Please speak to specific strategies and include your thoughts on eco-tourism, solar and wind power.
Jim Owle: "We have to go out and find these projects. A lot of these projects are not going to come to us."
In addition to return on investment, the tribe should also consider the turnaround time for each project when making decisions. As far as ecotourism, the resources are already here to capitalize on, and delving into ecotourism would help bring a more family-oriented type of tourism back to Cherokee. Solar and wind studies have already been completed in Cherokee showing those are viable options to pursue, and a solar array recently completed at the Valley River Casino in Murphy is saving the tribe about 8 percent on its power bill there each month.
Alan "B" Ensley: "When you speak about diversification naturally we want a financial windfall for the tribe, but I think if we want to diversify we need to get out to the communities. A lot of the diversification our people may not want. We're a pretty close-knit family, and we don't want to bring to town something that our community doesn't want."
The tribe is "way behind the ball" on ecotourism and should start marketing the assets it already has, including about 30 miles of ATV trail and a shared boundary with the most-visited national park in the United States.
With substance use disorder being an increasingly significant concern for tribal members, should the tribe harshen punishments, continue as is or move to decriminalize illicit drug use? How do we aid our young people in getting help without the ills of the criminal justice system?
Ensley: "I think we do need to strengthen our laws. As a sovereign nation, I think we have the ability to strengthen our laws and absolutely require community service. As a sovereign nation, we have the right to go outside the normal realm of the justice system."
In addition to strengthening the laws, the tribe should look to do more to keep its youth active. The more active people are, the better opportunities they have for themselves.
Owle: "I believe in harsher punishment because I continue to see the same people over and over with cases being dismissed. I think we just need to strengthen our laws."
Illicit drug use should never be decriminalized, and the tribe should emphasize youth education with the aim of preventing new drug addictions from developing. In addition, it should collaborate with health workers to bring education to inmates currently locked up on drug charges.
Are you comfortable with the current levels of transparency in government? Do you support public access to all governmental budgets and procedural documents?
Owle: "I think we should have more reports that go out from the chief and the vice chief to their constituents. I think we need more transparency so everyone can have the ability to look at the budget and see what everyone's using on a monthly basis or a quarterly basis."
Ensley: "I submitted the Freedom of Information Act years ago just to provide and be more transparent to all enrolled members. I think if anything happens with tribal monies, any enrolled member of this tribe should have access to that information. Unfortunately we had to have an ordinance in place for that to happen."
Have you read the recently proposed Constitution? Specifically, what is good and what is not about the document?
Ensley: "People feel like it's too much to vote on at one time. I told the committee or most of them that I support it but I think it needs to be put out in sections. We definitely need to start somewhere and move forward with that."
Ensley has read portions of the document but not the whole thing. Since he's been in elected office, this is the third constitution to be proposed, and he believes the tribe definitely needs such a document.
Owle: "I have not seen the new constitution and I have not read it, but I do strongly support a new constitution. It needs to be put out to the public for review and comments."
Once complete, a draft document should be put forward for referendum. Owle is grateful to the people who have worked on the document and believes they've done a good job.
What would you do to improve or balance housing opportunities for tribal members and needed workforce?
Owle: "We have a list of members who need housing, and when land is purchased make that a priority for housing those eligible or qualified. We also need to work on the survey process for sites to get that done in an efficient manner."
In addition to housing for enrolled members, the tribe needs to look at establishing workforce housing for the many workers — enrolled or not — who will be needed to staff the tribe's current and future functions. A convention center is currently being built and other projects, such as a water park, are under discussion. As those come to fruition more workers will be needed, and many of those people will require a residence close to their jobsite.
Ensley: "Our tribe has grown so fast over the past 20 years on the housing, we've kind of fell by the wayside. I think it's time that the executive and council has a sit down and reviews all the waiting lists that we have from all of our enrolled members and develop a plan that we can put on the ground fairly quick to help them meet the need of the housing shortage here in Cherokee."
In addition to addressing the housing shortage for enrolled members, the tribe does need to improve its workforce housing opportunities. Without the non-enrolled people who come to work in Cherokee, the Eastern Band of Cherokee Indians wouldn't be able to operate as a tribe.
In regards to the efforts to battle the drug epidemic in our community, what are you as vice chief going to do to ensure that the children affected will also get what they need in the recovery efforts, specifically regarding but not limited to their mental health?
Owle: "We need to make sure we educate all those kids from day one. We need to continue to fight that fight with all the programs we have here on the reservation."
In addition to education for children, the tribe should offer options like trade school and work programs to get young adults off drugs.
Ensley: "I think we start with education with the young kids in kindergarten. We have to start there and educate them on what the effects of drugs are."
Programs aimed at getting people off drugs are important as well, and the tribe should be willing to consider out-of-the-box ideas. There is no one-size-fits-all answer.
Prepare to vote
• Voter registration for the Sept. 5 General Election is open through Aug. 9.
• To register, enrolled members can come to the Eastern Band of Cherokee Indians Board of Elections office at Suite 140 of the Ginger Lynn Welch Building in Cherokee between 7:45 a.m. and 4:30 p.m. They should bring their enrollment card with a photo for identification, their physical address and their mailing address.
• To request an absentee ballot, contact the Board of Elections by Aug. 15 by calling 828.359.6361. In-person requests can be made through 4 p.m. Aug. 30.
• Early voting will be held Aug. 12 through Aug. 26, including Saturday, Aug. 24, 9 a.m. to 4 p.m. at the Board of Elections office. The General Election will be held 6 a.m. to 6 p.m. Thursday, Sept. 5, at multiple polling places on the Qualla Boundary. Voter registration re-opens Oct. 14.