Archived News
'For the people, by the people': Cherokee to vote on proposed constitution
Wednesday, April 12, 2023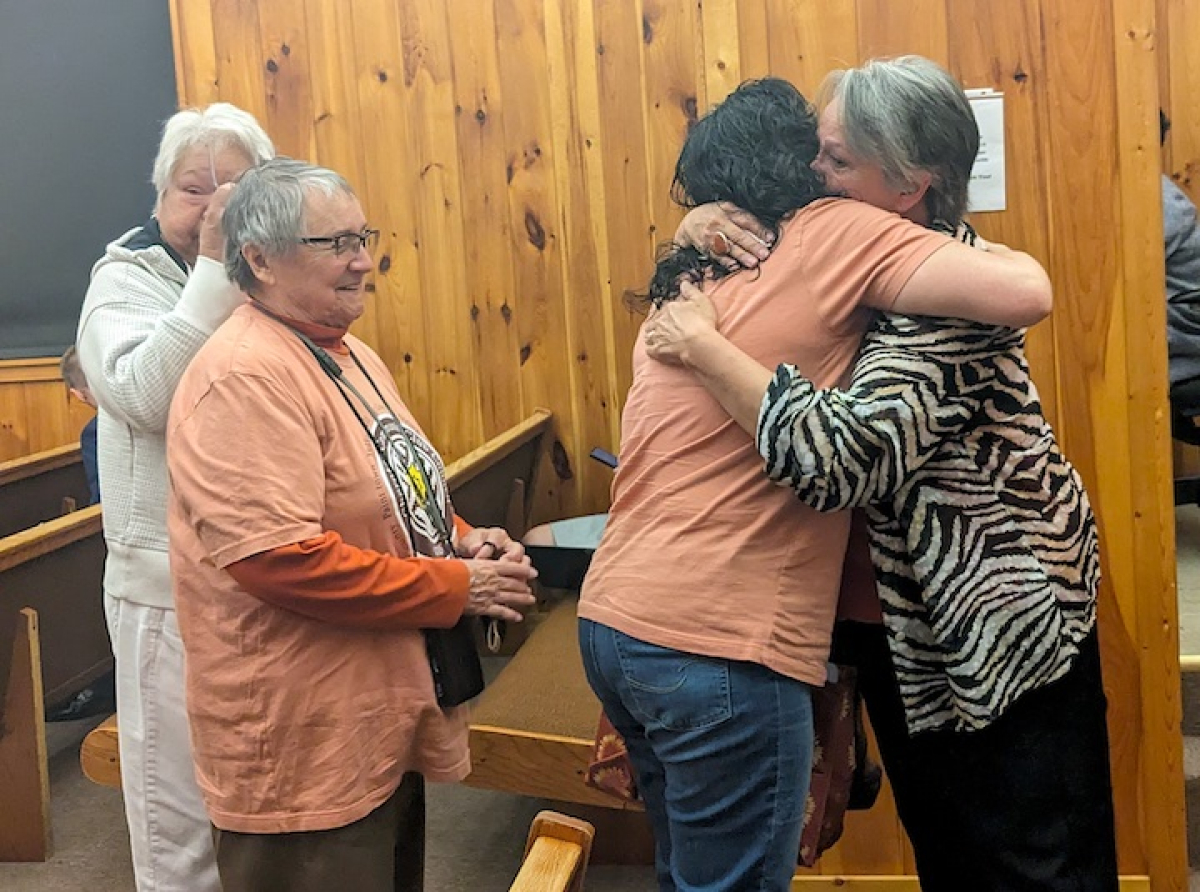 Big Cove Rep. Teresa McCoy hugs members of the Community Club Council following Tribal Council's vote to put the proposed constitution out for referendum April 6. Holly Kays photo
Tears, hugs and applause exploded through the Tribal Council chambers April 6 when the body unanimously passed a resolution placing a tribal constitution on the ballot for the Sept. 7 General Election.

"This is absolutely one of the best days that I have had in 22 years as a council representative for the Eastern Band," Big Cove Rep. Teresa McCoy said as she gathered outside the Council House with members of the Community Club Council and Sgadugi Constitution Group after the vote. "I see a future going forward with unity and strength. I see law that is solid that will protect and defend our culture, tradition, our Indian community for the rest of our lives."

'For our tribe'

The Eastern Band of Cherokee Indians has not had a constitution since 1886, when the U.S. Supreme Court struck down the authority of the document the tribe had enacted in 1875. Today, the EBCI Charter and Governing Document sits in place of a constitution as the tribe's highest law. But it is not a constitution. Charters govern organizations and corporations, while constitutions define the relationship between a government and its people.
"I have a letter from one of my great uncles trying to get a constitution through in the 1960s going through the BIA (Bureau of Indian Affairs)," said Lloyd Arneach, who has led the Sgadugi Constitution Group since it began its work in 2017. "My father has been on a constitution committee for a few years, so it's kind of a family thing. And to see it to this point, I think it's just amazing."

Sgadugi tried to get the referendum on the ballot during the 2019 election, but Council members said they didn't think the document was "ready" and asked Anita Lossiah, who was representing Sgadugi, to withdraw it. The group then set its sights on a 2021 referendum approval, hoping to bypass the need for Tribal Council approval by getting 33% of voters to sign a petition to put it on the ballot. That didn't happen either, but this year Cherokee voters will finally have a chance to vote the document up or down.
On April 6, Council approved the referendum unanimously, with no discussion. All members save Snowbird/Cherokee County Rep. Adam Wachacha were present for the vote.
"We worked diligently on this," said Community Club Council Chairman Bunsey Crowe. "All our communities have that's been present met numerous times to get us to where we are today. We feel like this is a living document. It's not set in stone. A referendum will be a way to change anything that's in it. But it's for our tribe as a whole. That's why we feel very passionate about this moving forward and letting the people have their say."

Soon after he finished speaking, T.W. Saunooke seconded McCoy's move to pass — which she made while Crowe was speaking — and every hand went up to put the document out for a referendum vote. The resolution ordering the referendum now goes to Principal Chief Richard Sneed for a signature.
"Thank you for all your hard work in getting this together," said Chairman Richard French. "It's an honor to pass this resolution and put it out to the people to vote on it in the General Election."

Members of Sgadugi and the Community Club Council stand on the Council House steps after the referendum question was approved April 7. Holly Kays photo
When asked why he believes the resolution sailed through so easily, Arneach pointed to a rising awareness among tribal leaders that tribal sovereignty is under attack.
"Everyone's now realizing we've got to get this done," he said. "There's so many signs, so many symptoms that we're seeing that we can't continue business as usual. We've got to establish ourselves formally, and that's what this document does."

For the referendum to be approved, at least 51% of registered voters must cast a ballot, and a majority of those must vote yes on the constitution. Turnout has been an issue with past referenda, but placing the vote during a chief's election increases the chances of success on that front. During the 2019 principal chief election, turnout clocked in at 57.1%.
Rights for the people
Sgadugi members offered a variety of answers when asked what parts of the 24-page document signaled especially important shifts from the charter. The proposed constitution is nearly quadruple the length of the charter, elaborating on aspects of tribal government that the charter mentions only in passing and dealing with topics that the charter doesn't address at all.
Civil rights are in the latter category. The only people guaranteed rights in the charter, Arneach said, are first-generation descendants of tribal members, who are given the right to occupy property inherited from their enrolled parents for the rest of their life. By contrast, the proposed constitution includes an entire article on civil rights, outlining 11 protections guaranteed citizens of the tribe.
Many of these are modeled on sections of the U.S. Bill of Rights and constitutional amendments, to include freedom of speech, press, religion, assembly and petition; a right to own and use firearms; protection from cruel and unusual punishment; right to due process; protection from unreasonable search and seizure; right to equal protection under the law; a right to vote for tribal citizens 18 and older; and various protections that pertain to people accused of crimes — including right to a speedy trial by a jury of peers, right to counsel, right to be confronted with witnesses and obtain witnesses for the defense, right to be informed of charges and right to refrain from witnessing against oneself.
The section also mandates that the tribe fund and establish an educational system that promotes preservation of Cherokee language and culture. All powers not explicitly granted to the tribal government, the article concludes, are reserved for the people.
Under a separate article, the proposed constitution strengthens tribal members' property rights. Currently, Tribal Council has the last say on property assignments — with a single vote, it can take away one person's property and give it to somebody else. Under the constitution, Tribal Council would have authority to decide ownership of unassigned property only. Other property disputes would be decided by Tribal Court.
New roles for Community Club Council
Another prominent addition is an article outlining the authority and composition of the tribe's judicial branch, which the charter doesn't mention at all. The current judicial branch is created through a tribal law that Tribal Council could repeal at any time.
Arneach said he's especially pleased with the selection process the proposed constitution outlines for the chief justice. A panel consisting of Cherokee Community Club Council officers and active judges and justices of the tribal court would submit recommendations for the position to the principal chief, who would present them to Tribal Council for confirmation.
The Community Club Council would play a key role in another major component of the proposed constitution — the carrying out of Grand Council.
"That, to me, is including the voice of the people," said Beloved Woman Carmaleta Monteith, who like Arneach has been involved with the constitution effort since 2017.
The charter deals with Grand Council — a tradition in which tribal members gather to vote directly on key issues facing the tribe — in a single sentence: "The Principal Chief shall have the right to call a Grand Council of all enrolled members to attend and he shall preside over such meeting."

The last Grand Council, called by former Principal Chief Patrick Lambert as he faced impeachment in 2017, was the subject of a lawsuit due to the many aspects of Grand Council's format and authority not addressed in that simple sentence. The proposed constitution, meanwhile, dedicates an entire six-section article to Grand Council — and tasks the Community Club Council, not the principal chief, with convening the body.
Representatives from all nine EBCI communities must be present for Community Club Council to call a Grand Council, the document says, and a public notice must be published at least 30 days in advance. The tribe's general fund is to finance an annual budget, which the Community Club Council will oversee for the possible convening of a Grand Council. The agenda must be approved 30 days before the Grand Council is convened, and at least 30% of eligible tribal citizens must be present to have a quorum. Any resolutions approved by Grand Council will be placed on the next Tribal Council agenda for consideration.
The proposed constitution doesn't give Grand Council the power to make law, "but knowing that this is the voice of the people," Arneach said, it would be politically difficult for Tribal Council to refuse to enact the body's recommendations.
Addressing legislative and executive branches
Tribal Council itself would also look significantly different under the proposed constitution.
Currently, all 12 representatives face re-election every two years. The lack of staggered terms offers potential for a complete turnover — and loss of institutional knowledge — in a single election cycle. The short terms mean that representatives are in campaign mode for about half their time in office.
The proposed constitution would shift the legislative branch to staggered four-year Council terms. In the first election after adoption, the top vote-getter in each township would win a four-year term and the second-place candidate would win a two-year term. Thereafter, only one representative from each township would face re-election at a time. Moreover, representatives would be required to take a break every two terms, stepping down after eight consecutive years in office. However, they would be eligible to run in the next election two years later.
"It gives a chance for fresh voices, fresh ideas to come in," Arneach said. "And if it doesn't work out, you can elect someone that was in there and put them back in."

This point is important enough that Cherokee voters will face a second referendum question seeking to ensure this change sticks even if the constitution fails. In March 2022, Tribal Council approved a referendum question for the September 2023 election seeking staggered four-year terms and a limit of eight consecutive years on Council.
In Monteith's view, one of the most important changes in the proposed constitution is increasing the minimum age of Tribal Council candidates to 25, up from 18 under the charter. The change recognizes the science of how brains develop — most people's brains aren't fully mature until around 25. They're certainly not completely developed by 18.

"Even though we don't have many people that age running, at least it acknowledges that we understand how people need to have experience in order to make good decisions," Monteith said.
The proposed constitution holds far fewer changes for the executive branch than for the legislative and judicial branches. The biggest change is clarifying the order of succession in case of an unplanned vacancy in the chief or vice chief office. Currently, the vice chief becomes the principal chief in case of a vacancy in that office, with a new vice chief to be chosen by Council — but with no further information on how that choice is to be made. Should both offices become vacant, the Tribal Council chairman becomes principial chief and Council elects a vice chief.
The proposed constitution stipulates that Council must choose one of its own members to fill a vacant vice chief's seat, and that the winner will be determined based on unweighted votes, rather than the weighted votes used for passing legislation. It also requires that a special election be held if more than 12 months remain on the term, with the replacements acting only as interims until successors are elected.
Like Tribal Council members, chiefs and vice chiefs would be limited to two consecutive terms.
Community effort
When it was first considered in 2019, Tribal Council criticized the constitution as lacking sufficient community input, saying it wasn't ready for referendum. In the years since, the Sgadugi group has worked to ensure no such criticism could be leveled against it this time.
The group has continued to hold meetings — open to anyone who cares to join — and partnered with the Community Club Council to get input and buy-in from each of the community clubs. On March 13 and 21, Sgadugi and the Community Club Council met in joint session to review and approve the entire document, which they jointly submitted to Tribal Council. The meeting was open to the public and broadcast online.
"I think it's a true representative Constitution for the people, by the people, because we've got statements, we've corrected words, we've changed variables just to make sure it was easy to understand so that people would know what they were trying to do," said Trudy Crowe, a Community Club Council officer. "I'm excited."