Archived News
Incumbents sweep Cherokee election
Friday, September 06, 2019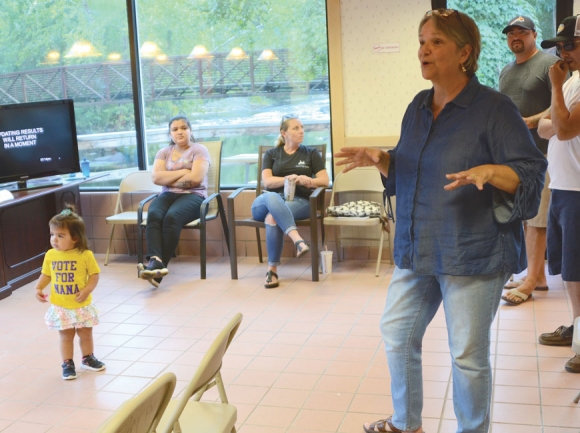 Teresa McCoy addresses the supporters gathered at her campaign headquarters as early results indicate her campaign could be in trouble. Holly Kays photo
Principal Chief Richard Sneed produced a decisive victory in Cherokee's Sept. 5 election, pulling in 55.11 percent of the vote against opponent Teresa McCoy, who took the remaining 44.89 percent.
His victory underscored an overall strong performance by incumbent candidates. Each of the 12 incumbents who appeared on the General Election ballot for executive and legislative office emerged victorious. Two more incumbents ran for re-election but lost in the June primaries — Wolfetown Representative Jeremy Wilson and Painttown Representative Lisa Taylor will leave the horseshoe when their terms expire in October.
Sneed won a majority in every community save McCoy's home of Big Cove, in which she took 63.41 percent. Sneed's share in the remaining communities wavered between a low of 51.54 percent in Yellowhill to a high of 67.76 percent in Cherokee County, the community with the smallest total number of votes. In his home community of Birdtown, Sneed commanded 54.29 percent of the vote. Overall, he received 395 more votes than McCoy.
"I am humbled and honored by the outpouring of support evidenced in these election results," Sneed wrote in a message posted to his Facebook page at 8:26 p.m. Election Day. "I want to thank my family, especially my wife and children, for their love and support throughout my administration and during this campaign season. It has been my privilege to serve the people of the Eastern Band as your principal chief for the past two years, and I am eager to continue this service. We have already begun to experience tremendous growth as a tribe as well as a stabilization of our government. Your confidence in my leadership empowers the EBCI to continue along this path and ensure the security of our future."
Candidates on campaign
On the campaign trail, Sneed touted his administration's "next-level leadership" and focused on plans to reduce the tribe's reliance on casino proceeds and to increase its long-term financial stability. In a pre-election interview Aug. 2, he said his top three priorities if elected would be to get the budget down to 75 percent of casino projections, complete an elders campus adjoining the hospital and continue to help Kituwah LLC grow and increase its revenue streams — a cornerstone of his plans for economic diversification.
"Finances have to be the primary focus, because that drives everything we do," he said during a phone call Sept. 6. "You take the revenue away, and our ability to do all the things that we do is just stripped away from us."
Sneed added that a primary focus over the next four years will be to create a cultural division in tribal government, something that Tribal Council has approved by resolution but is still in its infancy as far as implementation. He also wants to see the Eastern Band reach out to help other tribes that are not as far along on various issues as the Cherokee.
While Sneed is the incumbent chief, this election marked the first time voters put him in that seat. He was elected as the tribe's vice chief in 2015 with 59.1 percent of the vote but sworn in as principal chief on May 25, 2017, following the controversial impeachment of then-Chief Patrick Lambert. Lambert won the 2015 election with 71 percent of the vote, and many tribal members felt that his removal from office was motivated by more by politics than by wrongdoing on Lambert's part. The impeachment created deep divisions in the tribe that have yet to heal completely.
In the Aug. 2 interview, Sneed acknowledged the difficult circumstances in which he took the reins but said he believed he and his administration handled the situation well.
"That was probably the most turbulent time that I can remember in the history of this tribe, and it was awful," he said Aug. 2. "I wish that we didn't have to have gone through that, because it was a really divisive time. Now two years removed from that I think what I'm most proud of is the ability of this administration and the team I have around me. We have been able to mend a lot of wounds and to demonstrate what good governance looks like."
At the time of the impeachment, McCoy represented Big Cove on Tribal Council and was one of three councilmembers to oppose the proceedings, also taking issue with Sneed's ascendency to the chief's office.
Despite the support her candidacy garnered — in a Primary Election race that included five candidates for principal chief, McCoy took the top spot, 12 votes ahead of Sneed — McCoy was almost not allowed to run at all. The EBCI Board of Elections initially declined to certify her, citing an investigation that revealed she had "defrauded the tribe" in an incident dating back to 1996.
Then a sitting councilmember, McCoy accepted an honorarium and travel expenses from the University of Alabama for a trip on which the tribe had already paid her travel expenses. It does not appear McCoy broke any tribal laws or policies that were in effect at the time, and she ran in every election after 1996 until 2017 without any challenge to her eligibility. In a series of court actions this spring, McCoy fought the election board's decision and eventually saw it overturned.
McCoy conceded the election shortly before 9 p.m. Thursday night at her campaign headquarters, a former Dairy Queen building in Cherokee, thanking her supporters for their work on the campaign and expressing her appreciation that there was "little or no mudslinging" through the election season.
"The people of our tribe stepped up and spoke, and we agreed with it and we understand it, and we just hope that the administration for the next four years remembers who they represent," McCoy said. "If there's anything in the community that we can step up and assist anybody with, we are most certainly willing to step up and do that."
Vice chief and Tribal Council results
Even more decisive than Sneed's victory was that of incumbent Vice Chief Alan "B" Ensley, who swept away 65.19 percent of the vote against opponent Jim Owle. Ensley, who Tribal Council appointed to the vice chief's seat vacated by Sneed in 2017, won a majority of the vote in every community.
In a Sept. 6 phone conversation, Ensley said he was "excited" and "humbled" by the election results.
"I worked hard and tried to get to every community and just work and get the tribal input and stayed active in all the communities," he said. "We've got a lot of things we need to work on, but I wanted to get their input on what changes need to be made by the people in the community."
Ensley said his priorities for the next four years will include work on tribal housing programs and moving along plans for a new dialysis and Tsali Care center.
Incumbent Tribal Council representatives fared well too, with every sitting member who made it through the Primary Election securing another two-year term. However, the 2019-2021 Tribal Council will feature two new faces: Dike Sneed, representing Painttown, and Chelsea Saunooke, representing Wolfetown. They will take the seats now held respectively by Lisa Taylor and Jeremy Wilson.
Dike Sneed, who served as chief of police under the Lambert administration, was the top vote-getter in Painttown, earning 260 votes to incumbent Tommye Saunooke's 255. Tommye Saunooke will keep her seat, however, as each community receives two representatives on Tribal Council.
Sneed gives his law enforcement background much of the credit for his win, saying that as a new council member he hopes to help curb spending and work on housing issues. He also said he opposes the ban on non-tribal media in the council chambers, a policy championed by Tommye Saunooke and approved by all councilmembers save Lisa Taylor, who Dike Sneed will replace.
"I'm easy to talk to, and my law enforcement background taught me to listen to both sides of the story before you make a decision, so that's why I always got along good with all the locals here, known most of them my whole life, so I think that played a part in it," he said.
Chelsea Saunooke came in a distant second to the far-and-away leader in the Wolfetown election, incumbent Bo Crowe, who received 717 votes to Chelsea Saunooke's 409.
Also returning for an additional term on the Tribal Council will be Richard French and Perry Shell, of Big Cove; Boyd Owle and Albert Rose, of Birdtown; Adam Wachacha and Bucky Brown, of Cherokee County/Snowbird; and David Wolfe and Tom Wahnetah, of Yellowhill.
Voter turnout clocked in at 57.11 percent, much higher than the 38.97 percent of registered voters who cast a ballot in the June Primary Election. The Smoky Mountain News does not have turnout figures for the last chief's election, held in 2015, but the total number of ballots cast this year was slightly higher. In 2019, 3,867 people voted for one of the chief candidates as opposed to 3,661 in 2015.
Election results are not official until certified by Tribal Council, which according to tribal law should happen on Monday, Oct. 7.