Archived News
Tribal Council sets term limit referendum
Wednesday, March 23, 2022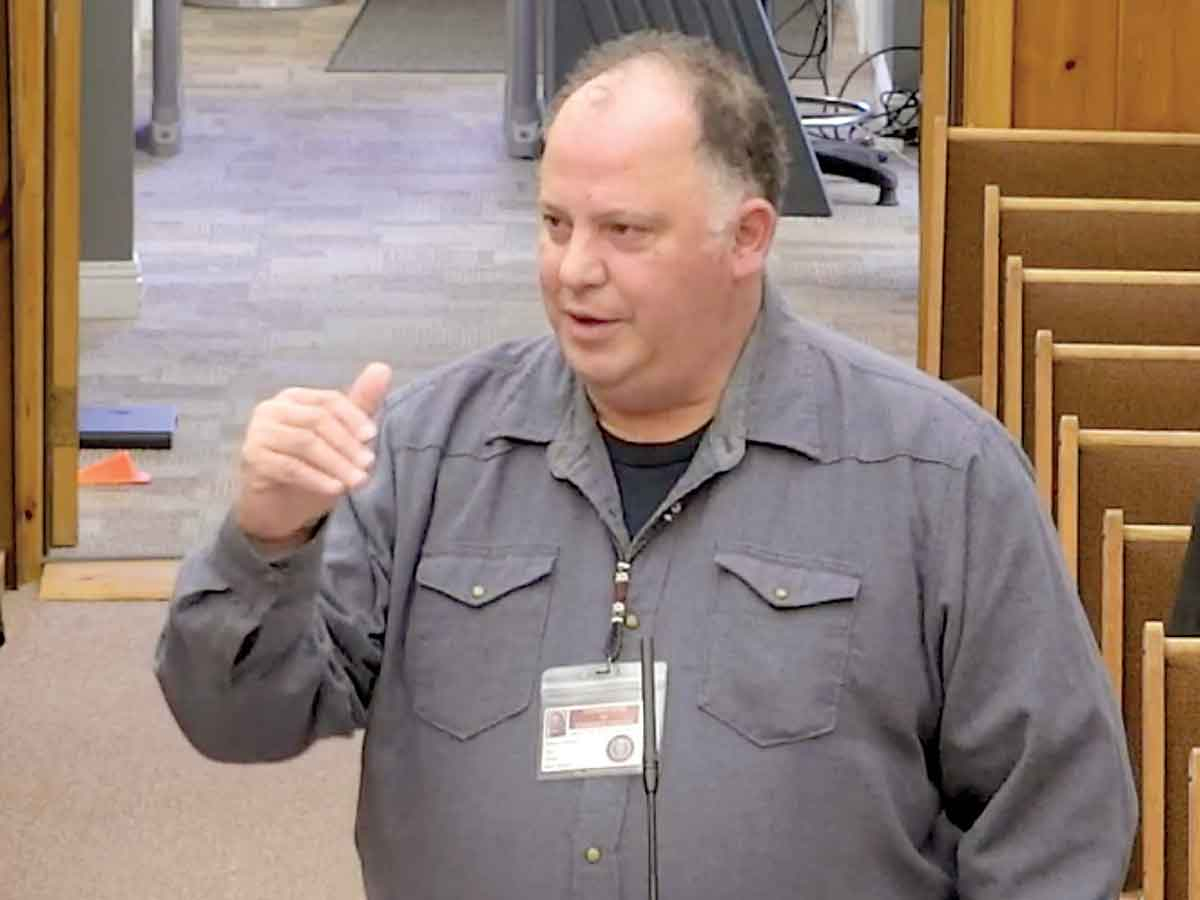 Robert Jumper answers Tribal Council questions about his resolution seeking a referendum vote on Tribal Council term lengths and limits. EBCI photo
After tabling it last month for further discussion, on March 3 the Cherokee Tribal Council unanimously approved two referendum questions that will ask voters to approve term limits and staggered terms for Tribal Council.
The resolution sets the referendum for Thursday, Sept. 7, 2023 — the date of the tribal election for chief, vice chief, Tribal Council and School Board offices — and lists two questions for voters:
1. Beginning in 2025, should Tribal Council terms be changed from two years to four years, and result in the staggering of individual terms so that one seat in each community is up for election every two years?
2. Should Tribal Council representatives' terms be limited so that a representative may not be elected to serve more than eight consecutive years in office, excluding any time served by a representative as a result of a special election?
Robert Jumper, a Cherokee County/Snowbird voter who is also editor of the Cherokee One Feather, introduced an initial form of the resolution in October 2021. It passed , but Tribal Council later realized there were issues with the wording of the original questions, and the Board of Elections collaborated with Jumper on a revised version. The newly adopted resolution clarifies and replaces the one approved in October.
The approved resolution is identical to the version the body considered in February and then tabled for further discussion. It does not clarify a concern that multiple Council members voiced during last month's discussion — which of the victors in 2025 would sit for two years and which would serve for four years, setting up the staggered structure.
It appears that Tribal Council can set that system in implementing legislation if the referendum is approved.
"That's mechanics," said Jumper in response to a question from Snowbird/Cherokee County Rep. Adam Wachacha. "I'm just a citizen. I don't really know how you would want to do it. But in my thoughts as we looked at it, it would be once the election is held the top vote-getter in the community would sit for four years and the one who got the second-most would sit for two years."
Currently, each community has two representatives on Tribal Council, and all 12 seats are up for election every two years. This creates the potential for a single election to seat all new members. Tribal Council oversees varied, complex responsibilities — and controls a budget totaling more than $600 million. An overnight loss of institutional knowledge could prove disastrous.
In a February 3 discussion on the resolution, Principal Chief Richard Sneed voiced his opinion that the staggered term proposal is the most important part of the referendum, as a complete turnover of Council would be "pretty dangerous" for the tribe.
Tribal law currently limits chiefs and vice chiefs to two consecutive four-year terms, the result of an ordinance passed in 2016 . No such law exists for Tribal Council, many of whose members have served well over eight consecutive years at various points in their careers. If the 2023 referendum is successful, however, term limits for Tribal Council would be encoded to the tribe's Charter and Governing Document , an even higher level of authority than the tribal code, where term limits for chiefs and vice chiefs currently reside.
Because of its potential to change the tribe's foundational legal framework, tribal law sets a high bar for the referendum to take effect. At least 51% of registered voters must participate in the election for the results to be valid, and a majority of those who do participate must approve the measure. Scheduling the referendum to coincide with a chief's election year gives it the best chance of meeting that mark. In 2019, the last year a chief election was held, 57.1% of registered voters cast a ballot.
Should the referendum fail — whether due to a majority no vote or to a lack of participation — the question can't be brought before voters again for at least two years. Only a referendum vote can overturn a decision made by an initial referendum vote.