Archived News
Petition effort seeks Tribal Council term limits
Wednesday, March 15, 2017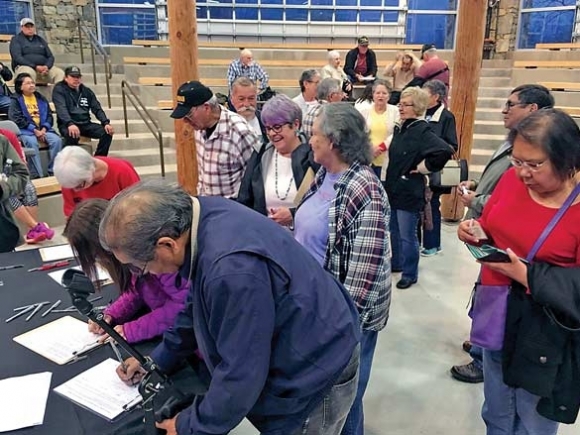 A petition drive is underway in Cherokee aiming to place term limits on Tribal Council members and give tribal members the right to recall elected officials.
Principal Chief Patrick Lambert is spearheading the effort, holding an organizing meeting March 7 to enlist tribal members to gather signatures. More than 50 people showed up, according to a post on Lambert's Facebook page.
"This is a way for our People to begin taking back some power from the Government and to demand a higher level of accountability from your elected officials," Lambert wrote in a March 7 Facebook post. "Its (sic) up to you."
The petition calls for a law limiting Tribal Council members to two consecutive two-year terms, though they would be eligible to run again after sitting out for at least one term. And a second petition calls for a law allowing any elected official to be removed from office by a special election of their electorates.
Neither of the above is a new concept. Desire for the right to recall has been a conversation among some tribal members for years, with Mary Crowe — a write-in candidate in the 2015 race for principal chief — making it a central part of her campaign.
"I feel that the most pressing issue facing the tribe today is trusting our government," Crowe said during a candidates' debate in August 2015. "One of the first things I would do as principal chief would be to call for a referendum vote to the right to recall."
And Lambert has supported term limits from the beginning. In fact, Tribal Council unanimously passed legislation — which Lambert submitted — during its Sept. 8, 2016, meeting limiting terms for principal chief and vice chief.
"I believe there's a sense of need to do term limits — just like is done in the state and federal government — for the tribe," Lambert told council in September.
The ordinance, which passed unanimously, stated that chiefs couldn't hold office for more than two consecutive four-year terms. However, as is the case with the proposed referendum question, they could hold more than two terms if they left office for at least one term in between.
"I didn't want anybody to accuse me of trying to foreclose any of the former chiefs from trying to run," Lambert told council in September. "If people want to re-elect them, they certainly should have that right to do so, I suppose."
On Lambert's Facebook page, some commenters suggested that the referendum question limit councilmembers to four consecutive terms, for a total of eight years in office — the same number of years as chiefs can hold office consecutively. Especially seeing that council's terms are not staggered, allowing a larger number of consecutive terms could make sense by avoiding a large number of inexperienced councilmembers from coming on board all at once.
However, Lambert stood by his original proposal.
"The idea for term limits is to add more accountability to elected officials and terms have always been 2 years on Council and 4 years on Chief. This is a 'term limit' question ... Not a 'number of years' question," Lambert wrote in the March 7 post.
It's safe to say that enthusiasm for term limits is not widespread among councilmembers. According to Lambert, he went the referendum route because he "knew they would not pass term limits on themselves."
After the law limiting terms for chiefs passed in September, Councilmember Teresa McCoy, of Big Cove, addressed the question head-on.
"Since y'all raised your hands to pass this thing, you're in favor of term limits," she told her fellow councilmembers after the vote. "Are you in favor of term limits for councilmembers?"
Councilmember Alan "B" Ensley, of Yellowhill, indicated that he was not.
"The federal government and the state government — the president and the governor of this state — are limited to term limits," Ensley said. "Neither one of the houses are."
Council Chairman Bill Taylor, of Wolfetown, and Councilmember Travis Smith, of Birdtown, both said in statements released to The Smoky Mountain News that they support tribal members exercising their right to place a referendum question on the ballot but indicated they felt elections were sufficient as term limits.
"I believe the voters already institute term limits for our elected leaders through the ballot box," Taylor wrote.
"Historically our tribal members have regulated term limits for tribal officials through the election process," concurred Smith's statement.
However, Smith continued, "I support tribal members' participation in the Democratic process and welcome any changes to our election and governance process which are important to our voters."
Taylor concurred that it is "the right of the voter to make their wishes known," but added that "Any efforts to effect (sic) elections during an election year can be cause for suspicion."
Getting the question on the ballot will require the signatures of 25 percent of registered voters, with Lambert saying that will mean gathering 1,800 signatures — along with each person's roll number, address and township.
According to the Cherokee code, the referendum would pass if the majority of voters support it in an election when at least 30 percent of registered voters participate. If that takes place, the code says, "the ordinance or resolution shall be enacted or repealed. No action undertaken by this procedure shall be overturned by Tribal Council."
This is an election year for Cherokee, with all 12 Tribal Council seats on the ballot. The primary election will be held in June with the general election Sept. 7.
How to sign
A pair of petitions seeking to place referendum questions on the ballot is circulating on the Qualla Boundary. If enacted, the proposals would limit Tribal Council members to two consecutive two-year terms and give tribal members the right to recall elected officials.
Any tribal member who is a registered voter can stop by the council house to sign the petition. Petitions can also be downloaded from the Facebook page "Patrick Lambert — Principal Chief" and mailed to Lambert's office at P.O. Box 1927, Cherokee, N.C. 28719. Names cannot be photocopied and must be printed as they appear on the person's voter registration. Enrollment number and complete address must also be included.