Archived News
Cherokee group aims for 2021 constitution referendum
Wednesday, November 20, 2019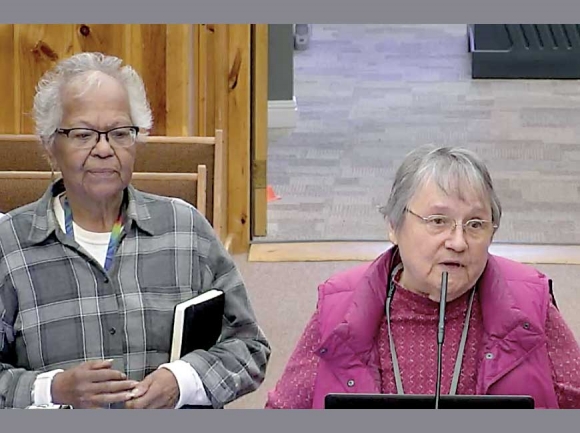 Citizens for a Constitution members Carmelita Monteith (right) and Peggy Hill address Tribal Council on Oct. 17. EBCI photo
An effort to adopt a constitution for the Eastern Band of Cherokee Indians through a referendum question failed to come to fruition this year, but the grassroots group Citizens for a Constitution isn't giving up, now setting its sights on a referendum question in 2021.
"Right now we're in a phase of education, outreach and generating interest, so when we go back to working on revising the document we have more input, more thoughts and an inclusion of the larger community," said Lloyd Arneach, facilitator for Citizens for a Constitution.
The group has been working on the constitution effort since 2017 and in February presented a draft to Tribal Council, requesting that the body finalize the document's text and approve a referendum question for the September 2019 election. If successful, the referendum vote would establish the constitution as the tribe's overarching legal authority, replacing the charter and governing document currently in place.
Charters, like the 1986 document currently used by the EBCI, are meant to govern organizations and corporations, while constitutions represent a contract between the people and their government. Over the years, various shortcomings have been found in the tribe's current charter. It doesn't even mention the judicial branch of government, for example, and it doesn't spell out the rights of the people, instead offering broad brushstrokes describing the government's basic setup.
"It doesn't include a mechanism to amend the charter, and the first sentence is 'enacted by Council,' not by the people," said Arneach. "It is not a document by the people. It is a document by Tribal Council."
The current constitution draft contains a variety of provisions that would represent a change from the status quo. Councilmembers would be limited to two consecutive four-year terms rather than serving unlimited consecutive two-year terms, and only six of the 12 council seats would be up for election in any one year. Salaries for elected officials would be determined as a percentage of the average salary of full-time tribal employees, and a third branch of government — the judicial branch — would be established. Tribal Council would have authority only over unassigned lands, not over possessory holdings. The 27-page document contains many other provisions as well.
After being introduced in February, the proposed constitution was withdrawn in June at the request of councilmembers unwilling to pass it as-is. The document still needed work, they said, and more input from tribal members outside the five-member Citizens for a Constitution group.
For Arneach, drumming up participation has been the hardest part of the constitution effort.
"One of the complaints we heard several times was the lack of input we had from the community, and I expressed to them that we've been to every community club at least once, if not twice, to get that public input and to promote and educate the community at large as to what's going on," he said. "How do we make people participate? That's been the biggest issue."
Since June, the group has expanded to include about 10 people, and its members are taking a hiatus from tweaking and changing the document. Instead, they're focusing their efforts on attending community club meetings and trying to get more people involved with the process.
"Hopefully in a few months we'll get enough people who are interested and want to actively participate, and we'll go back to working on the constitution and fine-tuning it to something that would be more presentable," Arneach said.
The group is doing that outreach work with the help of $70,000 allocated through a unanimous vote of Tribal Council during an Oct. 17 Annual Council session. Previous to that vote, the group had not received any tribal funding at all, with members volunteering their time and money to cover any expenses associated with the effort.
"It's time now that we have some assistance," group member Carmelita Monteith told Tribal Council.
The money will be used to do mailings, publications and posters, as well as to fund expenses associated with conducting forums and other events aiming to drum up interest and input.
"None of it's being used to pay anybody," said Arneach. "We're all volunteer. For me, anyway, it changes the perspective if the members are paid to be on this."
Increased participation will be vital not just to finalize the document but also to enact it. Rather than asking Tribal Council to adopt the referendum question, this time around Citizens for a Constitution hopes to go through a petition-based process. Tribal law requires signatures from 25 percent of registered voters for a referendum pertaining to a proposed ordinance or action of elected officials or from 33 percent of registered voters for a referendum pertaining to a proposed change to the charter and governing document. Once the signatures are gathered and certified by the Board of Elections, action from Tribal Council is required to place the question on the ballot.
"It (2021) is two years away, but if you start rolling back the different milestones that need to be accomplished before that vote, it's not that far away," said Arneach.
Any referendum question would have to be finalized 90 days before the Sept. 3 election, and approval from Tribal Council is required beforehand, which would take at least another month. Add in the time needed to collect and validate signatures, and the timeline winds back into 2020. Arneach hopes to have the proposed constitution's language finalized by October 2020 to provide plenty of time to complete the rest of the process.
"We still need to have it in that final version and then print it, publish it and get it sent to all the registered voters so that they have a chance to read it," he said. "This goes back to our tagline — read, think, decide, vote. Read for yourself, think for yourself, decide for yourself, vote for yourself."
Get involved
Citizens for a Constitution is looking for tribal members interested in helping to draft and gather input on a proposed constitution for the Eastern Band of Cherokee Indians.
Upcoming meetings, news coverage and the draft constitution are available at www.sgadugi.org. The group also has a Facebook page titled "EBCI Constitution." For more information, contact Arneach at This email address is being protected from spambots. You need JavaScript enabled to view it..