Outdoors Latest
Ignition point
Wednesday, September 06, 2023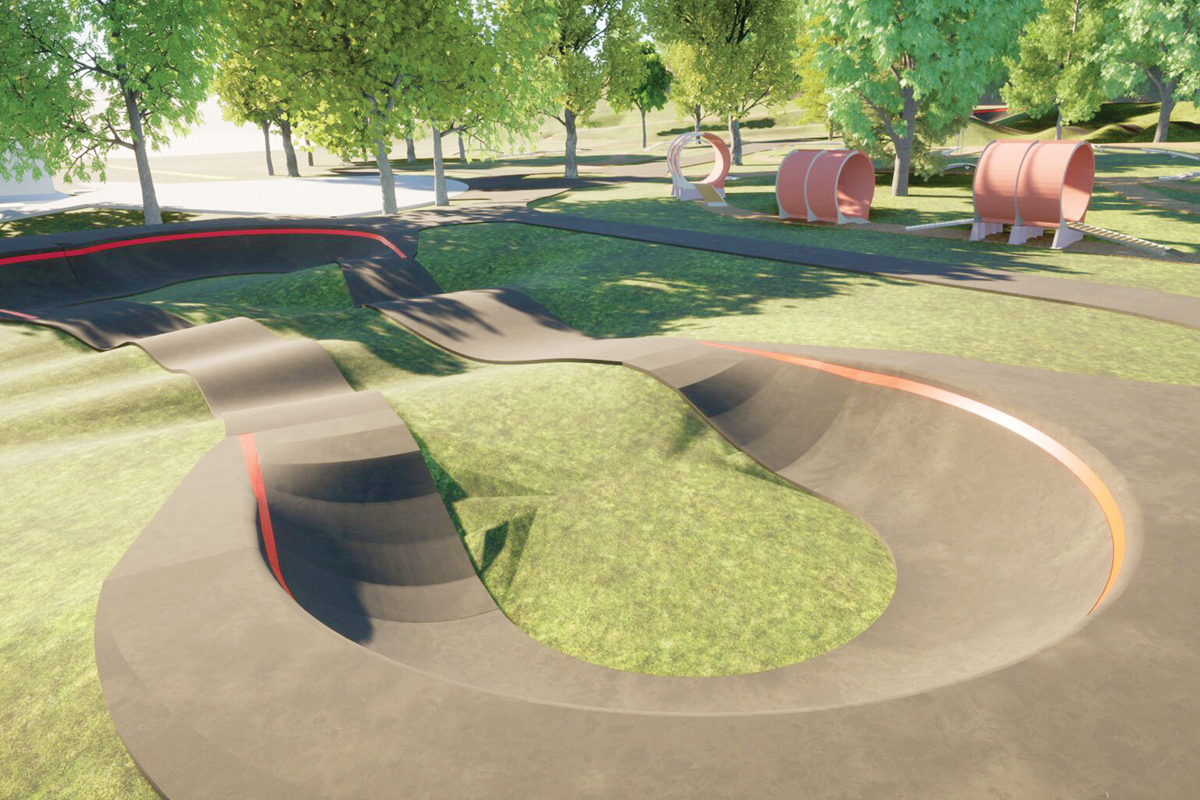 The 4-acre property will offer a maze of rollers and obstacles for riders to try. American Ramp Company rendering
Cherokee's next planned bike park to give kids, new riders a place to play
Excitement is building in Cherokee over plans for a new public bicycle park that will offer excitement for toddlers, teens and beyond on a 4-acre property adjacent to the Great Smoky Mountains National Park.
"We're super excited," said Jeremy Hyatt, secretary of operations for the Eastern Band of Cherokee Indians. "This is the biggest bike park of this type on the East Coast, certainly in the Southeast. I have had industry folks from all over the nation that have reached out to me saying, 'This is a true, game-changing project. You're going to have so many people clamoring to come to this.'"
The Fire Mountain Ignitor Park will feature two asphalt pump tracks totaling 20,000 square feet connected by a 750-foot "Snake Run" connector, also asphalt. Additionally, the park will include a bicycle playground suitable for strider bikes and small children, an intermediate skills park and two flow lines, which will total about 1,300 feet in length. The skills park will offer features such as boulders, teeter totters, small drops, tunnels, elevated bridges, ladders and skinnies.
The rolls and berms of the planned pump tracks will form a pair of loops. American Ramp Company rendering
Renderings for the pump tracks show a series of rolls and berms that form a loop. Pump tracks get their name from the pumping action riders used to maintain momentum, rather than pedaling or pushing as in other bicycling contexts.
"I call this the Ignitor Park because I'm hoping it will ignite the imagination and the fun in younger kids, getting them on bicycles, getting people to get their outdoor juices flowing, igniting that spark inside them that will put them on a bicycle and will create this enjoyment of this lifetime sport, the same way it has in my life," Hyatt said.
Lowering the entry point
The original Fire Mountain Trail System, completed in 2017 , offers 11 miles of single-track dirt trails about 2.5 miles away from the Ignitor Park site. The trails have gained rapid popularity over the past six years, drawing an average of 11,000 visitors each year over the past four. But they're not for everybody. The initial ascent is steep, and while the trails cover a variety of difficulty levels, there's nothing for very young or very novice riders.
Enter Ignitor Park.
"We wanted to lower the entry point for anybody wanting to get on a bicycle," Hyatt said. "This is a project for our tribal citizens, for our children, our families that want to participate in outdoor recreation. And maybe they're not ready for Fire Mountain. This is going to be something for them."
The park will have bathrooms, as well as shade structures and seating so parents can come and read a book or hang out while monitoring their kids on wheels — that is, if they're not bringing bikes of their own.
While it's being built as a bike park, Hyatt said there's no reason that other types of wheels can't use it, as long as no user conflict occurs. Because it's asphalt, the pump track can be used not only by mountain bikes but also by dirt jumpers, BMX bikes, skateboards or one-wheels.
"The whole community is just flipped over it," Hyatt said. "I have received numerous phone calls, along with support via social media from tribal citizens and other folks in the area, other citizens in the immediate area and throughout the Southeast. People are excited about this project."
Planning began in 2020 but was delayed by the Coronavirus Pandemic. Then, on Aug. 22, the EBCI Business Committee unanimously approved the $2.7 million project contract. Most of that cost will be covered using federal American Rescue Plan funds, with only about $200,000 coming from tribal coffers. A Facebook post on the Fire Mountain page previewing the meeting garnered 114 comments and 223 shares.
The park is being designed by International Mountain Biking Association Trail Solutions, which is subcontracting with Velosolutions as the main builder. To date, Velosolutions has built 534 pump tracks in 50 countries. It is the "pre-eminent asphalt pump track builder throughout the world," Hyatt said.
The park will occupy the old Tribal Transit property at 2093 Tsali Blvd., right at the entrance to the Great Smoky Mountains National Park. With the money allocated, Hyatt expects to have an initial meeting with the contractor during the next couple of weeks, with preliminary site work taking place as soon as possible. Asphalt will start going down in early 2024, and Hyatt hopes to see the project complete by late summer or early fall next year.
"I call all these projects quality of life projects, because that's truly what they are, and that's truly what I hope to create," said Hyatt.
Growing the family
He spoke of projects in the plural, because the Ignitor Park is just the latest in a series of outdoor recreation magnets that Hyatt has helped create. Fire Mountain opened in 2017, followed by the Fire Mountain Disc Golf Sanctuary last year. The 18-hole championship-caliber course attracted more than 7,000 visitors in its first year, a number that Hyatt expects will only grow as time goes on.
The intermediate skills park will let riders try their skills on a series of obstacles. The intermediate skills park will let riders try their skills on a series of obstacles. American Ramp Company rendering
With respect to Fire Mountain Trails' 11,000 annual visitors, a rudimentary estimate conducted by Hyatt's office yielded a conservative economic impact of $1.9 million. Through a partnership with Appalachian State University, a formal economic impact study is being conducted now, with a similar study to be completed on the disc golf course next year.
"Fire Mountain has paid for itself 10 times over," Hyatt said. "I guarantee it."
Ignitor Park is a big project, and construction has yet to begin. But planning and permitting are the most difficult parts of such projects, and Hyatt already has his sights set on the future.
The planning board has already allocated an additional piece of property, located close by the Ignitor Park property below the water treatment plant, to outdoor recreation. The property is too steep for housing, and its proximity to the water treatment plant means that it would be difficult to guarantee clean water for any homes that were built there. But Hyatt thinks it will be perfect for 10-12 miles of new trail, with about half of that being gravity trails offering a challenge for advanced bikers. If Fire Mountain is a five, Hyatt said, these trails would turn the amplitude up to nine. This new trail system was originally going to be built at the same time as Ignitor Park, but post-Covid cost escalations delayed it.
Another future project could be a short disc golf course near the existing Disc Golf Sanctuary. While the existing course is a difficult, championship-level affair, Hyatt envisions an easier nine-hole, par-three course that would be more accessible for beginners and closer the nearby Cherokee Central Schools, allowing students to use it more.
Long-term, he hopes to see the growing family of Fire Mountain parks contribute to the on going revitalization of Cherokee.
"I don't believe the idea in Cherokee is to be a smaller version of Gatlinburg," Hyatt said. "I think we have something nobody has. And that's our traditions and our culture, that we don't have to exploit but we can certainly tap into and utilize as we build out our outdoor assets, as we build out our outdoor economy."
Hyatt said there's a "great synergy" going on right now between Fire Mountain and partners like the Cherokee Historical Association and Museum of the Cherokee Indian. To further grow its outdoor economy, he said, Cherokee needs more places for visitors to spend money after and between their outdoor adventures — food, beverage and retail outlets.
"A lot of people will come to ride Fire Mountain, and they'll go to Sylva to drink beer, or they'll go to Bryson City to drink beer," he said.
But that's starting to change. Increasingly, new businesses are popping up in Cherokee, offering both tourists and community members a place to hang out and relive the day's adventures without leaving the Qualla Boundary.
"I can't help but think that the Fire Mountain product, the outdoor amenities that we're building, the outdoor infrastructure that we're building, [is] contributing to that," Hyatt said.
Ride the trails
A weekly no drop mountain bike ride open to all skill levels takes places weekly at 5:30 p.m. Thursdays through Halloween, meeting at the Fire Mountain Trails trailhead.
The group rides together for about an hour and then reconvenes at Bryson City Outdoors on Tsali Boulevard for hot dogs, music and drinks.
For more information or updates, visit the Fire Mountain Trails Facebook page at facebook.com/fmtrails.