Archived Outdoors
Time to fly: Disc golf course 
opens in Cherokee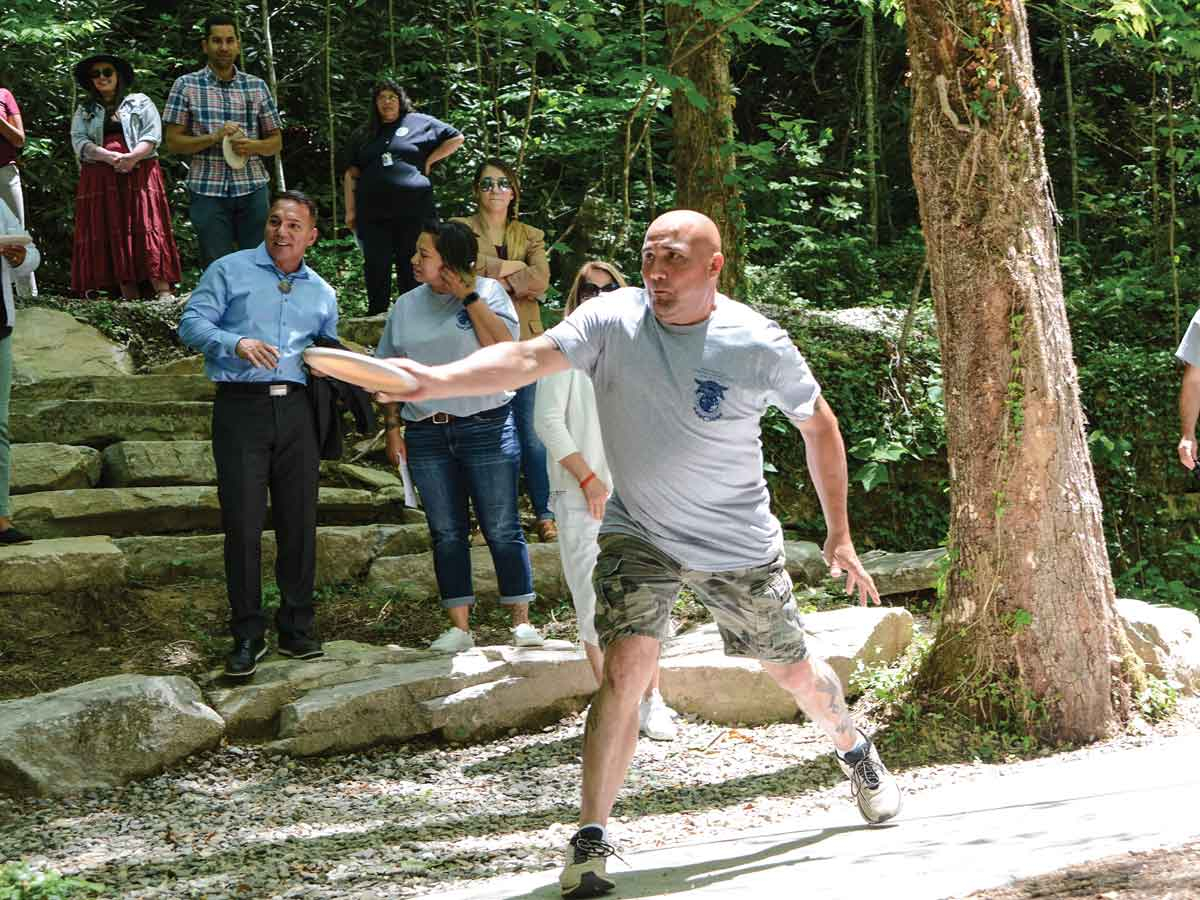 Wolfetown Rep. Bo Crowe throws a disc following the ribbon-cutting May 10.
Sandwiched between the flowing waters of Raven Fork and the final southern stretch of the Blue Ridge Parkway, a new championship-caliber disc golf course in Cherokee beckons to locals and tourists alike.
"Look around. This is paradise here," Jeremy Hyatt, secretary of operations for the Eastern Band of Cherokee Indians, told the small crowd gathered for a ribbon-cutting celebration Tuesday, May 10. "You have this beautiful river, you have these wonderful woods. This is what it means to me to be Cherokee."
The 31-acre Fire Mountain Disc Golf Sanctuary sits between Cherokee Central School and the Great Smoky Mountains National Park, a lofty canopy shading it from summer heat and a mountain creek offering respite for swimmers, anglers and waders. A gravel walking path stretches the length of the property, and a network of trails offer woodland paths between baskets.
Disc golf courses typically need about two years to mature, said Justin Menickelli, a member of the team from Disc Golf Design Group that planned the course. That's usually enough time for leaves to fall and decompose on newly cut paths and for vegetation to be more carefully trimmed to the course's contours.
"Then it will be perfect," Menickelli said.
Ryan Pickens, one of the course's designers, tees off while giving a tour of the property.
Connected to culture
The swath of land beside Raven Fork is a tranquil setting suitable for a broad spectrum of ages and ability levels. But make no mistake — the course is labeled "championship-caliber" for a reason.
"When I say championship-level, it kind of is the same thing 'as hard as hell,'" said Hyatt. "This is a very difficult course, but it is one of a kind and it is truly a gem."
The first hole, advertised as a par 3, extends 348 feet, and while that particular hole is a straightaway, such is not the case as the course continues. Many holes contain tricky turns over long distances, with the longest clocking in at 681 feet on Hole 7, a par 4.
"I think it'll end up being one of the hardest courses in the Southeast, for sure," said Ryan Pickens, another of the course's designers.
Tribal leaders hope to see the course become an attraction for disc golfers from across the country, and even an economic development asset as professional disc golfing competitions draw overnight visitors.
While there, they'll also get a lesson in Cherokee history, thanks to the signs posted at each tee pad. Every hole is named for an animal, historical figure or legendary entity of the Great Smokies region or Cherokee culture. Those names are accompanied by a description of the namesake's role in Cherokee folklore, as well as Cherokee-language renderings of the name in both syllabary and Latin characters.
The descriptions were written by Annette Saunooke Clapsaddle , who in addition to being an EBCI member is the author of Even as We Breathe, a debut novel that won the 66th annual Thomas Wolfe Memorial Literary Award. She worked with several Cherokee speakers to ensure the translations and pronunciations on the signs were correct.
"Our goal was to connect all of the holes with a story that told the broader story of our area," she said. "So it is kind of an introduction to visitors who aren't familiar with it, but also a nice overview for even locals like myself who enjoy hearing how the stories are actually connected, and a longer version of Cherokee traditional value systems."
For example, the sign for the first hole, named "Raven," tells how according to the Cherokee origin story, the raven was the first to seek fire — but the heat scorched his feathers before he could succeed.
"Additionally, the Cherokee's most feared shapeshifting entity is the Raven Mocker — the one who robs the dying man of life," the sign concludes. "Needless to say, we recommend staying on trail…"
Other names featured in the list of 18 holes include Screech Owl, Lucky Hunter, Drowning Bear and Flying Squirrel.
Principal Chief Richard Sneed speaks during the ribbon-cutting ceremony May 10.
A growing sport
Daniel Reed, 48, wasn't at the disc golf course on May 10 to attend the ribbon cutting. Rather, he was there for a ritual that's been part of his life since the course's unofficial opening in March. Reed works nearby and gets 45 minutes for lunch each day. Two or three times per week, he uses that break to throw some discs.
"I'll play about one or two holes, you know — just trying to get some practice in, just throwing and stuff right now," he said. "I'm a beginner."
Reed had never played disc golf until a couple of months ago, when the course opened just down the road from work. It seemed like a great opportunity to get outside while also building a hobby he could share with his son.
Reed isn't alone in his newfound love of disc golf, which is a rapidly growing sport. The number of courses recognized by the Professional Disc Golf Association has increased tenfold since 2000, from 1,145 to 10,508 in 2021. Of those courses, 7,737 are in the United States. In 1975, only one course existed.
Since the pandemic, interest in disc golfing has only accelerated. The number of PDGA members shot up 33% from 2019 to 2020, bringing total membership to 71,016. Last year, membership grew at an even faster rate — increasing 55% to 109,862 members. Of those members, 80% live in the U.S.
The course in Cherokee aims to welcome disc golfers of all ability levels — not just professional players. While each of the 18 holes is outfitted with one of the yellow baskets denoting a hefty challenge for disc throwers, nine of the holes have a second basket as well. These red baskets offer a more approachable goal for novice players. For instance, while the first hole requires a 348-foot throw to reach the yellow net, the red net is a more manageable 290-foot distance.
Keredith Owens, who spoke at the ribbon-cutting on behalf of the Yellowhill Community Council and is also manager of the Family Safety Program, said that giving people opportunities to be in nature is important when it comes to helping them get sober and clean — the new disc golf course will be a good place to do that.
"This golf course, anybody can play it," Principal Chief Richard Sneed said during his turn at the microphone. "My wife and I started playing about a year ago. We were both terrible at it. But we get to spend time with our grandkids, and they had a good time. But more importantly, it's time to get out into nature into the environment."
Sneed related a recent conversation he had with a tribal elder, in which she asked him how much time he spends in the woods. He was forced to say that these days, it's not much time at all.
"She said, 'I want to tell you something,'" Sneed said. "'You really need to spend time in the woods. You need to spend time hiking, and you need to spend time up in these mountains taking it all in, because it'll change you as a person. It will change you as a human being.'"
For Cherokee people especially, he said, it is vital to spend time outdoors, reconnecting with the land that has nourished their ancestors for countless generations.
"Let us never take for granted what we have in these mountains," he said.
Stay informed
For information and updates about Fire Mountain Disc Golf Sanctuary, as well as Fire Mountain Trails for hikers and bikers, visit facebook.com/fmtrails.