Archived Outdoors
Trails that dance: Cherokee opens 10.5-mile trail system with plans to expand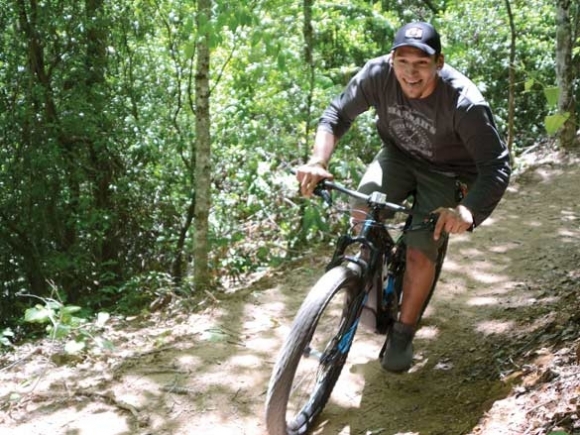 The snip of a ribbon declared the destination that mountain bikers are hailing as "amazing" and "world-class" to be open for business last week, when Cherokee officially opened its new 10.5-mile Fire Mountain Trail System.
"There's been a lot of hard work and dedication to make this a reality, to make this trail system a reality — and the reality we've created is a premier trail system for the region," said Jeremy Hyatt, secretary of administration for the Eastern Band of Cherokee Indians.
Jumping off from the upper parking lot of Oconaluftee Indian Village, Cherokee's Fire Mountain Trail System winds the slopes of Mount Noble in a web of trail intended to satisfy trail runners, hikers and mountain bikers ranging from novice to expert. The opening trail — Tinker's Dream, named after the visionary behind the trail system, Tinker Jenks — rises quickly from the parking lot and twists around the slope, blocking the human sounds below. The thick greenery of summer in the mountains swaths the trail in a silence peppered with birds chirping and breeze tousling the treetops. It's peaceful. Or, if you happen to be hurtling downhill on a mountain bike, adrenaline-inducing.
A leaping-off point
A 10.5-mile system is a big system, and it wasn't cheap. The tribe spent $356,000 on the effort. But this is just the first phase of a much larger endeavor.
"We're hoping to expand," Hyatt said. "We're hoping to create more trailheads."
Discussions are underway about the possibility of building a new trailhead on the Long Blanket Tract — a piece of undeveloped commercial property — and with the existing trail system nearly abutting the Cherokee Indian Hospital campus, Hyatt's already in talks with the hospital's CEO, Casey Cooper, to build a connector that would allow people to enter the trails from the hospital. A fall mountain biking race is also in the works.
"This is really a leaping-off point for Cherokee and our move into ecotourism," Principal Chief Richard Sneed told the crowd of 50 gathered for the ribbon-cutting.
Though more than 2 million people pass through Cherokee each year on their way to the Great Smoky Mountains National Park, most of them — especially those not interested in gambling — zip right through rather than pausing to spend some of their tourism dollars in town. Harrah's Cherokee Casino Resort is by far Cherokee's biggest draw for out-of-towners, but tribal leaders have long recognized the need for economic diversification. With a rich culture to draw from and mountain land all around, Cherokee could fill the ecotourism niche quite nicely.
"Ecotourism is my biggest push, trying to get not more gamers into town but people that want to camp, do biking trails, do skate parks, do maybe zip lines in the future — different things that families can enjoy," said Councilmember Adam Wachacha, of Snowbird, who attended the ribbon-cutting along with four other councilmembers. "That's really the focus I want to look at. This trail has been a starting point."
"It's about the outdoors," agreed former Principal Chief Michell Hicks, who also attended. "That's one thing we've worked really hard on — promoting the outdoors, staying fit. And it's a great way to use this property and still keep it fairly pristine."
If the initial reaction is any indication, the change could be rapid. Hyatt's already been bombarded by bloggers from across the country wanting to check out the trails and write about them. And Sneed himself was blindsided when some photos he posted on Facebook a month ago, following a test ride he took on the trails, garnered more than 300 shares and spurred myriad calls to the Cherokee Welcome Center from people wanting to know where they could find the trailhead.
"I see Cherokee as a golden opportunity because of where this is located, because of how beautiful it is," said trail builder Ed Sutton, of Brevard-based Trail Dynamics.
Nothing short of amazing
Work on the trail system began during Hicks' administration, in 2014, when Jenks — who was then working for the diabetes prevention program Cherokee Choices — began to discuss the idea with Damon Lambert, who was the tribe's building construction manager at the time. In 2014, the Cherokee Preservation Foundation awarded a grant Jenks had applied for to fund planning for the project, with the tribe providing matching funds. Around the same time, Tribal Council approved a resolution from the youth-driven Junaluska Leadership Council pledging tribal funds to develop hiking and biking trails in Cherokee. Funding for the construction itself was approved by the tribe's Capital Committee in June 2016.
Cherokee-based Aniwaya Design & Planning collaborated with trail specialist Valerie Naylor to design the trails, with Trail Dynamics engaged to construct them. The effort faced plenty of challenges, from political turbulence to a wildfire that swept through the area after Aniwaya and the Bureau of Indian Affairs had spent days flagging the trails' planned routes. But now, the project is done and drawing praise from even the most seasoned of mountain bikers.
"This is nothing short of amazing in that out of the box from that ribbon-cutting right now these trails are perfectly broken in and ready to go," said Larry Norman of Motion Makers Bicycles in Sylva, a partner of the EBCI. "That usually takes months. You get the trail open but there's all these little problems you have to go out and fix and maintain or worry about. This is just perfect."
Add that to the trails' easy proximity to downtown Cherokee — just a mile or two, depending where you're going — and the tribe's got itself a winning combination, Norman said.
"A day in the life of a bike shop employee, if it's not, 'Hey where are your inner tubes? Can you fix my flat?' the second question is, 'Where can I go ride?' and being this close to town is a huge thing because usually we're like, 'Well you need to drive for two hours to the middle of nowhere,' and then you spend 45 minutes giving directions and pray they don't get lost," Norman said.
With the Cherokee trails, the directions are simple: turn at the movie theater, drive until you see a stop sign, and make a left. The trail is at the end of the road.
Having been involved with trail maintenance and construction since the 1990s, Norman added that he's just flat-out impressed with the subtle features of Sutton's handiwork that will make the trails fun to ride and easy to maintain for years to come.
"The main thing that tears up a trail is water, and so a clever trail builder will build trail in such a way that water is constantly running off of it so it doesn't collect on the trail," Norman said. Later, taking a short jaunt up the mountain, he pointed out how even flat pieces of trail were slightly slanted so that water could roll off. Then, he mounted his bike and sighed aloud over the perfectly contoured turns as he made his way downhill.
When Sutton looks back on the six months he spent in Cherokee, turning vision to reality, it's emotional to see the trails completed, the people gathered and the bikes ready to ride. His whole goal was to "make the trails dance, and try to create that feeling" — each day, the largely Latino workforce that helped with construction would choose the music to drive the dance, whether that be salsa or tango or anything else.
"I guess the significance of building a trail doesn't really hit you until you finally get to the end and you see the people come arrive," Sutton said. "It's sometimes emotional. But I know what trails can do for communities."
When Sutton moved to Brevard 15 years ago, he said, the town was in a "downspin," and the biking scene was shaky, with only one struggling bike shop in the whole place. Since then, Brevard has become a mountain bikers' Mecca, and Main Street holds three thriving bike shops as well as an array of restaurants and retail shops.
"Basically the moral is when you hear a great idea for the community, don't give up," Jenks said. "Jump over those road blocks that come at you. Just keep going, because persistence pays off."
Check out the trails
Cherokee's new Fire Mountain Trails are now open, the 10.5 miles of multi-use trail offering opportunity for all ability levels. The trailhead is at the upper parking lot of Oconaluftee Indian Village on Drama Road. To get there from U.S. 441, take Hospital Road (the intersection is beside the Cherokee Phoenix Theater) to its intersection with Drama Road. Turn left on Drama and follow signs through Oconaluftee Indian Village to the uppermost parking lot. A trail map is posted at the entrance, with wayfinding signs scattered throughout the trail system.
Jeremy Hyatt, 828.736.3839.