Archived News
Remillard will run for Haywood's House seat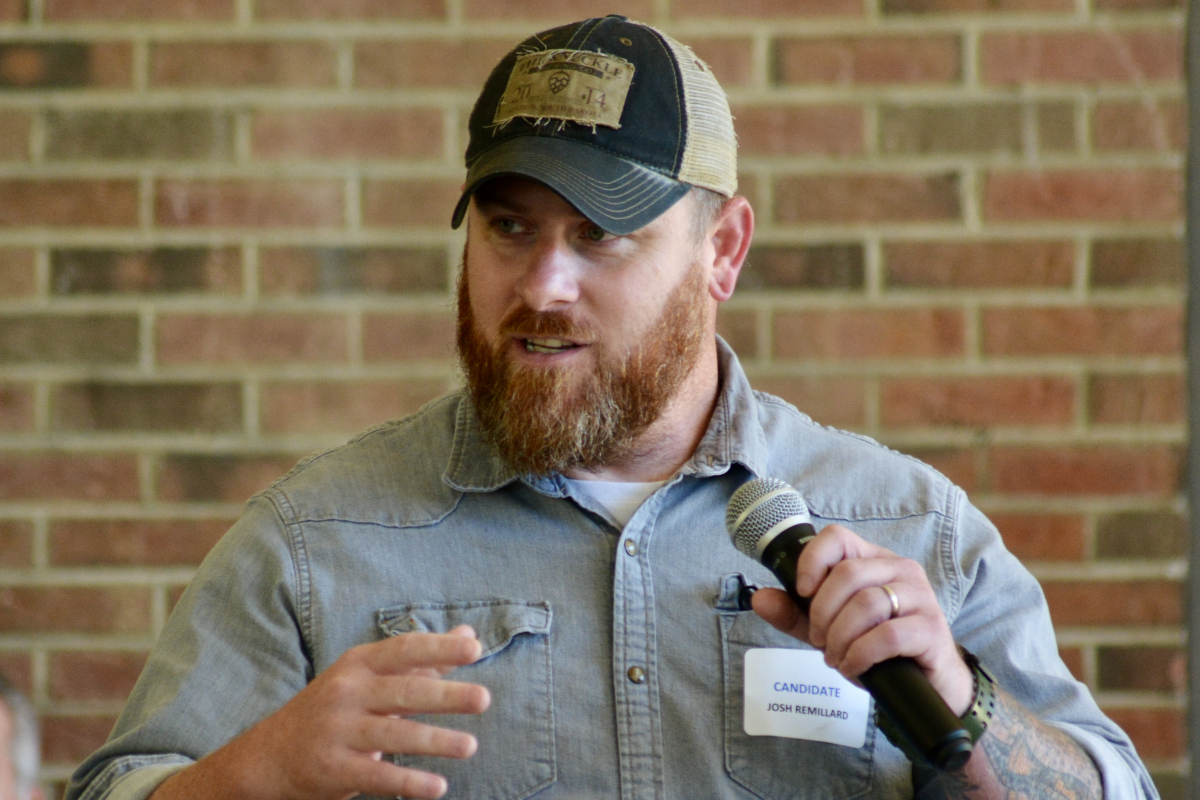 Haywood County Democrat Josh Remillard has had a change of plans.
Cory Vaillancourt photo
In a viral video he released last fall, Army veteran Josh Remillard explained the concept of a "ruck" as carrying one's gear for miles on end. With his surprise announcement earlier today, Remillard made clear that he's going to keep on ruckin'.
"While our campaign for Congress has ended, it is not the end of our movement to stand up to the Radical Right," Remillard wrote in a March 4 press release. "That's why I am excited to announce my candidacy for the 118th North Carolina State House District."
Remillard, who lives in Haywood County, says in the video that he bounced around foster homes until the age of 4, and then bounced around jobs until serving in combat as a Humvee gunner.
Over the past year, Remillard has also bounced around Western North Carolina's political landscape until setting his sights on the District 118 seat currently occupied by Haywood County Republican Rep. Mark Pless.
Almost exactly a year ago, Remillard announced that he'd become the second Democrat (Jasmine Beach Ferrara) to challenge Republican Rep. Madison Cawthorn for the 11th Congressional District seat.
Then came new maps and Cawthorn's Nov. 11, 2021 decision to run in the newly drawn 13th Congressional District. Remillard said he'd follow Cawthorn to that district. Those maps were then thrown out by one court and redrawn by another after the North Carolina General Assembly again failed to meet court approval. Cawthorn subsequently announced he'd return to the 11th District ballot, and Remillard refocused on the state House.
"I refuse to help Madison Cawthorn by engaging in a contentious primary and believe our best chance of defeating him is to support Jasmine Beach-Ferrara," Remillard said.
Pless is a former Haywood County commissioner who was elected in 2020. At the time, the 118th District included Yancey, Madison and most of rural Haywood County.
Under the court-drawn maps, the district now contains all of Haywood and Madison counties, but no Yancey County. Pless won the 2020 General Election with 63.6% of the vote, including almost 65% in Haywood County and just over 60% in Madison County. Stats on the new district say then-President Donald Trump earned 62% of the vote in the current district in 2020.
Remillard's popular video helped him raise more than $330,000 by the end of 2021, however his FEC filing from that period says he's spent almost $300,000.
Pless' filing for the 2020 election shows he raised almost $16,000 for that cycle, and his year-end report for 2021 shows he began 2022 with about $700 in cash on hand.
As of 9:30 a.m. on the morning of March 4, no other candidates had filed for the District 118 race, on either side.
This is a developing story. Follow The Smoky Mountain News on Facebook and Twitter for more candidate filing updates and full coverage in our next issue, online and on newsstands on Wednesday, March 9.