Archived News
Maps set, candidates file, Cawthorn returns
Wednesday, March 02, 2022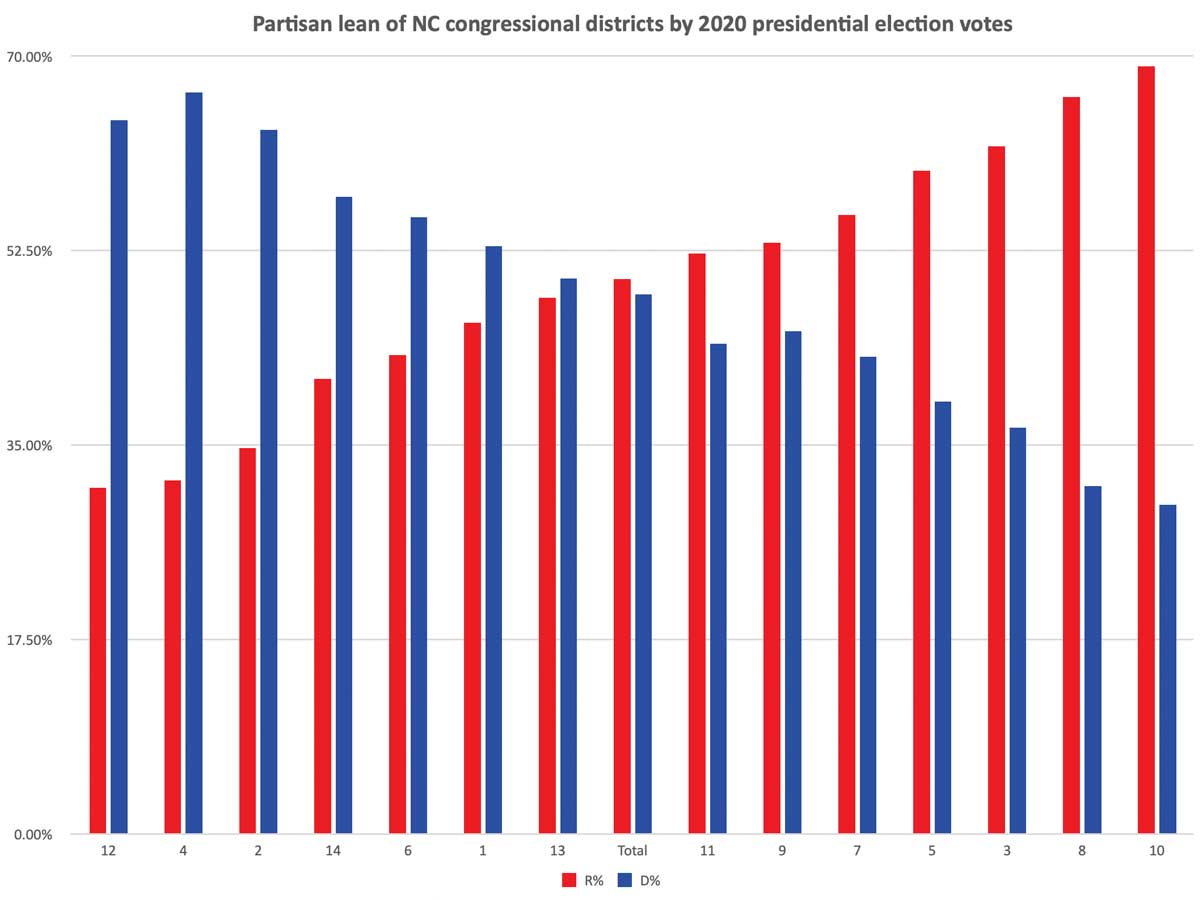 After months of back-and-forth between the General Assembly, the Wake County Superior Court and the North Carolina Supreme Court, state legislative maps and congressional districts are finally set for the May 17 Primary Election.
The new maps present some significant changes with national implications all across the state, but from a partisan perspective the numbers in Western North Carolina show that voters are likely in for more of the same, despite grumblings from both Democrats and Republicans over some specifics.
"Everyone's mad," said Dr. Chris Cooper, the Madison Distinguished Professor of Political Science and Public Affairs and Director of the Public Policy Institute at Western Carolina University, "so it must be perfect. That's the way I look at it."
In the House
There are 120 seats in the North Carolina House of Representatives, and voters west of Asheville are split between three of them.
The farthest west, District 120, didn't change at all and still contains Cherokee, Clay, Graham and Macon counties. Currently, it's represented by Republican Karl Gillespie, of Macon County, who is in his first term and won the 2020 General Election over Democrat Susan Landis by 48 percentage points.
"So, 120 is as deep-red as they come. It's remained pretty stable thanks to the Stevenson clustering rule, which says that certain counties have to hang together," Cooper said. "Clearly Gillespie is going to be the favorite moving into any kind of General Election. I think the question there is, do we get a Democratic challenger?"
According to a statistical report issued by the General Assembly, Gillespie outperformed then-President Donald Trump by just over a point in 2020, with 74.2% of the vote. As of press time, Gillespie wasn't yet listed as a candidate for reelection on the state's master list of candidates, but when reached by phone on Feb. 28 Gillespie said he planned to file before the March 4 deadline. No other candidates have filed.
There are, however, bigger changes afoot in Western North Carolina's other two House districts.
District 119 is currently represented by Swain County Republican Mike Clampitt. Clampitt had traded the seat back and forth with Haywood County Democrat Joe Sam Queen over the past five elections — with Clampitt losing in 2012, 2014 and 2018 but winning in 2016 and 2020.
Changes to Clampitt's district mean that North Carolina's longest running political feud is over.
Previously, the district included Swain and Jackson counties, as well as a tiny sliver running through the center of Haywood County. Clampitt beat Queen with 54% of the vote there in the last election.
Now, the district includes Swain, Jackson and Transylvania counties. While the previous district was fairly competitive, state statistical reports show that Clampitt's new district is a little more comfortable for Republicans. In 2020, Trump earned 55.5% of the vote in the new district.
"It's the 10th-least Republican district of all the districts that lean towards the Republican party," said Cooper. "In other words, it's more towards the middle than some of the other districts, so it's going to favor Clampitt by about 12 percentage points. Compared to the rest of the state, it is relatively competitive, but that's because so few are competitive."
Clampitt is thus far the only candidate to file for the seat, although his portion of Haywood County was moved into the 118th District, making Haywood County whole again – at least on the House side.
Former Haywood County Commissioner Mark Pless won the 118th District seat vacated by fellow Republican Rep. Michele Presnell in 2020 with 63.6% of the vote, but at that time the district was comprised of Madison and Yancey counties, as well as rural areas in the northern and southern portions of Haywood.
The new maps removed Yancey from Pless' district, leaving him with all of Haywood County and all of Madison County. State stats say 62% of this new district voted for Trump in 2020, leaving Pless, like Clampitt, in a slightly more comfortable position than before.
"Pless is in great shape," Cooper said. "It would be extremely difficult for a Democrat to win that district. I think for all of these districts that lean so heavily, the question's going to be, 'Does the opposing party even field a candidate?'"
In the Senate
The North Carolina Senate has 50 seats, the westernmost of which is represented by former District 120 representative Kevin Corbin, a Franklin Republican serving his first term as senator in District 50.
Corbin's district remained largely the same after redistricting as it was before, but for the inclusion of Transylvania County. Statistical reports from the state say the new NC-50 is almost 64% Republican based on the 2020 presidential contest. However, Corbin's very likely to outperform that this go-round. So far, he's the only candidate to file in District 50.
There is, however, a statistically insignificant but culturally important caveat to that – part of Corbin's district, in northeastern Haywood County and including the town of Canton, was carved out and added to the 47th District.
That means Haywood is once again a split county, not in the House, but in the Senate. Although there was some grumbling when the split was initially proposed late last year, it looks like the change is here to stay.
"I think part of that is just geography. I don't think they were aiming that at Haywood County," Cooper said. "The way that cluster ran, it included all of [Senate District] 50 and all of what became [Senate District] 47. They had to draw a line somewhere to make that cluster, and it kind of makes some sense that it would be right about there in Haywood County. The reason is because we've grown in population in the west, so to equalize population, that was a fairly logical place to draw that line."
In Congress
The most recent decennial census showed enough population growth in North Carolina to warrant an expansion in the state's congressional delegation, from 13 seats to 14. When new maps were drawn — before they were thrown out by the state Supreme Court — the 11th Congressional District was renamed as the 14th and stretched all the way up to Appalachian State University in Watauga County.
A "new" 13th Congressional District was created with House Speaker Tim Moore in mind, but 11th District Rep. Madison Cawthorn (R-Henderson) shocked the political establishment on Nov. 11 by announcing he'd run in the newly drawn 13th District, which stretched from Polk County all the way out to the suburbs of Charlotte.
Moore backed down, but Cawthorn's move may have been premature — when courts rejected a revised map presented by the General Assembly and then drew their own (returning to the original name of the district, the 11th), Cawthorn announced he would run in the 11th.
"I am excited to run for reelection in North Carolina's newly solidified 11th Congressional District and represent nearly all of my current constituents in the 118th Congress," he said via a press release issued on Feb. 28.
"It's the least bad option for Madison Cawthorn," Cooper said. "The options before him were to run in the district that he had said he would, which became District 10, which would've put him up against Patrick McHenry."
McHenry's widely considered the most powerful Republican member of North Carolina's congressional delegation, and his district is among the most Republican in the state.
"He [Cawthorn] would've won the General Election if he'd won the Primary Election, but there was almost no way he was gonna win the primary," Cooper said. "He could have run in the [new] 14th Congressional District and tried to pick up the Charlotte media market, but then he would've been running in a heavily Democratic district against [former U.S. Senate candidate, Democrat] Jeff Jackson, so Cawthorn might have won the primary, but he was almost certainly gonna lose the general."
With Cawthorn's decision to run in the 11th came reactions from candidates on both sides of the aisle, ranging from indifference to outrage.
"What's been very clear is that Cawthorn's priority is building his political brand and spreading a very dangerous form of extremism rather than focusing on the people that he was elected to represent," said Jasmine Beach-Ferrara, a Buncombe County commissioner who was the first Democrat to join the race, back in March, 2021 . "We're out there every day, knocking doors, connecting directly with voters about the issues that matter most in people's lives."
Eric Gash, a Henderson County educator who with Beach-Ferrara is considered a frontrunner in the crowded Democratic Primary Election field, seemed similarly focused on his own campaign and not on Cawthorn's moves.
"I got in this race because we need leadership in this district. We need someone who's going to put the needs of their constituents above their own, focusing on that and making this a better place to live. That's still my focus, regardless of who's running on the other side," Gash said . "I'm gonna push as hard as I can, listen to the needs of the people and be a representative not just for Democrats, not just for Republicans or for independents, but for everyone."
Both Gash and Beach-Ferrara said they had no plans to change the way they'll campaign. One of the frontrunners on the Republican side, Henderson County Sen. Chuck Edwards, basically said the same thing.
"All campaigns are based on a candidate getting out and getting to know the voters," Edwards said. "I'm going to remain on that path and continue to talk about the conservative principles and the proven track record that I've established in Raleigh that I believe needs to be taken to Washington, D.C. We've got enough talkers in Washington. We need people that have actually accomplished things and that's exactly what I intend to do."
Although Edwards entered the race after Cawthorn announced his plans to run in a different district, Cawthorn's return to the 11th sets up a matchup many have been calling for for more than a year now. Edwards was vocal with criticism of Cawthorn in the wake of Cawthorn's speech at a "Stop the Steal" rally immediately preceding the Jan. 6 insurrection.
In January, 2021, Cawthorn responded to the possibility of a Primary Election challenge by Edwards, calling it "asinine."
With the Edwards-Cawthorn matchup now solidified, that leaves another frontrunner, Michele V. Woodhouse, as the odd woman out.
Woodhouse was closely tied to Cawthorn during his first year in office, and had received campaign contributions from him during her time as NCGOP chair of the 11th Congressional District.
When Cawthorn announced his intention to run in the 13th District, Woodhouse resigned her district position and declared her candidacy for the 11th. A Cawthorn endorsement appeared likely, and a Feb. 17 story in the Charlotte News & Observer reported that Cawthorn had told supporters in the 11th to vote for Woodhouse.
Now, a rift has appeared. When reached for comment on Feb. 28, the day Cawthorn announced his intention to run in the 11th Congressional District, Woodhouse spokesman Eddie Woodhouse replied with only one word: undeterred.
The next day, in a text, Eddie Woodhouse elaborated, with digs apparently directed at Edwards and Cawthorn, respectively.
"Michele V. Woodhouse, the America First 11th District candidate, now has the old country club establishment politician on one side, and Washington's Instagram broken promises politician on the other!"
The Primary Election will be held on Tuesday, May 17.