Archived Reading Room
A close encounter of the pleasant kind
Wednesday, January 26, 2022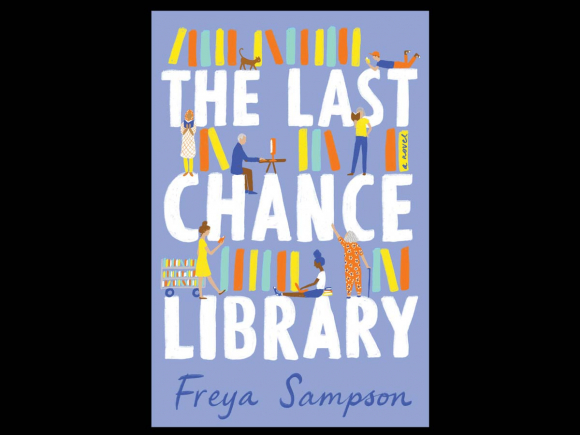 Sometimes the right book just comes along.
You go to the library or bookstore and happen across it, an author you've never heard of, a book as unfamiliar to you as some stranger you pass in the street. You pick it up, thumb through the pages, read the blurb on the back cover, and think, "What the heck, I'll give you a chance."
You arrive home and try the first few pages, then a few more, and suddenly you're like some teenager falling head over heels in love for the first time, smitten, whopped upside the head and the heart, and reading like a maniac as you devour the rest of the story.
Freya Sampson's debut novel, "The Last Chance Library" (Berkley Publishers, 2021, 329 pages) brought one of my days to a standstill as I put everything else aside and read her novel through the afternoon and into the night. Given my normal reading schedule these days — an hour a day, sometimes more, sometimes less — to lose myself in this novel so long a time was both unusual and a joy.
Here we meet the young June Jones, an assistant librarian at Chalcot Library in England. June's beloved mother was once the head of the library, and June essentially grew up there, reading books, caring for her mother before her death, and pushing aside her plans for a university education and her hopes for becoming a writer to continue working at the library. Her days are routine: work, eating the same take-out meals, reading to herself in the evenings as she and her mother once read, caring for her anti-social cat, Alan Bennett, and engaging with a few friends like Linda, her next-door neighbor and long-time friend of her mother.
Then arrives the news that the local council may close the library because of funding problems. A group of patrons, ranging from the acrimonious Mrs. Bransworth and the sweet elderly man Stanley to a teenager and a homeschooled boy, band together to fight this closure. Though her job is threatened if she joins them, June works secretively on their behalf, feeding them information about moves against the library, and then eventually comes out in the open with her support.
Meanwhile, June finds herself attracted to Alex Chen, a London barrister who has returned to their village to assist his ill and aging father in his restaurant. She also draws close to Stanley, who becomes a sort of surrogate father to her. And as she becomes more involved in the battle to save the library, June is forced to lose her shy, mousy personality and become a fighter.
In addition to a wonderful story, Sampson provides a feast of other delights in "The Last Chance Library." For one, she takes us inside of a community, centered on the library patrons, a group of eccentrics young and old trying to save an institution dear to each of them. The novel shows us that such communities are never imposed, but grow out of love, kindness, respect, and shared values. It also reminds us of our own supportive platoons of friends and family members, that group of people who are often invisible to us by way of familiarity but who are the treasures in our lives.
Sampson also possesses a gift for humor and whimsey. At one point, June is reluctantly on her way to a "hen do," which is British slang for a party for someone who's about to be married, an affair only attended by women. The mother of the bride, June's supervisor at the library, is upset that the women throwing the party have hired a male stripper and wants June to monitor the event. While on her way, June runs into the stripper, Rocky, who's gotten lost trying to find the correct address for the hen do. June directs him instead to the library protest at a church hall, which brings about great media coverage for the protesters and for Rocky himself.
In this scene, June later meets the elderly Stanley, who like the others in the cause is completely unaware that she is the mischief maker:
"It was the most remarkable sight," Stanley said, joining June as she started tidying up the noticeboard. "He had three different outfits: policeman, cowboy, and fireman. And he had Velcro on his trousers so he could rip them off easily. Such a prudent idea — I might try it with my suit."
Finally, "The Last Chance Library" presents well-drawn characters that we might find as familiar as our neighbors. Just like June, each of these people unmask themselves as the story proceeds, surprising both June and the reader with bits and pieces from their past we might never have otherwise suspected. Stanley, for instance, visits the library every morning and remains there until closing time not only because he loves books but because he lives in a tiny ramshackle trailer in the woods.
Both blurbs on the back cover of "The Last Chance Library" describe the book as charming, which it is. But it also offers keen insights into human nature and reminds us of the mystery that lies within every person we meet.
Highly recommended.
(Jeff Minick reviews books and has written four of his own: two novels, "Amanda Bell" and "Dust On Their Wings," and two works of nonfiction, "Learning As I Go" and "Movies Make the Man." This email address is being protected from spambots. You need JavaScript enabled to view it..)