A&E Columns
This must be the place: Ode to 10 years of 'This…place,' ode to all you kind readers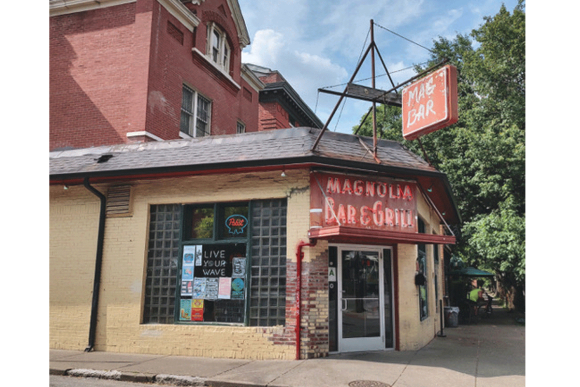 The Magnolia is a legendary spot for ramblers in Louisville, Kentucky. Garret K. Woodward photo
Hello from 36,000 feet above the Midwest on this otherwise quiet Monday afternoon.
Although my flight out of the Asheville airport was just about two hours later than scheduled, no matter — Denver remains in the crosshairs of my intent by this evening.
Onward to Whitefish, Montana, to cover a largescale music festival for Rolling Stone. One of the most remote areas in the lower 48 states. Some of the biggest names in Americana, folk and country music all together in the shadow of Glacier National Park. But, for now, it'll be a 15-hour or so drive from Denver to Whitefish. Desolate high-desert prairie and towering mountain ranges.
Fifteen hours of interstates, highways and backroads through rural Colorado, Wyoming, Idaho and Montana. Come Tuesday, turn around and head back down to the Mile High City. Return to the airport and to the Allegiant gate for a direct route to Asheville and greater Western North Carolina. Home sweet home.
After my girlfriend and I retrieve the rental car in Denver, but before we hit I-25 en route to Cheyenne for the night, it's been decided to swing by my dear old friend's humble abode in Boulder — a quick bite to eat, cold suds and hearty conversation. Dear Andrew, a cosmic brother-from-another if there ever was one. Long ago, before I joined this fine publication in July 2012, Andrew and I used to roam coast-to-coast covering concerts and events for peanuts.
And I realized on this here flight I'm currently on that Andrew and I met 15 years ago this very week. It was at the long-gone Timberline Bar & Grill in the tiny Rocky Mountain outpost town of Victor, Idaho. I was 23 years old and a rookie reporter for the small Teton Valley News in nearby Driggs. He was a photographer for a now-defunct alt-weekly over the Teton Pass in Jackson, Wyoming.
That very day, mid-July 2008, I was a writer looking for a photographer to cover music festivals and shows with around the West. By happenstance, he was a photographer looking for a writer to do the same. Kindred spirits at first handshake and friendly banter of "Where from?" and "Where to from here?"
Fond memories of those wild-n-out, lonely and destitute days of scraping by for little money for articles we'd submit to random news outlets. Barely enough cash to put gas in the truck, cheap beer down our gullets and generic Spaghetti-O's right out of the can and into our bellies. Sleep sitting up in the GMC Sonoma at rest areas and truck stops from Nevada to Tennessee, Maine to Michigan,
It'll be good for the heart and soul to reconnect with Andrew. And I look forward to spending more time with his wife Greta. She appeared in his life not long after he left for Colorado and I ventured below the Mason-Dixon Line. It'll be a joyous occasion for all involved, especially for my girlfriend, who's yet to meet and interact with either of them. Rehash old road stories over some smoked meats and veggies Andrew said would be ready by the time we arrive.
It also dawned on me this here column recently turned 10 years old. How crazy, eh? One full decade. Week-in-week-out. An estimated 520 columns of randomness, of adventures and musings. Love lost, love found. Remembrances of beloved faces now six feet under. Road-weary shenanigans. Cold nights in the backwoods of Southern Appalachia. Cozy nights next to a woodstove, heavy snowflakes licking the farmhouse windows in my native North Country.
Initially, the purpose of "This … place" was to be a full-page column each week in the newspaper — a space in the arts section to simply wander and ponder with the written word. A slice of life. Whatever I was doing. Wherever I was doing it. Sometimes these sentences circle back to some (hopefully) sensible point about time and place. Sometimes not. Such is life, my brothers and sisters.
But, mostly, it's ramblings about rambling. As a purist for stream of consciousness writing, this portion of The Smoky Mountain News has always been reserved to be whatever it wants to be. Free to be you and me and all of us, together. Hundreds of thousands of miles traversed since the first column was printed. Pretty much the same amount of words spilling out of my fingertips, too.
As with life itself and the respective journey we're all on, this column is nothing, everything and whatever lies between Point A and Point B (and also right below the surface of our existence). "This … place" is a way, perhaps subconsciously, to connect with our readership and whoever may pick up this newspaper by chance at the local grocery store, gas station or craft brewery (your curiosity is appreciated).
Ramble on and write it all down, even if for your own enjoyment and posterity like Kerouac posed many moons ago. Stand on the side of the road of the mysterious universe, thumb pointed out and upward for the next ride to the subsequent juncture of one's passion and purpose. Heck, I'm just lucky enough to have an incredible publisher who allows me to do this for a living. And, for that? Gratitude remains high.
Anytime a person, whether known or unknown, approaches me on the street about "This … place," I'm always happily surprised to hear they read this. Usually my response is, "Well, it's nice to know someone reads it." And I mean that. It is nice to know there are friendly, inquisitive faces combing through our pages and stumbling across "This … place." The old, "If you've read this far, thank you."
Sipping on a cold can of Stella Artois, there's about an hour-and-a-half left in this flight to Denver. And one more paragraph or so to wrap up this week's ramblings. My girlfriend is fast asleep in her seat, her head slowly tilting towards my shoulder. The sounds of the Grateful Dead's "Jack Straw" echoes in the headphones. The soundtrack of the road to the here and now (and beyond).
Who knows what next week's column will ponder? Where will I wander? That's the sheer beauty of "it all" — I, honestly, don't know. I think of sunrises and sunsets witnessed in real time, those yet to appear before me, as well. Snow-capped mountain peaks and a cool breeze on a hot beach. It's all the same, and all wondrous. Stay curious. Stay humble. Tip your bartenders. Kiss your lover goodnight, each and every single night. And, dammit, be kind.
Life is beautiful, grasp for it, y'all.
Leave a comment
1

comment
Your wanderings and wonderings mean something to me every week. Here's to the next 10 and beyond. Thank you and stay safe and curious.

Monday, 07/17/2023