Archived News
Domestic violence shelter planned for Jackson
Wednesday, December 08, 2021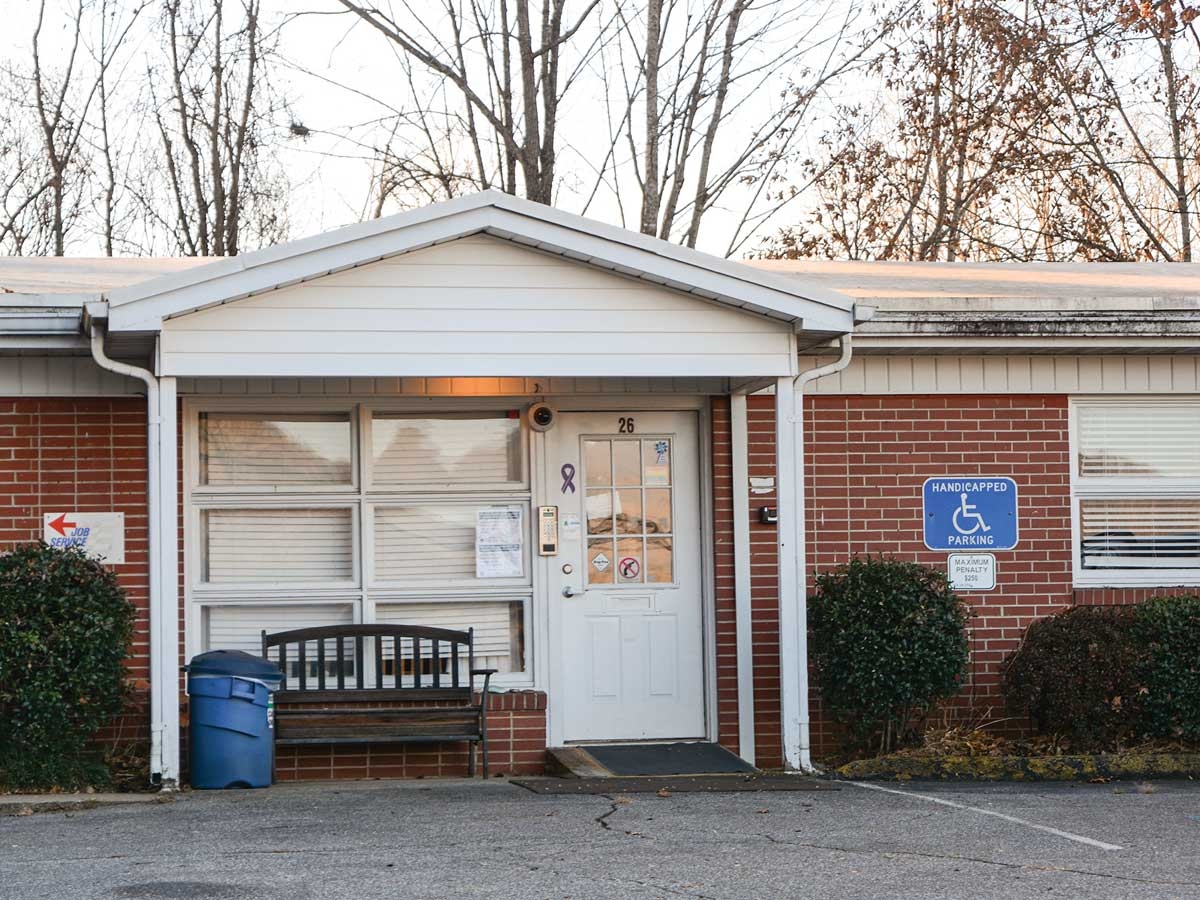 The Center for Domestic Peace has offices located at 26 Ridgeway Street in Sylva. Contact its 24-hour safeline at 828.586.1237. Holly Kays photo
Too often at the Center for Domestic Peace in Jackson County, a staff member picks up the phone to encounter a client who is trapped in an abusive relationship and ready to seek emergency housing. But then they learn the closest domestic violence shelter is in Franklin, and they back out.
"That's a gigantic barrier," said Executive Director Wesley Myers. "We have records of clients who have called us and said, 'If I have to drive to Macon County, I will stay in this abusive situation.'"
Thanks to grant funds from the Dogwood Health Trust and federal American Rescue Plan, that won't be the case for much longer. Jackson County plans to spend about a quarter of its $8.5 million ARP award on planning and construction for a new domestic violence shelter, on a 2.27-acre parcel owned by Mountain Projects just off N.C. 107 south of downtown Sylva. ARP funds and a recently announced grant award from Dogwood will each pay $2.05 million for facility construction and $62,500 for planning, a total price tag of $4.22 million.
The CDP is planning a two-story, 7,000-square-foot facility with eight bedrooms capable of housing two people apiece, for a total capacity of 16. The shelter will also feature shared kitchen and living space, plus room to offer programs and other services.
"Having that residential space would really be an incredible asset," said Myers. "We have to turn away a lot of clients because we simply don't have that space right now to put folks in a safe, secure area. We think it's going to close to double the individuals that we're going to be able to help every year."
Currently, the CDP works with 250 to 300 clients per year, referring those who require emergency shelter to organizations outside Jackson County. Myers said the CDP does not record how many Jackson County residents take advantage of those out-of-county services but that he's assured Jackson County the shelter will house at least 50 to 60 people per year.
"But we expect that to be far, far higher," he said.
At an emergency shelter, length of stay is typically capped at 60 to 90 days, with longer stays possible if extenuating circumstances are at play — but the average stay is 60 days, with most people out in 30 to 45 days, Myers said. Typically, about 25% of a domestic violence organization's clients are residential, while the remaining three-quarters have their own housing.
Jackson County issued requests for qualifications from architecture firms to design the project last month. The county plans to review the submissions this month and make a decision in January.
Myers hopes to have the shelter open by the end of 2023 but said that might be an optimistic goal. The project could take up to four years to complete, depending on the availability of professional services, labor and materials.
While the shelter's opening date is still long off, the CDP is already in fundraising mode to ensure sustainability once it comes online. Myers estimates it will cost between $100,000 and $150,000 to operate the shelter each year, including staffing, heating and cooling, and other operational expenses.
"We will have our shelter staffed 24/7," he said. "There are different models that don't require 24/7 staffing, but we don't intend to subscribe to that."
The conversation comes during a season of all-time high demand for domestic violence services in Jackson County, which has not had its own shelter since 2012, when a perfect storm of financial struggles forced REACH of Jackson County to cease operation. The CDP formed the following year under REACH of Macon County, which took over services for Jackson County. The CDP slowly began to grow its capacity, securing a building in 2015 and in 2020 achieving independence from REACH. As awareness of the CDP's existence grew, so did the number of people seeking its services.
Then the pandemic hit, and with it a global spike in domestic violence issues. Despite a widespread return to normal life, that spike has not fallen off in Jackson County. Myers said the CDP's new client count has been higher with each successive month.
Some of that could be an artifact of a backlogged court system. Jackson County still has cases pending that were filed in 2020 but have not yet been addressed, so those clients are still on CDP's roster.
There's also the fact that the CDP is still relatively new — many of the services it now provides didn't start until last July. But with more than a year gone since then, the boost in services is no longer novel enough to explain the continued accumulation of new cases. Myers thinks eased pandemic restrictions have spurred increased reporting of existing issues, issues that were perhaps exacerbated during lockdown.
"Now people are able to actually come forward about their experiences during lockdown," he said. "They're starting to go back to work, and that can cause strife, or the kids are starting to come home from school. Different things can trigger domestic violence, and different things can trigger reporting of domestic violence."
Those high numbers make the shelter even more of a necessity, and Myers is excited to see it become a reality.
"This shelter is so incredibly important, and we're so thankful that we've been able to requisition this money and get our ducks in a row to have it," he said.
Planning starts for homeless shelter
Planning for a permanent homeless shelter in Jackson County will start in the new year, after HERE in Jackson County received $125,000 for that purpose.
HERE, which has been overseeing homeless services since 2019, currently shelters its clients in hotel rooms, but for years the community has discussed the need for a permanent shelter. HERE has identified a location, a 17,237-square-foot building for lease near Harris Regional Hospital owned by the Evergreen Foundation but needs money to plan how best to use the building and, later, to renovate it according to those needs.
The nonprofit will receive $62,500 apiece from Dogwood Health Trust and Jackson County's American Rescue Plan funds to start the planning process. Most of the money will go toward architect fees, but it will also fund homeless services consulting, said HERE Executive Director Bob Cochran.
"A big question is how do we divide up the square footage of that building to accommodate a homeless shelter with multiple purposes," he said.
There will need to be private rooms for families and individuals, as well as congregate space for freezing nights and office space. It's a large building, so Mountain Projects will likely move its offices there as well, Cochran said.
The second issue is staffing. In the current hotel model, issues like security and overnight staffing are provided automatically. With a permanent shelter, HERE will have to plan and fund those needs itself.
For now, Cochran expects to engage an architect in January and finish the planning aspect this spring. From there, the timeline is uncertain and largely dependent on the success of HERE's fundraising efforts.