Archived News
Homeless services provider receives nonprofit status
Wednesday, August 28, 2019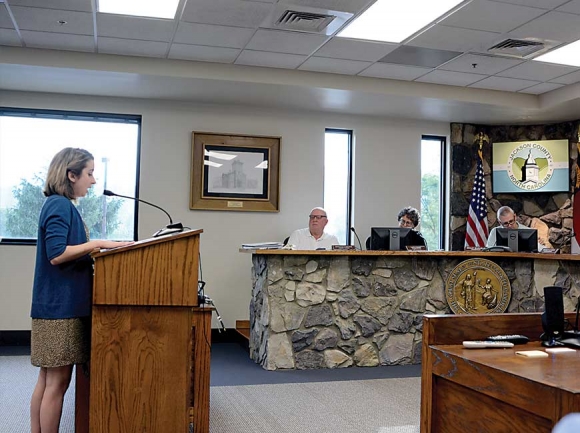 Chelsea White tells commissioners how important community support was to her growing up in Jackson County and asks them to support homeless services in the upcoming budget.
The organization tasked with managing homeless services in Jackson County for the year ahead received official status as a federal nonprofit this month.
HERE in Jackson County, which formed last year in response to a need for housing services in the area, is now a 501c3 organization.
"We're excited about our new status but we are REALLY excited about all the work we are doing to get people housed!" the organization posted on its Facebook page Aug. 12. "Last week we were able to get a family into their own home and we have another family who should be housed before school starts. We are so grateful for the community support we had in helping these great families!"
The county's cold weather shelter has been in flux for the last few years, struggling due to an increasing demand for services. Jackson Neighbors in Need managed the shelter from its inception in 2009 until 2017, when it passed the baton to the Southwestern Child Development Center, which agreed to serve as a temporary shelter manager. Last winter was SWCDC's last running the shelter, and this spring the county put out a request for proposals from organizations interested in taking on the task.
It received just one response, from HERE in Jackson County. HERE, a new organization whose board is populated by several well-known local leaders in humanitarian service, asked for $245,000 in county funding to run its program, substantially more than the $120,000 the county was spending on homeless services at the time.
According to board member Destri Leger, HERE never expected to receive the entire $245,000 but wanted to lay out a plan that would show the county what a fully funded program operating under best practices might look like. The county ended up allocating $130,000 for the program in 2019-2020 with the promise to talk further about the program's needs once HERE has developed some experience as an organization and is able to present a more detailed vision.
Over the next month, HERE will be finalizing many of the details of its operations, and the county will be asked to make some decisions about the season ahead, County Manager Don Adams told commissioners during an Aug. 13 work session. The shelter typically opens in November and closes in April.
"They hope to have some part-time help coming on in September, and hopefully mid-September, no later than October, because we'll be getting into the winter season," he said. "We'll be coming back to this board with a more finalized overall budget and really just the formal designation of them being our homeless services provider."