Women in Business
Business built in community: City Lights serves up tasty food and town involvement
Wednesday, October 24, 2018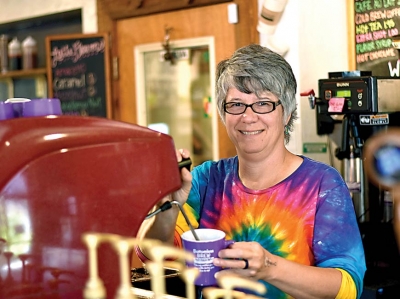 Bernadette Peters pours a coffee at City Lights Café. Holly Kays photo
City Lights Café is a fixture in Sylva, a frequent stopping place for downtown workers in search of a cup of coffee, students looking for a place to snack and study or tourists needing a quick and healthy bite before continuing their exploration of Jackson County.
But when Bernadette Peters opened the business in 2011, she had just barely any experience in restaurant operations. Peters' background was in marketing, the world of restaurants a new interest she'd picked up since she and her wife moved to the area from the Atlanta area to help one of her marketing clients with a restaurant in Bryson City. That's when she decided to start one of her own.
"From having a marketing background, I knew I could get customers in the door. But how was I going to feed them? How was I going to manage the staff?" said Peters. "That kind of thing was a challenge."
It was a learning curve, and she didn't really realize how big a curve it would be until she was into it. After looking at places in various Western North Carolina towns, Peters settled on Sylva, and she hasn't looked back.
"I love the fact that there's a local community here, not just the tourist community, and with the university it brings a level of progressiveness and artisticness," said Peters.
The space where City Lights Café has operated for the past seven years shares a building with the bookstore of the same name, and that's by design. Originally, the restaurant in that space was called City Lights Café, but the name changed to Spring Street Café when it reopened under different ownership. When Spring Street closed down, Peters moved into the space and presented City Lights Bookstore owner Chris Wilcox with the idea of resurrecting the initial name.
"We decided we would in essence share the name and leverage it in cross-marketing the customers we had in the same building," she said. "They're very community-focused too."
In the beginning, restaurant ownership was hard. The locally sourced ingredients Peters wanted to use in her menu didn't come easily — she had to make the rounds herself to pick them up from various producers around the region, whereas now distributors carry many of those ingredients to her door. She was doing a lot of hands-on serving, managing and trial-and-error efforts to gauge what customers wanted and how best to get it to them.
But over the years, Peters has become a leader in the downtown community, staying active with the Main Street Sylva Association — including a term as president — speaking up at public hearings on issues affecting the business community and organizing downtown events such as the Sylva Brew Hop, which she helped start.
"If you're not involved in your community, you don't have a say in how it's going to affect your business," she explained.
While Peters has worked to give back to her community, it's also given back to her. There have been countless times when she's had a super-specific, restaurant-biz question and has been able to count on help and advice from some of the other prominent female business owners in downtown Sylva — which, with a female mayor, police chief, city manager and chamber of commerce director is itself a town with a rather female-heavy leadership.
It's a different dynamic than the one she's seen in other places. While in Birmingham, Alabama, for example, "it became really apparent to me that women could not excel professionally like men could. It was a wide chasm," Peters said. The city had a large number of female business owners, though — Peters' conclusion was that in that town, women who wanted to be the boss had to start something from scratch.
In Sylva, she never had that feeling of working against the grain to compete in a man's world. And on the flip side, Peters and City Lights have both blossomed amid the strong support network of other female business owners in town.
"We help each other out and support each other," she said. "That's something very special that women business owners have, that we can work together in that way and not be all competitive about it."
Leave a comment
1

comment
Bernadette......congratulations on this article!!! Enjoyed meeting you a few weeks back with Gerald and Paige. Thanks for all you do to make Sylva such a special place.

Friday, 09/10/2021