Archived Travel Guide
Bryson City teen joins Olympic team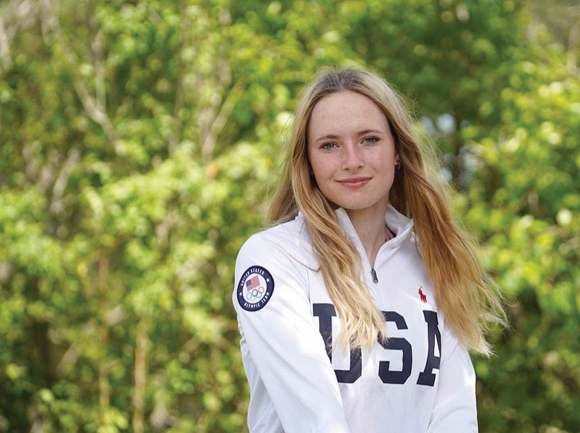 Evy Leibfarth.
Western North Carolina teenager Evy Leibfarth will represent the United States in the Summer Olympic Games in Tokyo this year after placing first in two Olympic Team Trials competitions in April.
"Making the Olympic Team is a dream I've had since I was really young, and it's so exciting that it's becoming a reality," said Leibfarth. "I'm so grateful and proud to be a part of Team USA and an amazing community of athletes who inspire me to be a better athlete and person!"
At just 17 years old, Leibfarth took the top spot in both women's kayak slalom and women's canoe slalom during the trials, held April 12-14 at the U.S. National Whitewater Center in Charlotte, making history when she earned a place on the team for both events.
Leibfarth will be the first U.S. woman to race in two Olympic whitewater slalom events, and the first U.S. woman to ever compete in an Olympic canoe race — Tokyo will be the first Olympic Games featuring a women's canoe event.
In 2019, she became the first woman to win two individual classes at the U.S. Team Trials, so when she did it again last week, she tied up her own record.
Leibfarth was born in Sylva and resides in Bryson City, and she cut her teeth on the cool mountain waters of the Nantahala River. She learned to paddle as a 4-year-old and entered her first slalom race at the tender age of 7. Leibfarth comes by her passion honestly — her father is a former U.S. national team coach; her mother is a former raft guide and kayak instructor.
As she grew, her performance surpassed all expectations. In 2019, Leibfarth won two medals — a silver and a bronze — during two World Cup events held in Europe, also ranking in the top 10 in three additional events.
Those accomplishments made her the first U.S. woman to medal at any world paddling event since Rebecca Giddens won a silver medal at the 2004 Olympics, the youngest athlete of any gender or nationality to win a Canoe Slalom World Cup medal and the first female paddler of any nationality to medal in a World Cup event at age 15, ever.
"It's completely mind blowing, I think for the entire world right now, what she's done at her first two world cups," William Irving, president of Nantahala Outdoor Center, said in an interview at the time.
In Tokyo, Leibfarth will have an even larger audience waiting for its mind to be blown. You can follow Leibfarth's journey at www.goevy.com.
Leave a comment
1

comment
Best of luck!!!

Monday, 06/28/2021