Living Well
Don't be confused about CBD
Wednesday, September 05, 2018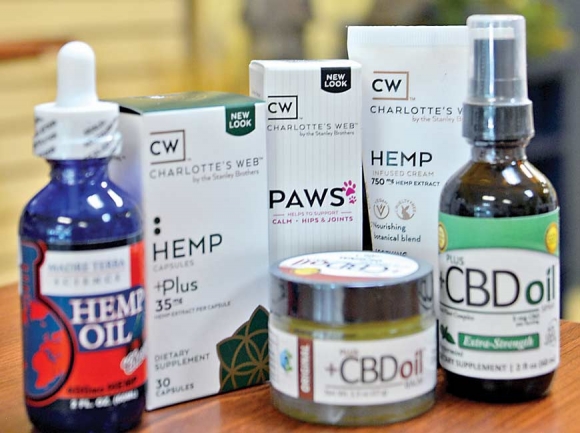 Kim's Pharmacy in Waynesville offers a variety of CBD products for people and pets. Cory Vaillancourt photo
Despite pages and pages of published studies and hundreds or thousands of anecdotes extolling the benefits of cannabidiol, it's the word stem — "canna" — that still raises eyebrows as much as the plant stem.
"I was reluctant to carry it at first because I had not been educated and it had a negative connotation with marijuana," said Kim Ferguson, owner of Kim's Pharmacy in Waynesville. "I'm one of those who before I do anything, I'm going to look at the studies, and numerous studies show medicinal properties."
Cannabidiol sounds a lot like "cannabis," known popularly as marijuana or weed. Cannabis is, at least in North Carolina, an illegal drug and is also still prohibited on the federal level despite legalization in many states.
Although they come from what is basically the same plant, there is a key difference.
"CBD does not have THC, which is the psychoactive ingredient of marijuana," said Ferguson.
Well, it does have a little — less than three-tenths of 1 percent by weight. It isn't enough to produce the euphoric affects associated with THC and has no recreational or medicinal value.
Since it's unregulated and can be bought without a prescription, Ferguson says she's careful with her sourcing, and deals with reputable firms in Colorado and Kentucky that have what are called "certificates of analysis."
"You better know who you're carrying," she said. "I have people coming here every week, wanting me to carry their brand. We're very selective."
What she carries are a variety of topical and oral preparations of CBD. By mouth, they can be taken as a spray, in capsule form or as droplets under the tongue.
"We prefer the liquid under the tongue, because it's going to bypass the liver and go directly in," said Ferguson. "I think it tastes pretty good. I've tried it."
Ferguson sees customers use CBD products — one of which has a mint chocolate flavor — for a variety of ailments.
"People use it for is anxiety," she said, reciting several cases. "I have a lady whose grandson is taking it for autism, and it's done wonders for him. Then there's ADHD, pain, nausea, vomiting, seizures, also PTSD."
Usually, people seeking relief from such conditions end up taking other medications that, when used properly, are safe and effective, but when misused can be deadly.
"Prescription-wise, you'd be using opioid-based narcotics," said Ferguson. "Or benzodiazepines, Valium, Xanax and that sort of thing."
Given the ease with which even those who've been legally proscribed opiates can become addicted, CBD is far safer and highly unlikely to produce an overdose.
In fact, it's even safe enough to use on pets.
"I'm giving my dog right now the powder for his food. He's getting old —pain, arthritis, that sort of thing," she said.
As with any medication or supplement, drug interactions can occur, and CBD can cause false positives on drug tests, so before trying CBD, consult your doctor. Or vet.