Latest
Cherokee votes: Hicks wins fourth term as Cherokee chief
Wednesday, September 13, 2023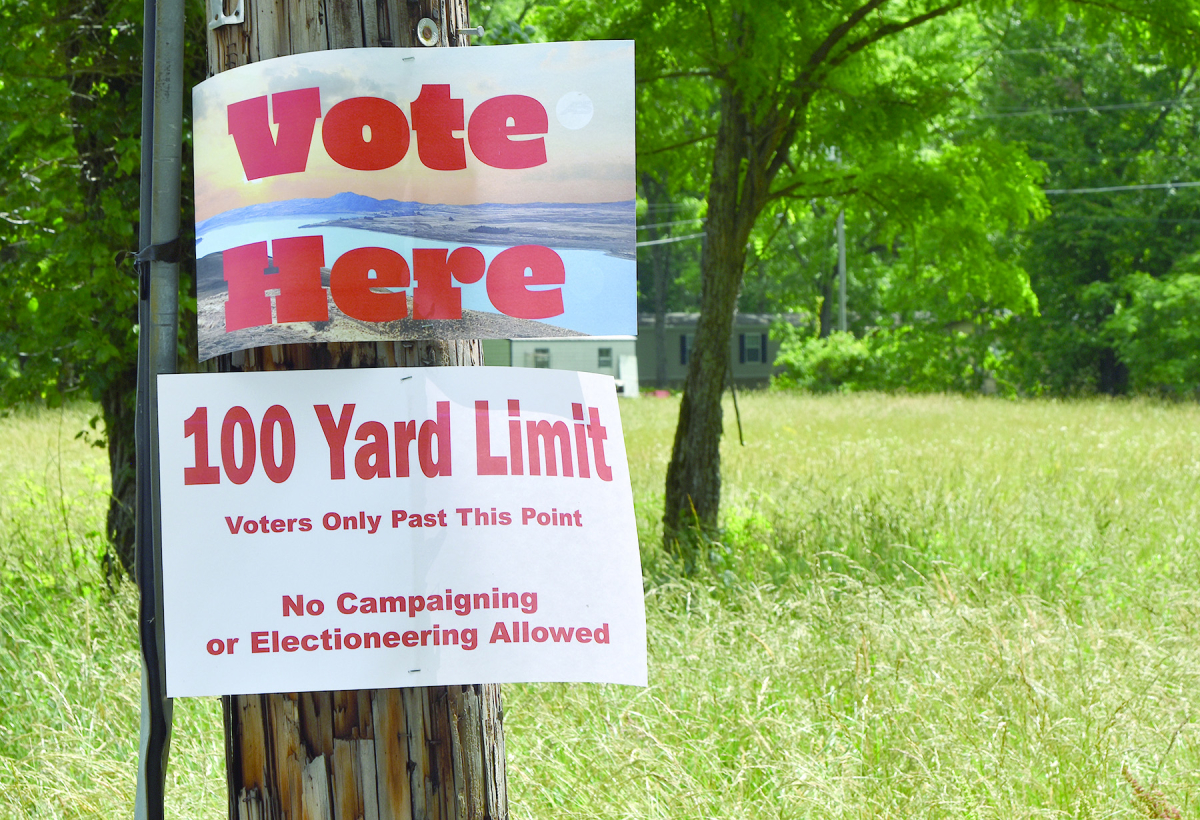 The 2023 General Election was held Sept. 7. Holly Kays photo
Cherokee looked back for its future in the Sept. 7 General Election, with an overwhelming majority of Eastern Band of Cherokee Indians voters electing to oust incumbent Principal Chief Richard Sneed and bring former Chief Michell Hicks back for a fourth term, according to unofficial results.
On Tribal Council, voters brought change by replacing four incumbent, multi-term former Council members.
"Our people have spoke, and we have a lot to work on," Hicks said in a Sept. 8 interview. "I have a significant amount of experience serving those three prior terms, and prior CFO, prior auditor. Just a lot of experience to lean on."
Hicks, who was the Eastern Band of Cherokee Indians principal chief 2003-2015 and afterward founded the financial consulting firm Chief Strategy Group, received 65% of the vote, commanding a double-digit lead over Sneed in each of the tribe's six townships. He did the best in Big Cove, where he drew 71% of 314 votes cast, and worst in Snowbird/Cherokee County, where he received 56% of 369 votes.
"I would like to take this opportunity to express my heartfelt gratitude for your overwhelming support for the office of Principal Chief," Hicks wrote in a Facebook post published the day after the election. "Our tribe has a rich history and a promising future, and I am committed to working with the Vice Chief and Tribal Council to uphold our traditions, promote unity and address the challenges we face together. I believe in the power of our community, and I promise to serve with integrity, transparency and dedication."
Election Day dawned cool and foggy on the Qualla Boundary, but as the sun rose so did the heat. Temperatures surged to the mid-80s as candidates hurried to make the most of the campaign's final hours, while voters made time between the everyday responsibilities of work and family to visit the polls.
Many of them made a pitstop afterward at the town's only grocery store. The Smoky Mountain News spent an hour in the Food Lion parking lot talking to voters about what was on their mind as they approached the ballot box.
By and large, their answers confirmed Hicks' assessment that, "without question, there's some budgetary things that need a higher level of attention, and I think that was a motivator for the community."
"I like Richie Sneed; I think he's an honest man, but I'm really going for the accountability with the money and staying on top of basically not letting the tribe get too far in debt is the big thing with me," said a 60-year-old Wolfetown man who cast his vote for Hicks. "Everybody I talk too, everybody's worried about getting too far in debt."
"I voted for Michell, not Richie," said a 43-year-old Birdtown woman. "I feel like he done better things for our tribe."
Other voters cited Hicks' visibility in the community.
"Even now he goes to people's house and tries to talk to people, see what the issue is," said a 40-year-old Wolfetown voter.
Of the nine people SMN interviewed, eight said they planned to vote — and of those eight, seven mentioned tribal finances as a deciding factor in their choice for chief.
"The fact that I'm hearing there's gonna be some budget cuts, and yet they continually grant admin leave for every little thing," said a 53-year-old Birdtown woman, when asked what factors informed her decision. "And you know, I'm just wondering how much that costs the tribe every time they do that. I think those days should go first, before they start cutting budgets for education and health care. So that was on my mind."
This election year was a pivotal one for the Eastern Band of Cherokee Indians, whose longstanding monopoly on the region's casino market is beginning to crumble. Competitors have emerged in Bristol, Virginia, and in Kings Mountain near Charlotte, with more new casinos likely in the future as multiple states continue conversations about expanded gambling. Sneed made economic diversification a hallmark of his administration, setting up multiple LLCs charged with pursuing a variety of business ventures to safeguard the tribe's long-term financial future. But these investments have proven expensive, and Sneed has received harsh criticism for the toll they've taken on tribal coffers. Tribal finance sat at the center of the 2023 campaign.
But Hicks has a record to defend as well, and that legacy left some voters wary of giving him another term.
A 21-year-old Wolfetown man said Sneed had been one his teachers in high school and that he trusted him to lead the tribe over Hicks. He viewed Hicks with suspicion over his administration's allegedly liberal use of tribal credit cards and the steep decline in value of the Minor's Trust Fund, which holds per capita distributions for young tribal members until they come of age, that followed the stock market crash of 2008. A lawsuit filed in tribal court at the time claimed that 138 youth lost about $22,000 apiece because their earnings were invested in risky, unapproved ventures. But according to past reporting from The Cherokee One Feather, it was eventually dismissed when the court found that defendants — of whom Hicks was one — had not waived their sovereign immunity or public officer immunity and therefore could not be sued.
"He don't need to be in office," the man said. "You know, that's my opinion."
Other voters interviewed said they weren't excited about either candidate. One 30-year-old Wolfetown woman said she supported Patrick Lambert in 2015 but was left disillusioned about the power of her vote when Tribal Council removed him in a controversial 2017 impeachment.
"I'm not a voter. I don't believe in them," she said of the current candidates.
"Not a fan of either one," agreed the 53-year-old Birdtown voter, though she said she did end up voting for Hicks. "It's kind of like the lesser of the two evils to me."
It appears other voters may have felt the same way. Despite Tribal Council vastly expanding access to absentee ballots this year, the 2023 principal chief race drew 401 fewer votes than the 2019 race, and at least 55 of those who did cast a ballot decided not to vote for chief. Across the Qualla Boundary, 3,521 people voted either yes or no on a referendum question about legalizing recreational marijuana (see story on page 4), but only 3,466 voted for principal chief. The EBCI Election Board has not released voter turnout data as of press time.
In an election night interview, Sneed said that he remains proud of the work he and his team have done over the last six years but accepts the results of the vote.
"It's the will of the people, and I respect that," he said. "I wish Michell Hicks the best of luck in everything that he does going forward."
His administration has accomplished "a lot in a very short period of time," Sneed said, and the election results were "a bit of a gut punch." He blamed "lies and untrue rhetoric from Teresa McCoy" for his loss. McCoy has been critical of Sneed since his swearing-in, which occurred following Lambert's impeachment, and the two have frequently engaged in verbal sparring matches over various issues in Tribal Council.
McCoy declined to run for re-election to her seat representing Big Cove on Tribal Council, instead making a bid for the vice chief's seat, but incumbent Alan "B" Ensley easily held onto his office. He received 74.1% of the vote overall and, like Hicks, commanded a double-digit lead in each township. His worst showing, in Birdtown, still resulted in a 72% majority.
One-third of the Tribal Council Hicks and Ensley will work with for the first half of their term will be different than the body in office now. Vice Chairman Albert Rose lost his seat to former Council member Jim Owle, who was the first-place vote-getter despite being removed as chairman of the Tribal Casino Gaming Enterprise by Tribal Council in 2020. Jim Owle's brother Boyd Owle, who came in only three votes behind him, will continue to occupy the second Birdtown seat.
In Wolfetown, Rep. Andrew Oocumma, who won his seat in a December 2022 special election, will leave the horseshoe, because Bo Crowe, who resigned in January after charges were filed against him in tribal court, came back strong to finish first. Mike Parker, who won the March special election caused by Crowe's resignation, will remain in office after finishing second, edging Oocumma by 79 votes.
Tom Wahnetah, who represented Yellowhill on Tribal Council 2017-2021, will rejoin the body after coming in second to incumbent David Wolfe and outrunning incumbent T.W. Saunooke. In Big Cove, McCoy's bid for vice chief left a vacancy that will be filled by nine-term former Council member Perry Shell, with Chairman Richard French keeping his seat. Also returning are Sean "Michael" Stamper and Dike Sneed in Painttown, and Adam Wachacha and Bucky Brown in Snowbird/Cherokee County.
On the Cherokee Central Schools Board, incumbent Tara Reed-Cooper will retain her seat while Micah Swimmer was successful in his challenge against incumbent Regina Ledford Rosario.
Barring any unresolved formal election protests, Tribal Council will certify the election results on Monday, Oct. 2. As of press time, no such protest had been submitted. After certification, the winners of this year's elections can be sworn in. Tribal Council members serve two-year terms, while chiefs and school board members serve four-year terms.
Hicks said he has his work cut out for him over the weeks ahead. Ahead of inauguration, it's imperative to put together a "great team" of secretary and chief's staff positions and to study up on the current state of tribal affairs.
The specific road map is still to come, but in general, Hicks said, he wants to respond to what he sees as a community desire for increased attention to financial matters, improved community access to the chief's office and more information and reporting from the government about the state of tribal affairs and investments.
"Getting up to date in regards to the financial status of the tribe, the financial status of the external LLCs, including tribal gaming and non-tribal gaming, so that's going to take a minute to get caught up on that," Hicks said. "And then of course, where do we stand with our state relations and our federal relations? So there'll be a lot of time spent there, talking to folks, just identifying kind of what that current state is and figuring out where we need to go."
There's a lot to do, but Hicks said he feels well qualified to do it.
"One of the things that I've done over the last eight years with my Chief Strategy company is, we do a significant amount of organizational assessment, so I'm really accustomed to doing this work as a profession," he said. "I think we can move pretty quickly through a lot of this."
Unofficial election results
Principal Chief
Michell Hicks † 65% (2,254 votes)
Richard Sneed* 35% (1,212)
Vice Chief
Alan "B" Ensley * 74.2% (2,608)
Teresa McCoy 25.8% (908)
Referendum concerning recreational cannabis
Yes 70% (2,464)
No 30% (1,057)
Referendum concerning mixed drinks
Yes 68.3% (2,389)
No 31.7% (1,113)
Birdtown
Jim Owle † 32% (576)
Boyd Owle * 31.9% (573)
Albert Rose* 18.3% (330)
Cyndi Lambert 17.8% (320)
Wolfetown/Big Y
Bo Crowe † 34.5% (582)
Mike Parker * 27.5% (464)
Andrew Oocumma* 22.8% (385)
Peanut Crowe 15.1% (255)
Painttown
Sean "Michael" Stamper * 40.4% (335)
Dike Sneed * 25.5% (211)
Jeff Thompson 23.6% (196)
Carolyn West 10.5% (87)
Yellowhill
David Wolfe * 33.3% (260)
Tom Wahnetah † 28.7% (224)
T.W. Saunooke* 20.8% (162)
Stephanie Saunooke French 17.2% (134)
Big Cove
Perry Shell † 39.6% (259)
Richard French * 32.6% (213)
Venita Wolfe 27.8% (182)
Snowbird/Cherokee County
Adam Wachacha * 35.6% (262)
Bucky Brown * 34.9% (257)
Janell Rattler 29.6% (218)
Big Y School Board
Samantha Crowe Hernandez 33.5% (72)
Tara Reed-Cooper* 66.5% (143)
Painttown School Board
Regina Ledford Rosario * 33.9% (150)
Micah Swimmer 66.1% (292)
* incumbent
† held this office previously
This story has been corrected to include early and absentee votes for the Birdtown Tribal Council, Big Cove Tribal Council and Big Y School Board races, which were ommitted from the EBCI's election night broadcast. The vote total for the mixed drinks referendum has also been changed to correct a typo. None of the updates change the result of any race.