Archived News
Tribal LLC announces partnership 
with Sports Illustrated Resorts
Wednesday, February 08, 2023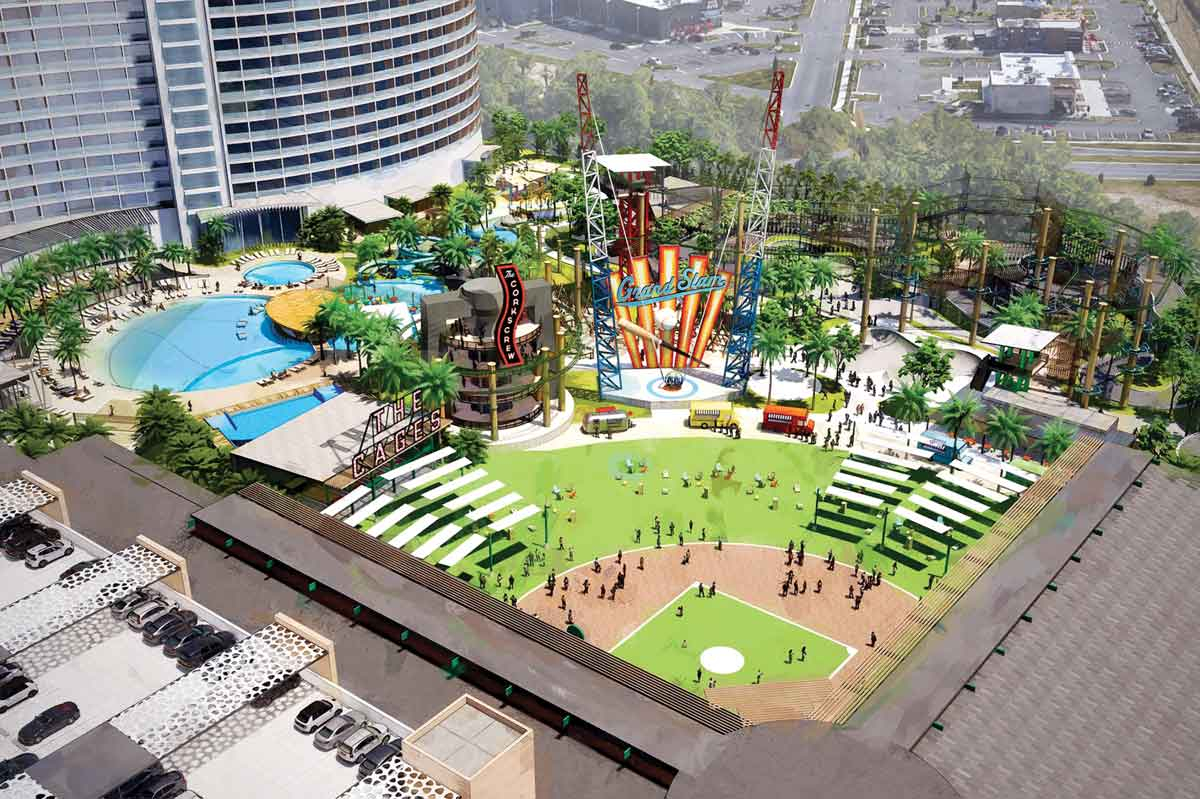 A rendering shows what a future Sports Illustrated Resorts property might look like. SI Resorts image
In October, the Eastern Band of Cherokee Indians Tribal Council approved $324 million for Kituwah LLC to control a "worldwide" brand and invest in multiple resorts. Now, Kituwah LLC has revealed the brand in question — Sports Illustrated Resorts.
"We've been working with them for a good six months or so to try to hammer out the details of how this would work," said Kituwah LLC CEO Mark Hubble. "We expect there's probably about nine to 10 resorts in North America on the drawing board."
Sports Illustrated Magazine has been around since August 1954, but Sports Illustrated Resorts is a new venture. Authentic Brands Group is licensing the Sports Illustrated name and brand with plans to build new resorts and relicense existing ones across North America, including Mexico, Canada, the United States and the Caribbean.
The resorts will be "very sports-themed," Hubble said, with fitness centers, branded restaurants and full immersive theme parks attached to them. According to a press release from Sports Illustrated Resorts — published in February 2021, before Kituwah LLC joined the partnership — each resort will offer "a host of attractions from live action sports and entertainment to quality dining, wellness and relaxation," and properties will include "university locations, upscale golf destinations, chic beach clubs, eco-adventure lodges and large format resorts."
"The mission of Sports Illustrated Resorts is to provide a vibrant and interactive experience," said Joseph Cellura, Chairman of ADMI Inc., and Christopher Schroeder, CEO of Experiential Ventures Hospitality LLC, in the press release. "People are looking for experiences that allow them to be more active and participatory, and Sports Illustrated Resorts will create the ultimate immersive experiences for guests through the various hospitality categories and destinations we plan to enter."
In addition to Authentic Brands, Kituwah is partnering with Experiential Ventures and ADMI Inc. on the venture — some heavy-hitting players. Authentic Brands owns more than 40 lifestyle, entertainment and media brands, including Sports Illustrated, Elvis Presley, Reebok, Aeropostale and Shaquille O'Neal. Brands Experiential Ventures owns include Condé Nast, a major media company that owns Vogue, The New Yorker and Vanity Fair, among others. Its team has worked with well-known brands such as Disney, MGM and American Express. ADMI is a development, program, project, construction and facilities management company whose past projects include the New York Apple Store, the Biltmore Spa and Ritz Carlton Deer Valley.
The funding Tribal Council approved in October included $24.5 million for Kituwah's share of the brand purchase, as well as brand loan and documentation fees. The remaining $300 million was for construction of new resorts under that brand. The group plans to build its first new resort in Orlando, Florida, and has identified other potential sites as well that it is not yet ready to name.
In addition to opening new resorts, Sports Illustrated Resorts will seek to rebrand existing resorts. Kituwah could invest in some of those ventures, separately from the $300 million already committed, but in most cases the existing resorts would choose to pay for their own rebrands, Hubble said. The brand would still make money in those instances, however, by collecting license fees and reservation fees. In the next two to three years, Hubble expects to have nine projects either rebranded or in active construction. The company is also exploring several additional locations in Europe and Asia. Hubble said the group is running performance and exit simulations to explore taking the company public in five to nine years.
The first rebranded facility, now known as Ancora Cap Cana and located in Punta Cana, Dominican Republic, is slated for a grand opening in April.
Hubble said he expects a 20% annualized internal rate of return on the resort side of the operation and that returns on the brand side are "likely to be north of that." He also expects that partnerships forged through the Sports Illustrated venture will aid Kituwah LLC's other revenue-generating efforts.
"It's not only the immediate opportunities on the resort side, but also we'll be direct partners with Authentic Brands Group, which has a massive number of brands," Hubble said. "And there's potential cross-pollenization and synergies between different brands and different other projects that we're looking at. Obviously Exit 407 in Tennessee comes to mind."
Kituwah LLC broke ground on the Exit 407 project in November 2020 after purchasing the 200-acre property for $13.5 million in 2019. It's now called "The 407: Gateway to Adventure," and Kituwah LLC aims to create a stop for travelers that is also a sought-after destination.
The world's largest Buc-ee's Family Travel Center is scheduled to open in May, and a groundbreaking for the Courtyard by Marriott will happen soon. Last year, Tribal Council approved $75 million for Kituwah LLC to work with France-based amusement park company Puy du Fou to create a "fully immersive" walk-through show that will take guests on a journey telling the "authentic and heartbreaking" story of Cherokee heroism during World War I. Those plans are still on track, Hubble said, and the project is now in the final design phase.
"Puy du Fou are flying in this week for a site visit at that location," he said.
Kituwah LLC has made multiple eight-figure investments in revenue-generating projects over its nearly five-year history, but the Sports Illustrated Resorts venture is by far its biggest yet.