Archived News
Tribe breaks ground on Sevier County development
Tuesday, November 10, 2020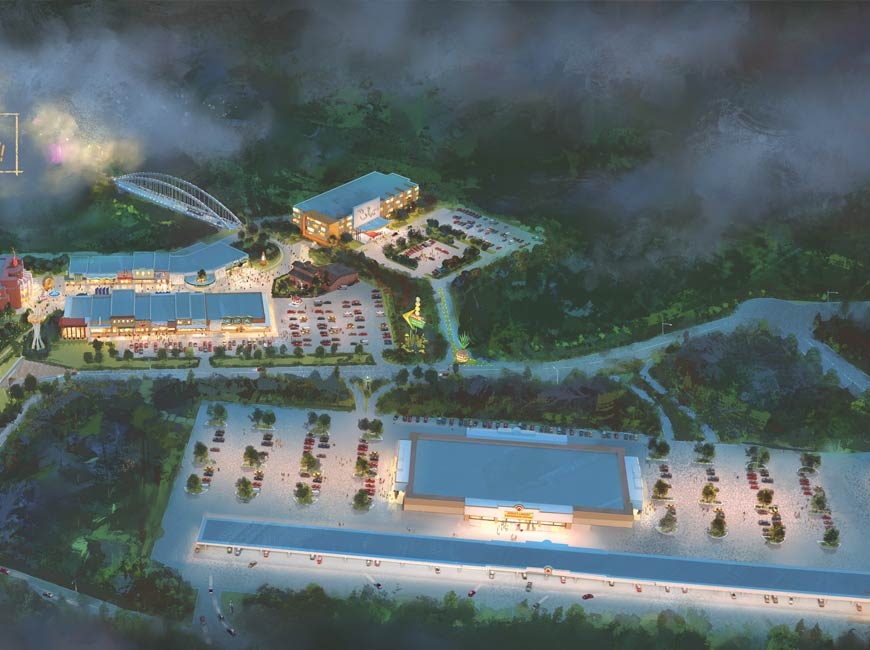 The newly unveiled vision for a road trip themed development along Interstate 40 in Sevierville is expected to welcome visitors starting in 2022. Donated rendering
Holly Kays photo
The first phase of a development effort worth tens of millions of dollars is expected to open in 2022 following the Eastern Band of Cherokee Indians' Nov. 10 groundbreaking at the 200-acre site it purchased along Interstate 40 in Tennessee last year.
Including about 60 acres and currently referred to as the Roadside District, the section will be developed around the theme of the classic American road trip, including both nostalgic and modern elements of that tradition.
"We have the opportunity to build on many of the staples that are commonly known as the Great American Road Trip," said Kituwah LLC CEO Mark Hubble during the groundbreaking ceremony. "The gas stations of old typically might have had two or four pumps. Our gigantic travel center will have over 100, and will be over 60,000 square feet. The diners often featured hamburgers, fried chicken, fries and other staples. We will offer these classic foods and many more through unique experiential dining. Landmarks became defining moments for many of the children. Ours will have both replicas of recognizable classics and unique one-of-a-kind, interactive icons for photos and lifetime memories."
Principal Chief Richard Sneed speaks at a groundbreaking ceremony Tuesday, Nov. 10. Holly Kays photo
Road to the road trip
Tribal Council approved $13.5 million to purchase the property in July 2019 and tasked its business arm Kituwah LLC with deciding how best to develop it. On Oct. 29, Council approved an additional $25 million to help with site development costs. The tribe also owns 122 acres on the north side of the highway, which it bought in February 2019 for $7.5 million. While that land — previously a KOA campground — is not directly accessible from the interstate, it does contain frontage with Tennessee 66, which intersects I-40 at Exit 407.
In September, Kituwah announced its intent to develop the southern property as an "experiential destination" featuring a "common theme or narrative" intended to heighten the visitor experience. Knoxville-based development consulting firm OE Experiences is serving as Kituwah's local representative in seeking out development partners and identifying the highest and best use of the property.
The road trip concept was a winner for several reasons, said OE Experiences CEO Matt Cross.
"With COVID, obviously air travel is much more difficult, so we see a lot of people focused on the automobile, and so some of it is opportunistic. It's tapping into that," he said in an interview. "But then it's also something that means something different to every generation. So we can have the nostalgia like we see today. We can have a more modern 'what families do today to travel,' and it's flexible enough that it lets us grow, because even though this is the first district it'll have multiple districts, and we needed to leave ourselves room to respond to every new opportunity we'll get over the years."
While Cross's company is newly hired for the job, Cross himself is not new to property development efforts on the tribe's Sevier County holdings. As of last December, he was CEO of Ancient Lore Villages at Boyd Hollow, which had hoped to land an agreement with the tribe to develop a story-themed resort on the property. Tribal Council unanimously struck down that request in December.
According to public records, OE Experiences filed its business license with the Tennessee Secretary of State on Feb. 11 of this year. Cross said that he originally formed the company with the intention of opening a themed attraction in Sevier County, but that COVID-19 thwarted that plan. When the pandemic hit, OE focused instead on building out a consulting practice. When Kituwah put out a request for proposals to manage its development project, OE responded.
"We won that bid and have been busy since June," Cross said. "It's been a fun project."
Upon receiving the contract, OE did some traveling to look at a few other experiential developments and get an idea of what works and what doesn't, using that as a framework for its planning.
"Probably the most important lesson was making sure that everyone bought into the vision, and so we've been working very hard to keep as many people apprised and aware," said Cross. "Today all of the show is about helping people get what the vision is, because that excitement, we think, is critical."
In contrast to the unanimous "no" Tribal Council delivered in December when Ancient Lore asked for up to $30 million and 60 percent ownership in the company to make its vision a reality, on Oct. 29 the body gave a unanimous "yes" when asked to appropriate $25 million to ready the site for phase one of the current development plan.
Likewise, the project has secured support from Sevier County government and the City of Sevierville, with elected officials from both entities present at the Nov. 10 groundbreaking.
"We certainly think that you made a very wise decision in coming here," Sevierville Mayor Robbie Fox said at the event. "We thank you for having the faith and investing in the future of the city of Sevierville. We think that's very important. We feel that what's being proposed here will be extremely successful, and we, the City of Sevierville, are committed to working with you to ensure that success. This project will continue to build on Sevierville's reputation as a tourism destination."
Representatives of tribal, city and county government break ground on the project Tuesday, Nov. 10. Holly Kays photo
Moving forward
While Kituwah is not yet announcing the names of any specific tenants likely to occupy the site, an anchor tenant who Hubble described to Tribal Council as a "major retailer" in its Oct. 29 meeting has been identified. The development will include both nationally recognized and "authentically local" establishments, he said Nov. 10.
"There's some other good things in the pipeline," said Principal Chief Richard Sneed. "Those things are not inked yet but some of the things they are working on — it's going to be impressive."
Hubble said he expects to get the roadwork and grading done by mid-2021 — crews will be on the site within weeks.
"The next stage you'll see is a lot of dynamite and a lot of earthmoving," he said.
Right now, the focus is on developing infrastructure and laying the groundwork, but the development is evaluating partnerships that include ground leases, build-to-suit concepts and traditional leases with improvement allowances in buildings owned by Kituwah, Cross said.
The Roadside District is expected to open in 2022, but that district represents only about 30 percent of the entire property. Full build out will take five to 10 years, Hubble said. The LLC does not yet have any projections as to cash flow return on investment, but the first phase is expected to increase the value of the land by 36 percent.
The project comes at a critical time for the EBCI, which depends on revenues from its two casinos to fund its government and provide bi-yearly per capita distributions to its members. The return on investment from those enterprises is unprecedented, Sneed told Tribal Council Oct. 29, and in fact only one casino in the country does better than Cherokee's enterprise.
But that success is at least partially due to the complete monopoly Cherokee has had over the regional gambling industry thus far, Sneed has repeatedly reminded Tribal Council. With multiple states — including North Carolina — now exploring the possibility of allowing commercial gaming and concrete plans in the works to build casinos in Bristol, Virginia, and Kings Mountain., Cherokee's casinos are expected to take a hit in the coming years. Sneed spearheaded the founding of Kituwah LLC in 2018 with the goal of diversifying the tribe's income streams in order to decrease its reliance on casino proceeds.