Archived News
2017: Cherokee impeaches its chief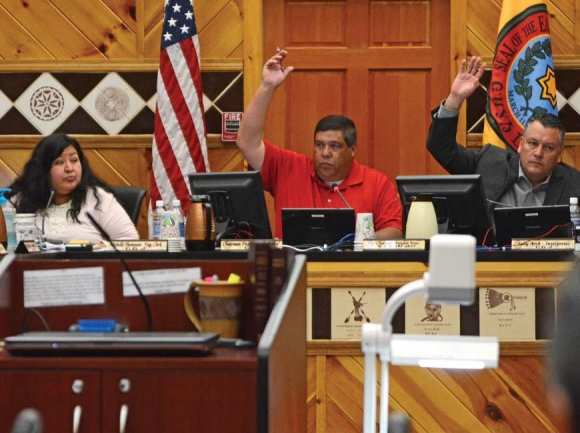 Tribal Council Chairman Bill Taylor (left) and Vice Chairman Brandon Jones raise their hands in favor of bringing impeachment charges against Principal Chief Patrick Lambert on April 6, 2017. Holly Kays photo
When Patrick Lambert won the 2015 race for principal chief of the Eastern Band of Cherokee Indians, he saw the victory as a direct mandate from voters.
Lambert came in on the heels of the 12-year administration of former Principal Chief Michell Hicks, who opted not to run in 2015. Lambert had opposed Hicks in the 2007 and 2011 elections, losing both times, but in 2015 he won by a landslide, raking in 71 percent of the vote.
"In tonight's victory is a powerful truth," Lambert said in his victory speech on Election Day. "I believe this election is a clear sign from our people that they are ready for leadership with a bold new vision."
After his swearing-in on Oct. 5 of that year, Lambert lost no time in making change. In a series of unanimous votes taken that same day, the newly sworn in Tribal Council approved resolutions Lambert presented to authorize drafting a constitution, reinstate a 5 percent match for tribal employees' 401ks, authorize completion of a full tribal census and double the Christmas checks given to elders and handicapped tribal members from $250 to $500.
Lambert swiftly brought other changes to the tribe as well. He installed timeclocks in tribal offices aimed at ensuring employees worked the hours they were paid for. He introduced legislation that created term limits for chiefs and vice chiefs, paid off the entire tribal debt and created a new Department of Justice.
Some changes earned him enemies. Another piece of legislation introduced Oct. 5, which Council also approved unanimously, sought to remove all three members of the Tribal Gaming Commission and replace them with his own appointees. Lambert said their pre-inauguration vote to hire Hicks — who had appointed them in the first place — as the TGC's new executive director was "nothing more than political payback" "rife with conflicts of interest" and said they'd breached tribal code by allowing one of their own board members to be considered for the position. On Oct. 6, he sent letters to 14 tribal employees informing them their positions were being either eliminated or transferred. Those employees decried the actions as political maneuvers, while Lambert said they were simply "about transparency and doing what the people are asking for."
Perhaps most notably, in April 2016 Lambert presented Tribal Council with the preliminary results of an audit that he said showed rampant corruption under the previous administration. Six months later, on Oct. 4, the U.S. Department of Justice had written a letter advising the Qualla Housing Authority that it was under investigation by the FBI for "possible criminal conduct related to certain loans and loan applications, among other matters."
"I intend on taking these clear violations of federal laws to the FBI and federal attorney's office. It's beyond serious," he told Council April 5, 2016. "I'm not playing games. I want those responsible tried, convicted and sent to jail."
Lambert soon found that he was no longer working with the supportive Tribal Council he'd greeted in October 2015.
In August, Tribal Council voted in a 9-3 split that would come to pervade every impeachment-related vote in the coming months to launch an investigation into contracts and human resources dealings under Lambert's administration. Those results came back in January, and on Feb. 2, 2017 — the same day that the FBI removed two U-Hauls full of various files and documents from Qualla Housing — Tribal Council voted to begin impeachment proceedings against Lambert.
"As the reading (of the impeachment ordinance) concluded, the audience — which appeared to be largely composed of Lambert supporters — let out a resounding 'booooo,' telling Council what they thought of the impeachment concept," SMN reported in its account of the meeting published Feb. 8, 2017. "(Tribal Council Chairman Bill) Taylor responded by directing Officer Fred Penick to clear the chambers, which caused the audience to yell, 'No! We're not leaving!' Lambert expressed his support for letting the people stay, setting off a brief power struggle between him and Taylor."
Ultimately, the people were allowed to stay.
No articles of impeachment were presented until April 6. There were seven of them — handed out spur-of-the-moment, rather than posted ahead of time as agenda items typically are — with five more added April 21, charging that Lambert had executed contracts without proper approval from the Business Committee; violated a law prohibiting elected officials from entering into contracts with tribal entities when he signed an agreement between his hotel and the Tribal Casino Gaming Enterprise after his election but before his swearing in; and spent tribal funds in his capacity as principal chief before actually taking office, among other items. On his Facebook page, Lambert offered his responses to each of the individual charges. Throughout the process, he maintained that he'd done nothing wrong, at one point calling the effort to impeach him a "witch hunt."
Tribal Council voted 9-3 to approve the articles of impeachment and set a date for the hearing. The same legislation that adopted the articles of impeachment also attempted to suspend Lambert from office until the impeachment hearing could be held, but Lambert challenged the suspension in court, which ruled in his favor — council cannot suspend a chief.
The impeachment process was anything but a straight line, however. It was messy, it was emotional and it was at times ambiguous. Tribal law at that time didn't have clear direction as to how an impeachment should be conducted, or how the vacancy should be filled once a leader is removed from office. Various impeachment-related issues bounced through the Cherokee Supreme Court that spring, and as the May 22 impeachment hearing drew closer, Lambert appealed to the people in a Grand Council held April 18. The meeting drew 1,355 people, and in a vote held during the meeting 84 percent of the 1,140 people who participated voted to end the impeachment efforts. However, neither Tribal Council nor the Cherokee Supreme Court upheld that vote as authoritative.
Though originally scheduled for only one day, the impeachment hearings ultimately covered three full days, May 22 to May 24, with Tribal Council going into a closed session May 25 to deliberate on the verdict, delivering it in open session.
Council filled multiple roles during the process — the body drafted and approved the articles of impeachment, presided over the hearing and voted on the outcome. Two council members also acted as witnesses. While those members did not vote on the particular article of impeachment their testimony related to, they did vote on the remaining 11 articles.
"He hasn't done his job and he hasn't followed his oath," prosecuting attorney Robert Saunooke said of Lambert during his closing arguments May 24. "He's spent money he wasn't authorized to with contracts that weren't put together. That's a violation of his oath of office, and that's impeachable."
"There's so much wrong with this process," Scott Jones, the attorney defending Lambert, responded in his closing arguments. "The chief is not guilty of any impeachable offense. Impeachment is not a game of gotcha, and it ought not to be just political gain …. When you treat the person who holds the most powerful elected office in the tribe the way you treated this chief — without fairness — the average tribal member cannot and will not expect fairness from tribal government."
Ultimately, Council found Lambert guilty on eight of the 12 articles, with the votes on all but one article breaking down along the same 9-3 split that had revealed itself the previous August. He was removed from office effective immediately.
"Silence filled the room as councilmembers voted and then called a 10-minute recess before swearing in Vice Chief Richie Sneed as the new Principal Chief. But when Sneed and Chief Justice Kirk Saunooke arrived and prepared to conduct the swearing-in, the crowd erupted, asking Sneed for a chance to speak and asking that a special election be held to fill the Principal Chief's office," SMN reported in a story covering the May 25 verdict. "The reaction was so strong that the swearing-in could not take place in the council house, as planned. Instead, Sneed and several councilmembers left out the back door and went to the EBCI Justice Center to perform the ceremony."
His removal from office means that Lambert will never be eligible to run for tribal office again, but that hasn't stopped him from remaining a prominent figure in Cherokee politics. In an address to supporters following the impeachment, he pledged to help his fellow tribal members organize and "beat them this fall at the polls."
To that point, following the first election after the impeachment, in September 2017, only three of the seven pro-impeachment incumbents who ran for re-election regained their seats. The first chief's election since voters put Lambert in office in 2015 will be held this year — it remains to be seen what the verdict will be.
"The council's got all the power," Lloyd Ledford, 59, of Birdtown, told SMN on Election Day 2017 for a story published Sept. 13. "The only time our voice counts is at election time, and that's it."