Archived News
Wolfetown rep faces assault charges
Wednesday, January 11, 2023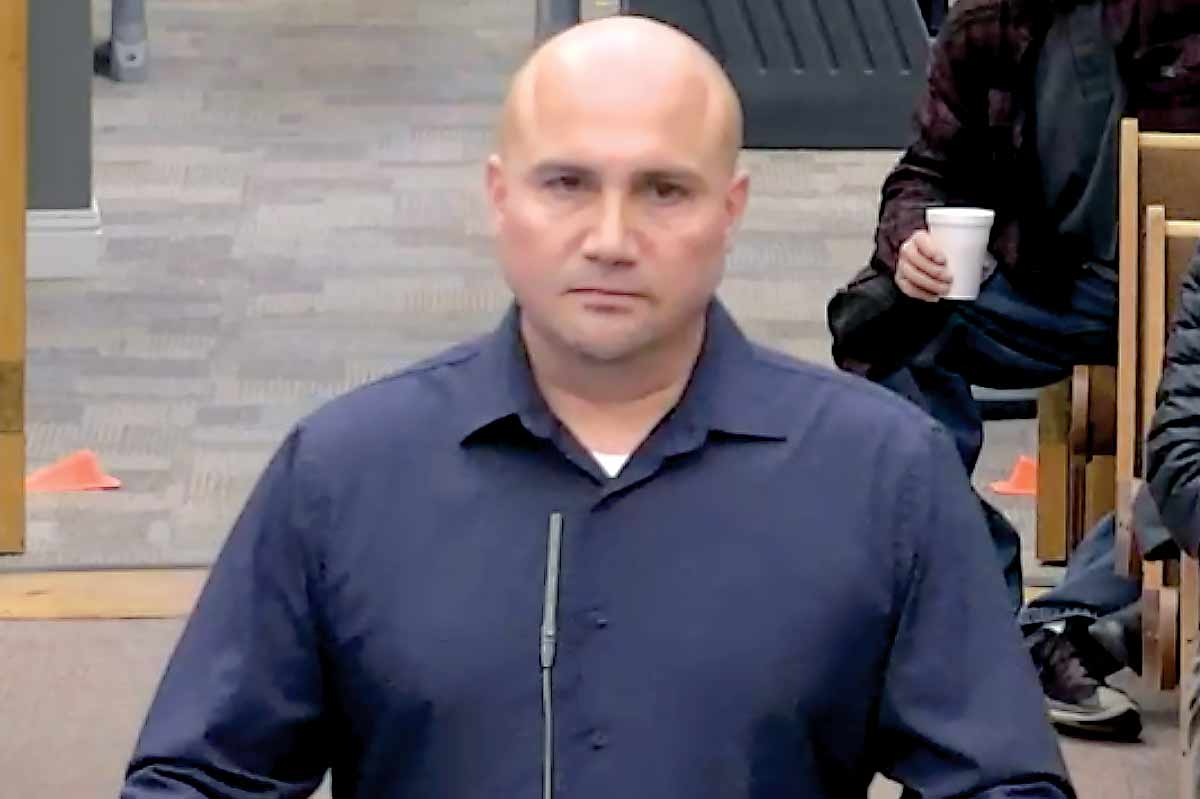 Rep. Bo Crowe addresses Tribal Council Jan. 10 following his arraignment on three charges the previous day. EBCI photo
Wolfetown Rep. Bo Crowe spent the weekend in jail following his arrest Saturday, Jan. 7, for an alleged assault that left the victim unconscious — but he will not be resigning his position on Tribal Council.
In court documents, Crowe is accused of striking the victim — Knoxville resident Jason Matthew Burleson — placing his arm around Burleson's neck and squeezing, rendering him unconscious. In a statement Tuesday, Jan. 10, Crowe admitted that he was "involved in an incident" that occurred the evening of Jan. 6 in the parking area at Harrah's Cherokee Casino.
Crowe now faces three charges in tribal court, two of which are felonies that carry the possibility of temporary banishment from tribal lands. The first felony charge is assault inflicting serious bodily injury, which carries a punishment of $500 to $15,000 in fines, a prison term of 45 days to three years, exclusion from tribal lands for one to 15 years or any combination of the three. The second felony charge is assault by strangulation, which carries a punishment of up to $5,000 in fines, one to three years in prison and exclusion from tribal lands for one to 10 years. Crowe is also charged with aggravated reckless endangerment, which is punishable by up to $5,000 in fines, up to one year in prison, or both.
Crowe is the second of Tribal Council's two Wolfetown/Big Y representatives to face criminal charges in a three-month span. In October, former Rep. Dennis Edward "Bill" Taylor was arrested following a domestic dispute with his wife. That case was resolved mere minutes prior to Crowe's arraignment Jan. 9. Taylor pleaded guilty to reckless driving and reckless endangerment, while charges of assault with a deadly weapon and assault on a female domestic violence were dismissed. Look for more information on Taylor's case in an upcoming issue of The Smoky Mountain News.
Unlike Taylor, who resigned shortly after charges were filed, Crowe has made it clear that he intends to keep his seat. Just 24 hours after his initial court appearance Jan. 9, Crowe occupied his usual chair for the tribe's monthly Budget Council meeting, smiling and appearing relaxed on camera before asking Chairman Richard French for the opportunity to make a statement from the podium. There, he acknowledged that he was facing charges following an incident Jan. 6 but said he will not be resigning his position and reminded listeners that he is innocent until proven guilty. Crowe said he has hired an attorney and notified the tribe's Ethics Committee of the incident.
"As an elected official and a servant of the Wolfetown and Big Y community, I must place my faith in our tribal process," he said. "This includes having faith as a sovereign nation in the wisdom and mercy of the Cherokee Tribal Court. I stand accountable for my actions, and I do so without regret."
Despite the allegations against Crowe, many in the Cherokee community have voiced support for him on social media, believing that he acted to protect other enrolled members, including his daughter. In a Facebook post , Crowe's adult daughter, Dre Crowe, applauded her father for choosing to "defend his teenage daughter against a grown man," encouraging readers to share the post and writing that she's "glad to know I have a dad that will run to mine and my sisters side for any threatening situation and defends us to no end."
Following his statement Jan. 10, Crowe invited his niece to the podium. French ordered the meeting to go off air before allowing the teenage girl to speak. Tribal Council resumed regular business 44 minutes later.
Crowe wore gray and white stripes to his court appearance Jan. 9 after spending the weekend in jail on what Tribal Prosecutor Cody White told Judge Barbara "Sunshine" Parker was presumptive detention due to the seriousness of the alleged crime. Crowe told Parker that he will hire his own lawyer rather than accepting a public defender, and Parker said she would enter a not guilty plea on his behalf to give him time to confer with his attorney.
White did not object to Parker's setting a $5,000 unsecured bond for Crowe's release, because he had no prior criminal history outside of a few traffic violations. Parker also entered a no contact order forbidding Crowe from direct or indirect contact with Burleson. Crowe's next hearing will be 9 a.m. Wednesday, April 5.
Crowe's clean criminal history comes despite a May report on allegations against Crowe from the Office of Internal Audit and Ethics — obtained by The Cherokee One Feather — which concludes that tribal leadership should review the report "for the purposes of imposing the appropriate penalty as provided in Cherokee Code Chapter 117." That section states that any tribal official who violates codified standards of ethical conduct "shall" be guilty of a misdemeanor, with associated fines and prison time possible.
The report investigated a Feb. 7 incident in which complainants said Crowe, who is Tribal Council's representative to the Cherokee School Board, "began addressing (then-Superintendent) Dr. (Mike) Murray in what was described as a hostile manner, including a raised voice and cursing."
"Mr. Crowe also admitted to another incident that had occurred at a ballgame in which he told Dr. Murray he had something on his shirt, put his finger on Dr. Murray's chest and then when he looked down, Mr. Crowe popped Dr. Murray's mask," the report says. "Mr. Crowe also admitted to smashing Dr. Murray's sandwich (with the wrapper on it). Witnesses confirmed Mr. Crowe had stuck his finger in Dr. Murray's food a couple of times."
Crowe, 43, is currently serving his fifth Tribal Council term representing Wolfetown and in October announced his intention to challenge incumbent Principal Chief Richard Sneed in this year's election. Crowe has proven consistently popular at the ballot box, in 2021 pulling nearly twice as many votes as Taylor, who finished second.
However, the outcome of this case could jeopardize Crowe's political aspirations. Tribal law states that upon conviction of any felony offense, the defendant's right to hold office, serve on a jury or own or possess any firearm "shall" be revoked. After completing the sentence, the defendant can petition the court to have those rights restored.
Crowe's next court date falls after the March 31 deadline for the Board of Elections to certify candidates, and nothing in tribal law prevents a person who is merely facing felony charges from running for office. Conviction is required for disqualification. However, should Crowe decide to follow through on his stated intention to run for chief — and should he win — conviction of either of the felonies with which he is charged would disqualify him from holding the office.
Leave a comment
1

comment
If any arrogant POS should stick his finger in my food he would be wearing a fork stuck in his hand.

Monday, 01/23/2023