Archived News
Following criminal charges, Taylor resigns Council seat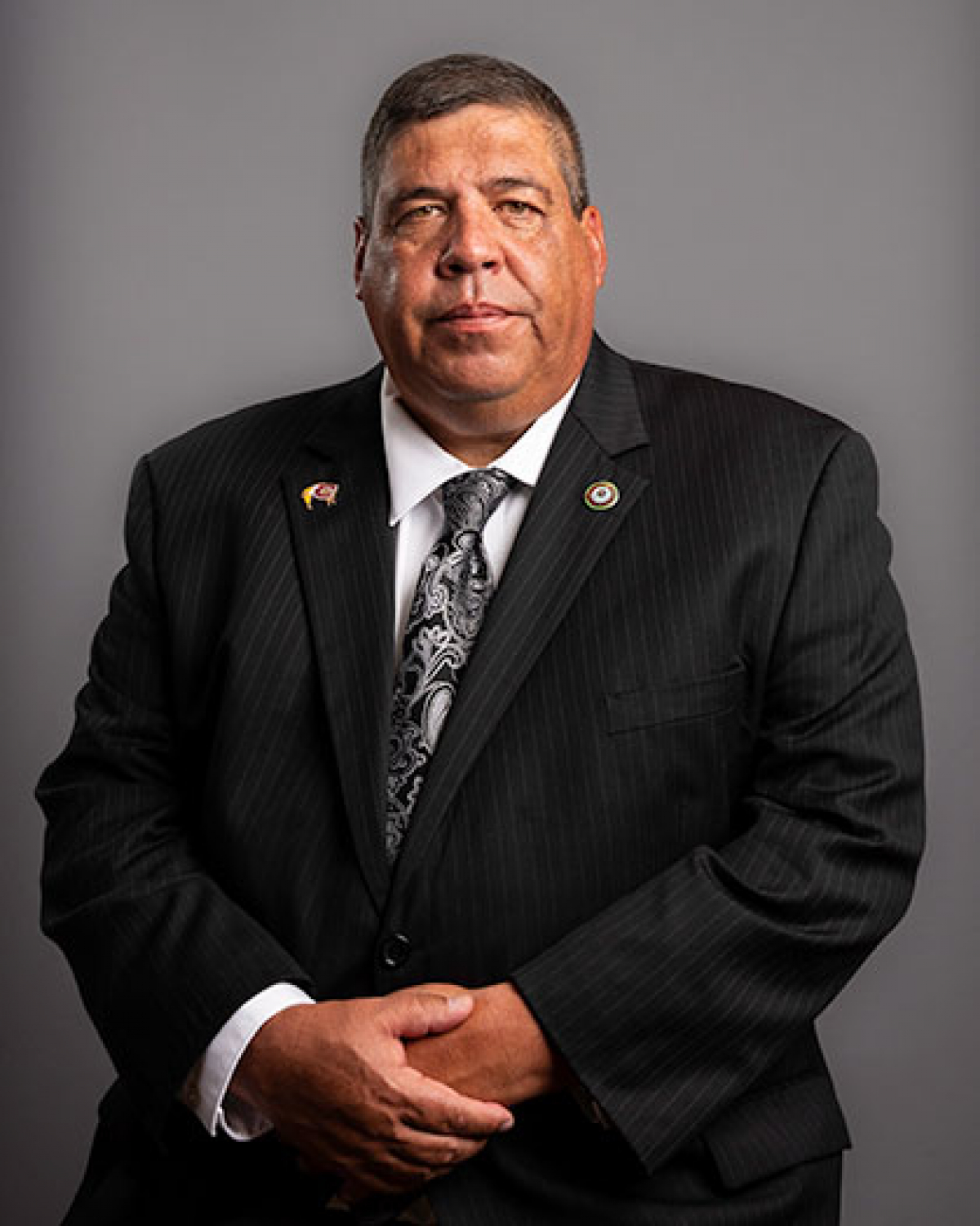 Bill Taylor is shown in his official portrait for the 2021-2023 term. EBCI photo
Wolfetown Rep. Dennis Edward "Bill" Taylor has resigned his seat on Tribal Council following an Oct. 6 incident that led to a trio of criminal charges and a domestic violence protective order.
Chairman Richard French relayed the news at the beginning of the Oct. 17 Annual Council session, reading an email he had received from Taylor the previous day.
"It has truly been an honor representing the Eastern Band of Cherokee Indians as Tribal Council representative for nine years," Taylor wrote, according to French. "At this time I have decided to step away from Tribal Council, take care of myself, my health and my family, so please accept my resignation Sunday, Oct. 16, as Tribal Council representative of Wolfetown and Big Y communities. Please keep me and my family in your prayers."
Court documents allege that Taylor, 51, had been harassing his wife by constantly texting her while drunk, culminating in a domestic dispute Friday, Oct. 6. When she attempted to flee in her vehicle, court documents allege, Taylor got in his truck and struck her vehicle with such force that it was disabled, including damage to the rear passenger bumper and tire. Taylor's truck was damaged as well. The collision allegedly jarred his wife's body enough to cause physical harm. Afterward, court documents allege, Taylor fled the scene.
Taylor now faces three charges: assault on a female domestic violence, assault with a deadly weapon and reckless endangerment.
Resignation and retirement
At the time of his resignation, Taylor was serving his fifth term on Tribal Council. He was the body's chairman 2015-2017, presiding over a tumultuous era in tribal government that included the impeachment and removal of former Principal Chief Patrick Lambert. Following an election loss in 2017, Principal Chief Richard Sneed hired him to represent the tribe in Raleigh and Washington, D.C., as its governmental affairs liaison.
During the Oct. 17 meeting, French said that Tribal Council will "promptly" fill the vacancy his resignation creates using the same special election process for the vacancy created when Painttown Rep. Tommye Saunooke passed away Sunday, Oct. 9, while serving her 12th consecutive term. According to French, the Board of Elections planned to meet the afternoon of Oct. 17 to discuss details for the special election. Tribal Council will most likely consider and vote on an election plan for the two seats at its next meeting Monday, Oct. 24.
The tribe's Charter and Governing Document states that, in case of a Council member's death, resignation or disability, the township in question elects a new member "under such rules and regulations as may be prescribed by Council or election rules." Cherokee law does not prescribe a timeframe for such an election.
In an interview following news of Taylor's arrest, Wolfetown Community Club Chairman Jesse Sneed said that, should the situation result in a vacancy, the seat should be filled as quickly as possible to ensure Wolfetown voters are adequately represented on Tribal Council.
"Our vote is going to be potentially weakened by this, and I would like to see a quick solution to the situation," he said.
While Taylor is no longer a voting member of Council, he is still receiving retirement benefits from the tribe equal to about one-third of his final salary, according to the schedule outlined in Tribal Code. However, tribal law indicates those benefits should end.
The law states that any Council member who resigns "while under formal investigation by any tribal, state or federal entity for criminal activity or an impeachable offense, shall forfeit any and all rights to this Tribal Council retirement benefit upon resigning from office."
But, said Attorney General Mike McConnell, the forfeiture is not automatic. As described later in the section, it requires Tribal Council to pass a resolution with three-quarters of the body approving the action.
Legal process
Following his arrest Friday, Oct. 7, Taylor was incarcerated for 72 hours and pleaded not guilty at an arraignment hearing 9 a.m. Monday, Oct. 10. His attorney, Leo Phillips, referred to the alleged collision as an accident.
"He's horribly sorry for this accident that's occurred and trying to make things amend," Phillips said. "And we do appreciate the community support and of course the way, very professional and fair, the court has handled him. So he's very appreciative."
Taylor was released on a $5,000 unsecured bond and outfitted with a Continuous Alcohol Monitoring Device. To operate his vehicle, he must have an alcohol breath testing device installed on it.
He is also subject to a bevy of restrictions outlined in the domestic violence protective order his wife secured against him. Until the order is vacated or the court approves a final protective order, Taylor's wife will retain possession of the couple's white Infiniti QX55 and will live in their home, with Taylor required to stay away from the residence. He is excluded from any personal property at the home outside of his own personal clothing, toiletries and tools. The court order allows his children to retrieve items from the home on his behalf.
Taylor is not allowed to come within 150 feet of his wife or any member of her family. He may not communicate with them or visit their home, workplace or school.
Additionally, he may not withdraw any money from the couple's joint bank account. He is required to surrender any firearms, ammunition or gun permits to authorities. He may not receive, use, purchase or possess any guns while the order remains effective.
The order also requires Taylor to participate in an abuser treatment program, as well as drug or alcohol assessment or treatment. Phillips said Taylor is compliant with the order, completing the assessment and starting treatment.
During a court appearance Tuesday, Oct. 18, Legal Services Attorney Jamie Arnold told Judge Barbara Parker that both parties in the case had consented to request that it be continued until the next domestic violence court is held on Tuesday, Nov. 1. Parker consented but made it clear she wanted a timely decision as to where the case was headed, whether that be toward a plea deal, a bench trial or some other resolution.
"We will go to Nov. 1 with the understanding that on Nov. 1 we need to make a decision about where we're going with this," she said.
The Oct. 7 domestic violence protection order will remain in effect at least until Taylor's next court date.