Archived News
Bill Taylor to represent tribe in Raleigh, D.C.
Wednesday, November 01, 2017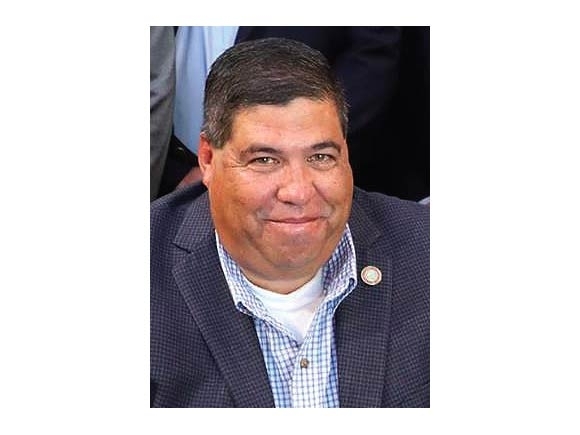 Former Tribal Council Chairman Bill Taylor is now settling into a new position as the tribe's governmental affairs liaison after Principal Chief Richard Sneed hired him in October.
"This is his first week, and he has been just crushing it all week," Sneed said in an interview Oct. 20. "Every project I give him he's on it, and he's doing a great job. It's a great hire as far as I'm concerned."
Not everybody is so happy about Taylor's new employment situation. Former Councilmember Teresa McCoy, of Big Cove, wrote a scathing commentary on Facebook following the announcement — the post has since been removed — and alluded to the issue during comments made to Tribal Council during a session Oct. 26.
"When we allow people who have taken from this tribe to walk around, take jobs, be promoted, it causes problems in this community," she said.
Taylor suffered a definitive loss in his bid for re-election to Tribal Council this year following his leadership during an exceedingly contentious political term that included the controversial impeachment of former Principal Chief Patrick Lambert and the launch of an FBI investigation into doings at the Qualla Housing Authority, of whose board Taylor was a member.
Following this year's Primary Election, Taylor — who was at the end of eight years on Tribal Council — advanced to the General Election with a margin of just two votes, and during the General Election he finished fourth out of four candidates for Wolfetown Tribal Council, with a share of the votes nearly 20 percent less than the top vote-getter.
However, Sneed said, Taylor's eight years of experience on Tribal Council and rapport with political leaders in Raleigh and Washington, D.C., are valuable assets well worth a place on the tribal payroll.
"People can say what they want, but at the end of the day it's about relationships. It's government-to-government relationships, and I don't know anybody better at it (than Taylor)," Sneed said. "I'm not going to cast him by the wayside because he didn't win his election."
Sneed made his esteem for Taylor known during his farewell remarks to outgoing councilmembers at the 2015-2017 council's final meeting Sept. 28, telling Taylor it had been "an honor" to serve with him and that his "wit lightened things up when it was needed, but when it was business it was all business."
Taylor's job description will involve being the go-between for the tribe's lobbyists in D.C. and Raleigh. Current tasks include working to get the tribe's lands in Tennessee, currently held under an easement, into the tribe's federal trust, and working with the Blue Ridge Parkway to get a Verizon tower servicing the Qualla Boundary installed in an area that will fall within the Parkway's viewshed.
Sneed said that Taylor's job description is very similar to the Secretary of State position filled by Terri Henry under the Lambert administration, though with a lower salary. Sneed would not reveal Taylor's salary, saying that information is private per personnel policy.
Lambert has spoken out against Taylor's hire, saying that it points to a double standard in the way Tribal Council treated him and Sneed.
In 2016, Lambert, who was principal chief at the time, and Tribal Council, chaired by Taylor, got into an argument over where the intergovernmental affairs budget should be housed after then-Councilmember Travis Smith introduced a resolution that would have moved the budget from the executive office's purview to sit under the legislative office. Taylor voted with the majority in favor of the resolution during the March 2016 Budget Council session and stuck by that position the next month when he voted with the minority to override Lambert's veto of the measure.
Amid negotiations over the issue, Lambert had agreed to remove three positions from his intergovernmental affairs budget in exchange for Tribal Council keeping the budget under his office.
"Bill (Taylor), he wanted that budget under himself, whether it be as chairman or now as a newly created position," Lambert said in an interview.
Lambert appointed Henry to the new Secretary of State position later in 2016, introducing her to Tribal Council during its August 2016 meeting. He created the position by changing the title of an existing appointed position, which he decided he didn't need. However, the action became a sticking point for some Tribal Council members during the impeachment process, when they said that Lambert had illegally created a position without securing Tribal Council approval or getting the required signature of the vice chief, who at the time was Sneed. Lambert had countered that a title change with no salary fluctuation didn't require any action from Tribal Council to become effective and that the vice chief did not have to sign off on political appointments.
In Lambert's view, his hire of Henry was basically the same as Sneed's appointment of Taylor — except that in Lambert's case, a Tribal Council led by Taylor had pounced on the action and claimed it to be illegal, fueling the fire for impeachment.
In an interview, Sneed said that Lambert was within his rights to hire Henry as he did. Like Henry's, Taylor's hire was not signed off on by the vice chief, as the position was appointed.
Sneed said that Tribal Council did approve Taylor's position as part of the budget process. That process finished with the budget's final passage on Sept. 28, Taylor's last full meeting as chairman.
"I did appoint somebody, and she has actual credentials," Lambert said of Henry. "She's on U.N. committees. Plus she has a J.D. degree. She has not only credentials from her work, but also education. Bill Taylor has neither of those things."
Sneed agrees that there are similarities between Henry's hire and Taylor's hire — but he sees the comparison differently than Lambert. Sneed said that Lambert's decision to appoint Henry was perfectly legal but pointed out that, as is the situation with Taylor, it was also an instance of a principal chief bringing an ousted Tribal Council chair on staff. Before her hire by the Lambert administration, Henry had served a term as chairwoman of Tribal Council but lost reelection in 2015 following a tumultuous term in which Tribal Council granted itself a $10,000 pay raise that many in the community decried as illegal.
"It's only an issue because she's making it an issue," said Sneed, referring to McCoy's comments. "But the hypocrisy is it wasn't an issue when Patrick Lambert did it. He did the exact same thing and she (McCoy) was fine with it."
Taylor did not return a request for comment on this story.