Archived News
Cherokee approves $275 million expansion plan for Murphy casino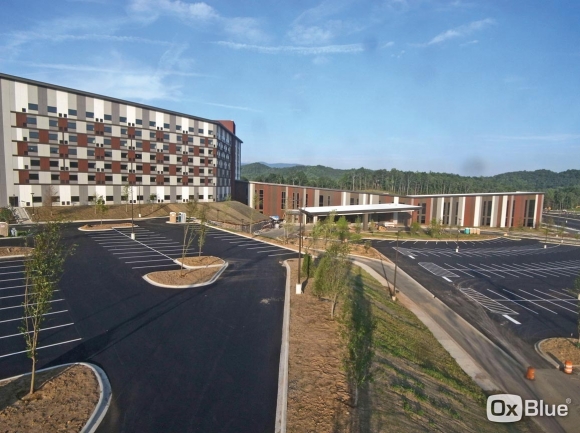 The Valley River Casino & Hotel in Murphy currently boasts 50,000 square feet of gaming space with 1,023 slots and 62 table games, as well as a seven-story hotel tower with 300 guest rooms. File photo
After a 45-minute off-air discussion July 8, the Cherokee Tribal Council approved a $275 million master plan to expand the Valley River Casino in Murphy.
"We're thrilled with Tribal Council's support of the resolution and are optimistic that Chief Sneed will ratify the resolution," said Harrah's Regional Vice President for Marketing Brian Saunooke.
The projects included in the master plan are not named in the resolution Tribal Council passed, and the master plan itself was not made public. However, Saunooke said, "key features" will include an additional hotel tower, a new restaurant, a hotel lobby café, a spa and indoor pool, additional gaming space and additional parking.
In response to follow-up questions related to the scale and timeline of the proposed projects, Saunooke replied that the casino would reach out again "once we are at a point to share details."
According to the resolution, the Tribal Casino Gaming Enterprise selected JCJ Architecture to develop the concept design and provide a cost estimate. To fund the project, the TCGE will obtain a loan not to exceed $275 million.
The approved master plan represents an investment of more than double the $110 million spent to deliver the initial facility in September 2015. The Valley River Casino & Hotel opened with 50,000 square feet of gaming space, including 1,050 slot machines, 70 table games and a food court-style dining area. In 2018, a $13 million expansion added a 41,000-square-foot entertainment area featuring bowling, arcade games and a full-service restaurant. It also added 55 gaming units and some bartop units such as video poker to the existing gaming floor. The facility also features a seven-story hotel tower with 300 rooms. As of this March, Valley River also offers sports betting .
After the lengthy off-air discussion, an overwhelming majority of Council members voted to approve the master plan, with only Birdtown Representative Albert Rose and Wolfetown Representative Bo Crowe opposed.
Before voting against the resolution, Rose proposed an amendment that would require the Tribal Council to contract with a firm to ensure that the project, which is under the TCGE's jurisdiction, stays on budget. The TCGE's current expansion project in Cherokee came in $80 million over budget , and Rose had led the charge in demanding answers for that overrun. However, the move didn't receive a second and died on the floor. Crowe made a separate move to table, which also failed to gain a second.
Wolfetown Representative Chelsea Saunooke said the master plan is necessary to keep the casino ahead of the competition.
"I do want people to understand that right now as gaming stands, it funds 46.3% of our budget," she said. "So anything that would take away from that — competition, whatever, you name it — that's just chipping away, chipping away. If we don't do more to offset competition , then we're going to be sitting ducks."
Rose disagreed.
"I think we're way out in front of our competition. We're in over a billion dollars that we've spent in the last eight months, I think," he said. "So we're way out in front of the competition, I think."
Leave a comment
12

comments
I totally agree with many of the comments. The players just finance the building expansions, always go
home with empty pockets, the food leaves a lot to be desired and that is very tiring. If your Casino
management thinks that's the way to go, good luck. We know many people who don't go anymore
to Cherokee or Murphy, because they are plain tired of just feeding the machines. It's not worth it.
Let the Natives have their casinos and put your money somewhere else. Mississippi is a wonderful
place, beaches, hospitality and paybacks are sooooooo much better than N.C. casinos. We rather go
(fly)4 for or 5 times a year to the Coast and we still come out better than driving more often to N.C.
Also Native owned casinos do not publish their machine paybacks. Folks think about it - that should tell you
enough.

Wednesday, 02/15/2023

does the casino have live poker, also it have blackjack with 3 card poker and wild 4

Tuesday, 11/16/2021

Table game minimum should return to $10. Slots are way too tight. Food court needs pizza. The bowling side should help organize leagues, which would bring guarantee revenue flow. Plus food and drink orders would rise. The best thing you have done was to prohibit smoking. In the future expansion, a card room would be very welcomed. You have a nice facility that is being under utilized. Please bring back the free slot tournament. I can only hope that someone with authority are reading these comments.

Saturday, 10/16/2021

Glad to hear a cafe is coming to the lobby. As others have said, your slots are so tight that people will get tired and not come back. You have gotten rid of all the old machines that old people like to play and that brought you a lot of money. We just find another place who has machines we prefer - people who gamble are not teens who like video type games. My friend plays table games and he has given alot of money to Murphy and Cherokee but no more. He refuses to go to either because bets are so high on every game. Treasure Bay in Biloxi has the best table game rates and the best slots we have found in a while. You should send a rep there and learn from them. Also if you would put a decent SMALL buffet in (like Cherokee began with) you would draw a LOT of folks for the good food - not many choices in Murphy and your food court is pitiful. What kind of food court has no pizza? Hope the cafe will serve breakfast 24/7 - not just food court "sandwiches" for breakfast food. You need more GOOD slots, more rooms for people and more DECENT dining and much better comps. Your comps are so poor and not honored at other Harrah's.

Monday, 09/06/2021

You better loosen up the slots or no amount of expansion is going to bring more business. You have to let the patrons play a little bit. Just taking my money with absolutely no return to even continue to play on multiple visits there is not fun and I have no interest in returning.

Tuesday, 07/20/2021

You can spend all that money on expanding, but spend no money to improve the roads leading to you that are already overcrowded because your here in the first place. Now you want to expand and bring more traffic to our area. Improve the roads so they can handle the volume of traffic you are attempting to bring.

Saturday, 07/17/2021

Please bring back the DJ's or some kind of music entertainment. In case you didn't know, music brings ppl out and together. So that's a win win situation for the casino and players. Just saying. ? + ? = ? =???

Friday, 07/16/2021

Lay up your treasure where moth and rust can't touch it. Heaven and earth will surly pass away. Your standing with GOD is the only thing that will matter.

Friday, 07/16/2021

GREAT A GREAT ASSET TO OUR COMMUNITY

Thursday, 07/15/2021

The World is about to come to an end, and you want to improve, enlarge the casino? What have you been smoking? Once the United States become a socialist country, will that not affect you?
Please rethink this.

Thursday, 07/15/2021

Would love a poker room. Driving to Cherokee is a pain.

Thursday, 07/15/2021

We area residents and while I appreciate their attempt to be a full service facility they are far from it. Room rates on wkend are in excess of $350 when most working people can go. The food court is very limited to hotdogs, Chinese food, and fried fish. As for entertainment they either want you on the machines or out of there. No shuttle services (doesn't have to be free) to area facilities only puts clients and citizens at risk

They are no daytime activities as we were first told (golf course, pool, tennis etc.) Nite time is even worse you either gamble or drink no entertainment, no dancing, For these prices and limited entertainment there are full service casinos that are not so bottom line oriented.

The area demographics are changing rapidly; the influx of retired folks moving our of Fl and the big cities aren't enthralled with a bowling alley or pool tables.

Good Luck with your project; we will still visit you but know who you are Better yet get to know who you want to serve. Then makes plans which reflect our needs and you will find you will reach your financial goals.

Wednesday, 07/14/2021