Archived News
Council approves $80 million cost increase on casino expansion
Tuesday, November 03, 2020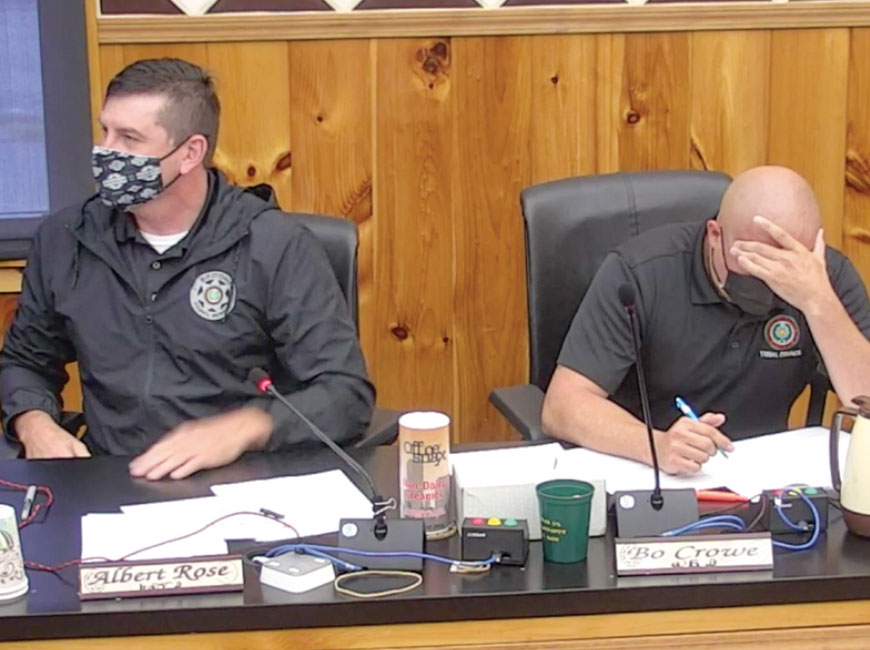 Birdtown Representative Albert Rose (left) addresses TCGE members during an Oct. 26 Tribal Council meeting. EBCI image
Tribal Council voted 11-1 during Annual Council Oct. 29 to approve the Tribal Casino Gaming Enterprise's request to borrow up to $80 million more than the $250 million initially budgeted to finish an expansion project at Harrah's Cherokee Casino Resort in Cherokee. The decision came following an hour of closed session discussion and just four days after initially voting to table the request.
"I just want to explain that the reason I voted to do this is because the project has to be finished. It has to be completed," said Birdtown Representative Albert Rose, who had expressed strong displeasure with the request when it was first discussed publicly Oct. 26. "We've got down to why it's running over, and they answered my questions, so that's all I got right now."
While council ultimately approved the funding, multiple members said that they were upset by the way the project had been handled.
"I understand that this has to happen in order for the project to be completed," said Wolfetown Representative Chelsea Saunooke. "It's not the way I want business to be done in the future."
Saunooke said that she plans to bring forward legislation that will address capital contract guidelines as well as provide for a project manager that will act as Tribal Council's consultant.
Resolution seeks TCGE chairman's removal
Wolfetown Representative Bo Crowe, the only member to vote against the resolution Oct. 29, responded to the vote with a walk-in resolution at the end of the day seeking to remove TCGE Chairman Jim Owle from his position.
The resolution claims that, under Owle, the TCGE has not been complying with tribal hiring preference laws and outlines the protracted exchange between Tribal Council members and the TCGE Board that followed when in December 2019 Crowe requested minutes from TCGE meetings. The request was eventually fulfilled April 21, but key information regarding specific budget items was redacted, making it impossible for Tribal Council to do its due diligence in reviewing the gaming operation's annual revenue and expenses, the resolution said. Finally, the resolution took issue with the ballooning cost of the casino expansion and particularly with the fact that the TCGE submitted the resolution requesting additional funds "without any explanation or backup."
Oct. 29's Council session was a long one, and it was 6:30 p.m. before Crowe's resolution to remove Owle came to the floor.
"Mr. Owle has a right to defend himself," Principal Chief Richard Sneed said after the resolution had been read. "These are allegations that are being brought forward in this resolution. He has a right to respond to those allegations, which is not going to happen at 6:30 in the evening today."
Legislative Counsel Carolyn Ward told Council that Cherokee Supreme Court precedent holds that Tribal Council has the right to remove board members for cause by majority vote without a hearing, because the seat is not a property right. However, several council members spoke up to say that giving a person a chance to respond to accusations of lawbreaking seemed like the right thing to do, and Chairman Adam Wachacha pointed out that there is currently no written procedure in place regarding board member removals and that in the past the process has been handled differently at different times.
"I think that's the right thing to do, to give everybody the right and ability to defend themselves," he said.
Council voted 10-2 to table the resolution, with Crowe and Rose opposing the majority. Wachacha said that he would set a hearing date for late November.
Decision to enter closed session
Council's vote to approve expanded funding for the casino project came after 90 minutes of discussion, more than 60 of which took place behind closed doors.
When the body tabled the request Oct. 26, members complained that the resolution had been submitted without any backup documents justifying the heightened expense and that the TCGE should have paused the project once it realized that the true cost would be well over $250 million, waiting for Council approval before moving forward. During that session too, the body participated in a lengthy closed session discussion following the open session conversation but did not come to an agreement that day.
On Oct. 29, TCGE board members were accompanied by Zeke Cooper of Dreamcatcher, the developer on the project, who brought along stacks of documents for Council to view.
However, Council members were not happy about receiving large packets of information minutes before being expected to vote on the request, or about the fact that it was a Dreamcatcher representative, not the TCGE board members, who was explaining the issue.
"Why don't we have a work session? This is ridiculous," said Painttown Representative Tommye Saunooke. "Pass this stuff out and expect us to know it today? I need time to review it."
"This here kind of demonstrates about how this project's been run from the word 'go,'" Rose added. "You're going to come in here and pile all this on us that we've been asking for how many months?"
Cooper, however, said that the information he was handing out had been previously presented during a work session and that he merely wanted to highlight it again.
Crowe then pointed out that one document he'd asked for was the contract with Dreamcatcher, but that the document was not part of the stack he'd just received. Cooper replied that he had copies of the contract but would like to go into closed session before reviewing them, and that council members would have to hand the copies back when the discussion concluded. When Ward pointed out that signed contracts are public record under tribal law, Cooper allowed that he could leave the contracts behind but would have to redact them first to remove anything that qualified as a trade secret, and that he expected Council would rather view the complete document instead.
Council ultimately conceded to Cooper's request and voted to enter into closed session.
The plan
According to casino spokesperson Brian Saunooke, when complete the expansion will feature a fourth hotel tower with 725 rooms to include 70 suites, a 2,000-space parking deck and a convention center with 83,000 square feet of sellable space. TCGE members told Council that the convention center will total 140,000 square feet including back-of-house space.
The project was first approved in January 2017 to include an 800-room hotel tower, a parking deck and a 100,000-square-foot convention center. It would cost between $150 and $200 million, Tribal Council was told, and giving the TCGE the OK to take out a $250 million loan would take care of any contingency spending.
However, on Oct. 26 TCGE Board Member John Houser told council that there were no actual plans backing up the $250 million figure and that a review from an independent auditor showed that the project was woefully underfunded to begin with.
A significant complication arose in 2018 when Tribal Council approved a retail project that, while a separate endeavor from the expansion at Harrah's, intersects with that project in physical space. Approval of the retail development meant that the TCGE had to completely redesign the casino expansion project, Houser said, adding more than $30 million to the original project. In particular, accommodating the retail complex meant taking a more expensive approach to water and sewer infrastructure on the site.
Costs have also escalated since 2017 due to a booming economy and high demand for services at the time the project began, Houser said. The cost rose even more when the casino gave its input as to what specific features it required of the facility.
Houser said that the additional funds are necessary but allowed that the TCGE was "extremely disappointed" to be over budget, having spent six months on value engineering efforts that whittled away about $12 million but failed to cut costs sufficiently to stay within the budget.
Ground broke on the expansion in June 2018, and it's expected to wrap up in fall 2021. The project is expected to bring in $17 million per year plus profits from conventions, Council was told Oct. 26, and the yet-to-be-finished facility already has $15 to $20 million worth of pre-bookings.