Archived News
Murphy casino reports growth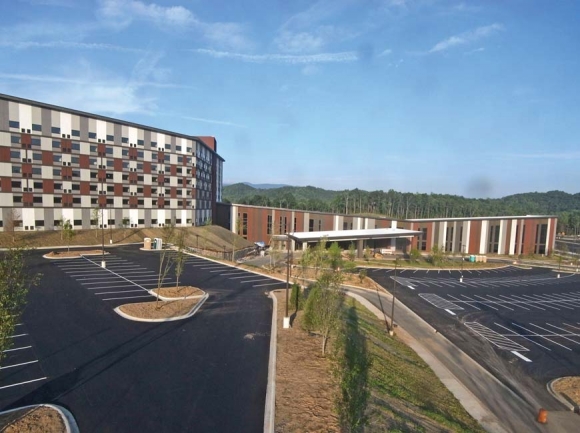 Now nearing its third birthday, the Harrah's Cherokee Valley River Casino & Hotel in Murphy is seeing strong numbers as it heads toward the July 23 launch of its first addition since opening in September 2015 — a 41,000-square-foot entertainment area featuring bowling, arcade games and a full-service restaurant.
"All indicators and all metrics that we look at are very solid," said General Manager Lumpy Lambert. "We're very proud of the team and the performance that we're experiencing now."
As far as visitation goes, Lambert said, the figure has been steadily increasing each year, with 138,673 unique Total Rewards cardholders visiting in 2016, the casino's first full year of operation. That number rose 22.3 percent to 169,616 in 2017, with 103,867 unique cardholders so far in 2018. Total visitation is north of 1 million, with 1.1 million visits logged at the end of the casino's first year.
For the fiscal year-to-date, which ends Sept. 30, hotel occupancy has been at 97 percent, Lambert said, and employee turnover is coming in below the target 33 percent.
"Our turnover has continued to decrease year-over-year since opening," said Lambert. "It's good, but obviously we want our turnover to be a lot lower, so we're going to continue to try to do the right things for the employees and make sure that we're addressing employee concerns and needs of employees and trying to be the best employer of choice we can be."
Addition to open soon
The casino employs just over 900 people, with another 75 positions to be added once the entertainment addition opens. That wing of the facility will be managed by UltraStar, the same company that manages a similar, though larger, facility that opened at Harrah's Cherokee Casino Resort in September 2017. The new UltraStar Multi-tainment Center in Murphy will boast a 225-seat restaurant, 16 bowling lanes, 25 arcade games and two bars, Lambert said. The project also includes a small addition to the gaming floor that will add 55 gaming units and some bar top units such as video poker.
"It's about 41,000 square feet of additional space that we're looking forward to," said Lambert. "The teams are doing a really good job with the expansion."
The project is slated to finish on time and within the budgeted $13 million. It will also include some dedicated parking space for the new facility, including self parking, valet parking and 12 Tesla charging stations.
Valley River also saw ground break on a new project this spring, with the May 29 kickoff of a $2.36 million project to install a 700-kilowatt solar farm on the property. Lambert said he expects the solar farm to supply 8 to 10 percent of the casino's power once the project is complete, likely at the end of 2018.
"It's more about starting to migrate more into some of the solar initiatives," Lambert said. "We're excited about that project."
As far as future improvements go, the next step will be to develop a master plan to more strategically determine how and when the casino should grow, said Lambert. Though there are no immediate plans to begin such a process, it's on the radar.
"That's huge, just trying to make sure that we address the needs of the business and that the footprint that we have here maximizes to the best of our ability," he said. "It's going to be one of the next projects that we engage with, getting an architect involved to help us with that master planning so we make good, smart decisions going forward."
Impact on the community
Located just over a mile from the town limits of Murphy, the casino doesn't exist in a vacuum — its presence has had a substantial impact on a small town whose population has barely shifted over the past few U.S. Census surveys, logging 1,603 residents in 2000 and 1,627 in 2010.
According to Cherokee County Chamber of Commerce Director Meridith Jorgensen, that impact has been a positive one.
"We know that definitely visitors have increased here. Our hotel/motel sales tax has increased," she said. "Our general sales tax has increased. We know there's more people coming to the area, staying in the area, buying in the area. I would say overall it's been a really positive thing for Cherokee County."
Cherokee County Finance Director Candy Anderson said room tax collections leapt 24 percent the year after the casino opened. In the 2014-15 fiscal year — county fiscal years run from July 1 to June 30 — the county collected $269,351 in room tax. But after the casino's Sept. 28, 2015, opening, room tax collections for the 2015-16 fiscal year rose to $334,196. The first full fiscal year after the casino's opening, 2016-2017, saw yet another increase with collections reaching $366,769 — 9.7 percent more than the previous year. Numbers for 2017-2018 are not yet available, as June taxes are not due until July 20.
These room tax totals don't reflect bookings at the casino's hotel, as that's located on Eastern Band of Cherokee Indians land and not subject to county taxes — the increase in collections stems solely from bookings at lodging in the surrounding area.
"There is no way to know with certainty how much of an impact the casino has had in the county on various things like occupancy tax and sales tax," said Cherokee County Manager Randy Wiggins. "We do know that it has had a positive impact, just unable to quantify with any meaningful precision."
However, there are other positive indications in the county's economy. For instance, a number of new businesses have been popping up in the Murphy area over the past couple years. In 2017, the Chamber of Commerce had 412 members, and it's added more than 90 members since 2016. Many of those new businesses have come from the medical services sector, Jorgensen said.
"The trickle-down effect we're still having, so not only the employees doing shopping in the towns and community, but a lot of our guests stopping in for gas and conveniences to and from on their trip," said Lambert. "That continues to be positive."
While all 900 casino employees don't live in Murphy — they come from various places in Western North Carolina, as well as Eastern Tennessee and Northern Georgia — some of them do, and the casino's presence has created more incentive for people to move to the area. That, in turn, has given new urgency to an already-existing housing issue in Cherokee County.
"Cherokee County has had an issue with housing for some time now, even prior to the casino," said Wiggins. "Any impact there would simply be increased demand where demand already outpaced supply. When you speak to our rental agencies, real estate companies, etc., and look at the recent housing study performed for Cherokee County, one can see that there is a need for more housing in Cherokee County — there just is not much product available across all levels for both home purchase or rental."
Valley River is now the county's top employer. A March 1 study evaluating the need for a multifamily housing development in Murphy — a study commissioned by the county — fixed the number of casino employees at 850 in February 2017. The next-largest employer on the list is Murphy Medical Center, with 530 employees at the same date.
"Many of the employees are reasonably transient and do not stay with the casino long-term, and they often seek short-term rental options (less than two years)," the report reads. "However, no new rental housing has been added to the Tri-County Region since the casino opened. All new housing stock has been upscale single-family homes targeted to second homeowners and retirees. Many casino employees make long, regional commutes to the Murphy area."
With aging housing stock and one-fifth of those working in Cherokee County driving at least 50 miles to work each day, more new housing is needed, the report said. However, because building costs are high in the area, it's less attractive to developers — value engineered costs and county tax incentives could help encourage construction.
Cherokee casino breaks ground on expansion
A $250 million expansion project at Harrah's Cherokee Casino Resort in Cherokee is now underway, with a June 26 groundbreaking marking the start of a 30-month project that will add 83,000 square feet of meeting space, a parking garage and more than 700 hotel rooms to the existing facility, which comprises nearly 2 million square feet.
"I couldn't help but think about the people who lived here thousands of years ago," Principal Chief Richard Sneed said during the groundbreaking, motioning toward the archeological site that had been unearthed behind him, where the expansion would soon be built, according to a Harrah's press release. "I can only wonder if they ever imagined that one day our people would be leaders in Indian Country, financial leaders in the state and region. This project really just represents the first phase of diversification [of Tribal investments] of many projects to come."
The Cherokee Tribal Council approved the expansion project in January 2017, authorizing the Tribal Casino Gaming Enterprise to borrow up to $250 million to complete it. The casino's director of planning and analysis, Jeremiah Wiggins, told council the project is expected to cost $150 to $200 million, with $250 million possible as a contingency.
Council approved the project 8 to 3, with one councilmember absent, but when the body convened the next month Councilmember Albert Rose, of Birdtown, introduced a resolution to kill the already approved project. Rose had initially voted in favor of the expansion.
After a long discussion during which opponents questioned the project's timing, whether issues with collapsing parking decks had been resolved and whether the loan would benefit banks that have supported the Dakota Access Pipeline, councilmembers ultimately held a vote split right down the middle — the weighted vote came out 50-50, meaning that the resolution was dead and the project could continue.
The expansion is expected to diversify the casino's customer base by appealing to conventions and other large events. It's also expected to quell a continual shortage of hotel rooms on the premises. The casino holds contracts with outside hotels to take on overflow customers, resulting in casino guests spending about 80,000 hotel nights per year in accommodations outside of Harrah's. However, the casino still denies about 120,000 hotel reservations per year due to lack of space, then-regional vice president for marketing Leeann Bridges said during a January 2017 interview.